Are you planning an upcoming birthday party for someone in your life? Then you might be searching for some great birthday gift ideas. There are so many great ways to find that perfect birthday gift for someone special in your life. Whether it's your best friend, a close family member, your spouse, or some other loved one, a little careful planning can ensure you get the perfect gift every time.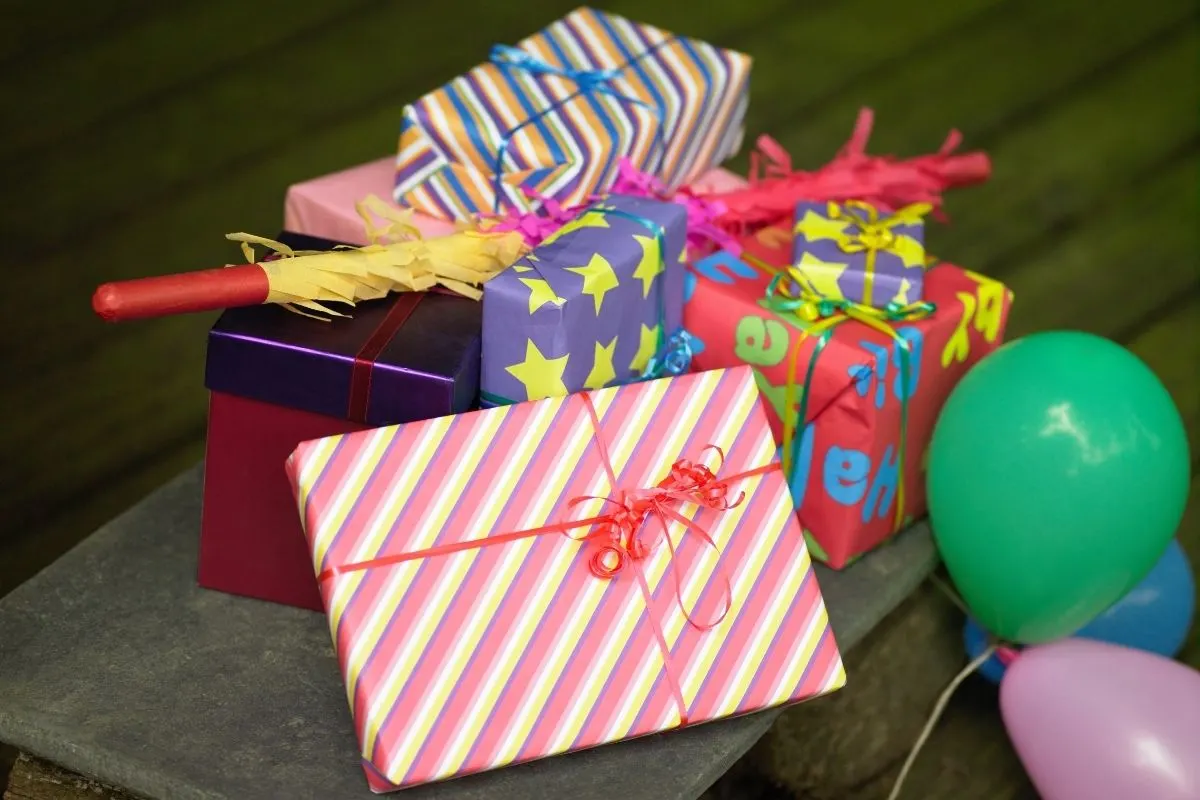 Sometimes the best gifts are unique gifts or handmade gifts, or anything given from the heart. Sometimes, the perfect birthday present is something he's had on his wish list for a long time but never buys for himself. A great way to really show you care is to put some time and thought into the best present.
Birthday Gift Ideas for Men
When you need something more than a birthday card for the man in your life, here are some birthday gift ideas that might work. A thoughtful present might be an experience rather than a tangible gift. For example:
tickets to a concert or show
reservations at a favorite restaurant
plans for a destination birthday celebration
bucket list experiences like skydiving or paragliding
If the man in your life is a jokester, he might like a funny gift. If he's really into cooking, he might like a pasta maker. As you can see, the potential gift options are vast. It really comes down to knowing the person you're shopping for and putting them first when planning your presents.
Here are some of our gift guides for men's birthdays:
Birthday gift ideas for father
The perfect way to say happy birthday to your dad is with a gift chosen especially for him. From a custom coffee mug to a special day out together, there are many great ideas you can do for your dad on his birthday.
Birthday Gift Ideas for Women
If you're looking for a great birthday gift idea for the women in your life, we've got you covered here as well. Great birthday gifts for women might include custom jewelry, books, spa dates, or even her favorite bath bombs. The gift ideas are as unique and varied as the women in your life. But a good place to start is to make a gift list of things you think she might enjoy and then you can narrow it down from there.
Check out some of our gift guides for women's birthdays:
Birthday gift ideas for mother
When you want a special gift for your mother, consider homemade birthday gifts, photo-inspired gifts, or a photo album or blanket made with photos of her family. You can even get a matching throw pillow. Customized and personalized gifts are always a big hit for moms.
Birthday Gifts by Age
Another way to help come up with gift ideas is to think about them according to age. Birthday gifts by age are a good way to narrow down ideas and then you can personalize them from there. For example, gifts for young children will be different from gifts for older children. And gifts for adults will usually be different from a child's birthday present.
21st birthday gift ideas
Unique gift ideas for a 21st birthday might include a fun experience like a trip somewhere they've always wanted. You could also think about their interests and hobbies.
Are they in college?
Is there anything that could make their life easier that they may not think to buy for themselves?
Or maybe something they've been mentioning they wanted but can't afford to get for themselves right now?
80th birthday gift ideas
Another milestone birthday is the 80th. When someone lives to 80, it's a cause for celebration, for sure. However, some people by 80 cannot do the same social events they did when they were younger. They may need the celebration to be smaller or quieter, or they may prefer a small gathering of just close friends and family. It all depends on the person. Comfort gifts are great for this age, as well as things to keep them busy and to keep boredom at bay. Take some time to find out what their hobbies are and buy supplies to help them enjoy them.
50th birthday gift ideas
A 50th birthday is another famous milestone birthday. In fact, it's so popular, that we're going to dedicate a whole section to it below in more detail.
Gifts for 50th Birthday
Great ideas for gifts for 50th birthday organized by hobby. If you are here on the hunt for the perfect 50th birthday gifts for someone close to you, we've got some great gift ideas for specific people:
If these gifts for 50th birthday are for someone else, no fear, we are here to help! This alphabetical list of gift ideas is divided by hobbies.
So think hard . . . and check out all these ideas for each hobby.
A great gift is something they will love. And to ensure that they will love it, go with something they like – like a hobby or pastime.
Birthday Gifts by Hobby
Here is a table filled with great gifts for the 50th birthday for all kinds of hobbies and past times.
Gifts for animal lovers
Items with pictures of favorite animals, like keychains, calendars, t-shirts, mugs, blankets, etc.
Cross-stitch of favorite animal
Horseback riding lessons
Swimming with dolphins
Painting of favorite animal
Binoculars for bird watching
Trip to a local zoo
Gifts for astronomy lovers
Telescope, or accessories for one
Books about astronomy
Tickets to a local observatory
Trip somewhere for stargazing
Teddy bear with a voucher to name a star
Star map
Baseball lover gifts
Tickets or season pass to their favorite team
Baseball camp
Arrange to meet their favorite team
Memorabilia from the favorite team
Autographed hat, glove, or ball
Equipment to play the game
Arrange a family/friend baseball game
Basketball themed gifts
New ball
Jersey from the favorite team
Autographed basketball or jersey
Basketball hoop/net for yard
Tickets or season passes
Biking fanatics gifts
New bike
Accessories (seat, bottle, helmet, etc)
Backpack with built-in water sack & hose
Gifts for people who love bird-watching
Binoculars
Journal for log or pictures
Books about birds
Backyard bird feeder
Board games gifts
Classic favorites board games
Cranium or other fun party games
Plan weekly board game nights
Collector editions of favorite game
Boating themed gifts
Seat, or other accessories
Water skis, tubes, wakeboard
Ride on a speed boat
Bowling lovers gifts
New ball, ball bag, shoes
Personalized bowling shirt
Passes to play at the local alley
Enter into a tournament
Have a friend/family tournament
Gifts for people who love to go camping
New tent, sleeping bags, stove, etc.
A weekend getaway for camping
Season ticket to the local campground
Trip to an old favorite camping spot
More Ideas for Gifts for Birthdays
Candle making gifts
Kits and supplies to make candles
Lessons
Books on candle making
Gifts for coin collectors
New coins
Coin holders, cases, booklets
Books on coins
Trip to coin museum
Gifts for cooks
Cooking lessons
Cookbooks
Pot sets, pans, utensils, appliances, etc
Books from favorite cook
Personalized apron
Sign to label their kitchen
Recipe book to record their recipes
Cross stitching gifts
New patterns or kits
Supply of a variety of string
Lamp or magnifying stand
Holder or stand for cross stitch
Bag or organizer
Lessons
Framed completed cross stitch
Gifts for car fanatics
Day at the races
Memorabilia
A ride in a racecar
Day rental of a Porshe or Ferrari
Racing games
Tools for car building
Racecar themed clock or posters
Drawing gifts
Pencils, a case for pencils
Charcoals, erasers, paper
Lessons
Books
Framed drawing from a favorite artist
Football lovers gifts
Tickets or season passes
Super Bowl tickets
Box seats
Football camp
Meet a favorite team
Memorabilia, jersey
Autographed ball or jersey
Gifts for gardeners
Gardening tools, seeds, watering can
Carrying case
Gloves, knee pads, apron
Books or classes
Seeds for unusual flowers and vegetables
Gifts for guitar lovers
Lessons
New guitar
Books
Case, picks, strap
Autographed guitar
CD or videos on how to play
Recording session at a local studio
Gifts for hikers
Weekend getaway
Guided hiking trip
Boots, backpack, hat
GPS
Camera
Gifts for people who love horseback riding
Lessons
Passes to ride at a local ranch
Riding trips
Helmet, saddle, clothes
Hunting gifts
Homemade coupons to cover fees for licenses
Ammo
Weekend hunting trip
Multitool, knife, watch
Range finder, GPS
Hunting clothes
Gifts for karate lovers
Lessons
New uniform
Books
Gifts for motorcyclists
Weekend trip
New jacket, pants, vest
Harley memorabilia
Gifts for photographers
New camera
Camera accessories
Books
Lessons
Trip somewhere for nice picture taking
Scrapbooking gifts
Supplies
New scrapbook
A gift card to have pictures printed
Gifts for travelers
Trip somewhere
Books about great places to go
Luggage
These are some great helpers for those perfect gifts for the 50th birthday. There are plenty more hobbies and pastimes, and we will continue to add more.
Christmas Birthday Gift Ideas
When you have a birthday that also falls on or around Christmas, it can sometimes feel like the two holidays just merge together. The birthday guest of honor can feel like their special day is less special due to all the excitement around another major holiday happening at the same time.
If you have a friend or loved one with a Christmas birthday, there are some things you can do to help them feel more celebrated on this day.
Birthday Gift Ideas – Conclusion
As you can see, there are so many wonderful gift ideas out there. Sometimes it just takes a little something to get your creative ideas flowing. Then you'll be able to pick the perfect gift for every birthday occasion. In fact, you may become such a gift-giving pro that your friends and family will be coming to you for advice when shopping for their own loved ones' birthdays.