Buying 90th birthday gifts for women requires some thought. Clothes and jewelry are always easy choices, but is that really what she wants? Why not think practical. The gift that shows how much you love and care about her health and well-being is one that she will actually use, and that makes her life easier. This list of practical and thoughtful gifts for a 90-year-old lady can make her life simpler and more worry-free.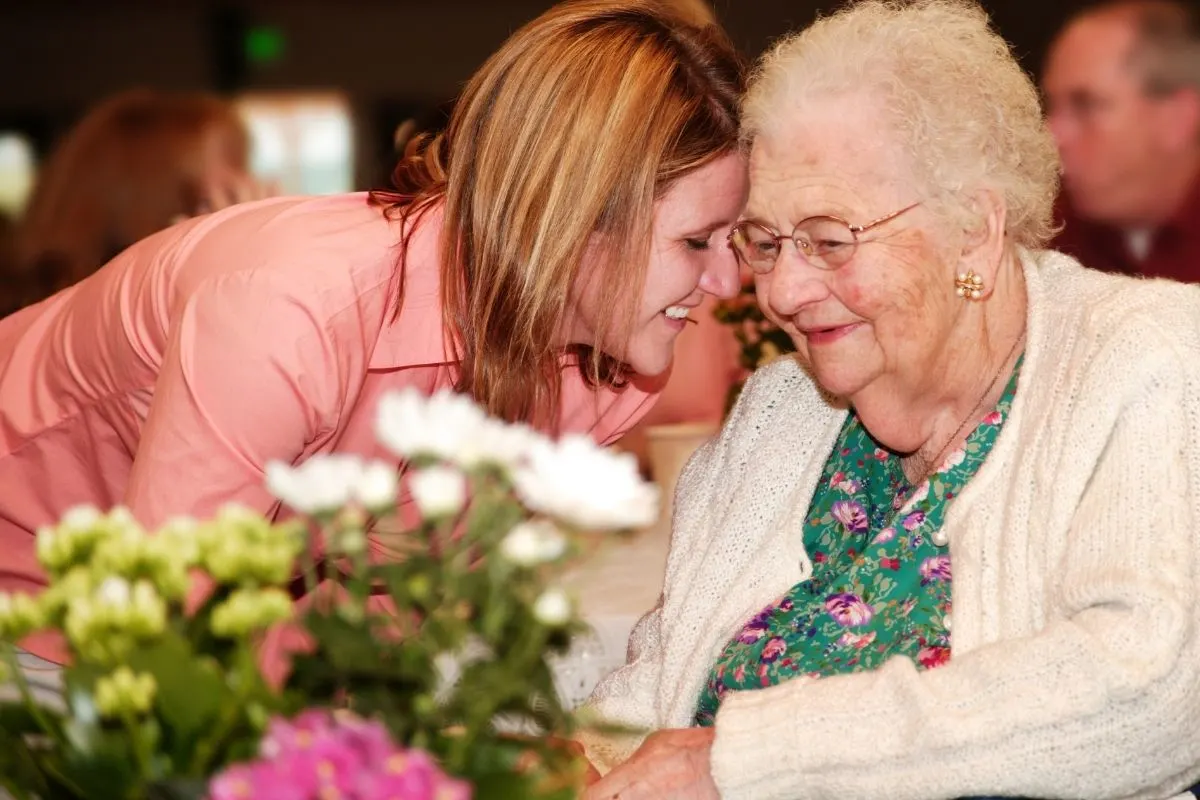 90th Birthday Gifts for Women
1. Pay a Weekly Visit – Just Be There
There's not a lot that a 90-year-old woman truly wants. One thing that seniors of all ages crave is someone simply being around. Tell the birthday girl that you will be dropping by once a week to see her.
Make it more often if that's okay with her and you can follow up on your promise. A smiling face, sympathetic ear, and your physical presence can mean more than the most expensive gift to a woman turning 90.
Related – Gift ideas for 75 year old women
2. Adaptive Utensils Can Be Lifesavers
What are adaptive utensils? They are forks, knives, and other commonly used kitchen utensils that have been designed for people with arthritis and hand tremors. You certainly don't have to be 90 years old to get a visit from Uncle Arthur. This means your birthday lady might have been dealing with arthritis for years.
Seniors with arthritis swear by adaptive utensils which make using forks, knives, and spoons so much easier. The four-piece stainless steel kitchen set we have in mind is available in gray or black and will only cost you around $20.
While that's a small price tag for someone achieving such an important milestone, this can literally be a life-changing gift. These are equipped with nonslip hard rubber handles designed for people with arthritis, hand tremors, and Parkinson's, conditions that can affect a senior's ability to use simple utensils.
3. Pay for a Monthly or Annual Service
Women that have reached the incredible milestone that is 90 years of living can't do as much as they used to do. This is the plain truth. They're just not as mobile as they were in the past. This means doing simple things can be difficult. You can erase that problem by supplying a monthly or annual service that takes care of things this special lady has a hard time doing.
This might be a lawn service. You could arrange for a laundromat or dry cleaner to take care of her laundry problems. There are pet sitting and pet care services that can handle feeding her dogs, emptying cat litter boxes and performing other pet-centric chores. This is a great gift because it's not only thoughtful but also practical and useful.
4. Birdfeeder Made for Seniors
Simple, everyday tasks can be impossible for some senior citizens. Sometimes, we simply don't stop to think about how we can make something easier for someone we love who is in her golden years.
Take bird feeding for example. Because of arthritis, hand tremors and other motor skill issues, the simple act of filling a birdfeeder might be impossible for the 90-year-old birthday girl in your life.
Fortunately, a company has thoughtfully come up with an answer. It's the Mr. Canary Bird and Breakfast Birdfeeder. This is a "no-clean" birdfeeder where TV dinner-style birdseed trays simply slide into place.
When all the birdseed is gone, slide out the empty recyclable tray and replace it with another. This gives the wonderful gift of birdwatching with none of the bird feeding tasks that might be getting too difficult for your birthday lady to handle.
5. A Heated Throw Blanket
Many people over 70 have a problem with their circulation. The blood simply doesn't circulate like it used to. This can cause them to feel cooler than you and I do. We may be in a room where we feel comfortable, but they feel as if the room is 10 or 15 degrees colder than it actually is. This is where a heated throw blanket makes the perfect gift.
The Serta Mila Shaggy Throw Heated Blanket has 5 level heat setting controller and a 3-hour auto shut-off safety feature. It measures 50 inches by 60 inches and is machine washable. The automatic switch-off feature adds safety to the warmth that this cozy flannel blanket provides.
6. While We're on the Subject, How about a Weighted Blanket?
This is another practical gift the birthday lady will really love. The benefits of a weighted blanket for seniors are well-documented. By simply adding a little weight to a normal blanket, the senior using it is more likely to feel comfortable.
Seniors often feel agitated and anxious, and this can help them sleep properly. Whether used for sleep or lounging in a recliner, weighted blankets have been proven to reduce anxiety, calm nerves, and promote deep sleep in seniors. This inexpensive but practical gift could be just what your 90th birthday girl needs in her life.
Here's a blanket that has earned a lofty 4.6-star customer satisfaction rating on Amazon from an incredible 41,000+ buyers! The YnM weighted blanket is a luxurious 7 levels deep. It measures a full 48 inches by 72 inches and is perfect for a twin or full-size bed.
7. Don't Underestimate the Importance of Eyeglass Chains
Are we really mentioning eyeglass chains as 90th birthday gifts for women? You bet we are. Older folks often have problems with short-term memory. This issue can become more of a problem as the years go by. What's funny is a person at this stage of life may be able to tell you every detail of an event that happened fifty years ago, but they can't remember where they left their eyeglasses.
This is the perfect gift if the recipient is constantly misplacing things.
Choosing Practical 90th Birthday Gifts for Women – Conclusion
Comfort and less stress are two things your 90-year-old birthday lady is definitely looking for. At this time of life, even some things that used to be simple are now difficult. The gifts on this list help remove difficulty, stress, and frustration, and we think the best gift is probably the Adaptive Utensils Set. Everyone has to eat, and many ladies this age have arthritis or hand tremors. This is a gift that can be used at home and at a restaurant. It promotes independence and raises self-esteem, and those are two priceless 90th birthday gifts for women.