Are you looking for some great 50th birthday party ideas to help celebrate the big day for yourself or someone special in your life? Well, you've come to the right place! We have compiled a huge list of ideas for your milestone birthday and whether it's a surprise party, a dinner party, or anything else you can think of, we'll help you make your party a success.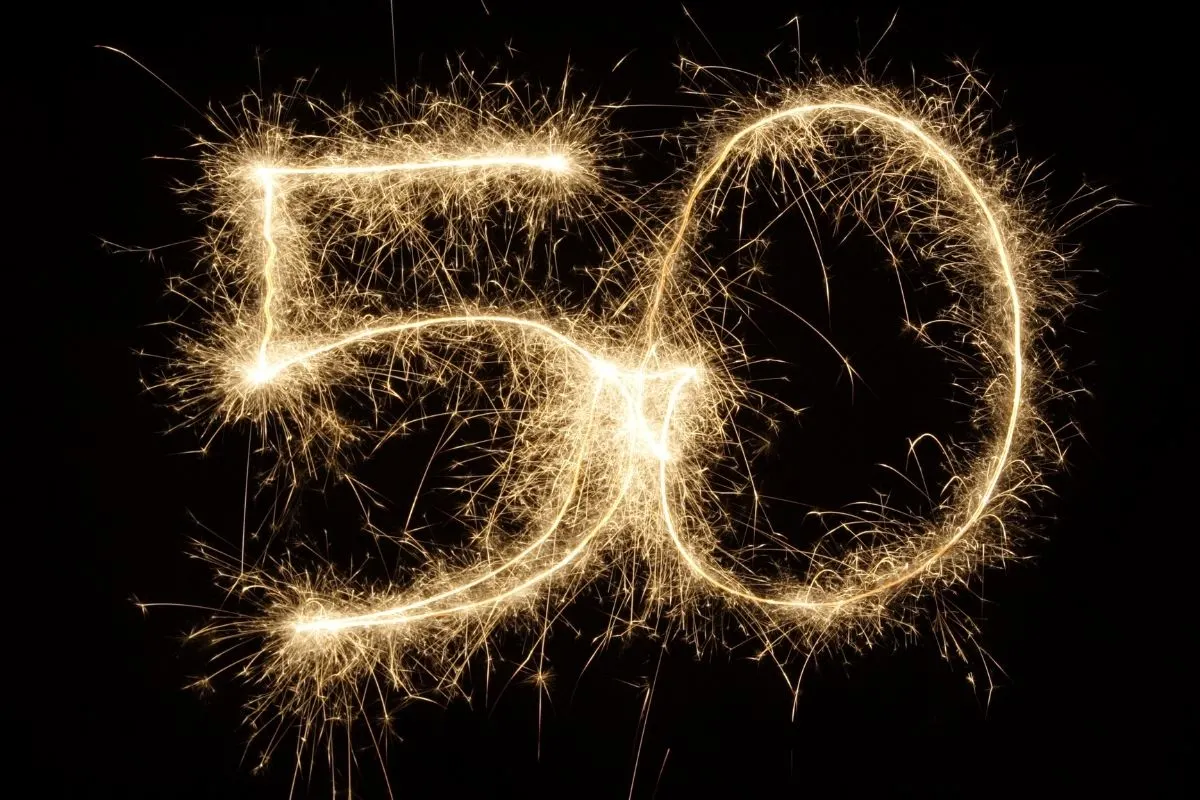 Looking for fun and unique 50th birthday ideas to give that special someone a one-of-a-kind day? These easy-to-do ideas will make certain that this is a birthday that they're never going to forget!
These ideas are not just for gifts to give, parties to throw, or cards to make. If you're looking for those things, follow those links. This page is all 50th birthday ideas to top off the celebration. They're ideas for ways to make them feel extra special on their big day! If you're looking for super creative birthday party theme ideas, check out this page.
Amazingly Perfect 50th Birthday Party Ideas
When you're looking for a good idea for a 50th birthday party celebration, look no further than right here. We know that the fiftieth is a big deal and that's why we've come up with some of the best ideas to help you celebrate it with the people you care about.
Announcements
Kick-off your 50th birthday celebration with some awesome announcements. What better way to get all of your closest friends and family members to attend?
There are things you can do to promote the big day. I've divided these ideas up into the usual genres of announcements you might be interested in – newspapers, front lawn, work, telegrams, and other attention-getters.
This is a very special birthday, and it deserves extra special attention. Everyone needs to know they are turning 50!
Advertise, announce, and promote it!
Newspaper announcements
These 50th birthday ideas are a lot of fun, and a lot of people get to see them – even if they don't know you! These types of announcements are not usually very expensive, and you can have them printed on the day of their birthday. If they read a certain newspaper, make sure you post it in there, so they see it – or at least leave a paper at their door or deliver one, so they get to see it. Here are some tips to use to make the announcement fun:
Get a picture from their awkward teenage years or from when they were a baby and use it in this announcement.
List different information like the date, time, and year of birth (but maybe leave out their full name)
Add their nickname or pet names they hate being called.
These newspaper announcements are a lot of fun, and a great keepsake they can cut out and keep for ages as well. They're pretty inexpensive, and make a great impact on the day.
Lawn decorations
When you want to GO BIG, consider this option. The lawn ornaments are a common way many birthdays are announced at any age. 50 is a pretty special milestone so why not let all the neighbors know!! This is one of the great 50th birthday ideas.
Lawn ornaments can be set up and arranged through party companies or you can create your own. The nice benefit of using a party company is that they usually get everything set up at the crack of dawn, while you're still warm in bed – also, there's no evidence that you arranged for this lawn surprise.
These companies will also come and dismantle everything at the end of the day – a lot less work for you, especially if they have a winter birthday (and you're from an area that gets snow).
Here are some fun lawn decoration 50th birthday ideas:
"It's your birthday so we thought we'd stick it to you. Happy 50th Birthday!"
Then use the figure of a hockey player hanging butt-first over a board, surrounded by 50 wood cutouts of pucks with smiling faces.
"Holy Cow Johnny's 50 now! Happy Birthday!"
Then place 50 cutouts of cows all over the lawn.
"Honk, Johnny's 50!"
With 50 balloons all over the lawn.
There are always the usual culprits for this announcement, like flamingos, balloons, or anything bright and noticeable. Of course, always have 50 of them on the lawn. This is a very fun way to tell the world about their birthday.
Ideas For 50th Birthday Party Fun
When you want to throw a big celebration, it takes some careful planning first. Here are more ideas for the 50th birthday party fun. Sometimes a typical birthday party may not include all the important people in your life. These are some of the 50th birthday ideas for extra celebrations with your special people.
Here, I've got something for the family, something for girlfriends, and something for the guys. No one will be left out of the big bash!
50th family reunion party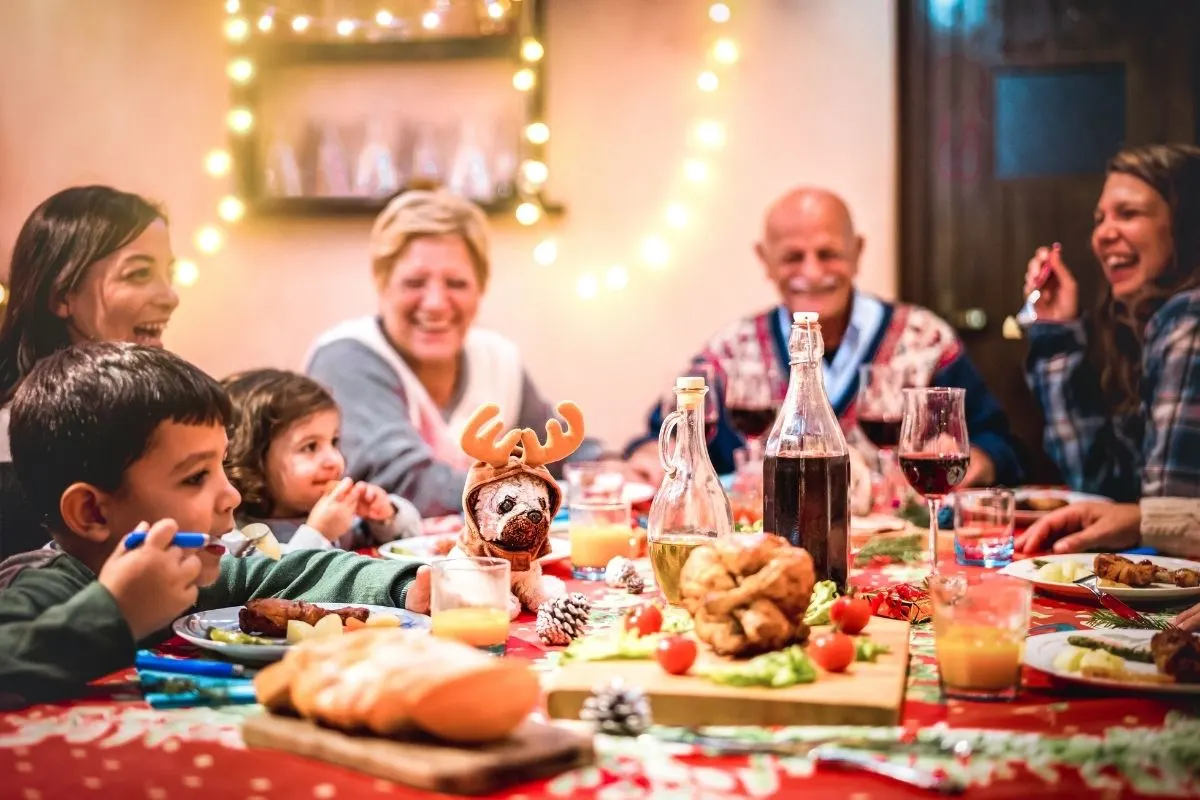 Why not plan a surprise family reunion party?
This is a perfect way to get all the family together for this special occasion. What a great reason to get the extended family together for something other than a wedding or a funeral! Your 50th birthday party celebration can include your favorite things and your favorite people.
We did this for my mother's 70th birthday party, and it was loads of fun and she was completely surprised by it. You could definitely do it for someone's 50th. Here's how we did it:
We rented a holiday cabin and assigned someone to be "in charge of" the birthday girl. Everyone gathered at the cabin, and we set up a huge buffet with a cake serving table.
We hung Happy Birthday banners across the front porch and then waited for the unsuspecting birthday girl to be driven up on the pretense of having taken a wrong turn.
It was such a special treat for her! We also gave her a bound photo book as a keepsake to remember the day.
Girlfriends' party day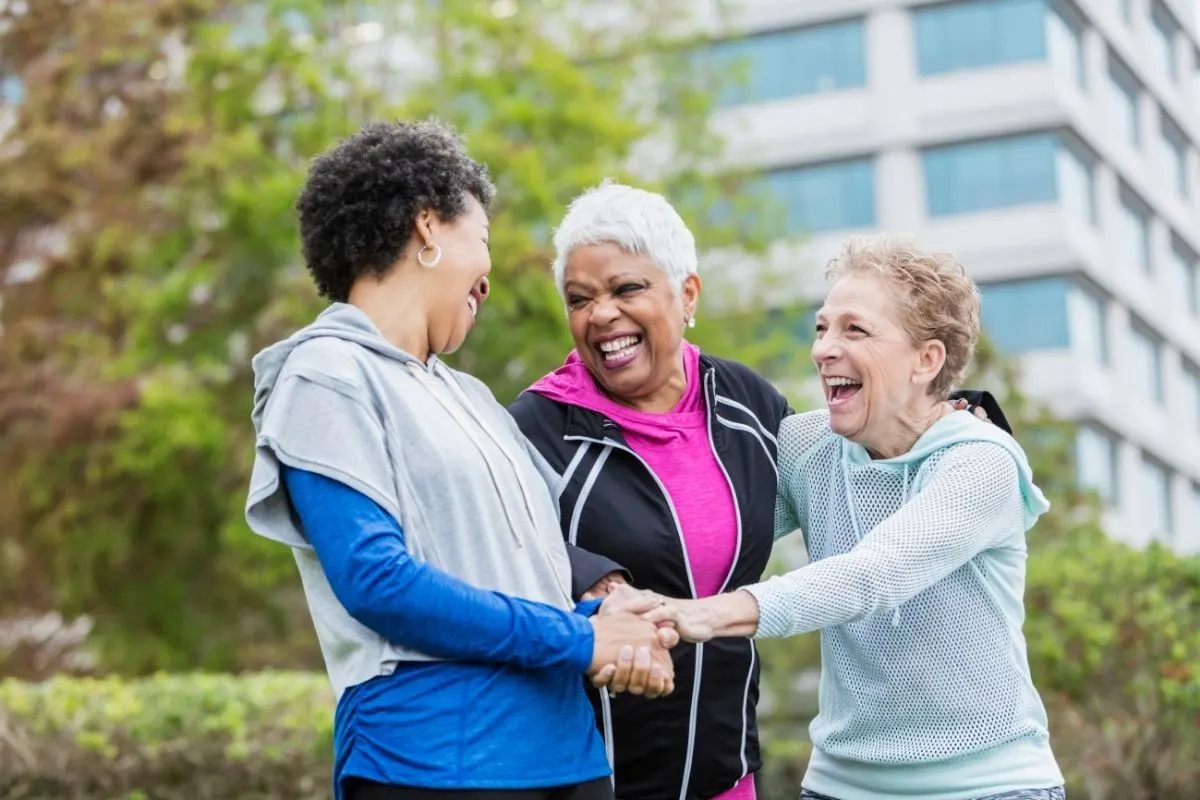 Plan a girlfriends' day out for a small group of friends. You can do some of your favorite things, or take a walk down memory lane and reminisce about all the fun you always had together. You can go out to dinner or lunch and enjoy your favorite foods.
Start with a spa party and brunch. Search out a local salon that has a large spa room that can accommodate all your girlfriends at once. If you don't know of any already, contact wedding venues and ask if they know of any suitable places. They should know where bridal party groups typically go.
Other things you can do with your girlfriends:
take a painting class
work on a quilt together
take a fun trip to a local attraction and reminisce the good old days 🙂
go to a concert by your favorite group
Guys only day out party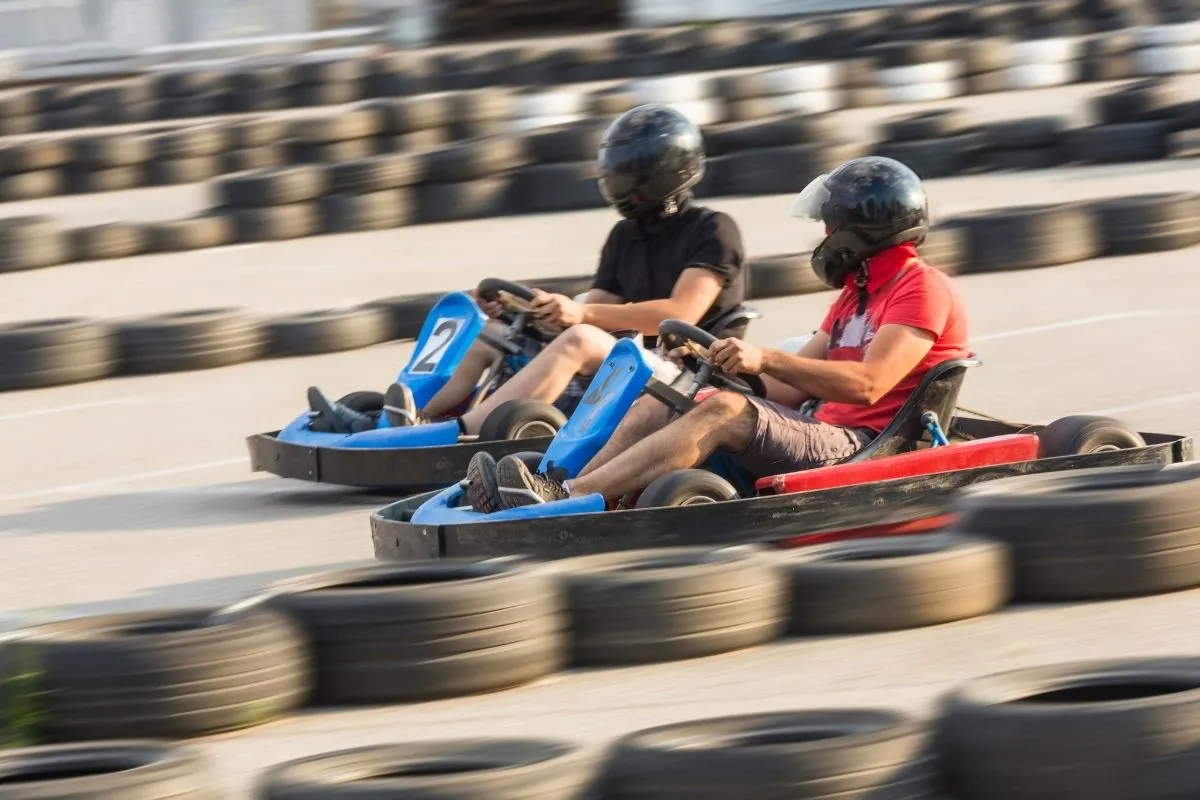 Have the group meet at a favorite breakfast spot, dressed for casual fun. You'll choose from 3 activities, but if you're having tons of fun, you may not get to all these ideas.
Visit a shooting range where they provide all equipment and guns for a friendly competition shooting session. If you're already a regular shooter, this might not be as interesting or fun, but you might be able to advise the others if it isn't something they do regularly. You could try gun styles that you don't normally use to make it interesting.
Find a go-cart track and race go-carts or visit a racetrack and drive a professional race car, if there is a racetrack in your area.
Find an equestrian center that offers horse riding to the public. Go horseback riding!
You can also check out the "Kids Again" birthday party plan, on this page.
We hope some of these examples have given you great ideas for planning for your special person's 50th birthday occasion. Now, let's look at some ideas for celebrating with co-workers.
50th Birthday Ideas for the Workplace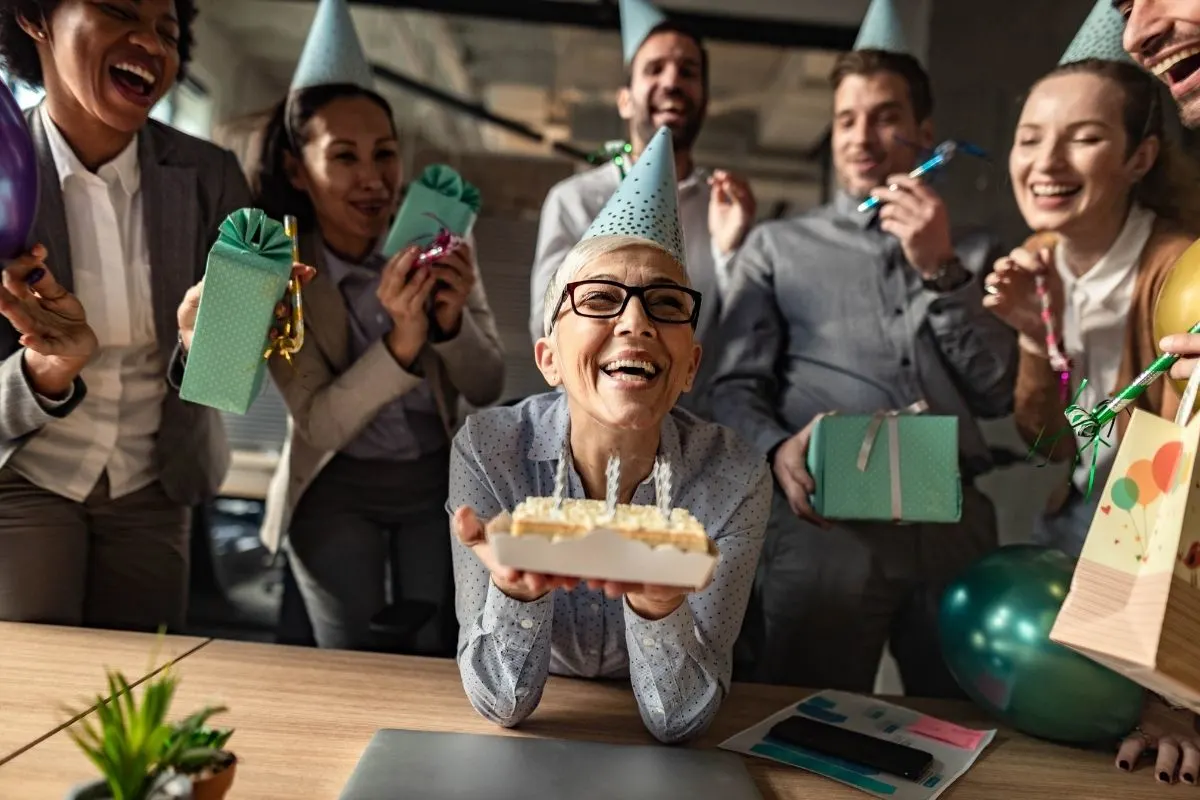 Bringing their birthday to work is one of the great 50th birthday ideas to use. It is always fun to bring a birthday to work, especially in high traffic, or high-stress jobs. It lightens up the day, not only for the birthday person but for everyone. After all, who can complain about birthday cake?
If they have a cubicle or office, you can decorate it with balloons and streamers. You can also post a bristol board to have co-workers sign as they go by.
Or you can pass around a card to have everyone sign and of course, a cake to feed everyone in the office!
If there is an intercom system, you can announce their birthday over the intercom – this is SUPER fun in a retail setting.
You can arrange for everyone to start singing happy birthday at once throughout the entire office. If their time of birth was during business hours, you can time it for that exact schedule.
If they have an office, you can fill it with balloons – and I mean fill it completely, all the way to the top.
Make them wear a helium balloon tied up around their waist for the day. Or something that labels them the "Birthday Boy/Girl," like a button, an ID badge/sticker, or an imprinted tee shirt.
Another idea for the right environment, have the group wear a t-shirt advertising the birthday event and make sure there's a good one for the birthday boy or girl, too.
Determine if there will be a dress code and if you're doing party favors (check out these amazing 50th birthday party favors), too. This can be a great way to bond with work buddies.
Telegram
A telegram sounds like a very dated technology since it was a major mode of communication in the old days, but they can be really fun and different for the 50th birthday. In part, they are bringing back the old days – a play on their age – but it's also just something fun to do!
You can arrange to have a singing telegram sent to their home or work. Singing telegrams can be more fun when performed in public, like while they are at work. If they have a daily routine, like going to the gym or store, you can arrange to meet them there and have this singing telegram delivered.
There's also the option of a delivery made by a costumed person. For example, you can have balloons and flowers delivered by a human-sized gorilla or clown.
At a restaurant
Arrange to go to their favorite restaurant and speak with the staff beforehand. Most places will bring out all the staff and a little cupcake and sing to them in front of the whole restaurant.
You can supply the cake and ask them to bring it out singing. I know of a restaurant that will not only bring out a cupcake and sing, but they will also provide the guest of honor with tin foil donkey ears and make them stand on a chair and do the teapot dance, or some other embarrassing dance.
These 50th birthday ideas can be a ton of fun, just be sure that the birthday person is comfortable with this amount of attention. Some people may be more upset than pleased with some of these so ensure they are a good sport for it!
Now, what if you want to celebrate along with your birthday guy or birthday gal? Here are some ideas for just two people.
50th Birthday Idea: Party for Two
Here are some 50th birthday ideas that don't involve planning a full-blown party. Instead, plan a special celebration for just the two of you.
Maybe the time isn't right for a big party, or you just can't take on all the work involved in planning one right now. No worries. It's not a problem. Check out these three 50th birthday ideas for a really special birthday party for two.
Or maybe your birthday person has made you promise you wouldn't plan a party, surprise or otherwise.
Whatever the reason, we have ideas for making your special one's 50th birthday a great kickoff for the next half-century.
A romantic 50th birthday idea for two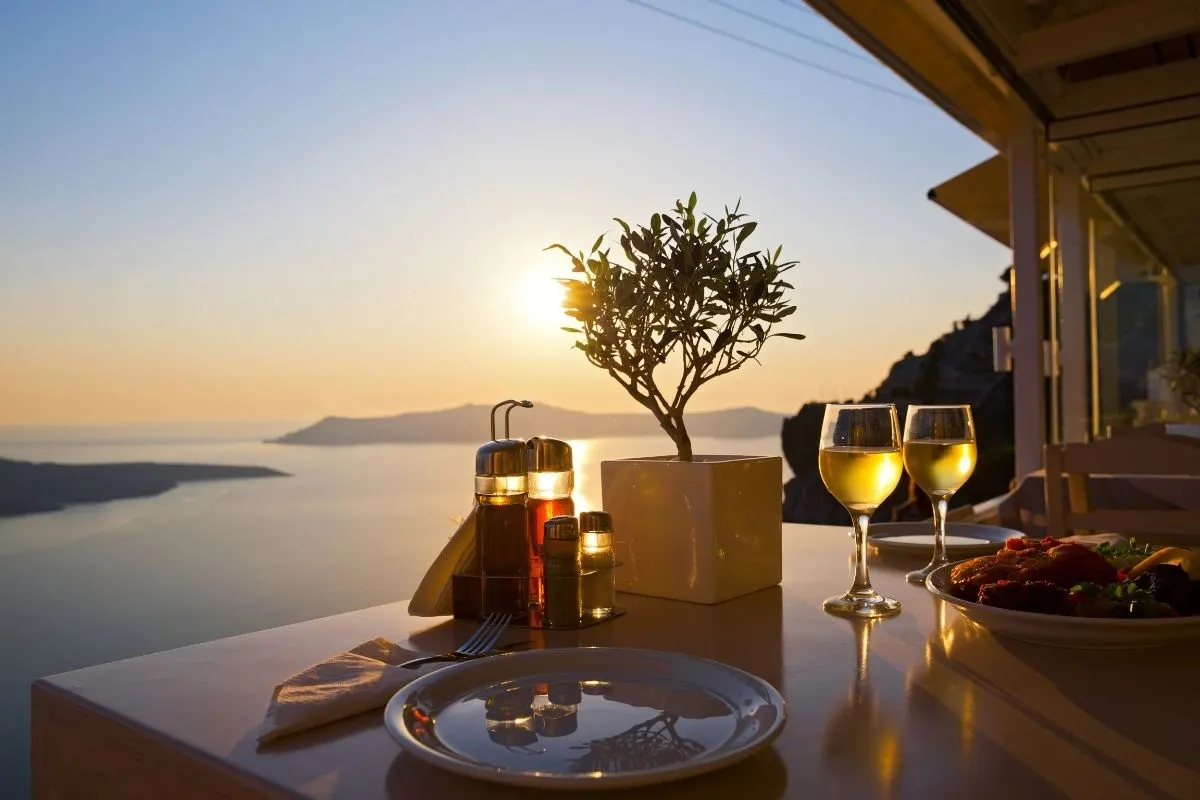 With this party idea, you're going to plan a trip for two to a popular romantic spot, or maybe someplace you've never been before. This trip will make new memories.
Niagara Falls is a spectacular location if you haven't been before
Then there's Paris, where the two of you can walk hand-in-hand along the river Seine, with bread and cheese for breakfast. Visit the Rive Gauche pub for lunch, then take a Bateau boat to the shopping district and buy an expensive perfume. For dinner, either take a dinner cruise or visit almost any restaurant within walking distance from the river, near the Sorbonne.
What about a long weekend in Cancun Mexico? The water is crystal blue, and there are lots of things to do, day or night. Visit the ruins nearby, or shop in the markets. Lounge by the pool or go snorkeling and parasailing.
Visit the Great Smoky Mountains in Gatlinburg in Tennessee
More ideas: Key West, Las Vegas, Washington, D.C.
A day of pampering and indulgence – party for two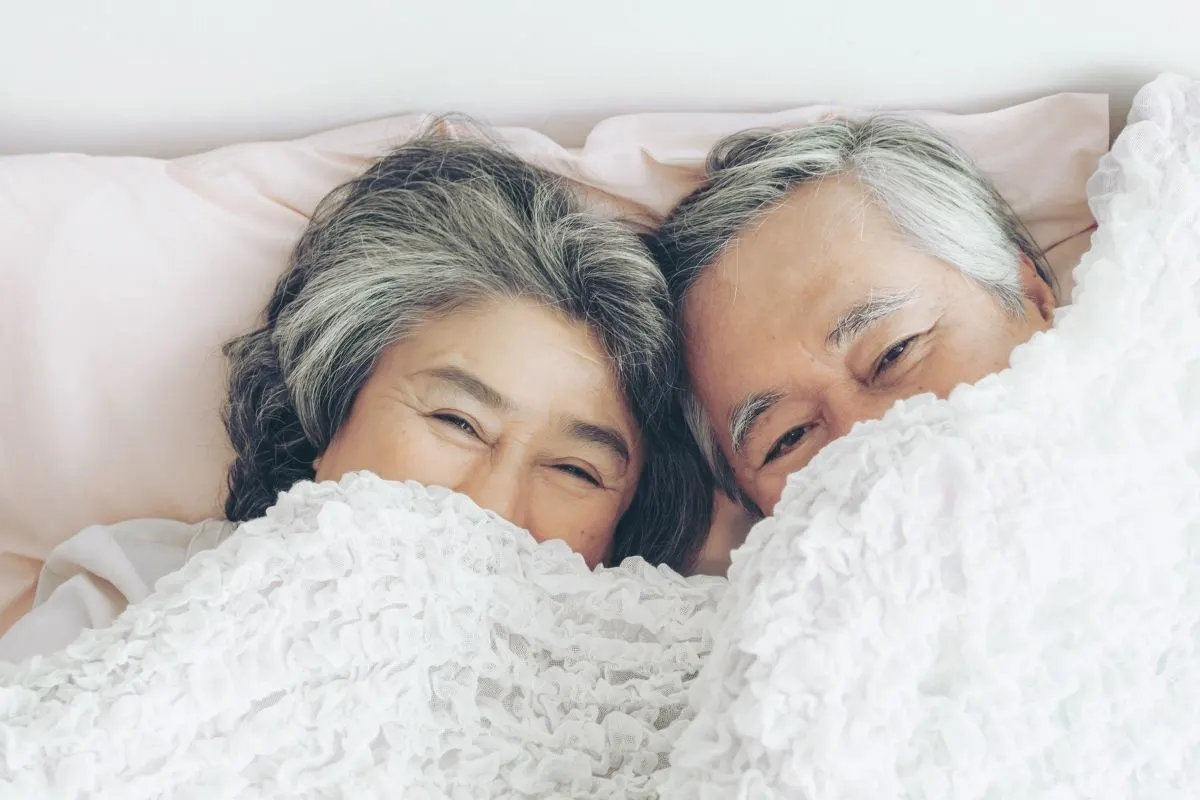 Book a fancy hotel room for two days and check in on the eve of the celebration day. If you have time, kick off the event with cocktails before bedtime in a romantic corner of the hotel bar.
Order room service and have breakfast in bed. You already scheduled massage-for-two for 11 am, so you have plenty of time to enjoy it. Just one rule: No TV!
After your massage, return to your room for more together time, or if you prefer something more active, hit the pool for a while. Then grab a snack, go shopping, or take a nap.
You've already planned a special dinner at the best restaurant in town. Be sure each of you orders a different dessert so you can each try them both.
Follow up your amazing dinner with a night out at a comedy club or theater.
And … if possible, sleep late the next morning to properly top off the day of indulgence!
Aren't you lucky to be sharing such a scrumptious day with your 50-something special person?
Do something daring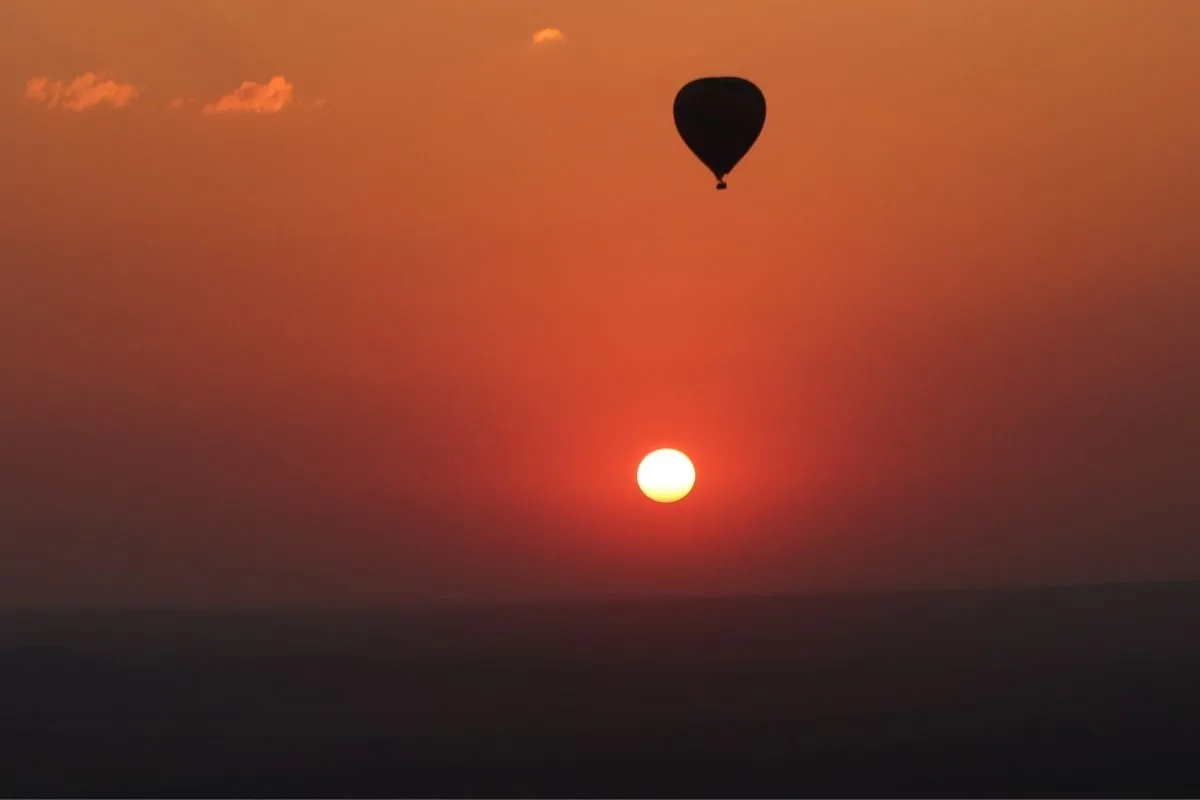 A 50th birthday is a great time to pull an idea from your bucket list, or just do something totally new and different. Step outside of your comfort zone and challenge yourself to try something you've never done before or something you've always wanted to do but couldn't.
Daring birthday party ideas:
Ride in a hot air balloon.
Take a flight in a fighter plane.
Go bungee jumping.
Spend the day together at an amusement park and do all the scary rides.
Get a tattoo.
Rent a lake house and go skinny dipping.
Take a windsurfing lesson.
Go rollerskating (this would be daring for me ;-).
Sign up for scuba lessons and buy all your gear.
We hope these 50th birthday ideas for parties of two will help you plan a truly memorable celebration to mark the occasion of your special person's 50th birthday.
List of 50th Birthday Party Themes
Here is a list of party themes to help you brainstorm your party plans. If you see a link in the title, that means that subject has its own separate page, so be sure to click through to get detailed information on that theme.
Hopefully, this list of ideas will spark your imagination and help you design an amazing 50th birthday party for your soon-to-be 50-year-old loved one or friend.
80s party theme
People turning 50 these days enjoyed their teens in the late '70s and early '80s, so themes like this one can be very nostalgic and perfectly fun for a 50th birthday party. Think of 80's music, big hair, and early music videos.
You can also set up a photo booth with props to make it extra fun and to help everyone remember their fun day and their 80s costumes.
College party theme
College themes are really easy. Find out the Alma Mater of the birthday person and make the colors match the team logos for their college. Visit the team store and make a list of things that might fit for decorations. Organize this nostalgic event like a Frat party with a keg and the college's sport of excellence.
Italian party theme
Italian themes might bring to mind rolling countryside with vineyards, think Tuscany. Italian wines and Italian food but make it authentic.
The venue could be your favorite Italian restaurant's party room if yours has Italian decor. You'll definitely have the good food covered.
Another wonderful idea for an Italian theme would be a costume party on a scale of the Venice Carnivals. This is a great idea for your party guests to enjoy and there can be great music as well.
This is my favorite out of this entire list of party themes. An event like this would be the ultimate high-end party of all parties!
Imagine masquerading as someone completely different!
Elaborate and exquisitely detailed costumes and beautifully designed masks mean that pulling this off would require careful planning and lots of enthusiastic friends willing to go all-in with your theme. Keep this in mind as you build your guest list.
To help you plan such an event, you could consider hiring a trained theater costume expert or order directly from a costume shop in Venice.
If you need help finding such a person, contact me and I can give you suggestions for finding the right person.
For more info see the Venice Carnival birthday party theme page and the Carnival supplies page for lots more ideas and some great pictures.
French or Paris party themes
It's a milestone celebration so don't hesitate to go all out and make it a great one. It's the perfect excuse for doing something unusual and fun, like a French party. For French themes, decorate with images of France or Paris, such as the Eiffel Tower, and sidewalk cafes.
Plan your celebration in a Bistro or a Jazz bar.
For more ideas see the Paris Party Theme page, and when you're ready to start your shopping list, visit the decorations for a French theme ideas page.
Cocktail party theme
And another great idea that's so much fun is a cocktail party. Decorate according to the favorite cocktail of the birthday person.
Is their favorite a Pina Colada? If so, pineapples and coconut.
Coconut cake, perhaps.
Go all out with the umbrellas and garnishes!
You may also want to plan for a few other exotic cocktail recipes besides the signature drink, or a punch bowl with the alternate drink being a great punch recipe.
Food could be finger foods or light hors d'oeuvres.
Ask the ladies to wear their best little black dresses and the men can wear their best suits. It will be a fantastic affair that everyone will remember and talk about for years to come.
To help organize and plan: Make a list of drinks, a list of appetizers, and of course a list of guests, then choose what goes together.
Tea party theme
When was the last time you enjoyed a great tea party? This theme is perfect for a girlfriend's 50th birthday party in the afternoon.
Teacakes or a pastel-colored cake and delicate China teacups can complete the look and feel.
If you don't have fancy China, visit thrift shops to find mismatched cups and saucers so each person has their own China pattern.
Don't forget to find a beautiful teapot and a favorite flavor of tea or an assortment. Use delicate placemats and real cloth napkins. The ladies on your guest list will feel special.
Mardi Gras party theme
Here's another fun idea. A Mardi Gras themed party!
New Orleans Style: Music, bright colors, beads, and masks would be the foundations of this theme.
Add in a few touches from the French and choose a venue with a balcony and you have it down.
Shopping list: beads, masks, face painting, music, colorful decorations, and loads of yummy food.
Carnival theme
Carnival could be Mardi Gras style, or it could be the traveling circus-style carnival.
Either way, bright colors are required. For the latter type, hire a few performers and set up a few carnival games. Keep your guest list in mind to make sure it will fit. (Later we'll provide a list of vendors for doing this one well.)
If you could time the celebration for when the carnival is in town, you could have everyone meet at the carnival and carouse together on the spot, then follow up at someone's home or a local bar for the after-party.
Summer party theme
If your birthday is in the summer, there are some great ideas you can use to help appreciate the great weather, too. Plan a barbecue poolside for a summer-themed birthday celebration. Have everyone bring beach towels and swimsuits.
Designate a grill master and a bartender/pool boy, or hire people for these tasks.
The ideal time for this party is Saturday afternoon and into the evening. This is because more people will be off work and enjoying their weekend, without having to get up early the next day.
Hang strings of lights or lanterns in case the celebration lasts into the night to create a nice, soothing ambiance.
Nautical party theme
Sailboats or pirates could be the focus of this theme's decor. Pictures of ships and boats, ropes, and the high seas.
You could even rent a houseboat for a floating celebration and stay up all night or crash in place.
Beach party themes
Beach party themes would include volleyball and Frisbees, beach umbrellas, colorful beach towels, and sand and seashells.
If you don't have a beach available, make do at a swimming pool.
Check into renting a public pool, or hotel pool, or ask a friend who has a pool.
You could also do beach themes without actual water and just base the birthday decorations on the activities and colors of the beach.
Have you started your guest list yet?
Water party theme
If neither of the above things floats your boat, how about a pontoon birthday party on a lake?
Rent a party-sized boat and deck it out with gorgeous lighted decorations if it will be evening.
Include swimming and water toys like jet skis, floats, and maybe even water skiing if you or someone you know has the right boat for it.
If you're not sea-worthy enough to handle a boat, rent a lake house and plan a cookout beside the dock.
A few more ideas for the list of party themes
And the party fun doesn't end there. If you're still looking for some party theme ideas, we've got you covered.
Here is another short list of party themes to give more ideas and spark your creativity:
Riverboat restaurant venue
Camping out together by the campfire
Woodstock-style with late 60's music – get tie-dye party supplies here.
Psychedelic party with a light show and psychedelic colors and music
Flower power/flower children – another variation on the hippie themes
70's themes/sock it to me/Goldie/disco
50th Birthday Themes – More Awesome Ideas for Your Fiftieth Celebration
This theme comes from our collection of 50th birthday themes. This "Everything You" theme is all about them.
This is a great theme to use as an "ode" to the guest of honor. You can use these 50th birthday party themes to show everything great about the birthday boy/girl.
Not only will they feel extra-special with everything being about them, but it will also show how much you care … and show how much you really know about them!
The "everything you" 50th birthday themes
These are also a lot of fun. It's a way to exhibit them and their experiences and accomplishments.
It provides a way for great laughs when you share their life stories — the funny times, the good times, the embarrassing times.
With this type of theme, there are no specific colors to use. Gold is traditional, but a black and white birthday theme is also common.
Another idea is to use a color scheme that is a favorite of the birthday boy/girl. For example, some people like pink or teal. So, a good scheme for them would be pink and match it with white or black or teal with black and white.
50th birthday decorations
Balloons
Follow your desired color scheme and fill the room with balloons. You can also get personalized balloons to make them more specific to the person. On personalized balloons, you can have pictures printed on them. Print your favorite pictures of the birthday person or pictures from their life.
You can also have words printed on them – use things like their nickname, their name, their birthday, sayings they use, etc.
Streamers & banners
For the streamers and balloons in these Everything You 50th birthday themes, you can use your specified color scheme for the streamers. For the banners, you can put the usual "Happy 50th Birthday!".
You can also make one big banner and have all the birthday guests sign it and write in their favorite time with the guest of honor. This is the stuff memories are made of folks!
Dinnerware & utensils
For the utensils, you can use the color theme you have chosen (which is their favorite color). For the plates, you can imprint them with their picture. That way, as everyone eats, they get to see the guest of honor. You can pick one picture of them or fill the plates with many different pictures of great times with the guest of honor.
The 50th birthday cake
For your "everything you" cake, you can do many things. There is now the option to have pictures printed onto cakes. Pictures that are edible. You can select one favorite picture of the birthday person and have it printed.
You could also create your own collage with a graphic program and have them print that collage onto the cake.
Another option is to have a cartoon drawing of the guest of honor out of icing.
Or you could get a cake made to match their favorite pastime or hobby.
For example, men might like a fishing cake, a hunting theme cake, a race car-themed cake, etc.
50th birthday centerpieces
To create nice centerpieces, you can do something simple like balloons with the theme colors.
Or you can buy photo frames – or there are things like cubes that hold pictures. Fill those frames with pictures of the birthday person.
You can buy or borrow digital frames or tablets and load them with numerous pictures of the person and place them on the table so the entire table can see the different pictures.
A photo tree can make a really interesting centerpiece. Have friends and family contribute copies of photos featuring the birthday person and fill the tree with these pictures. Everyone will love this unique look at the person of the day!
You could even create a slideshow of the photos and put them on a big screen, or a laptop screen beside the birthday cake.
50th birthday favors and keepsakes
For a keepsake from the Everything You 50th birthday themes, you can give away the centerpieces. Another idea is to get key chains in which you can place pictures.
Try to find pictures that each person can relate to. For example, events they attended with the guest of honor, or if possible, pictures of the birthday girl/boy with that specific guest.
A keepsake for the birthday person could be as simple as a birthday card that everyone signed, maybe extra-large. Or it could be something a little more interesting like a signature "mascot".
This theme is very versatile and gives a lot of insight into the birthday person.
It truly makes it their day – special and all about them! It builds memories that will be cherished for years to come.
Fun And Creative 50th Birthday Party Ideas – Conclusion
It's easy to see that there is no shortage of great ways to celebrate the 50th birthday. I hope you saw some ideas on this list that will work for you. Is there anything you think we're missing that you want to add? Have fun!