Are you looking for some Paris themed birthday party ideas? You've come to the right place because I love a Paris-themed party as well, and there are just so many different ways to pull this one off! You can do "pretty in pink" or breakfast in Paris with a cafe theme and the Eiffel Tower in the background. You can use French-inspired foods and pastries or play inspired music from Paris in the background. This is just the beginning, so if you're excited about a Paris party, keep reading.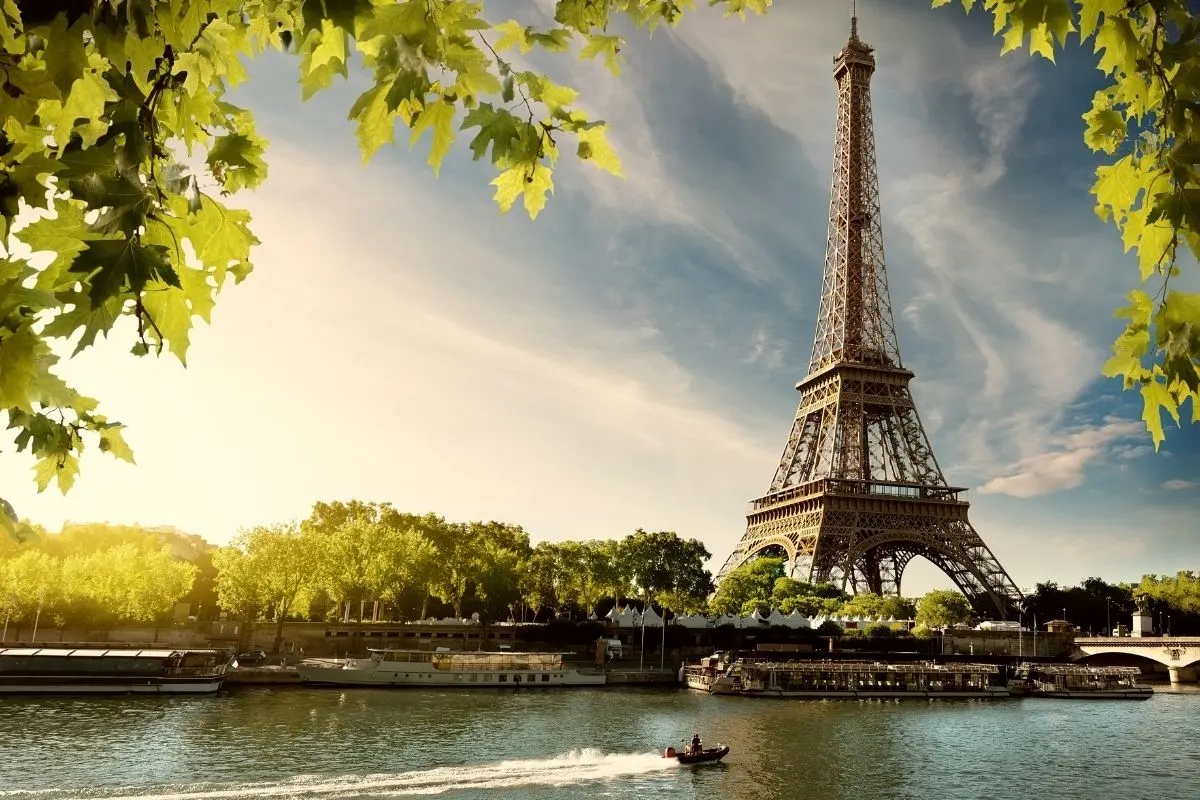 For a French or Paris party theme, lots of Paris pictures will help get you in the mood. This could be for your birthday party, a baby shower, an anniversary, to celebrate a graduation, or any other type of party you want to celebrate with a French feel.
It would be perfect for a milestone birthday like the 16th, 50th, or even the 40th.
Can you imagine doing your bridal shower in this theme? All of your guests will say "ooh la la" when they see the French celebration come to life.
When you think of Paris or French-theme party decorations, the Moulin Rouge, art, and architecture with black lacy iron scroll-work are some of the things that come to mind.
You could do a Moulin Rouge theme for a bachelorette party, for example. Paris is the perfect backdrop for a bridal shower, too. From the dessert table to the cake stands and every other element of your party decor, you can bring Paris right to you.
Sidewalk cafes along the River Seine, bistros, and of course, the Eiffel Tower are common elements, too. It's the city of love and you are sure to love these great ideas for Paris-themed party decorations and more. Let's take a look at some ideas you might use for a birthday party.
Paris Themed Birthday Party Ideas
If you want a Paris-themed birthday party, here are some ideas to get you started:
Paris cafe experience
A Day in Paris party
Pretty in Pink party
Paris brunch party
Pink and black Paris party
These are just a few ideas to get you started. You can make your Paris party whatever you wish. That's the best party of planning your own birthday party theme (or planning for a friend or loved one). You have the freedom to make it what you want it to be. Use these ideas and the others in this post as a jumping-off point to something bigger or more for your big event.
Whether it's a birthday party or some other occasion party, there is one element I really think you should consider for a Paris theme and that is a photo booth. You want to be able to capture all of these memories and the fun and spirit of Paris for this special occasion.
Paris themed photo booth
You can also get a large backdrop and stage a Paris-themed photoshoot for your guests. Allow them to take selfies in front of the backdrop or you can hire a professional photographer. You can also get photo props with a Paris theme to make it even more fun.
30 pcs French Photo Booth Props
Venue Ideas for a Paris Party Theme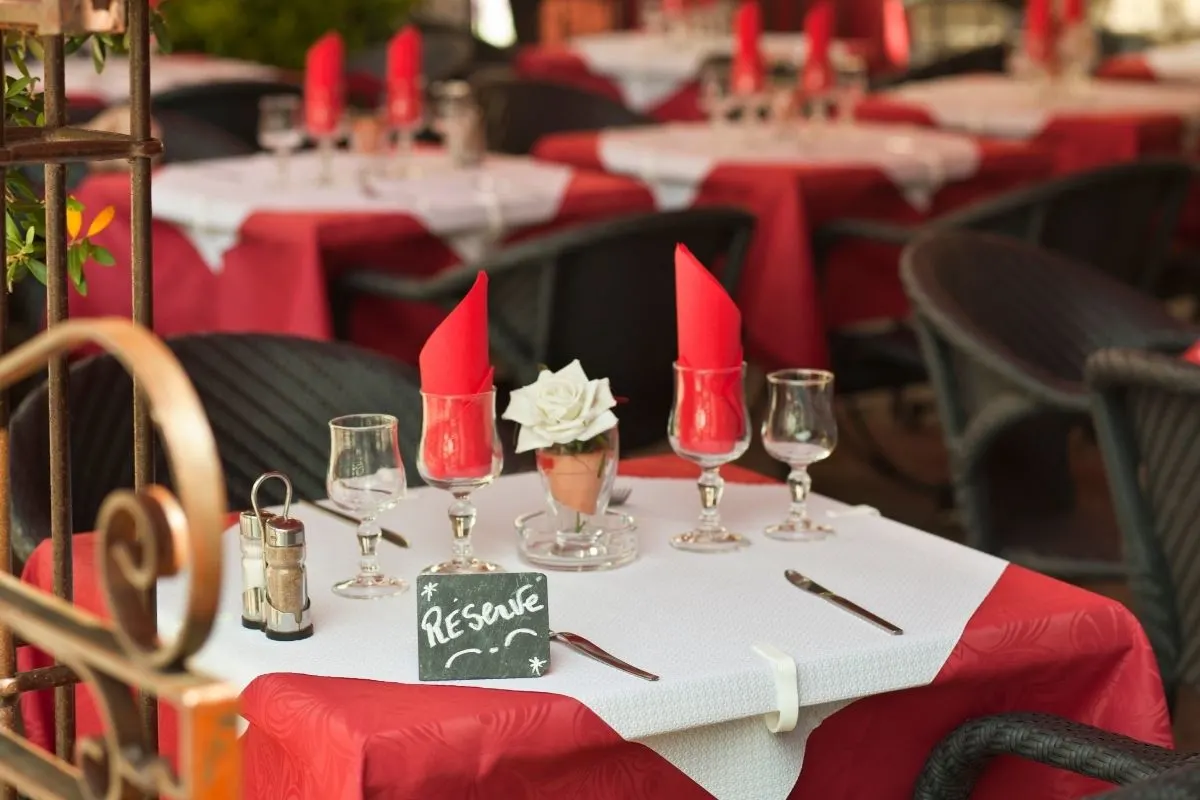 Once you've decided on your party idea, you're also going to have to choose a venue. There are a lot of different ways to do this – from booking a venue to giving your own home a Paris makeover or the big event. Check around your area for French restaurants, bistros, or even French bakeries that may have picturesque decor that would fit your Paris party theme.
Hotels with the right architecture and decor might have the look you can set off with your Paris-themed decorations. Many hotels that have a banquet hall or event hall you can rent for parties will also make a great choice for your Paris party venue. Then you can bring in your own decorations to truly transform the space. It's a good idea to see the physical space in person before the big day so you can get any measurements you might need and also be sure of where you want to put things.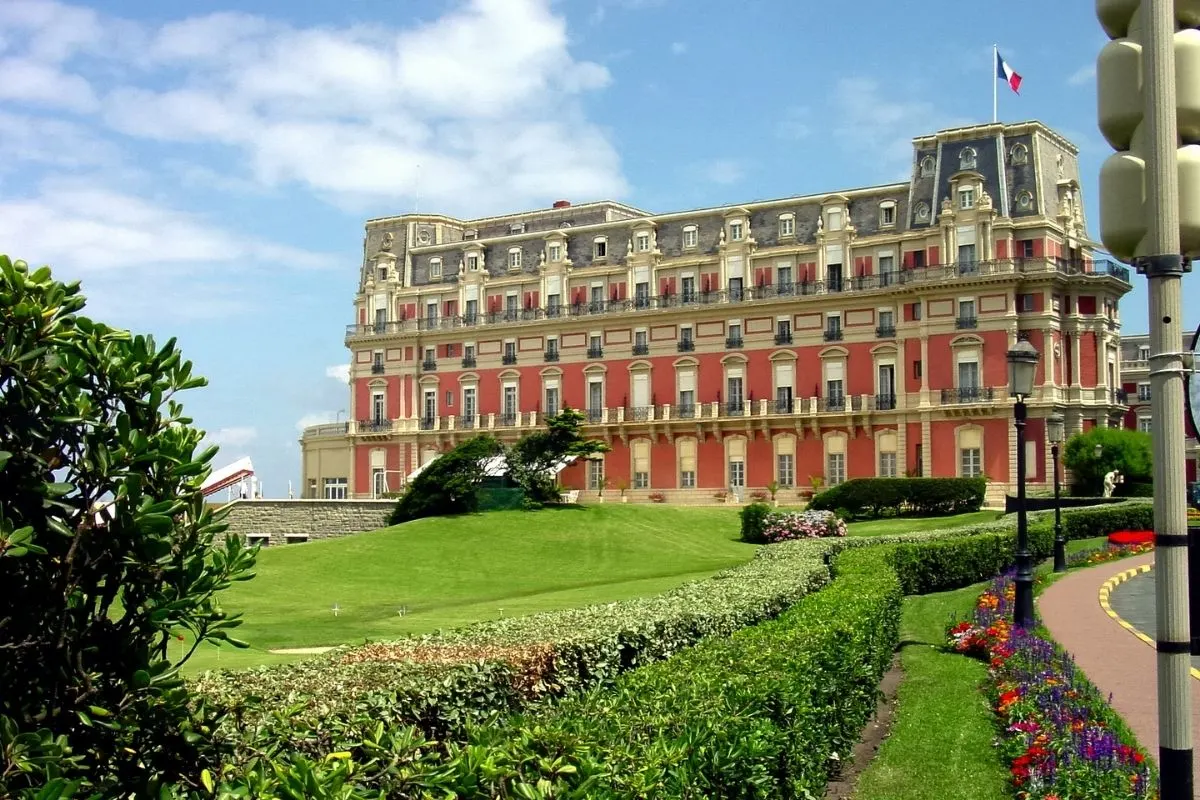 The great thing about choosing a hotel option is that it makes the food much easier since they can cater it onsite for you, saving you time and work.
If you prefer to host your party at home, you might want to set up your patio or deck as a French sidewalk cafe. If you have space in your dining room, you can also transform it into a Paris look with some great decorations and backdrops.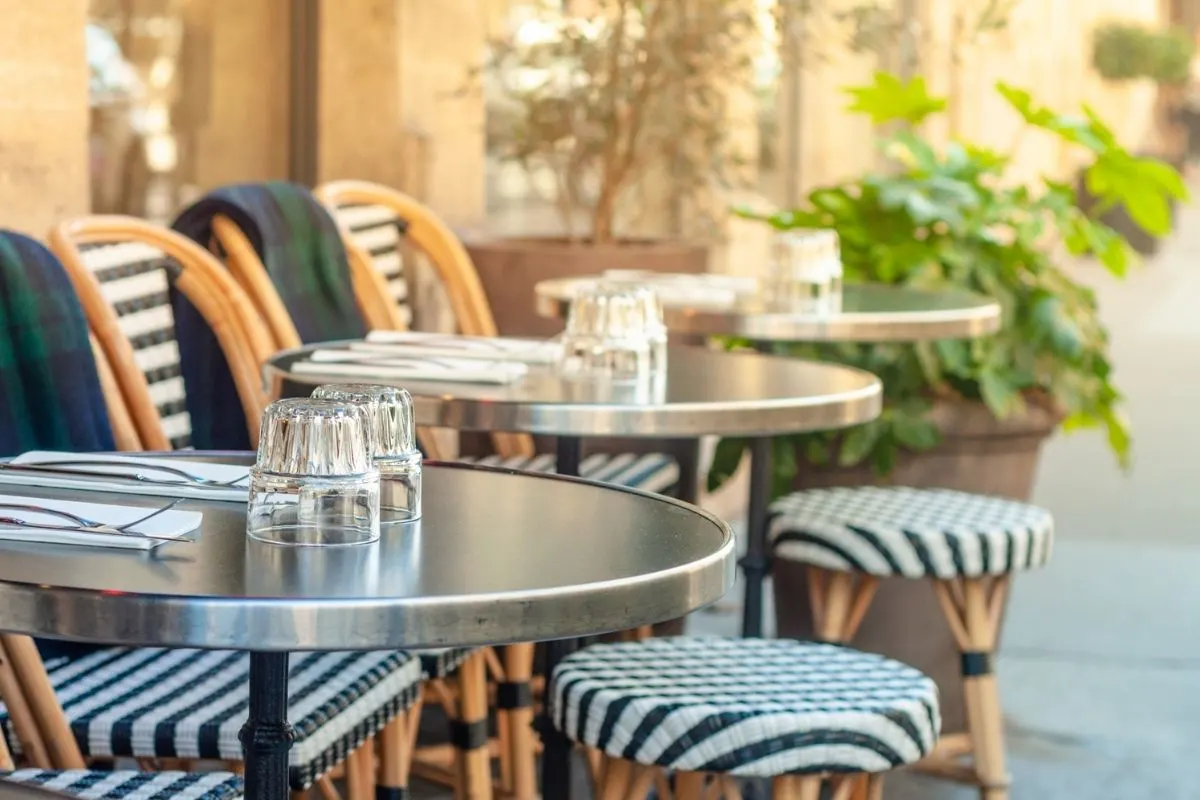 Go all out with a Moulin Rouge cabaret decor, lots and lots of red for this theme for your big day.
Rent one of the movies and choose ideas from your favorite movie scenes.
French-Theme Party Decorations
What if you want to go French-inspired but not specifically Paris only? Hang posters of cancan dancers, a red windmill, and use lots of extravagant feathers. Maybe even headdresses for the ladies to wear.
At the official Moulin Rouge gift shop, you can order posters, cancan fans, and other touches to make your party memorable.
For a more elegant decor, print your favorite Paris images or take your favorites to a photo shop to get poster-sized prints of Paris scenes and sidewalk art. Hang or display these pictures around the room to complement your party theme.
Use black lace to imitate the look of black ironwork. Plaster columns and statues of various sizes are not too expensive for an extravagant party. Also, look for murals or wallpaper you can hang temporarily to set a scene.
Order custom Paris-theme party supplies using some of these images. You might choose a favorite Paris photo to be printed as a placemat or for the party napkins.
Visit French theme birthday party ideas for more ideas that would fit a Paris party theme.
Paris themed birthday party decorations
Here are some additional ideas for Paris-themed birthday party decorations.
a classic balloon arch
Eiffel Tower backdrop and photo cloth
Chic lighting and colors
elegant Paris-inspired table styling
Here are some decorations I really like.
Paris Tapestry Backdrop
This wall hanging will truly set the mood for your party. It is so beautiful and it would also be a great spot for a photo booth. What I like about this banner, aside from the picturesque view, is that you can use it for any type of party. It doesn't have any words on it that designate it for one particular thing.
Paris Party Decorations Set
This set is so gorgeous and has everything you need to decorate a Paris-themed party. It does have a Happy Birthday banner but if your party isn't a Paris birthday party, you can just take that part out. The rest of the kit is still very much worth the price despite that one piece.
Perfect Paris Party Decorations for Birthday!
This one also has a Happy Birthday banner in it but you can also just take it out if it's not a birthday party. The price for the kit is perfect for all of the other things you get – the napkins, cups, plates, etc. This has such a chic feel to it, that it can really set the mood.
Food and Drink Ideas for a Paris Theme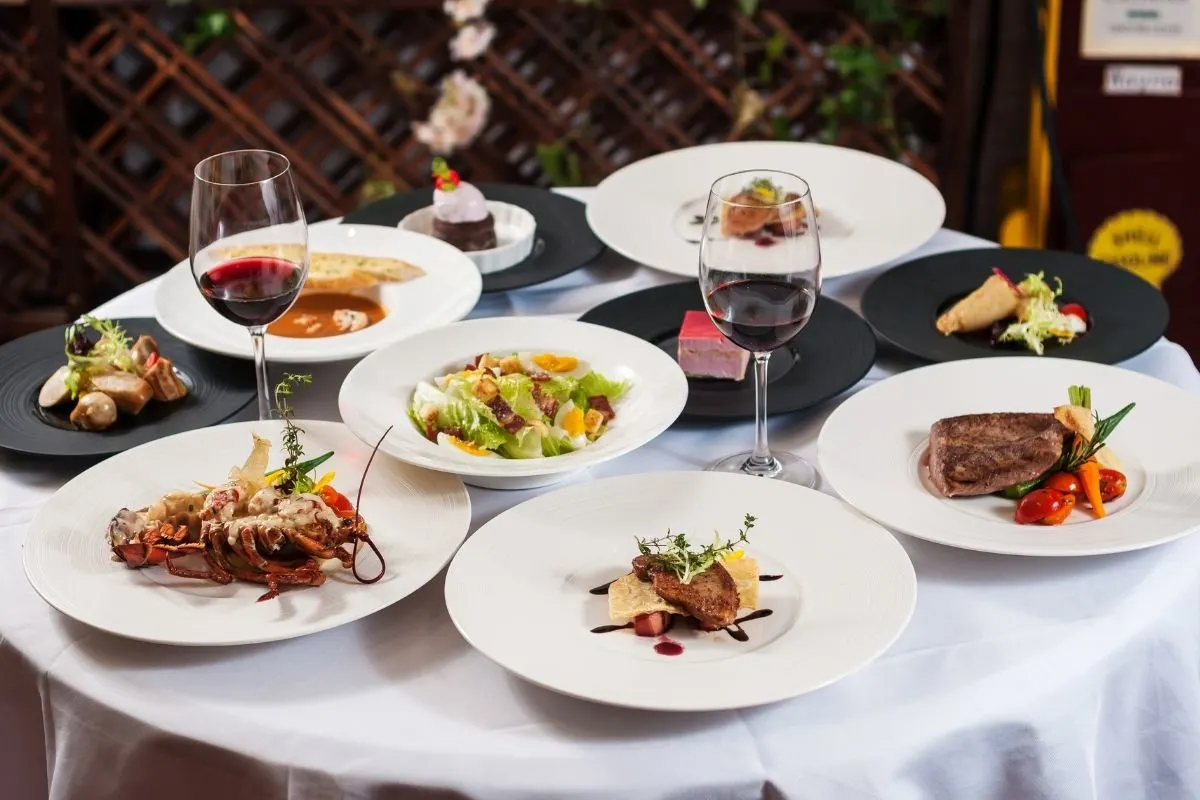 Every great party needs some amazing food and there are few places on earth that have tasty food as you can find in Paris. When you want the next best thing without going to the city, you can get some Paris-inspired foods for your party instead. You can also hire a caterer who is experienced in French cuisine and explain that you're having a Paris theme party and then just let them come up with the full menu for you.
When we were in Paris for my 50th, our favorite thing to do was to buy a bottle of juice, a baguette, and cheese, and sit beside the river.
It was beautiful and delicious!
So juice and cheese would be one option, baked brie, crudites (veggie sticks), a platter of brochettes (pineapple wrapped in ham and grilled, for example), canapes (bread or cracker with toppings, such as flavored butter).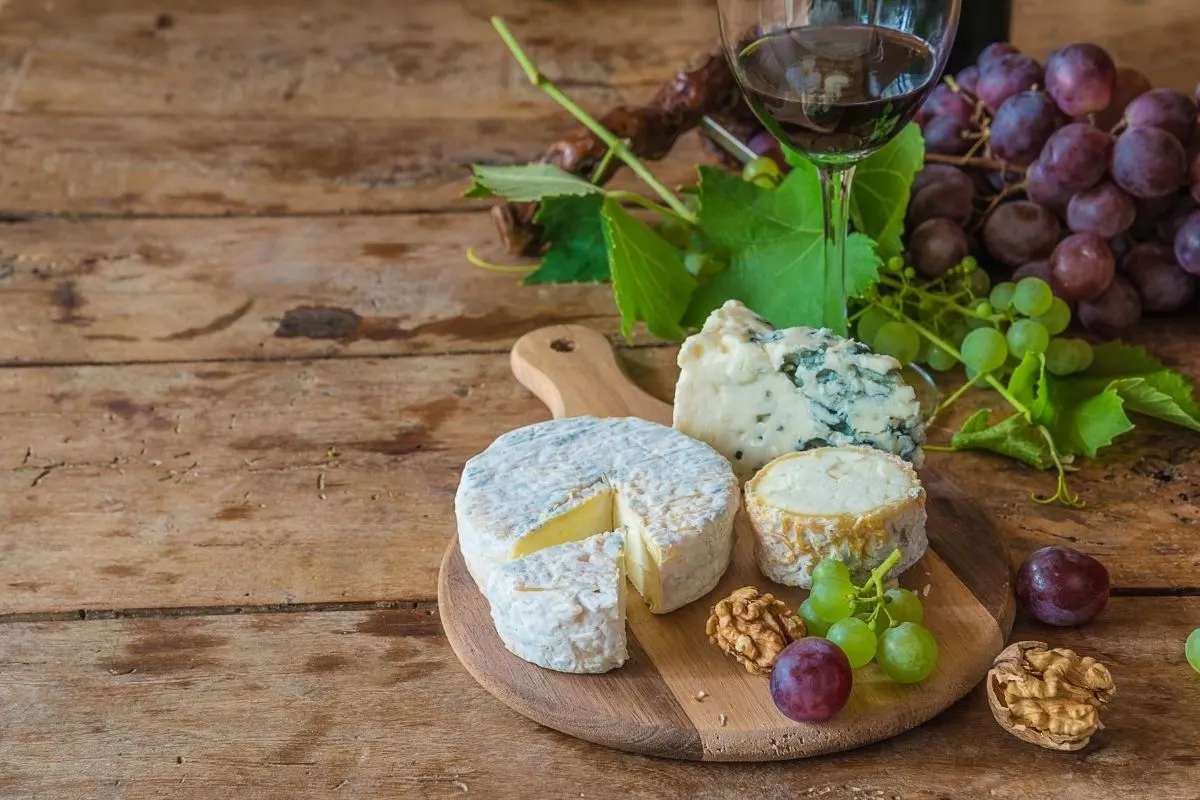 The most important rule of French cuisine is delicious and simple. This makes your job of food prep for the party so much easier. You can use a few staples of iconic French foods and your guests will definitely enjoy and see how it all ties together.
Charcuterie platters are always a big win, plus baguette slices or mini baguette sandwiches for delectable finger foods are a good choice.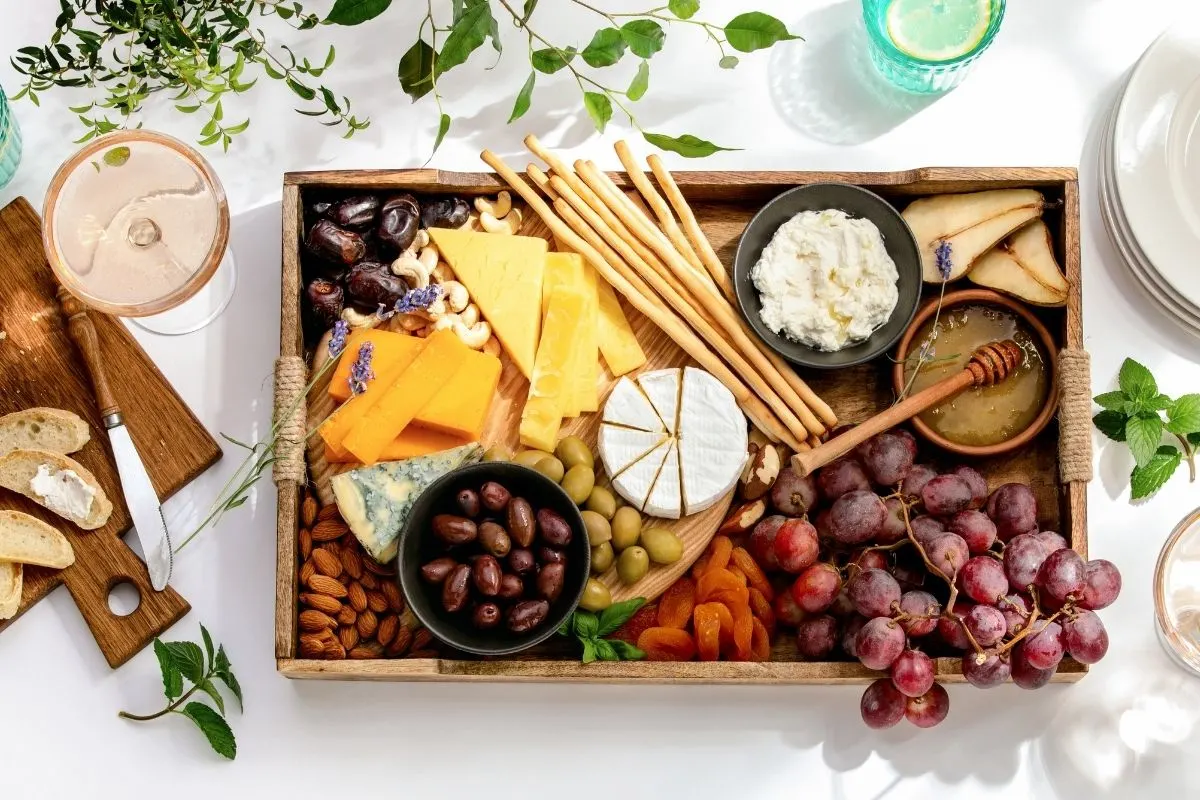 Lots of light desserts are a win, French macarons, Paris-themed cupcakes are all on the list. You could also do a mini patisserie stand, for example.
Top off the evening with Cafe Cremes or Cafe au Laits.
Bon Appetit!
Paris themed party games
What's a party without games? Whatever the purpose of your party, some great games will keep the guests engaged and having fun. While you can use any type of game, I love the idea of using Paris-themed games to really make it extra special and unique for your guests.
A Paris-themed party is also going to need some great party games. Here are some things to consider:
Eiffel Tower ring toss – just as the name says, the object of the game is to toss rings onto the Eiffel Tower to earn points.
Paris-themed BINGO – PARIS instead of BINGO, but played the same way
Make a flower basket – bring supplies and let guests make their own basket
Create art – set up small canvases and supplies and allow your guests to become artists of their own
Host a fashion show – Paris is all about fashion and you can create a fun fashion show for your event
Paris Party Conclusions
Whether it is a Paris birthday party for your birthday girl or a Parisian tea party for a little girl in your living room, you can use these ideas to create the perfect space for you, your party guests, and anyone else who attends.
Bring together some of your favorite things and your favorite people and celebrate one of the world's favorite cities.
It's the perfect way to use themed party decor and sweet treats to celebrate a special event in the spirit of a very special city.
Which ideas about the city of Paris do you like the most from my list?