These French themed birthday party ideas will help you plan the perfect Parisian party. From your invitations to your party favors, you can incorporate a love of everything French into your party. You can also use these same ideas for a baby shower or bridal shower theme if you'd like. A French or Paris-themed party just screams elegance and sophistication and if you've decided to go with this theme for an upcoming birthday, I'm going to give you all the information you need to do it successfully.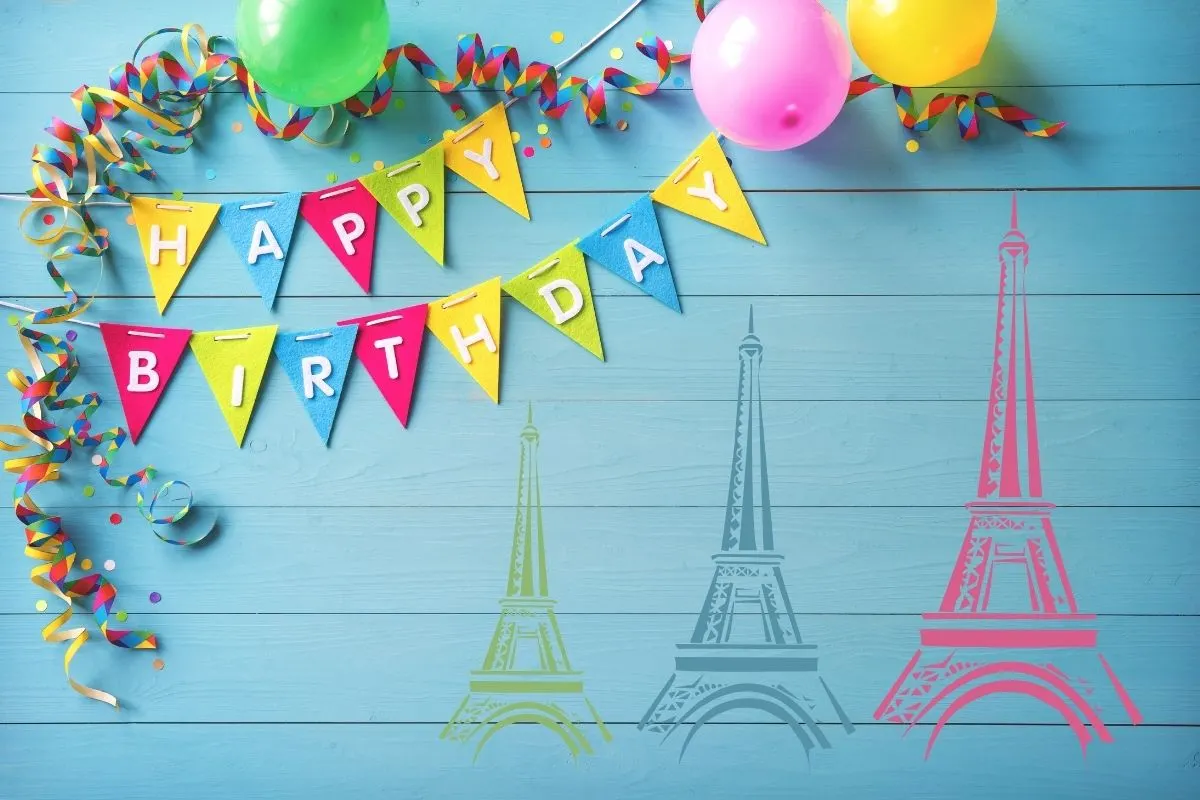 You'll create the best birthday party ever and your guests will be talking about it for a long time to come. There are so many fun activities, tasty treats, and amazing decorations you can use at a party like this. This is an opportunity to bring in all of your favorite French things.
Consider:
color scheme
party decor
party games
French food
party favors
invitations
French theme party decorations for a memorable party are the ones that set the stage for your guests to really participate in the theme. Photo opportunities, props, and backdrops can turn a run-of-the-mill party into a talk-of-the-town celebration. It's a good idea to plan out an outline or structure of what you'd like to do for your party before you begin anything else. This is the perfect way to ensure you have everything you want for your French-themed party.
From milestone birthdays to a first birthday, or anything in between, French party supplies, the right atmosphere, and some careful prepping can ensure your party is a blast and one to remember for years to come.
With these French theme party decorations and party planning ideas, your French or Paris theme party will be talked about for years to come, and that's what a 50th birthday celebration, or any special occasion, should be.
French Themed Birthday Party Ideas
There are several types of French theme party decorations you can use for your party plan. To help you decide what will be best for you, think about the guest of honor. Who are they? How old are they turning? What is their tie to France? The answers to these questions will help you.
One idea is a cabaret theme, with bold colored decorations, especially lots of red, with feathers and black lace. Movie posters from the Moulin Rouge or advertising posters from the early 1900s make a nice display.
Another approach would be to go classical with murals, posters, or photographs of French architecture, faux statues and columns, and possibly ironwork with a fleur de Lis motif. Imitations of famous artwork would work well as decorations, too.
For a more formal look, go with black and white decorations in French patterns with posters or photos of Paris scenes. Here are some other themed ideas you might consider.
If you happen to be French, tell us what would make a truly French celebration.
Bastille Day
One theme you can use is for Bastille Day. Celebrate the start of the French Revolution and the storming of the Bastille in 1789. Think of Dickens' A Tale of Two Cities as you set the stage for your Bastille Day birthday party. You can use red, white, and blue for your decorations to really set the theme. Let's look at some other color choices you might consider.
Eiffel Tower and Paris Cafe
Another theme you may try is a DIY Effiel Tower and Paris Cafe theme. Decorate the venue like a lovely Paris cafe and include Effiel Tower table toppers and other Paris-themed designs. This is a great way to celebrate a Paris-themed party for the birthday of someone you love.
Set the backdrop like the streets of Paris and the city of lights, and consider fun party games like the Eiffel Tower ring toss game or a memory game featuring iconic sights in France.
Other fun ideas are to use other landmarks such as Arc de Triomphe or Louvre Museum in the decorations or in your party theme. This isn't just great for birthdays, but can also work for a bachelorette party or a dinner party with close friends.
Eiffel Tower Statue
This statue would be great for your party theme. You could even use them as table centerpieces if you got a few of them.
French-themed birthday party color choices
Here are some color theme choices you might like for a French-inspired birthday party:
black and pink – these are a popular color choice for Paris-themed parties and they're also easy to find from party supply stores
soft and chic – pastels like soft pinks and blues are another choice that screams French chic
bright and bold – deep blues, golds, or silver can also make for a French night scene color theme
Some other patterns to consider are polka dots, chevron patterns, or stripes. You can also use French-inspired prints with Eiffel Tower, berets, or other Paris or French-themed designs.
Pink, Gold, White, and Black Paris Party Decorations
French-themed birthday party foods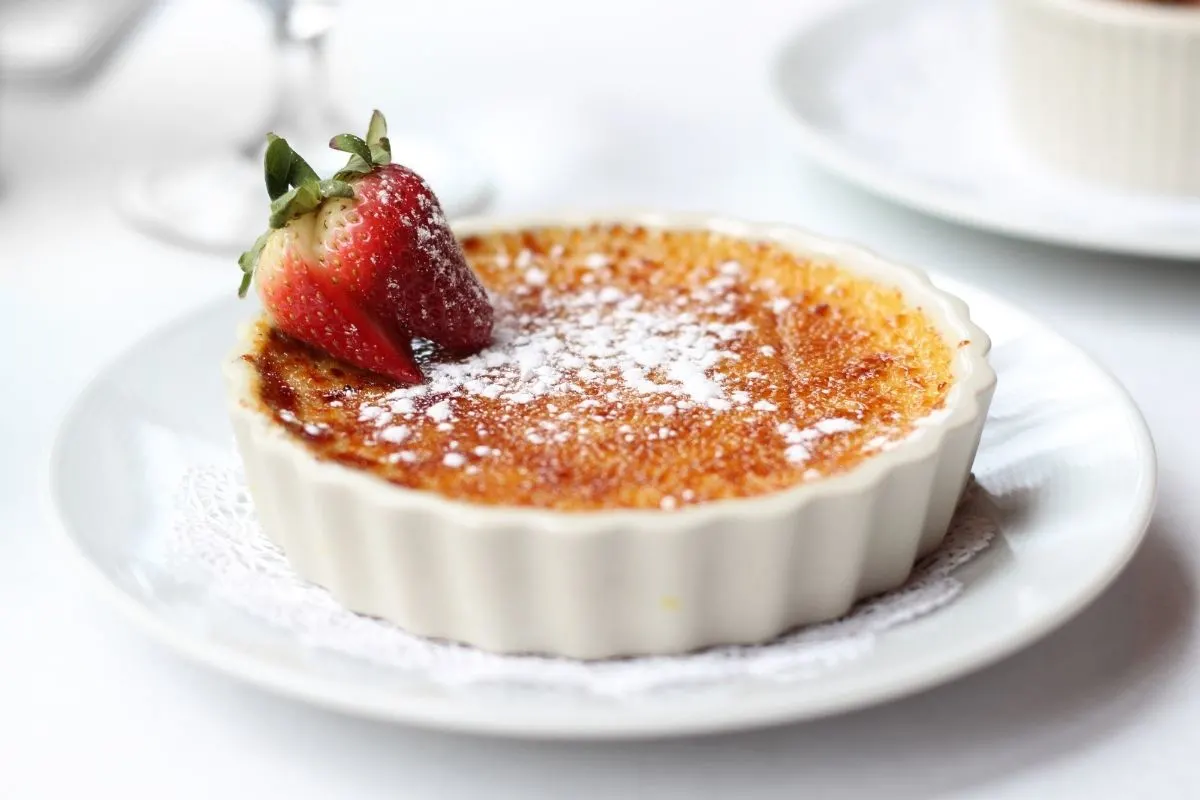 If you're going to throw a French-themed birthday party, you also want to incorporate some foods that are French-inspired. You can make cream puffs or creme brulee for the dessert table, ratatouille for the main course, and other French-inspired snacks or treats. If the guest of honor has a favorite French food, you definitely want to be sure it's included.
Introduce Your French Theme Party
Carry your French theme from beginning to end by incorporating it into your party invitations. You might also want to coordinate your table supplies with your invitations, or at least make them similarly themed.
You may also want to set up a French backdrop or photo booth. Have a photographer ready or have your guests do selfies at your photo booth. You can even choose French-themed photo booth accessories to make it more fun.
Paris Photo Props
Your guests will have so much fun posing for selfies and photos with these cute Paris-themed photo props. Ooh-la-la!
French Ooh La La Party Supplies
This kit is similar to the one above in theme but offers a bit of something different. You might even decide to get both of them and combine them.
Photo Booth Props
This set is completely different in style from the other two but also French-themed and loads of fun.
French Theme Party Decorations to Set a French Mood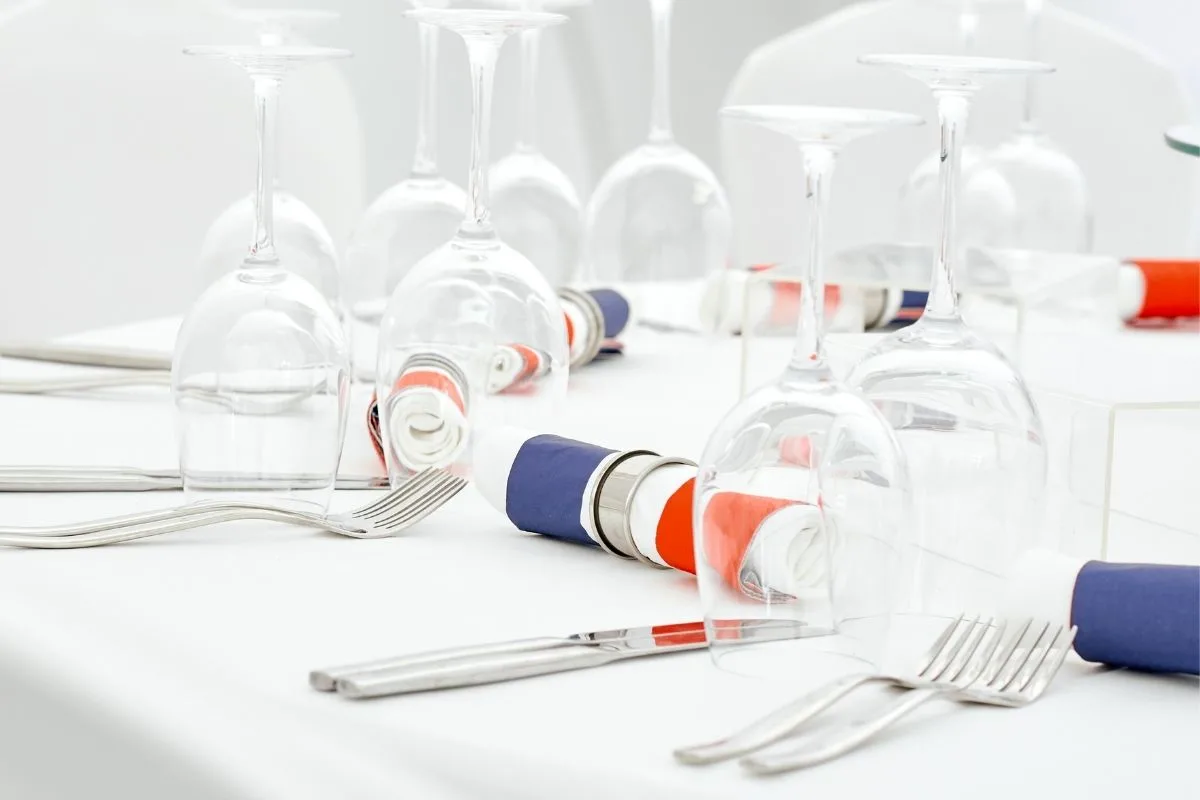 Depending on your venue, you might like to use theme-related poster decorations to set the mood for your french theme party. You can use the French flag in your decor elements, on tablecloths, or just hanging in the room. Another fun way to set a French mood is with the outfits you and others wear to the party. And of course, you can also use food ideas that are inspired by French cuisine.
Ideas for poster images include the scenes, colors, and props from the Moulin Rouge movies, French architectural features, French Jazz, or vintage advertising posters from Paris.
If you already have pictures of your own, you can have them printed in poster sizes at your local office supply store or an online print site.
These can be done for $20 and up depending on where you go and the printing features you add.
Another way to set the mood is with faux statues or murals. Plaster statues are fairly inexpensive and can be ordered online through plastercraft.com. These make great theme decorations!
Dress up the table with fancy theme plates and customizable placemats.
Here are some French party decorations you can get on Amazon and have them shipped right to your door so you're prepared on the big day:
Bon Anniversaire Banner for Happy Birthday Party
You can hang this gold glitter banner up in the party venue to help set the mood.
Parisian Party Bundle: includes plates, napkins, cups, and cutlery
Set the mood and the tables with this easy-cleanup set of plates, cups, napkins, and plasticware.
Paris Tapestry – Eiffel Tower Photo Banner
This backdrop is perfect for setting the mood at your party, using it for a photo backdrop, or however else you want to decorate your French party.
Don't Forget the Music
Don't forget the music "decorations" to round out your French theme party. Your Paris party is not complete without the right music. French jazz would be my choice, and there are lots of options for posters to go along with it. If jazz isn't right for your party plan, you might find another type of music that has French connections.
Think of it as theme decorations for all of your senses. The right music will set the stage and create the ambiance you want for your party. It will get the guests in the mood as well.
French Themed Birthday Party Ideas – Conclusion
You can treat the birthday girl or guy to a truly magical experience when you plan your French-themed birthday party. From pink poodle decor to balloon arches and more, you have all the ideas you need to create a wonderful, fun, French-inspired party. Is there anything you would add to our list?