A movie theme party for a 50th birthday is a great idea for the guy or girl who has it all. It's easy to do, too. Just create the movie playlist, then build the party around that.
Does your birthday person l-o-v-e movies? Are they the kind of person who enjoys going to the theater to see the latest flick? Do they ever rave about a favorite actor or a movie they've recently seen? If you find yourself in charge of their 50th birthday party, this great little theme could work well for you.
If the birthday party is for you, then this theme is a good way to rally your friends and family and have a fun get-together on your birthday. Don't do the same old thing you do every holiday! Get into it and put on this easy-to-do movie theme party. You'll have a blast and your guests will love it.
Give Them a Break – This is the kind of theme you could use for someone who wouldn't take well to the gags and teasing that ensues at other 50th birthday parties. At a movie theme party, the attention doesn't go fully on the person. Instead, it goes on the movies, so it's a good way to avoid the other, more parody-esque behavior other theme ideas that might invite.
Unisex – This theme works well for both guys and girls. It's especially good for cold-month birthdays and for those people who own a good theater system and enough seating to accomodate a guest list. However, any lack of seating could be compensated for with chairs and floor pillows.
With some thoughtful planning and a few special details, this can be a special 50th birthday theme you'll all remember forever.
Choose a Subject for Your Movie Theme Party
One way to make your movie theme party great is to focus on their favorites. If your birthday person is a movie buff and you know their likes and dislikes, that could be easy. If not, you'll need to brainstorm your playlist. You can do this by researching actor, actress, director, franchise or genre ideas.
Example: I love Alfred Hitchcock movies and an evening of watching classics like The Birds, Vertigo, Psycho and The Rope would be very enjoyable for someone like me.
In fact, movies by well-known artists like Alfred Hitchcock are available in a collection. You could gift a collection to the movie lover who "has it all."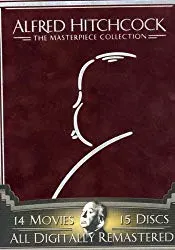 Choosing a Film
You could choose a new-release movie the birthday person would like to see, or you could create a mini film festival of movies from a specific genre.
On the other hand, why not base the entire evening and decor around one specific classic like Gone with the Wind, Breakfast at Tiffany's, or Singin' in the Rain?
Another idea to think of is the new streaming television shows that let you binge-watch episode after epsiode without ever touching the remote. This could be good for a 50th birthday party that lasts an entire weekend.
The key to successful choosing is identifying what the birthday person likes.
Want some Ideas?
No problem! To get you started, I've put together some movie subject lists below, to get your creative juices flowing. Give them a look!
(Note: I'm absolutely sure I've not listed every possibility here. But that's okay! I recommend using IMDB.com for more in-depth research. They have scads of lists and topics to browse through.)
Possible Actors for Movie Selection
Al Pacino
Anthony Hopkins
Arnold Schwarzenegger
Brad Pitt
Brian Cranston
Cary Grant
Christian Bale
Christopher Walken
Clark Gable
Clint Eastwood
Colin Firth
Daniel Day-Lewis
Denzel Washington
Dustin Hoffman
Edward Norton
Gary Oldman
Gene Hackman
Geoffrey Rush
George C. Scott
Gregory Peck
Harrison Ford
Henry Fonda
Hugh Jackman
Jack Lemmon
Jack Nicholson
Jamie Foxx
Jeff Bridges
Jimmy Stewart
Joaquin Phoenix
John Cusack
John Goodman
John Wayne
Johnny Depp
Keanu Reeves
Kevin Spacey
Kirk Douglas
Kurt Russell
Leonardo DiCaprio
Marlon Brando
Matt Damon
Matthew McConaughey
Mel Gibson
Michael Caine
Michael Douglas
Morgan Freeman
Orson Welles
Paul Newman
Peter O'Toole
Richard Gere
Robert Duvall
Robert Redford
Russell Crowe
Samuel L. Jackson
Sean Connery
Sean Penn
Sidney Portier
Steve McQueen
Sylvester Stalone
Tom Cruise
Tom Hanks
Tommy Lee Jones
Woody Allen
Possible Actresses…
Anne Hathaway
Annette Bening
Audrey Hepburn
Barbara Streisand
Bette Davis
Cameron Diaz
Cate Blanchett
Catherine O'Hara
Catherine Zeta-Jones
Courteney Cox
Debbie Reynolds
Dianne Wiest
Dine Keaton
Doris Day
Elizabeth Hurley
Elizabeth Taylor
Ellen Burstyn
Emily Blunt
Emma Thompson
Faye Dunaway
Frances McDormand
Glenn Close
Goldie Hawn
Grace Kelly
Helen Hunt
Helen Mirren
Helena Bonham Carter
Ingrid Bergman
Jane Fonda
Janet Leigh
Jennifer Aniston
Jessica Lange
Joan Cusack
Jodie Foster
Julia Roberts
Julianne Moore
Julie Andrews
Julie Christie
Kate Winslet
Katharine Hepburn
Kathleen Turner
Kathy Bates
Laura Dern
Laura Linney
Lauren Bacall
Lisa Kudrow
Liza Minnelli
Maggie Smith
Marilyn Monroe
Meg Ryan
Melanie Griffith
Meryl Streep
Michelle Pfeiffer
Naomi Watts
Natalie Portman
Nicole Kidman
Reese Witherspoon
Sandra Bullock
Sharon Stone
Shirley MacLaine
Sigourney Weaver
Sissy Spacek
Stockard Channing
Susan Sarandon
Tippi Hedren
Toni Collette
Vera Farmiga
Vivien Leigh
Comedy Stars
Adam Sandler
Amy Poehler
Amy Schumer
Bill Murray
Billy Crystal
Bob Hope
Carol Burnette
Chris Rock
Dana Carvey
David Spade
Eddie Murphy
Jack Black
Jackie Chan
Jim Carrey
John Candy
Leslie Nielson
Lily Tomlin
Madeline Kahn
Martin Lawrence
Mary Tyler Moore
Mike Myers
Peter Sellers
Robin Williams
Steve Carrell
Steve Martin
Tina Fey
Whoopi Goldberg
Will Ferrell
Will Smith
Characters and Franchises
Alien
Back to the Future
Batman
Die Hard
First Blood/Rambo
Fistful of Dollars (Clint Eastwood)
Indiana Jones
James Bond
James Bond
Lethal Weapon
Marvel Superheros
Men in Black
Mission Impossible
Planet of the Apes
Rocky
Star Trek
Star Wars
Superman
Terminator
Jason Bourne
The Fast and the Furious
The Godfather
The Matrix
The Mummy
X-men
Directors
Brian De Palma
Clint Eastwood
Francis Ford Coppola
George Lucas
Guillermo del Toro
James Cameron
James Nolan
Joel Coen
M. Night Shyamalan
Martin Scorsese
Peter Jackson
Quentin Tarantino
Ridley Scott
Stanley Kubrick
Steven Spielberg
Tim Burton
I hope those lists help give you ideas. You can also try Rotten Tomatoes for even more brainstorming and ideas.
Make it Interactive
Here's an idea to make the party really fun. Instead of just watching the movie, have each guest interact with theme by bringing something related to the movie or wearing something that's associated with it. Even gifts can be movie-related!
You could go all out and make it a cosplay party! I bet some die hard Star Trek fans would go for that idea.
Music
Some really big movies have soundtracks you can play as background music before and after the movie. Some examples of movies with soundtracks are Barbara Streisand movies, James Bond movies and Shaft. Finding the music might be a trick, depending, but I bet you'd have luck at iTunes and/or Amazon.
Menu for a Movie Theme party
So now that we've decided upon the subject, the playlist and the music, it's time to think about refreshments.
Since this is a movie theme party, the menu is obvious. There HAS to be popcorn involved somehow. For a small gathering, you could use your own popcorn maker or favorite stove-top method. For larger gatherings, you could rent a popcorn machine like those you see at the movies.
Super Snazzy Snack Idea
Serve the popcorn in popcorn cups or tubs and for an ultra-specal touch, set up a popcorn bar! Let guests serve themselves and help them create their on special popcorn concoction bysetting out an array of toppings like butter and salt, various dried herbs, lemon pepper, garlic powder, olive oil, truffle oil or other flavored oil, soy sauce and parmesan, cinnamon sugar, hot sauce, or wasabi powder. Perhaps you have a favorite not listed here? Put it out there!
Along with those crispy kernels of goodness, I recommend the rest of your menu resemble a concession stand at the movies, with one caveat. Make it much, much better. Allow me to elaborate.
Fabulously Fancy Frankfurters
In some cicles, a hot dog is a wiener nestled in a white bun. But at this 50th birthday party, you can make hot dog masterpieces. First, decide whether you'll steam, roast or grill the dogs. For the wrapper, you could offer a cheese-baked bun, a pretzel bun or a poppy seed bun. For toppings, you could offer an array of possibilities, each ingredient a potential of something very special. Here's what I'm talking about. Along with ketchup mustard and relish, you could offer dill pickles, tomato slices, onions and sport peppers, chili, cheese, cole slaw, sauerkraut, guacamole and salsa (serve with tortilla chips). Your guests will doggedly create the best ever dogs! (Like how I did that? :D)
Sides and Stuff
Along with the above, serve other movie foods like pizza (frozen, deliver, or homemade), nachos and candy you put out in bowls. I do recommend adding a salad so everyone gets their veggies!
Cinematic Cake
For this movie party theme, I envision a devil's food sheet cake frosted with white icing, decorated like a filmstrip, then topped with your favorite birthday sayings. Voila!
Movie Theme Decorations
The decor for a movie theme party is a no-brainer.
Red Carpet – Have your guests arrive in style. Put down a red runner or purchase a small carpet remnant so they can make a grand entrance. Place velvet ropes or red ribbons around the entry way for more pizazz.
Posters – Movie posters will be essential. Try to use posters that match your playlist just like you'd see at the theater.
Signs – For your Happy Birthday banner and other signs, create a "Now Showing" marquee and put the birthday person's name in lights.
Serveware – Acquire movie-theme imprinted plates, napkins and cups. Like these from Amazon (Prime eligible):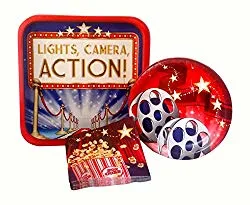 For the popcorn, you could even get custom personalized popcorn cups that guests could use as a keepsake of sorts, especially scrapbookers. Beaucoup is one merchant that offers personalized items like this.
Etc. – Other touches might include movie table runners, movie set props and if you choose a popular franchise for your playlist, use signature props from that movie/franchise and scatter them about.
Costumes – Those of you who like to go all the way and/or hire staff for your movie theme party? Use usher costumes to play the part. You could have someone wear a costume of your movie character and entertain the kids – as long as it's a kid-friendly character like Batman or Indiana Jones.
Movie Theme Party Invitations
This is probably my favorite touch to make a movie theme party fun and exciting. Two strong ideas come to mind, actually.
Clapperboard Invitations – You know that board they click before filming a scene? Style your invitations accordingly, with one side being the party details
Bob's 05th Birthday Party
Scene 1 – 5.15.18
Take 5 – 2:00 pm
You're Invited!
and the other side being the address and directions.
Casting Call Invitations – Make your invitations in the form of a casting call announcement. This is asy to create yourself and with the right graphics, you could use regular paper and envelopes.
Either of these ideas would add a whimsical detail to your movie theme party and set the stage for fun, fun, fun!
Gifts for a Movie Theme Party
As mentioned above, give them a boxed set or collector's version of their favorite movie or TV series as a 50th birthday gift. Or memorabilia of their favorite movie.
Big Gifts – Want to give a bigger gift? Present them with a new home theater, or a new theater-style sofa. How about a new video camera? Or splurge with a trip to Hollywood with a stroll down the Hollywood Walk of Fame, tickets to the Oscar ceremonies and/or a movie studio tour?
I hope you like my brainstorms and ideas for a 50th birthday movie theme party. It could be a really fun time for someone you love … or even you, if you're planning your own party. The key is to choose favorites in films, food and music. The rest is easy!
Enjoy!