What better way to celebrate a milestone birthday like the 50th than with some funny gag gifts? Here is a compilation of some of my best gag gifts for 50th birthday celebrations. Before we get into the suggestions, what is a gag gift?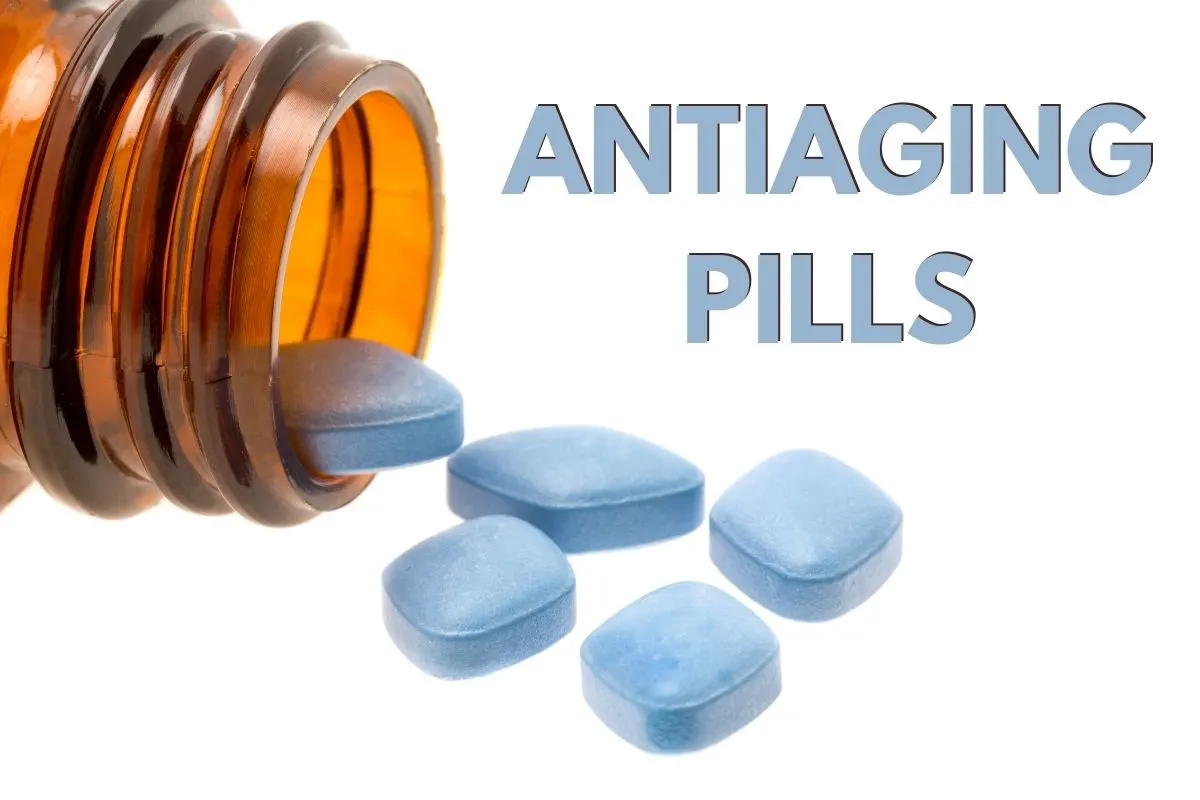 Simply speaking, a "gag" gift is meant to be a joke, although sometimes they are fun to keep and hold onto memories. When you think about aging and adult birthdays, sometimes gag gifts are to poke fun at getting older. They should be done in the spirit of fun and love, and not to truly make fun or make anyone feel bad. It's not a joke to be hurtful to anyone, so keep that in mind.
Choose Carefully
And before giving a gag gift to the guest of honor, be sure you know them well enough to know that they will appreciate it, and also that they will not take it too seriously or get their feelings hurt by it. A rubber chicken or a fanny fart bank are gag gifts or novelty gifts meant to make people laugh.
Calling someone "old man" in your birthday card when it's meant as a joke is supposed to be playful. But if you know the person will truly be hurt by it, this is not the direction to take for your birthday celebrations.
These gifts are a great way to show your special family member how much you care for them. Sometimes the best way to embrace aging is to joke about it, and gag gifts are a great idea when you want to do this. I've compiled some funny 50th birthday gag gifts for you to explore. I hope they will get you started and help inspire some fun, hilarious, entertaining ideas of your own. Also, feel free to use any of the ideas from my list however you choose.
Need even more ideas? Check out our incredibly funny 50th birthday gift ideas.
Gag Gifts for 50th Birthday
50th birthday gag gifts work best when dealing with close friends and our dearest relatives. A funny gift might not go over as well with someone you don't have that connection with. They are the ones we can poke fun at and have a laugh with, so let's get you going!
These funny gag gifts can be homemade or store-bought. Either way, they will always be sure to get a laugh.
The ideas for gag gifts are nearly endless, but one thing they all have in common is a good laugh!
Always be sure to remember "the line" and don't go too far with the wrong person.
Always keep in mind the type of person you are getting the gift for.
From party games to thoughtful gifts, there are so many ways to enjoy a special birthday event together. When you want to give a novelty gift or express your love and appreciation with laughter, gag gifts might be the way to go.
Here are a few great ideas for some really great giggles:
Funny Gag Gifts for 50th birthday
Gag gifts are fun for the big Five-O because they make light of getting old and will give your birthday person and friends a great laugh — provided you're with the right people. A great gag gift can lighten the mood and help you feel better, even if you're a little sensitive about getting older and reaching such a milestone birthday.
For some people who don't get upset on their birthdays, 50 is still a big deal because it's the half-century mark and it means five whole decades of being alive. That can be a lot to process, even if you're feeling pretty good about yourself.
Plenty of stores have a variety of gag gifts but sometimes they're just not within the budget – or you want to use the money toward a real gift and just add gag gifts for fun.
Use these instructions to make some fun homemade gag gifts for 50th birthday occasions.
"50 ROCKS!!"
What You Need:
50 rocks (either rocks from outdoors or decorative ones from the dollar store)
A clear vase or jar
A piece of paper
Glue
A marker
Clean up the rocks and count them out to make sure you have fifty of them.
Cut the paper into a square that will fit nicely on the front of your jar or vase.
Decorate the paper with "50 ROCKS!". Make sure it's colorful and eye-catching.
Glue the paper onto the jar/vase.
Place all 50 rocks into the jar/vase.
You could also decorate further by mixing in some sparkles into the vase/jar with the rocks. This is a fun little gift you can use as a decoration at the party, or on their desk at work. One thing I like about this idea is that it is simple to do and also that you can make variations of it to suit your needs.
"Anti-Aging Pills"
When you need something to stop aging in its tracks, these anti-aging pills (gag gift) will do the trick. They do say laughter is the best medicine!
What You Need:
Empty old pill bottle
Candies (something that looks similar to a pill)
Sticker Label
Marker
Decorate the sticker label with a catchy pill name. See below these instructions for a list of fun pills a 50-year-old may need.
Remove any old labels on your pill bottle.
Fill the bottle with your candies (breath mints, etc.).
Close up the bottle.
To give the added touch, you can also create a fake paper prescription slip to put in the card before giving them the pills.
Some Catchy Pills for a 50-Year-Old
Here are some other versions of the same gag gift. You can make different types of pills, such as:
– "Anti-Aging Pills"
– "Old Age Relief"
– "Memory Boosters"
– "Senility Serum"
– "Help IT Up"
– "Hot Flash Cool Down"
"Don't Forget"
What You Need:
Blank Notepad
Marker
String
Pen
On the front of the notepad, write "Use in case of senility."
Tie the string to the top of the notepad.
Tie the pen to the other end of the string.
You can also add some notes on the first page for them. You can add things like their name, a list of their closest relatives' names, their relation to them, etc. You could even write something like "If I'm lost, please return me to ________________ (add their address)."
There are many different homemade gag gifts for the 50th birthday. These don't cost much – usually, just stuff already have at home, or things you can get for cheap at the dollar store.
Feel free to use these ideas at any time to make great gifts and hopefully great laughs as well! These are certain to make someone laugh at the party and that is hopefully going to be the birthday boy or girl!
Homemade gag gifts for 50th birthday
When you want to have a funny birthday present, sometimes making it yourself really is the best way to go. You can be sure you exactly what you need to say happy birthday in a fun way. The good news is it doesn't have to be hard to make a homemade gag gift for their special day. And if it's meant to be funny anyway, it's okay if everything isn't perfect.
Making homemade gag gifts for 50th birthday occasions will get you a great laugh on a budget. Trust me, you don't want to miss out on any of these EPIC gag gift ideas!
Create An Old-Age Survival Kit
To make this 50th birthday gag gift, start with an interesting gift box and fill it with things we might need as we get older. You can also write a funny note or card and mention things like, "In case you still have all original parts" or something to that effect. You could also put "Made in [birth year] on the card or basket.
Here is a list of things you can add to the basket:
Arthritis rub
Incontinence supplies
Very strong reading glasses
Metamucil or fiber drinks
A journal called a "memory log"
Nutritional shakes
A bottle of candies (Tic-Tacs) called "anti-aging" pills.
Walking stick
A VERY large magnifying glass
Be creative! You can add anything you think would be helpful for someone who's getting older. A great humorous saying can become the talk of the party and if your guest of honor has a great sense of humor, they're going to love it and remember it for many years to come.
"50 Sucks"
Design a mug with the caption, "50 Sucks."
For this, you need lollipops — fifty of them, to be exact. Take these lollipops and arrange them in a vase or cup or attach them together in some manner.
On the container, write "50 sucks" in bright, fun colors.
Or another way to do it is to get one BIG lollipop. These large lollipops are usually plastic covered so grab a sticker and label it with, "50 Sucks".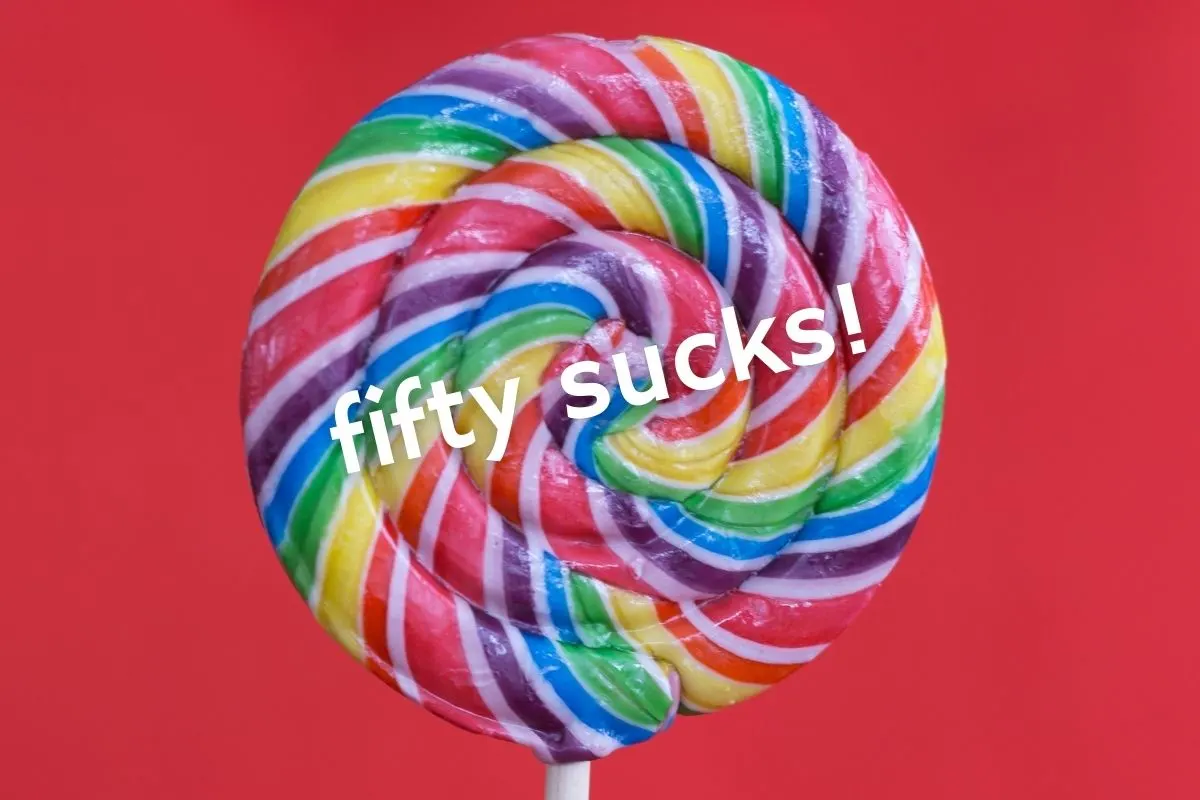 Personalized 50th Birthday Gag Gifts Items
Personalized 50th birthday gag gifts can be designed on t-shirts, travel mugs, coffee cups, key chains, ball caps, puzzles, and much more.
There are so many different things that can be personalized – all in varying price ranges, too.
If you want to do something homemade, you can use a permanent marker on a t-shirt. In fact, Michael's has an entire section for t-shirt painting. If you want to buy something from a photo store, you can have it personalized with a photograph.
These are great gifts because they are personal that will be cherished for years to come.
And you can personalize using our 50th birthday sayings here. You could also give personalized gifts with some other type of gag gift, like some funny fake teeth with a note that says, "Now that you're getting older, you might be losing yours," or something similar.
It's also possible to make a humorous 50th birthday theme for the whole party and then work your gag gifts in where they make sense. When you don't have the time or the skills to make something at home, you can buy gag gifts for a fiftieth birthday as well.
Best Gag Gifts for 50th Birthday
Here are some more ideas for gag gifts for 50th birthday fun. Not everyone has time to make something at home and some of us just don't have the skills or the patience for handmade gifts. Or maybe you happen to know that the recipient just won't appreciate a handmade gift as much as some people would. Whatever the reasons, when you decide you want to buy some gifts instead, I've got some ideas for that too.
Gag gifts for men turning 50
Here are some gag gifts for men turning the big 5-0:
Funny shirt – built 50 years ago
Memory mints for senior moments
Oldometer t-shirt
Dehydrated water gag gift
These are funny gifts the birthday boy is sure to appreciate, especially if he has a good sense of humor.
Gag gifts for women turning 50
And here are some gag gifts for the women in your life turning 50:
Senior driver car magnet
Not everyone looks this good at 50 shopping tote
I regret to inform you funny mug
With age comes new skills funny t-shirt
These funny gifts for the birthday girl will have her laughing the whole day through. Now let's look at some other funny gift ideas for a 50th birthday occasion.
Over the Hill
The famous saying, "over the hill". This is used for many of the older milestone birthdays, but I think that 50 is the top of the hill and it's all downhill from there (excuse the pun).
There are many stores that sell stuff with over-the-hill themes. They also have different prank gifts like candies in a pill bottle – and label the bottle of pills as "Anti-Aging" pills or something.
Here are some examples:
Over the hill say what? Hearing enhancer
Emergency underpants – 3 pack
Inflatable walker and cane
Over the hill jumbo playing cards
These are all funny gifts for the over-the-hill birthday. But keep in mind that sometimes it's about more than just the gift. You can also add some cute and funny finishing touches to a more serious gift to give it a bit of levity. Let's take a look at some creative ways you can do this.
Gag Gift Touches to Add to Your Gift
If you don't want to apportion your entire gift to a gag, you can just add a touch of fun to your main, serious gift.
Here are some funny touches:
Buy a cane and decorate it with a horn, magnifying glass, bells, etc. No one will miss the slow-moving person!
Get some crack filler from the hardware store and label it, as "anti-wrinkle cream."
Create a notebook with a label on it, calling it their "memory book" so they can keep track of the memories they don't want to lose.
Arrange some champagne flutes with prune juice in a display for a toast to their 50th birthday.
Decorate their front lawn (or desk at work) with 50 of something. Examples: 50 skunks or 50 large lollipops. Display a sign that says Happy 50th Birthday, or even another joke or other saying.
These are only a few of the creative ideas that could be used for 50th birthday gag gifts.
For one particular dad's birthday, a card was made and signed by everyone, but the card was huge (like 3 feet high) and with it was attached a pair of reading glasses from the dollar store.
The card noted that these glasses were to help him see the card. That definitely got a lot of laughs from everyone in attendance.
Also, a purchased stuffed dog with big, magnifying glasses was added for everyone to sign. It had a witty saying about his 50th birthday as well.
Gag Gifts for 50th Birthday
As you can see, there are so many hilarious and fun ideas for gag gifts to help you choose the best gifts for the best people in your life. These 50th birthday ideas are meant to inspire and motivate you to make this big day fun and entertaining.
We each only turn 50 once. It's a day to have fun, so just be creative. I hope these ideas help you make the day fun and unforgettable.
What ideas did you like the most? Which ones really made you laugh out loud? Which ones do you think you might try for yourself?