These 50th birthday sayings will help you take a very special day and make it even more amazing for the guest of honor. This is a milestone birthday and the introduction to the golden age. It marks five decades alive on this earth, and it's a great time for celebrations with your special someone.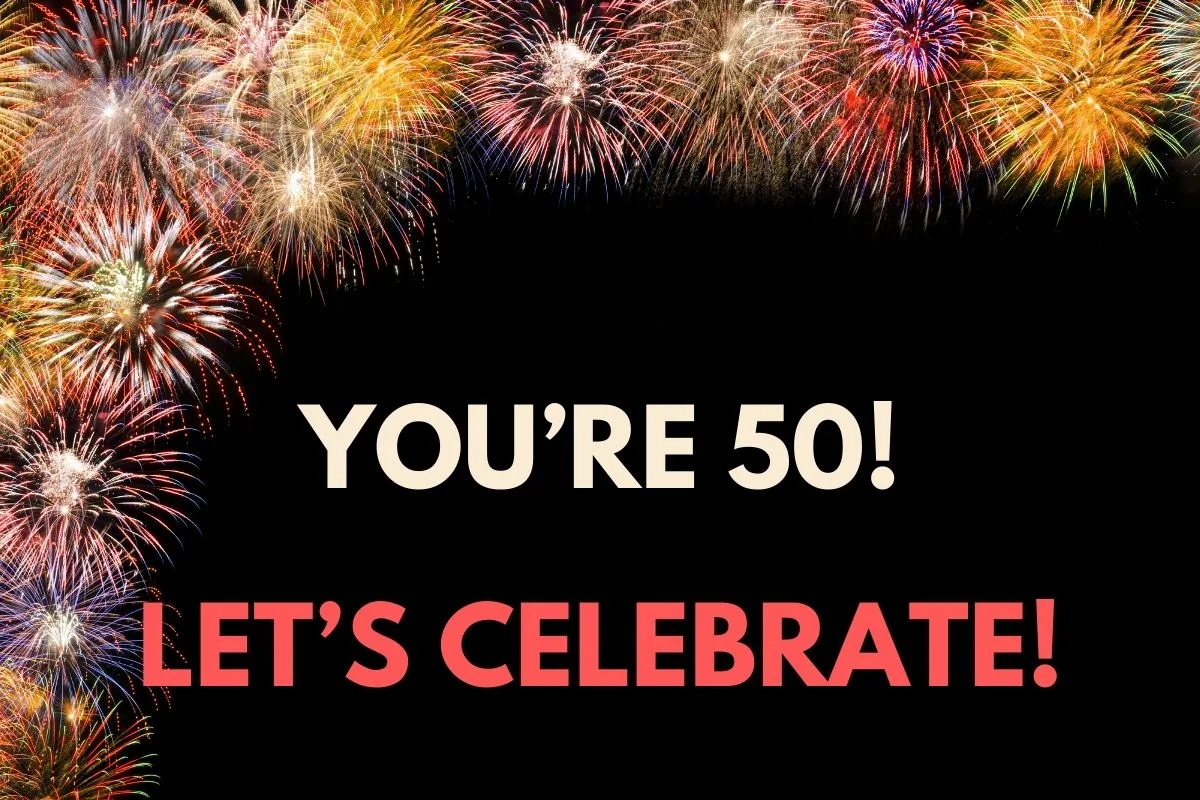 That said, if you're struggling to know what you should say to someone on their 50th or what to write on that 50th birthday card, then I have a huge list of birthday sayings to help you get started. If you're confused about what to say or how to say it, I feel confident you can find something on this mega-list that will suit your need perfectly.
Before we get to the sayings, let's discuss how or where you might need them. The first is the most obvious: you can put the message on your birthday card and give it to the birthday guest of honor. But there are other places you may need birthday messages or sayings.
For example, you might put it on the birthday cake, a t-shirt to commemorate the event, a banner to hang at the party, or even a sign. When you want to send best wishes to that special someone in your life, there are many ways to do it right.
Need To Make A 50th Birthday Post?
If you'd rather buy an already-made banner, here are some of my favorites (they are easily customizable):
In many cultures, turning 50 is a rite of passage and a special occasion to be honored. If you need to make a 50th birthday post, I want to help you find the perfect words. I have some image posts you can download and use yourself to start us off.
These are for personal use only. Please don't repost on your website or sell or use them commercially. Instead, please just share this post and these 50th birthday sayings with your friends, family, and anyone who can benefit from them.
(To copy to your computer, right-click and choose "save image as.")
You're still hot! It's just that it comes in flashes.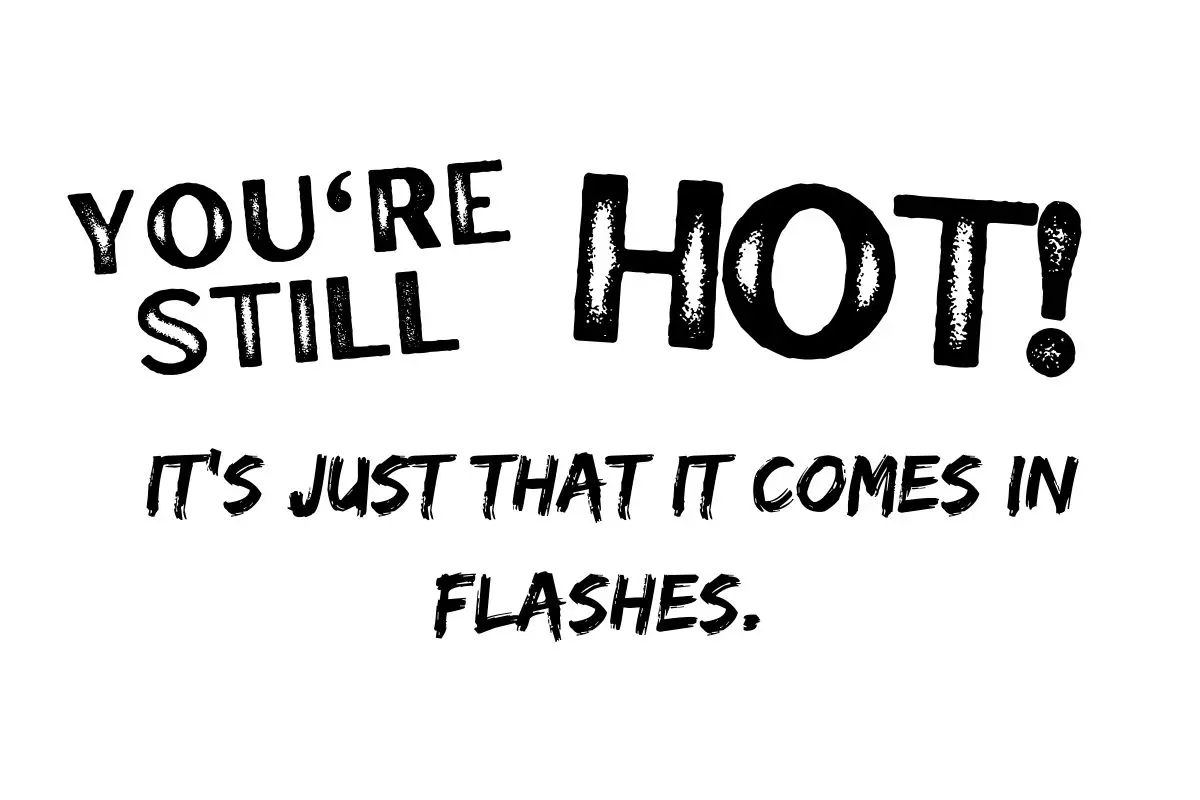 Real women don't have hot flashes. They have power surges.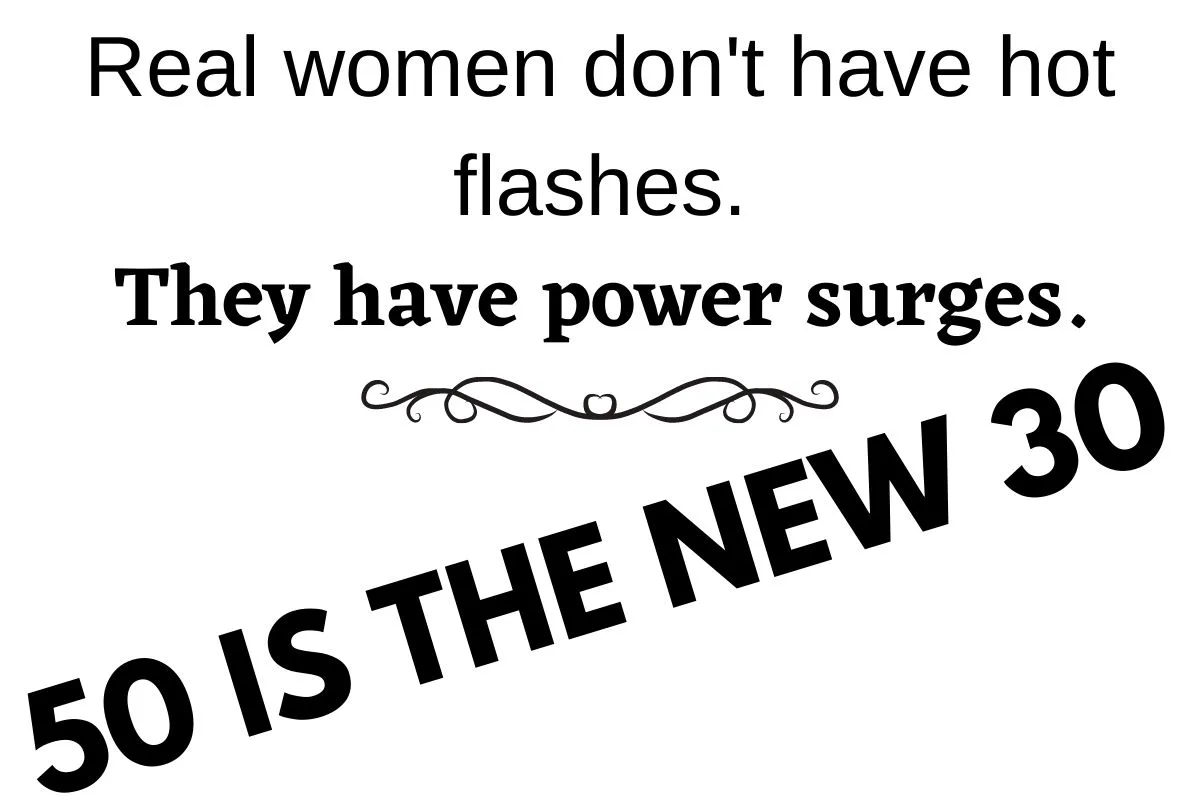 I'd much rather be over the hill than under it.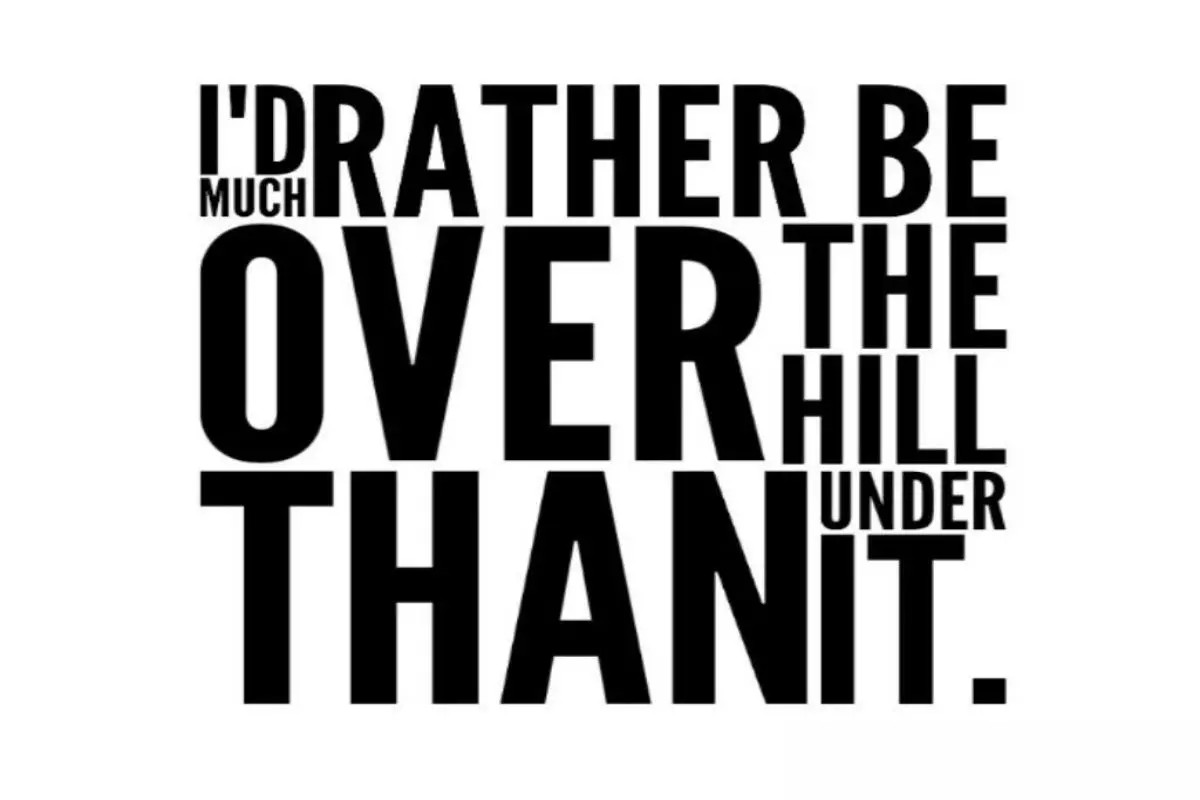 Stay calm and celebrate your 50th.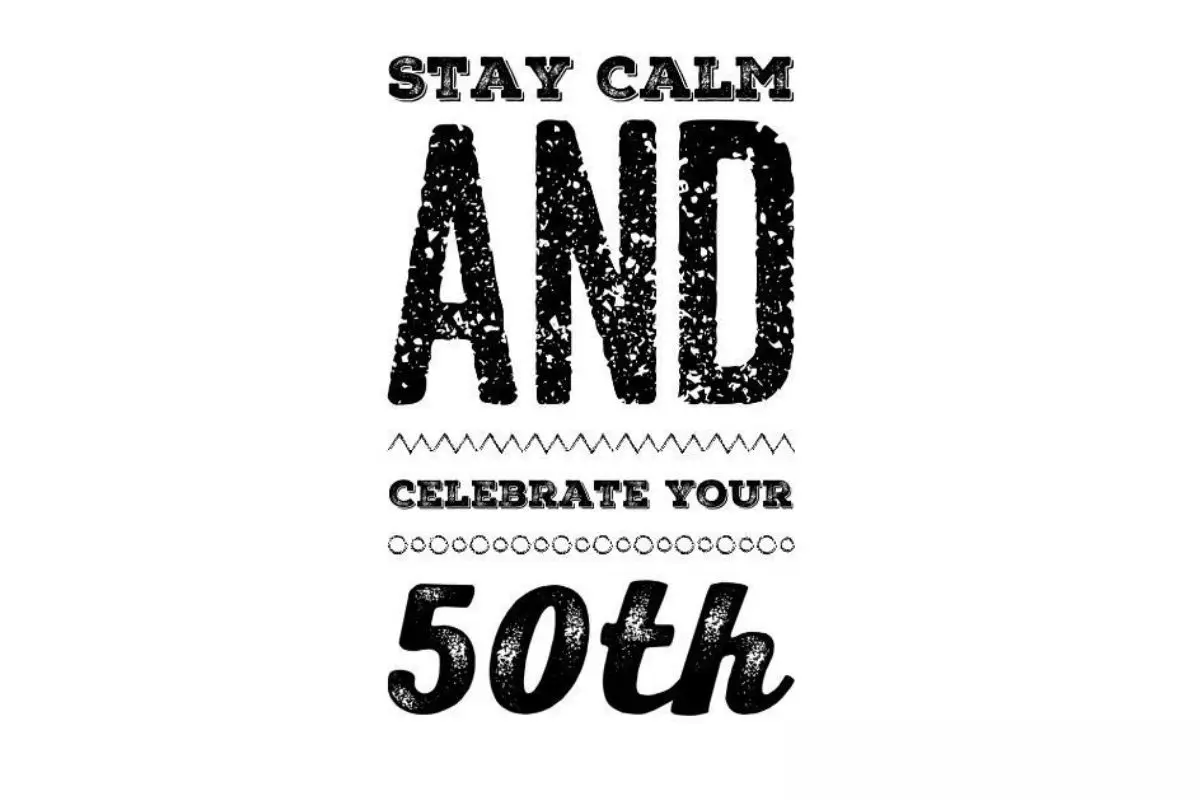 Recycle. Celebrate last year's birthday.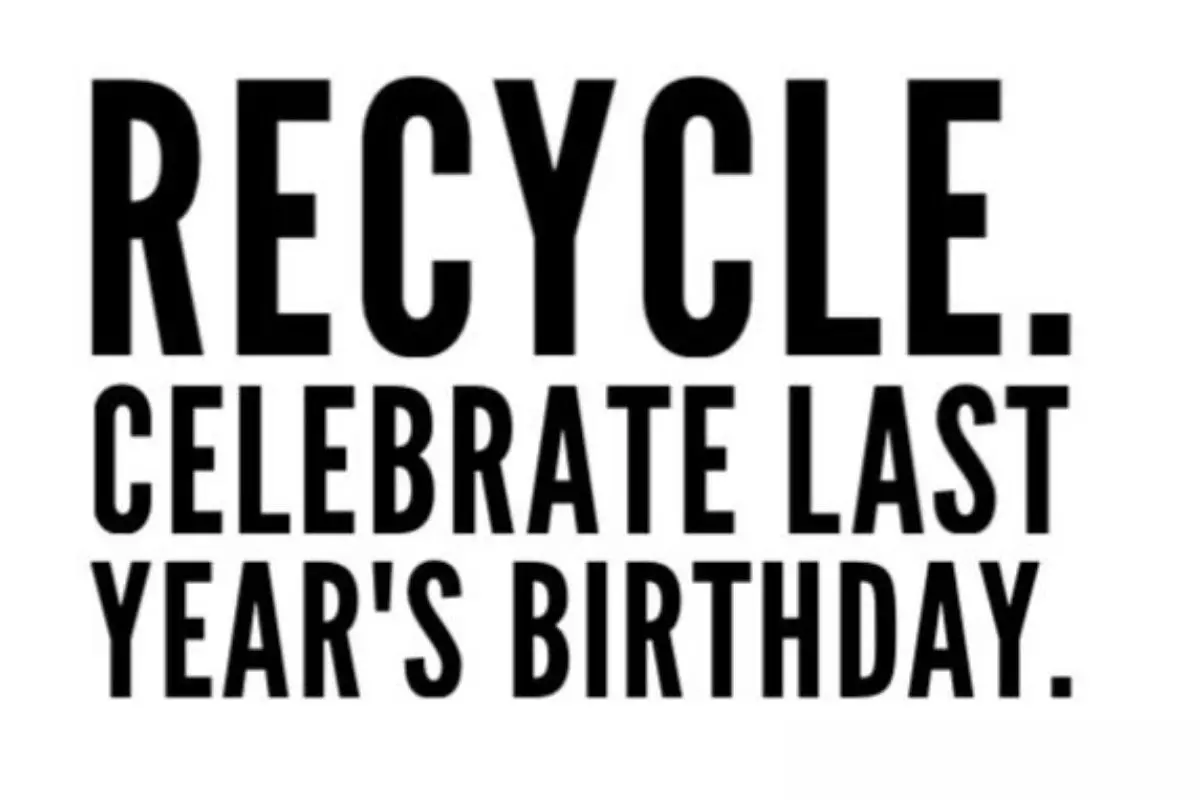 I'm not 50. I'm 20 with 30 years of experience.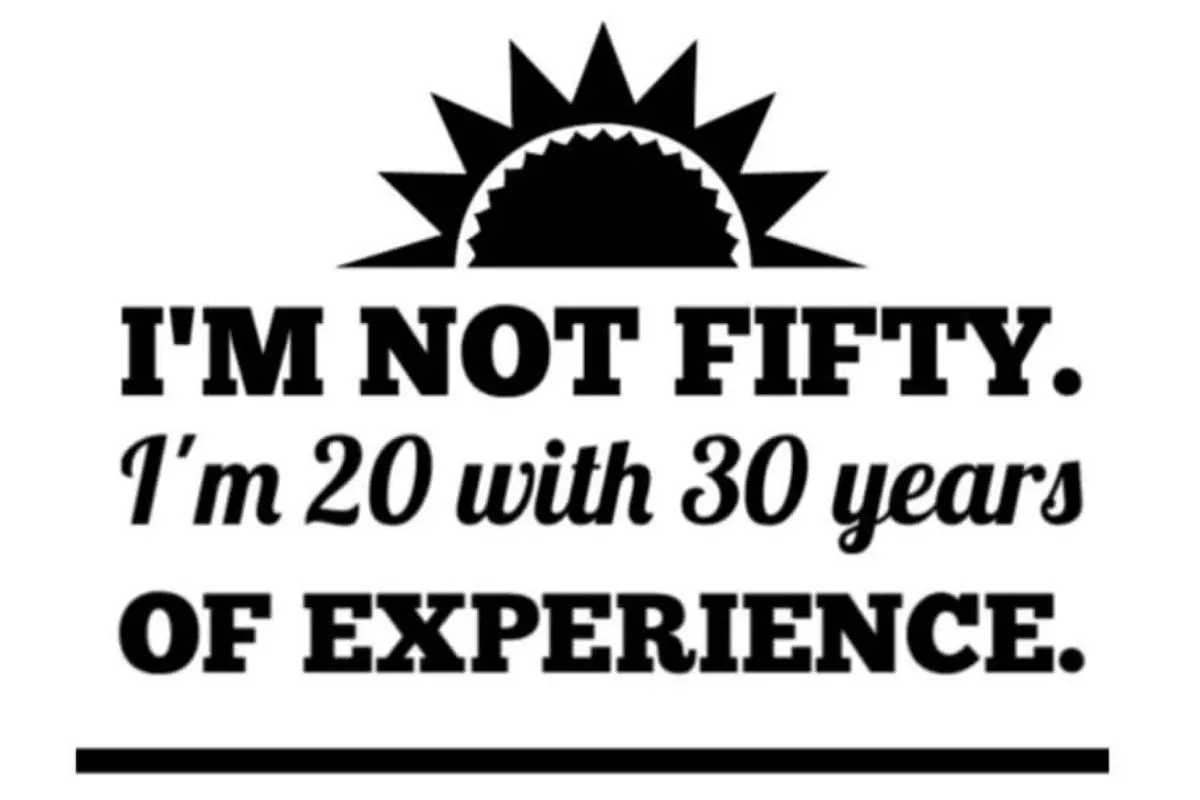 From good health to best friends, happy wishes, and all good things, here are some beautiful messages to wish a wonderful 50th birthday to someone you know on their big day.
How to use these 50th birthday messages
In addition to the above, you can use these sayings for numerous things. You can work them into your birthday party theme, write them into a card, use them for a social media post, and much more. Let's take a look at some ways you can use them, and then we'll get more into the messages themselves.
Here are just a few things you can use these 50th birthday sayings for:
Birthday cards
Personalized t-shirts, hats, key chains, mugs, etc.
Banners
Balloons
Invitations
Cakes
Social media posts
Text messages
And more!
Sit back and read through my sampling of 50th birthday sayings. Some of these are general sayings that can be used for any "over the hill" birthday, but all of them will work for the 50th birthday.
Sometimes, the best gift that you can give is a gift from your heart. These sayings help you share what you're feeling inside, and whether you put it on a 50th birthday card, say it in person, or display it on a banner, it's guaranteed to get those feelings across.
First, we'll start off with some humorous posts. After half a century of being alive, there's a good chance the birthday person has developed a good sense of humor. And if we can't laugh about getting older, what can we laugh about?
Here are some funny ways to share your happy 50th birthday wishes. You will get a good laugh and hopefully find the perfect one for you.
Funny 50th Birthday Sayings for Men
Here are some funny sayings for the 50-year-old man in your life.
I'm too sexy for my hair, that's why it isn't there.
When you're fifty, children innocently ask you if you had a pet dinosaur when you were young.
If age is just a number, you're pretty OLD!
As you walk down memory lane, I hope you don't forget where you are.
You're an oldie but goodie. Happy b-day!
50 is pretty much prehistoric. But at least you're not extinct.
If you were a car, you'd be a classic. Since you're a man, you're just old.
Happy 50th birthday. Congratulations… from now on you're officially old!
You've got half a century of accumulated knowledge and wisdom! That would be awesome… if you could remember any of it.
Today you're 50! You're not old, you're… actually, yeah, you're old, man.
And of course, we can't forget the women with a sense of humor.
Funny 50th Birthday Sayings for Women
Here are some funny sayings for the 50-year-old woman in your life.
Happy 50th birthday! Here's to another decade of us laughing at each other's jokes and offering each other a shoulder to lean on.
You're not old. You're aged to perfection.
They're not grey hairs; they're sparkles! Happy 50th.
Age is a matter of the mind. If you don't mind, it doesn't matter.
You're 50! But hey, at least you're not as old as you will be next year.
It is scientifically proven that people who have more birthdays live longer.
It's important to have a twinkle in your wrinkle.
Happy 50th! Now you're halfway to 100.
You're just 35 with 15 bonus years. Wishing you a Happy 50th birthday!
Happy birthday! Now you're the youngest person I know in their 50s.
Funny 50th Birthday Sayings for Anyone
By your fiftieth birthday, you have years of experience. You have learned some of the hardest lessons in life. You've had good times, and probably many bad times too. And from all of them, you grow, you learn, you laugh, and you cry. Here's to a great day on an amazing milestone!
Now if you're still looking for some more funny birthday sayings, here are some that work for anyone.
At fifty, you've accumulated the knowledge and wisdom of half a century. What a tremendous asset if only that darned senility hadn't taken your memory!
Now that you're an oldie, you'll get the same respect that you gave oldies when you were young: none.
You can tell you've lost all credibility with your family when they start giving you socks and slippers for your birthday.
Fifty! This is the time to make my mark on the world, explore Antarctica, or learn to fly a jet. I've made up my mind to try exciting new things –starting right after my afternoon nap.
After age 50, time becomes precious and is not to be wasted. Every free minute is a perfect opportunity for a good nap.
Now you're 50; it's for your mid-life crisis.
Short 50th Birthday Sayings
Next up on my list are some short 50th birthday messages for when you don't have a lot of space to work with for your text and you need to keep it brief.
I get everything I set my mind to. Now, where'd I set my mind?
After fifty, anything that doesn't hurt doesn't work!
It's finally here: THE BIG 50! Today, celebrate 50 years of good memories and great friends. You deserve all the best!
Hey, you're turning 50 and it's time to party!
Here's to your health, happiness, and peace of mind.
You're 50! Let's celebrate!
50 is the new 30.
I hope you enjoyed these fun sayings, and if you've heard any good 50th birthday sayings we would love to share them with others for you.
Happy 50th Birthday Sayings
Next up, let's look at some good happy 50th birthday sayings. These are great for when you want to say "happy birthday" but with just a bit more flair!
Happy 50th birthday, to the person who always has a kind word, a bright smile, and a silly joke to make everyone's day better.
Here's the end of your 40s and the start of your 50s! May this next decade be even more AWESOME and FUN. It's time to live it up!
Happy 50th birthday, to someone who totally rocks! May your day be filled with the best music, great friends, and amazing times.
Happy 50th Birthday! Put on those dancing shoes and have a party! This is a milestone to be celebrated. Wishing you all the very best today and always.
It's time to celebrate another year of wonderful, fabulous YOU. Happy 50th birthday, to a truly special person.
Here's to a brand-new decade… may your 50s be blessed with more love, more laughter, and more fun than ever before.
Happy 50th Birthday, to a remarkable person who is respected and loved. On this milestone birthday, we wish you a remarkable second half!
Happy 50th Birthday, to an inspiring and wonderful person. How much you have achieved! I wish you all the best in everything you want to achieve in the coming years. May you have a long and happy future.
Happy 50th birthday! You make every day a gift for those around you, and you deserve the very best this new decade has to offer.
Happy 50th birthday! You are a light in the darkness, a friend in an hour of need, and a friend that makes life a million trillion times more fun. May your day be truly blessed.
Happy 50th to unique you! You are truly one of a kind, and I'm thrilled to know you! Here's to you! Health, happiness, and lots of love to you on your birthday!
Happy 50th Birthday, to someone who makes family out of everybody they meet. Thank you for being so reliable and solid. May you and yours be happy today and always.
Happy 50th Birthday. You are in a league of your own. Time has not done anything to wipe away your spark. Keep sparkling forever and always. Here's to you!
May your 50th birthday celebration be a day to remember. Go all out! It isn't every day that you reach such an important milestone. Wishing you all the best for a successful journey ahead.
Happy 50th Birthday. I admire your attitude to life. You have wonderful strength of character that is going to keep you growing from strength to strength.
What better way to celebrate a true friend, to wish them a happy life, to honor your family members, and to wish good luck for the future than with great, heartfelt sayings like this?
And now, I have one more final list: cute and sweet messages for the special birthday person in your life.
Cute and Sweet 50th Birthday Sayings
When you want to be a bit more serious or endearing than a funny and humorous birthday saying, you might like these cute and sweet 50th birthday messages.
Happy 50th birthday, to the most amazing person I know! Thank you for always being there with a kind word, a shoulder to lean on and a voice of comfort in trying times.
May your birthday be blessed, and may you feel the love of those around you, and the light of the Lord above you. Happy 50th to a wonderful soul.
Every day is a blessing with a friend as sweet as you. Happy 50th birthday, to the coolest friend around. Thank you for always being there.
50 years Fabulous, 50 years Fun, 50 years Fierce! Happy 50th birthday, to a FANTASTIC friend. May your dreams all come true today.
Happy 50th birthday! May this year be even more wonderful than the last! I'm so grateful to have you in my life.
Happy, Happy, Happy 50th! You are the sunshine that fills up the room, and the laughter that we carry in our hearts.
Happy 50th birthday, to someone who makes every day a work of art. We're so blessed to have you in our lives.
May your 50th birthday bring together all the people dear to you. May your celebration be unforgettable! Wishing you joy, strength and good fortune on the journey ahead.
Happy 50th birthday, to the person who always knows just what to say to make others feel special. Today, may you feel all the love of those around you.
Happy 50th Birthday. You've cared for so many, and touched many lives, and now it is time to care for yourself as you enter this new and wonderful stage of life. Wishing you the self-love that comes with being a little older! All the very best.
May your 50th birthday be filled with laughter, love, and inspiration. Here's to the wonderful loving person you are. Happy Birthday.
Happy 50th Birthday. What a pleasure to know you! I'm happy our paths have crossed as I've learned so much from you!
Happy 50th Birthday with so much love from me to you. Thank you for always going the extra mile for those you hold dear.
Happy 50th Birthday, to a special person. Thank you for touching our lives in such a beautiful way. Your big heart makes such a big difference in our lives. May you be richly blessed today and always.
Happy 50th to a wonderfully colorful person! Everyone is drawn to you because of your lively personality. We all appreciate your special spark. May you remain the natural wonder that you are for many years to come. Happy birthday!
But you don't look a day over 30! All the best to the youngest 50-year-old we know! May you be forever young at heart.
Don't worry dear friend, they're not wrinkles, they're smile lines, and I hope you have plenty more by the time you're 60!
Happy 50th birthday! I'm so grateful for your friendship and all the fun times we've shared over the years. Here's to many more!
Here's to the good old days and to the best birthday ever! I wish you much joy for your 50th and beyond.
The sun shines brighter every day because you are here. Happy 50th birthday!
Now, let's look at what some famous people had to say about birthdays and aging.
Great Famous Quotes for a 50th Birthday
Sometimes when you're trying to find the right words to say, you find that someone else has already said it better. Here are some great famous quotes that work well for the 50th birthday.
"Just remember, once you're over the hill you begin to pick up speed." – Charles Schulz
"I will never be an old man. To me, old age is always 15 years older than I am." – Francis Bacon
"After 30, a body has a mind of its own." – Bette Midler
"You know you're getting old when the candles cost more than the cake." – Bob Hope
"We don't grow old. When we cease to grow, we become old." – Ralph Waldo Emerson
"The really frightening thing about middle age is the knowledge that you'll grow out of it." – Doris Day
"You can live to be a hundred if you give up all the things that make you want to live to be a hundred." – Woody Allen
"Old age is like a plane flying through a storm. Once you are aboard there is nothing you can do about it." – Golda Meir
"Today is the oldest you have been, and the youngest you will ever be. Make the most of it!" – Nicky Gumbel
"The good thing about getting older is if you don't want to do something you can say, I'm too old to do that!" – Kate Summers
"Don't just count your years, make your years count." – George Meredith
"Fun is like life insurance; the older you get, the more it costs." – Kin Hubbard
And now that you have all of these great choices for birthday messages, I have a few more words of advice for you.
50th Birthday Phrases
Phrases are similar to sayings and slogans. They are short sentences describing something – in this case, the 50th birthday.
The key to any 50th birthday phrase is that is it quick, short, and to the point. These phrases should easily fit on a t-shirt or a cake. These birthday phrases should be motivational, meaningful, and memorable. You want these to be an eye-catcher.
Don't count your years, count your blessings!
Youth is a work of nature, age is a work of art!
God grant you the senility to forget the people you never liked, the good fortune to run into the ones you do, and the eyesight to tell the difference!
50 years! Remember yesterday's memories, today's joys, and tomorrow's dreams!
40 is the old age of youth, and 50 is the youth of old age!
Being 50 takes stamina and endurance that even youth does not offer!
Do you need more ideas?? Also, check out birthday card messages.
Things you should keep in mind when picking a birthday phrase are:
Remember who it is for. Take into account their sense of humor and how they feel about the big five-O.
Don't be too rude, or focused on age! These are supposed to be fun, not make them cry.
Make sure they are light and celebratory, not dark and dreary – it is, after all, their special day!
Make sure these phrases will make them laugh or smile (or, ideally, both!!)
These 50th birthday phrases are a great addition to any party or decoration. They give that special added touch to your celebration.
Wrapping it All Up!
Whatever birthday message you choose to use, the most important part is that you speak from your heart. A birthday is a special day to honor the life of the person. For many people, birthdays are hard. It could be the reminder of the inevitable fact that this life is finite, it could be struggles with those they have lost along the way, or any number of fears, worries, traumas, and memories.
However, you can help make the day more special for someone in your life by investing in the details – big and small. This includes a special birthday message for the guest of honor to help brighten their day and make some happy memories together. Enjoy!