If you're looking for original ideas for birthday card messages, you're in the right place. A great way to help someone that you care about have a wonderful birthday is to write a perfect, inspiring happy birthday message inside a card for them. But what if you don't know what to say? I've put together some great birthday card messages to help you. From the warmest wishes and heartfelt greetings, you can wish your favorite people the happiest birthday.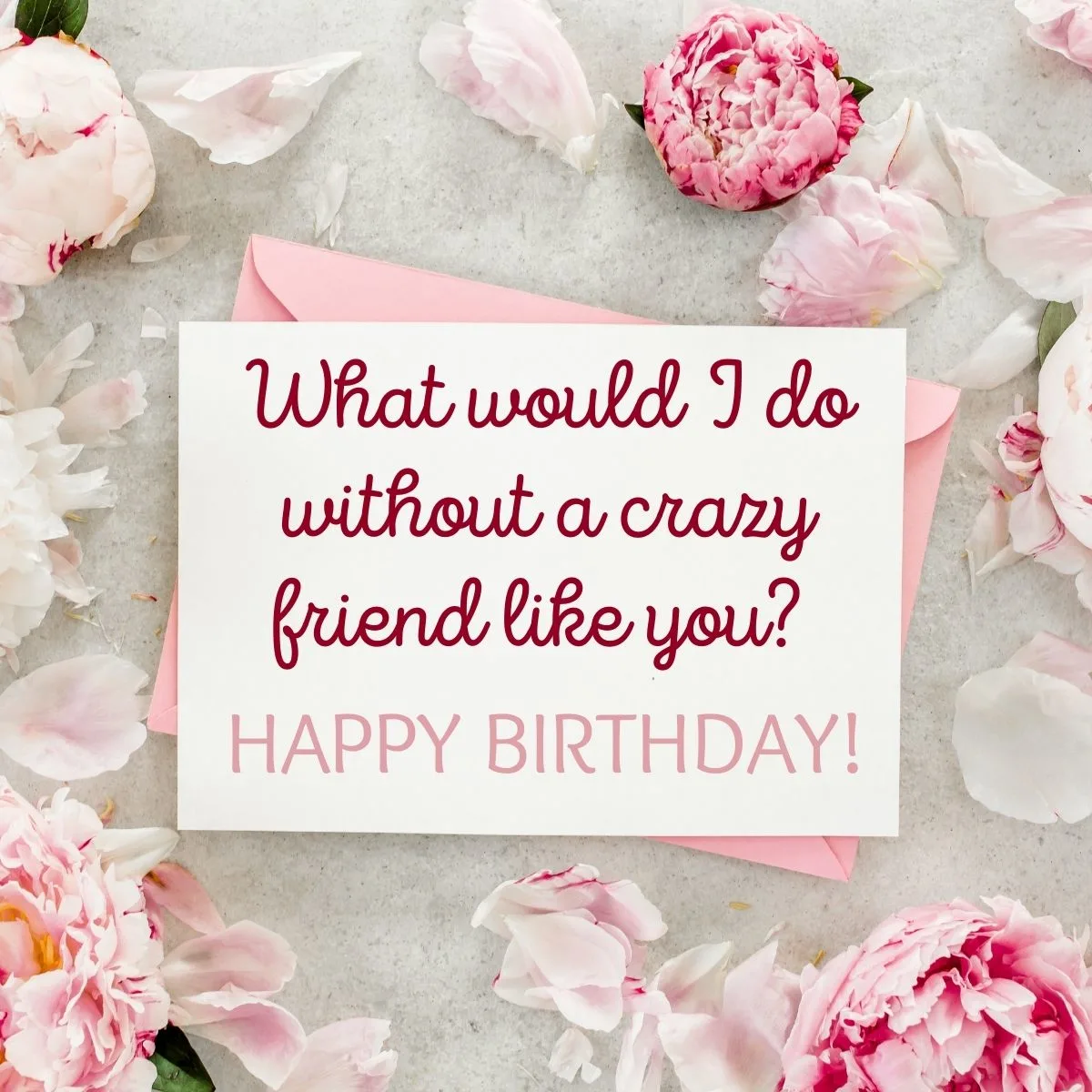 One of these messages will fit your card perfectly! Or if not perfectly, they will give you ideas for writing messages of your own.
You may want to send funny messages or heartfelt loving messages in your card, or sometimes you might manage to send both; like when you send a card in the mail, but deliver a gift and card at a party.
Whether it is a milestone birthday, your mom or dad's birthday, a best friend's birthday, or just someone from the office you want to give a little breakroom shoutout to, these birthday card sayings will help you express what you're wanting to say. Let's start off lighthearted with some funny card messages.
Funny Birthday Card Messages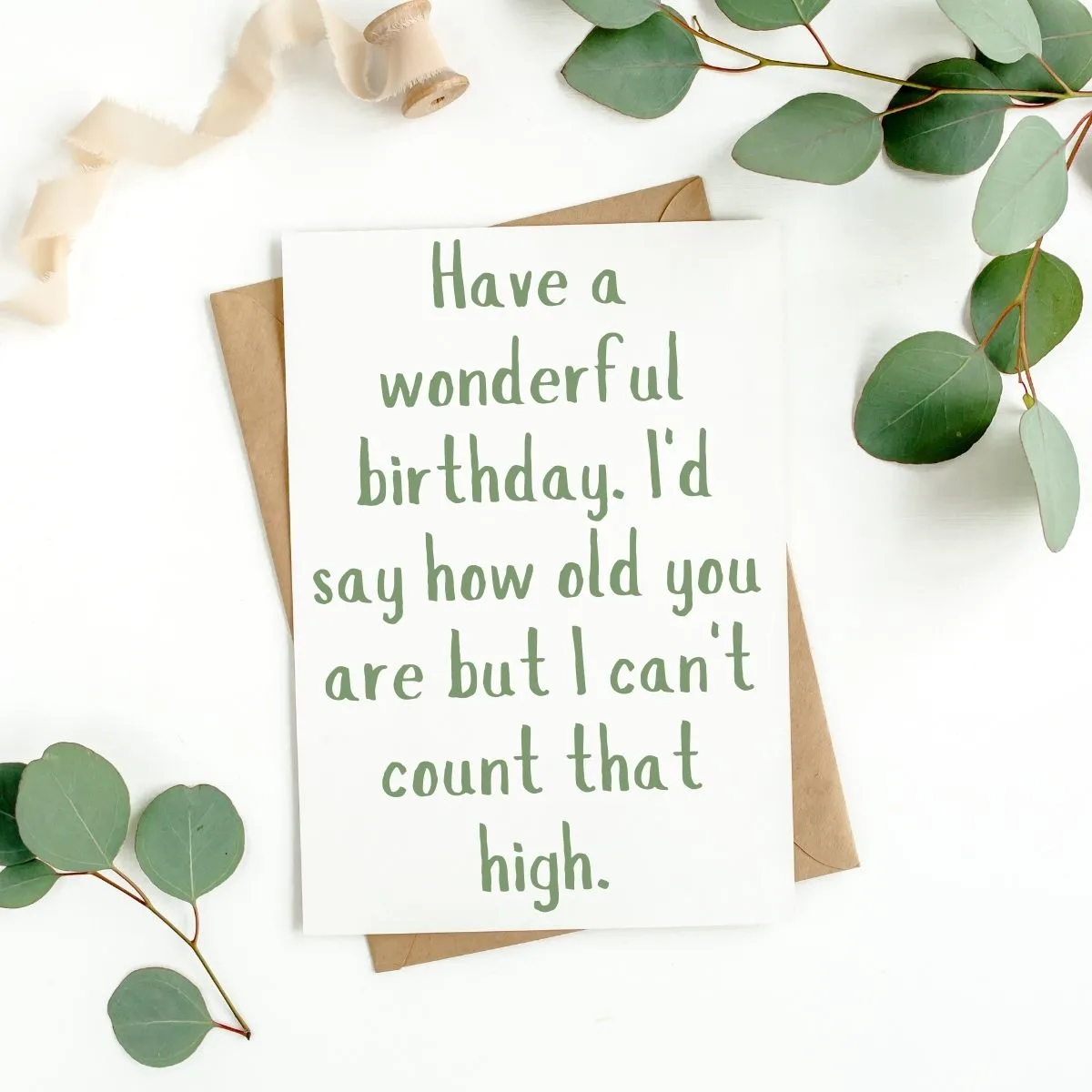 Birthday card messages friends send to one another can sometimes be more light-hearted than those sent by other people. This is a good occasion for jokes or funny messages. Here are a few fun and simple ones.
Have a wonderful birthday. I'd say how old you are but I can't count that high.
Happy birthday, old man!
Your funny birthday message can be as simple as you want. It might contain an inside joke or a play on their age. It might poke fun at something between the two of you. The most important thing to remember about using humor is that it should be in good taste and in good fun. If you know the recipient is sensitive about something (like their age or their birthday), it's not likely to be fun for them when you joke about it.
Simple Birthday Card Messages
Another way to wish an amazing person a fantastic birthday is to keep the message short and simple. There are many ways to use this, too. You may want to create your own card, or you may want to write a message on a small gift card.
Here are some ideas for simple birthday card messages.
Funny
Roses are red, Violets are blue,
So you're turning 50,
I can hear the boohoos.
From the heart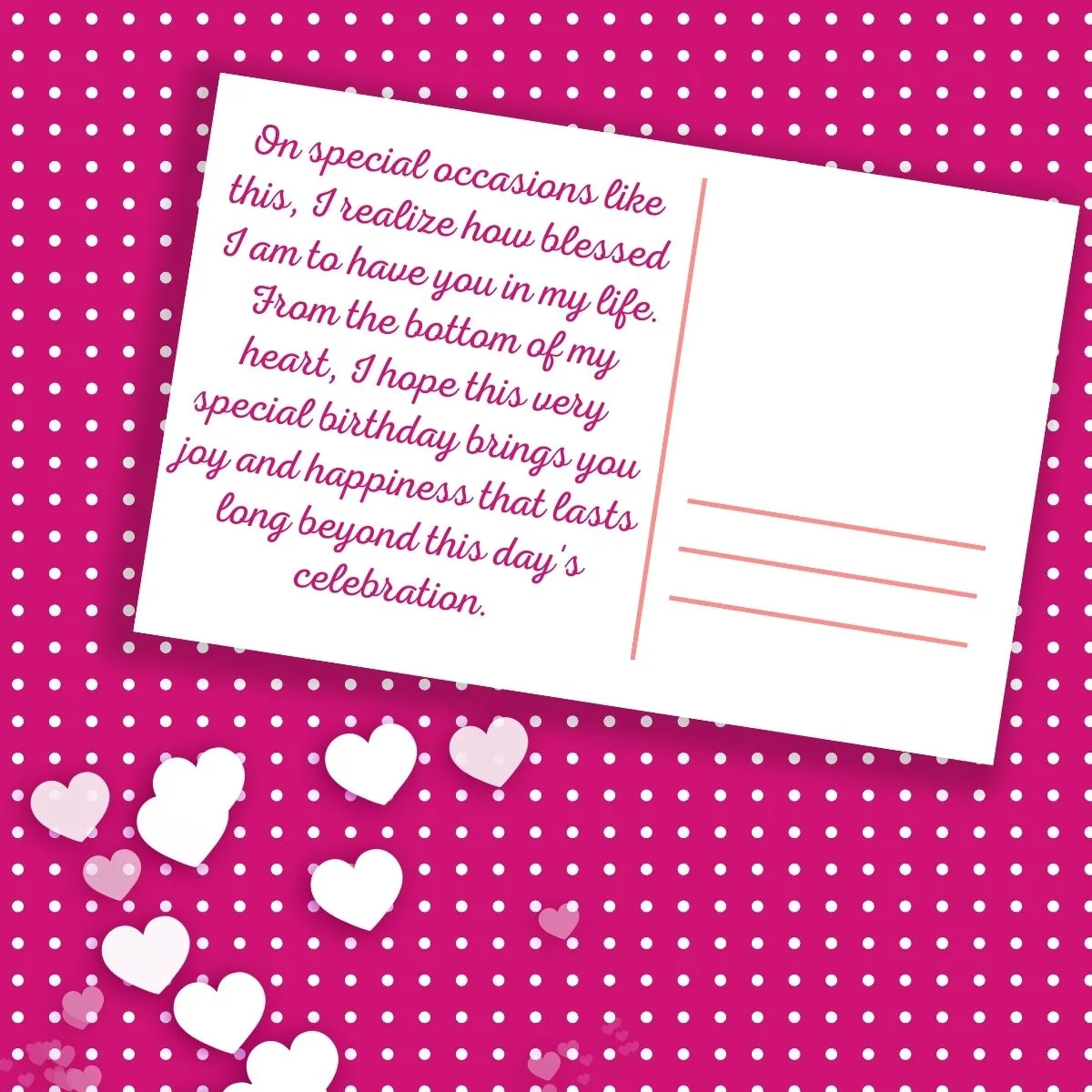 You can adapt card messages like this one to use "I" or "we" but be sure you rewrite it, then read it several times to make sure you changed all the right things.
On special occasions like this, I/we realize how blessed I am to have you in my life. From the bottom of my heart, I/we hope this very special birthday brings you joy and happiness that lasts long beyond this day's celebration.
Card Messages About Age
A classic way to wish a happy birthday is with cards about age. You can purchase many cards these days that are specific to the age, especially for milestone birthdays. From a 21st birthday to a 60th birthday, there is a message for everyone. But you can also purchase a card with some other message or picture you like and then add your own card messages about age inside. This is the perfect option when it feels like the store just doesn't have what you're looking for. Besides, sometimes you really are the only one who can say it best.
Here are some example card messages about age.
Tried and true
You're not getting older, you're just getting better with each passing year.
Like an aging wine, you continue to get better over time.
On aging
Your face shows the tiniest hint of age, but so much more than that, it shows your beautiful character, treasures of experience, and well-earned wisdom. So don't try to hide or erase the evidence of a life well-lived, but wear them proudly and happily as you celebrate a half-century of a happy life.
Birthday Card Messages for Families
Our family members are probably some of the people we send warm wishes to the most. Making card messages for our family members can sometimes be easier because we know them so well. But they can sometimes be harder because of how well we know them and how important they are to us. A simple happy birthday won't do when you want to show someone how much you really care for them.
Here are some birthday card messages for families that might help you get your special message just right for their big day.
Center of the family
This one can also be adapted to fit your special person and the sender(s).
You're the one we turn to for advice. You're the one person who knows us best. You're also the one who knows what everyone else is up to, which means others must turn to you, too. Why not, when you're such a warm, comfortable friend and parent. You, the center of our family, deserve the most special 50th birthday party there ever was!
50 reasons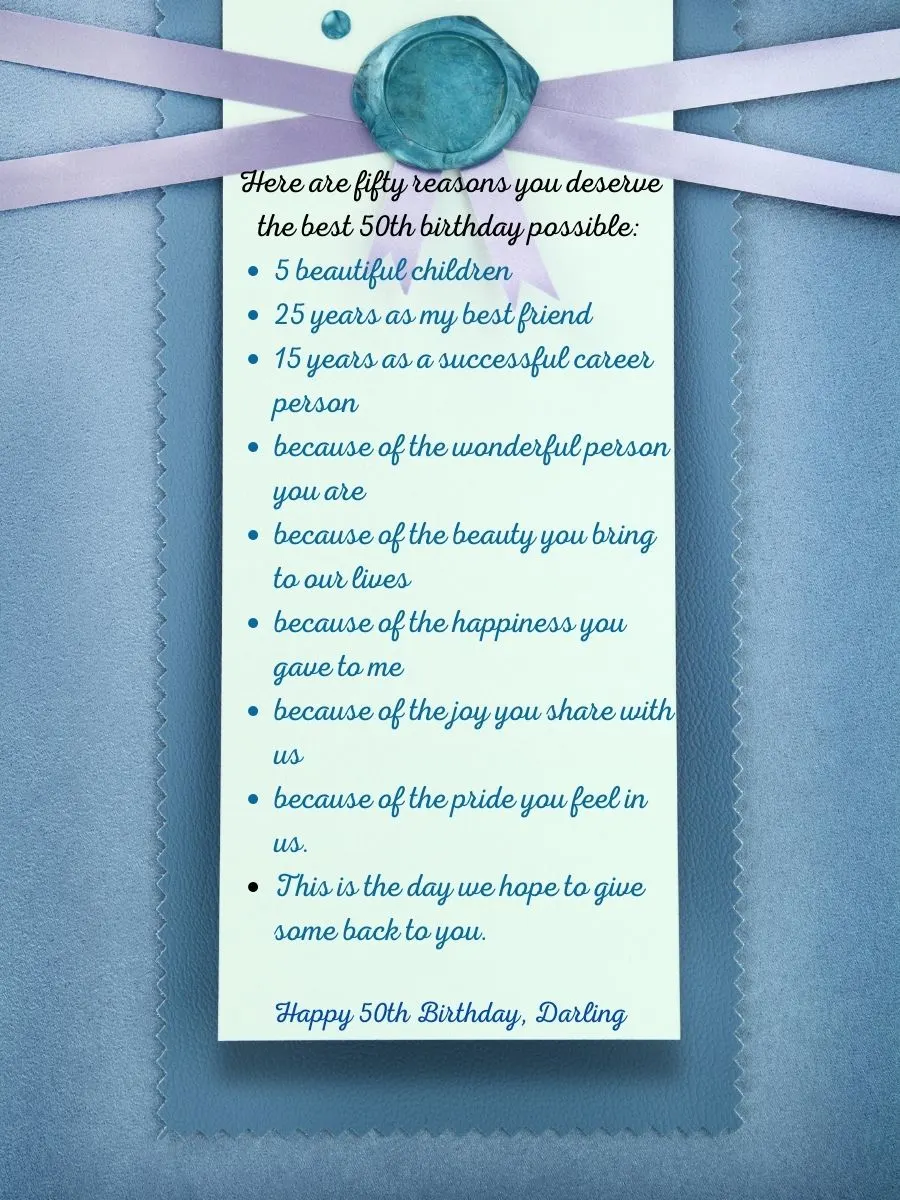 Of all the messages here, this is my favorite. To use card messages like this one, you will have to customize them to fit your family. Change the numbers but make sure they all add up to 50 reasons.
If the message is for a man, you can change some of the qualities to more masculine counterparts.
Here are fifty reasons you deserve the best 50th birthday possible:
5 beautiful children
25 years as my best friend
15 years as a successful career person
because of the wonderful person you are
because of the beauty you bring to our lives
because of the happiness you gave to me
because of the joy you share with us
because of the pride you feel in us.
This is the day we hope to give some back to you.
Happy 50th Birthday, Darling
Cute Birthday Card Messages
Sometimes you want a cute birthday card message. This might be for your crush, for a close friend, or for a child. There are lots of ways to do cute card messages. Here are some examples:
Here's wishing you a birthday as sweet as you!
May your birthday be filled with sunshine and smiles
Make a wish! Mine already came true with you
What would I do without a crazy friend like you? Happy birthday!
Business Birthday Card Messages
Business birthday card messages don't have to be bland and boring. You can make it fun but still keep them appropriate for the workplace. Here are some examples:
I hope you have a relaxing birthday and that you don't think about work at all
Don't worry about your business today; we've got you covered!
Thanks for being my cubicle neighbor. I hope you have a very happy birthday.
We appreciate you and your business, today on your special day, and every day.
Your leadership inspires us every day. Here's wishing you a very happy birthday!
Religious Birthday Card Messages
And finally, here are some religious birthday card messages that might inspire the religious person in your life who is celebrating a birthday.
Here's wishing you a blessed, relaxing birthday
Sending you love and prayers on your fantastic day
We thank God for bringing you into our lives. Happy birthday!
Birthday Card Messages – Conclusion
Some of these messages are short and simple enough that they could also be used on a birthday cake if you wanted to. Or, you might get them printed on a banner that you hang up at the birthday party. You can be as creative as you want with them – that's part of the fun of writing these messages. Gone are the days of a bland, generic card. With these ideas, you can take it up a notch every time you give a heartfelt birthday card.
We hope you have found just the right messages for your special person's birthday card. You can say happy birthday in the best way possible when you study these birthday card messages and choose the best one for your needs, or use them as inspiration to think of some of your own.
Also, check out these 50th birthday phrases for more ideas for unique messages.
Do you have great (original) birthday card messages to share?