Use these 50th birthday cake sayings to give everyone a chuckle!
For birthday cake messages, we need something short and simple, yet catchy and meaningful.
Most people just have the bakery write something basic like,  "Happy Birthday!", but that's drab and totally unoriginal!
We need something cool and unique.
This 50th birthday party is a very important day, so we need to make every detail perfect!
And these sayings need some thought.
So if you are buying the cake, make sure to think it through before placing your order.
If you are making the cake at home, create a basic idea on paper of what you want this saying to look like on your cake – because you don't really get a second chance at it!
Now is time to decide what kind of saying you want… Do you want something… funny… romantic… sentimental… celebratory… catchy… etc.?
A Funny Cake Saying
For this idea, you need a cake decorated like a coffin with the words:
"Here lies the youth of _______."
Happy 50th Birthday!
Or, "It won't be long now!
Happy 50th Birthday!"
More Funny Sayings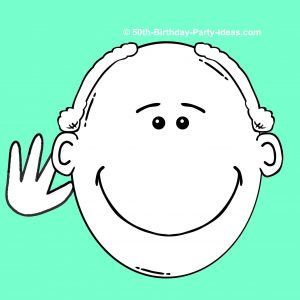 Old Fart, Young Heart! Happy 50th Birthday!
50?! I demand a recount!
At 50, what doesn't hurt, doesn't work!
Recycle! Let's celebrate last years birthday!
Getting old is for sissies!!
Better to be over the hill, than under it!
True friends remember your birthday, but not your age!
Everything turns to crap after 50!
You're not getting older, just closer to retirement!
Your 50th – Not enough cake for the candles!
You're 50! It could be worse.
Celebratory 50th Birthday Cake Sayings
You're the melody, the magic, the meaning of my life!
One more year of love together
Life is only half way, let's spend the another half together!
Let's celebrate Something Special… YOU!
Happy 50th, looking forward to many more.
Catchy Sayings for a 50th Birthday Cake
50 is the new 30!
You're really 18 with 32 years experience!
Happy 50th Birthday!
Enjoy your big 5-0!
Take a bite outta life… or this cake!
5.0.  – The start of the better half of your life.
---
The options are endless for fun 50th birthday cake sayings.
You can even make your own – if you think up something catchy, how much more creative can you get?
There are a few things to remember when creating or picking a cake saying:
Keep it between 5-10 words
Make sure it's unique and catchy
Think of the person it's for
HAVE FUN!
We've also got some great cake ideas to go with these fun sayings.