Are you looking for fun and creative 50th birthday cake ideas? Well, look no further because the ideas on this page should give you some valuable inspiration. I've also linked to some other pages on the site, so you can explore those as well. You'll get ideas you can use or brainstorm for your own creation!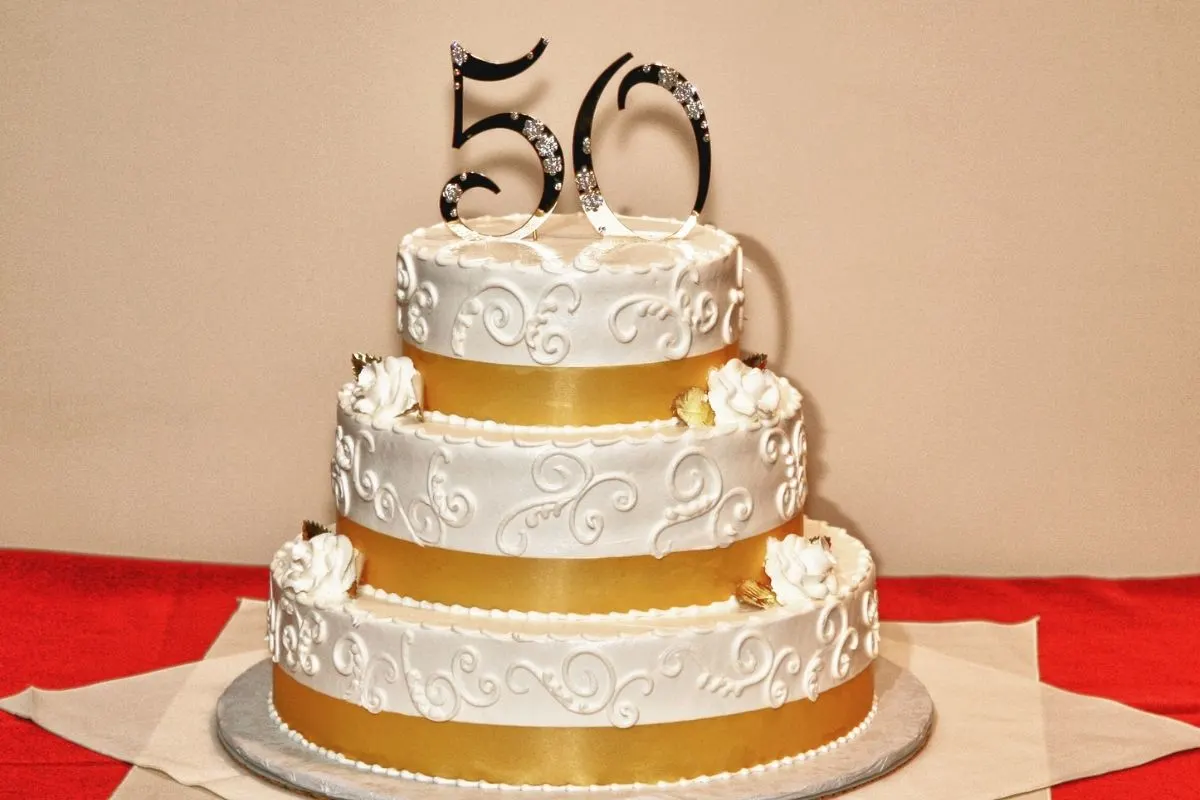 Half a century of living calls for a special celebration. By fifty, you've lived through five different decades and have captured a lot of great memories, experienced many new things, probably had friends who come and go and a few who are still around, and you have collected many cherished experiences.
A nicely designed and decorated birthday cake is a great way to honor this special occasion. But what if you want to do something different and unique for this birthday? The 50th is a very special birthday so it deserves a cake that goes above and beyond.
Do you need ideas? Want a cute cake idea for a "50 and fabulous" party? Or a cake design that celebrates half of a century of happiness?
When you want the birthday boy or girl to feel extra special on their big day, you need to go the extra mile for the 50th cake. This can be one of the most important elements of the 50th birthday party. For this milestone birthday, it's important to really go all out and make it a fun, exciting event. You can invite their closest friends and family, and of course, you want a yummy cake that all the guests can enjoy.
Choosing a 50th Birthday Cake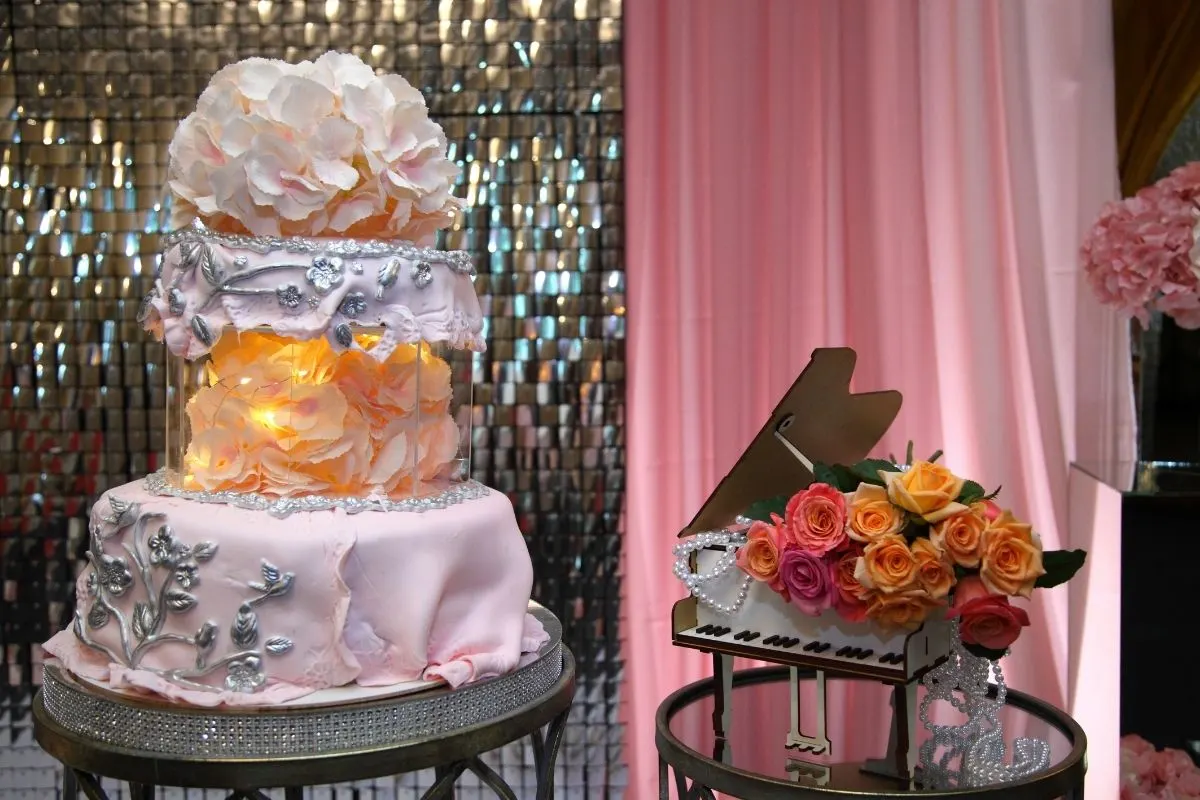 No birthday is complete without a beautiful cake. Whether it's a tiered cake, a sheet cake, or something else, there are important things to consider, such as:
the flavor of the cake
the size of the cake
the decorations on top
icing or fondant
additional extras like decor, candles, numbers, or fruits
The best 50th birthday cake is one that keeps the birthday guest of honor in mind. There's no better way to say happy 50th than by a cake they will truly love. A great cake will be perfect for a surprise birthday party and is a great way to honor the fiftieth birthday of the special person in your life.
If you have the talent, you can make elaborate cakes yourself, and if you're not so talented, you can always have one made especially for you. Check out these fondant cake ideas?

That said, 50th birthday cakes don't really have to be elaborate, though. They can be simple with just a very funny saying on them! When choosing the best idea, it's important to think about the recipient.
Are they serious?
Playful?
Do they have a very hobby or a TV show they are obsessed with?
What are some characteristics that really define who they are?
These answers will lead you to the perfect cake idea.
And realize this: you don't have to be a professional baker to make great 50th birthday cakes! You just need a few ingredients, an oven, and some creativity.
A cake shaped like 50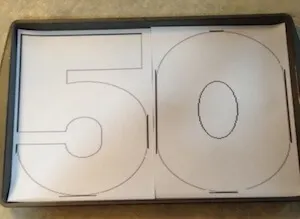 A cake that is literally shaped like the number fifty can be a great way to celebrate your 50th birthday. Let's make a cake in the shape of "50", as shown here.
First, draw a stencil and print on standard paper (fits perfectly on a jelly roll or half sheet pan).
Bake 2 half-sheet pans of cake, then place the stencils on top of each.
Cut each cake into the "5" – "0" shapes, then layer the cut pieces into stacks.
Decorate in colors to match your party theme.
It will look something like this. Of course, the colors and flavors will vary, depending upon your creation.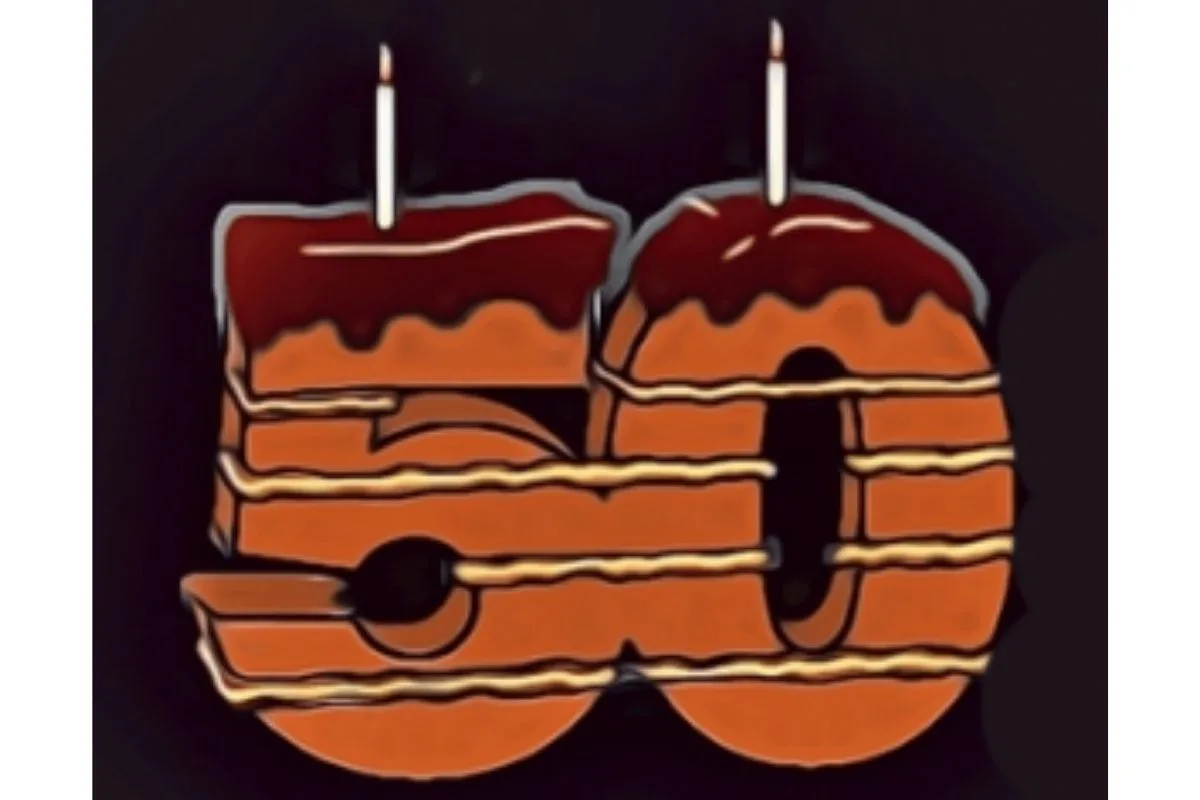 More Fun 50th Birthday Cake Ideas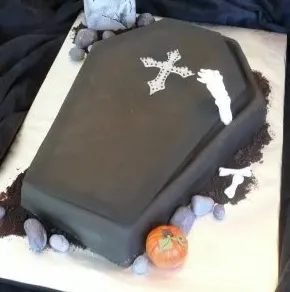 Are you looking for some more fun and interesting ideas for your birthday cake?
How about making a cake in the shape of a coffin? This is a great idea for the jokester and the good sport in your life. If they enjoy jokes about getting older and being "over the hill", then this could be a fun cake idea.
Use black icing with white trim to outline the coffin
You might also want to use one of our 50th birthday cake sayings to complete the cake with a quirky fun saying, like "Here Lies Joey's Youth."
Get the coffin-shaped cake by trimming a rectangular-shaped cake. Either use a 9 x 13-inch pan or 2 sheets stacked in layers and then trimmed.
Use fondant over cardboard for the coffin lid. Take your time and work with the fondant to shape it just right.
Check these other men's 50th birthday cake ideas.
Really Fun 50th Birthday Cake Ideas
Here are some additional fun 50th birthday cake ideas you might consider:
Cute over the hill idea (like the image shown): Make a cake with a few tiers to it, round the tiers off to make it into the shape of a hill. Cover the cake with green icing, and maybe green coconut for grass, and add a little figure person at the top of the hill or just starting the journey downhill.
Try this page for more cool birthday cake ideas if you don't find a favorite on this page.
Create or buy a cake in the shape of two feet with a toe tag attached to one of them
Some bakery shops and stores can print out a picture in icing to top a cake. You can pick your favorite picture, or create a collage of pictures to go on top of a cake.
Create or buy any cake and decorate it with 50's.
Have you considered cupcakes for the cake? We have ideas for all kinds of cupcakes.
There's always the option of just buying a basic cake and decorating it with 50 candles, and when displaying the cake put a bucket of water beside it with a label saying "in case of fire".
Use free clipart to design your cake's decoration as a photo image or pictures made with icing.
If your birthday person is into music, how about a guitar shape?
Need a sugar-free birthday cake? Check out this recipe.
I hope these ideas help inspire you for this 50th birthday event. Here are a few more ideas for birthday cakes to help you.
More birthday cake ideas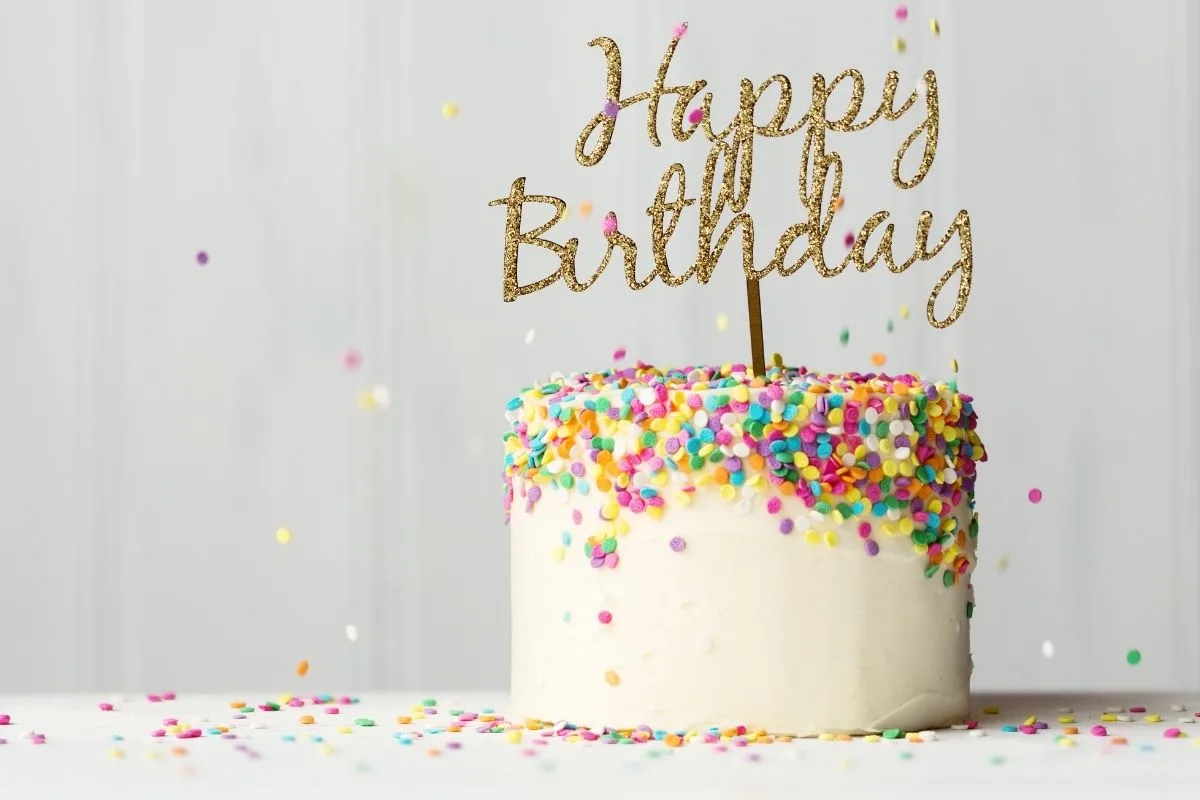 These 50th birthday cake ideas don't necessarily have to be used just for fifty-year-olds. There are so many great ideas here that you can also use for other birthdays.
Think of milestone birthdays like the 16th, 18th, 21st, 40th, etc. Could you use any of these cake ideas and styles for those birthdays as well?
You can use any cake, any style and just add to it or change it, like the number 50, or something else to personalize it to the guest of honor. Remember, that the only big secret to a great birthday cake is to make sure you pick it with the birthday guest of honor in mind (especially the flavor!).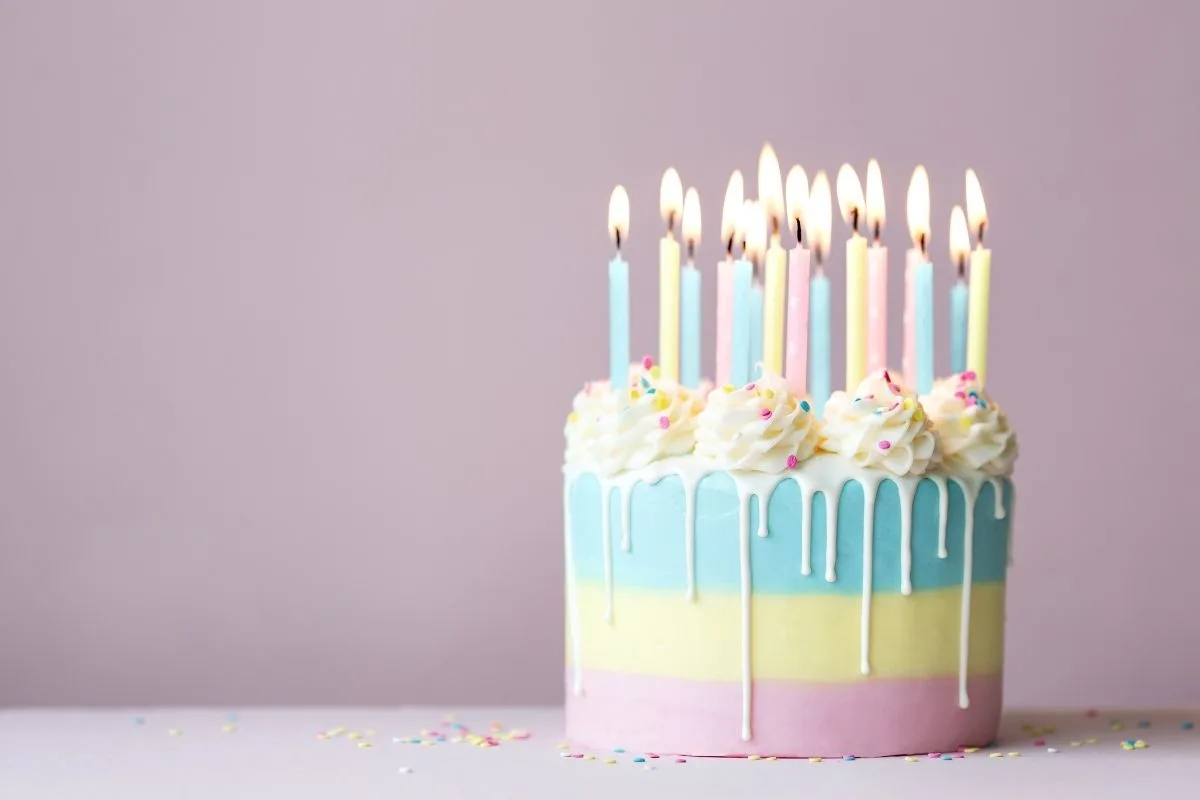 50th birthday cake toppers and decorations
Once you've decided on your cake, the size and flavor, and the icing, you may also want to choose cake toppers or decorations. You can use cake toppers or a cupcake topper to place on the top of the cake, you can use 50th birthday cake decorations that are purchased from a party supply store, or you can have custom cake decorations made by whoever makes the cake.
What kind of topper you have will depend on the type of cake you have and the theme that is being used. A 50th birthday cake topper is a great way to polish off the whole thing for the big day.
It can be simple and elegant or humorous or even wild and luxurious. One thing's for sure, it should represent the guest of honor and their personality.
A quality cake decorator will be able to help you with this but they'll do the best job when you give them the right information to work on. Chances are, they don't know the birthday guest of honor as you do.
50th Birthday Cake Ideas – Conclusion
A 50th birthday is a milestone birthday. It's a special occasion that calls for a very special birthday cake. With these 50th birthday cake ideas, you are sure to bring the perfect birthday cake to the party. I hope you were able to find a good option for their special day, or at least see some ideas that helped inspire you to the perfect idea. A delicious birthday cake is a great way to send good wishes for the big day and it's also fun to celebrate with friends and family and enjoy the cake together.
No 50th birthday celebration is complete without a wonderful cake. Do you see any of your favorite cakes on the list? Is there something you would add? From a plain cake to an elaborate fun cake, you just need to decide what kind of ice cream you want to go with it!
What better way is there to say happy birthday?