50th Birthday Cake Ideas
Are you looking for fun and creative 50th birthday cake ideas? Well, look no further because the ideas on this page should give you some valuable inspiration. I've also linked to some other pages on the site, so you can explore those, as well. You'll get ideas you can use or a brainstorm for your own creation!
If you have the talent, you can make elaborate cakes yourself, and if you're not so talented, you can always have one made specially for you. Looking for fondant cake ideas? Check out my four-page guide that starts here.
That said, 50th birthday cakes don't really have to be elaborate, though. They can be simple with just a very funny saying on them!
And realize this. You don't have to be a professional baker to make great 50th birthday cakes! You just need a few ingredients, an oven and some creativity.
A cake shaped like 50
Let's… make a cake in the shape of "50", as shown here.
First, download the stencil and print on standard paper which fits perfectly on a jelly roll or half sheet pan.
(Click the picture below to download the PDF stencil template.)
Bake 2 half-sheet pans of cake, then place the stencils on top of each.
Cut each cake into the "5" – "0" shapes, then layer the cut pieces into stacks.
Decorate in colors to match your party theme.
It will look something like this. Of course, the colors and flavors will vary, depending upon your creation.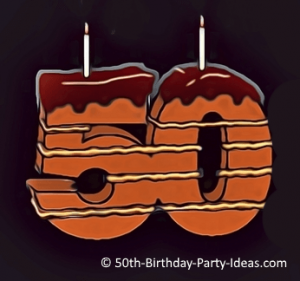 Here's another idea for Making A 5-0 cake
Similar to the picture below, create flat layers.
Instead of layering as per the image above, lay flat on a plate and decorate "horizontally" rather than vertically.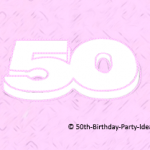 More Fun 50th Birthday Cake Ideas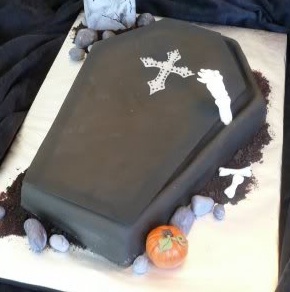 How about making a cake in the shape of a coffin?
Use black icing with white trim to outline the coffin
You might also want to use one of our 50th birthday cake sayings to complete the cake with a quirky fun saying, like "Here Lies Joey's Youth."
Get the coffin shaped cake by trimming a rectangular shaped cake. Either use a 9 x 13 inch pan or 2 sheets stacked in layers and then trimmed.
Use fondant over cardboard for the coffin lid.
If you've never tried fondant decorating, I highly recommend it! You can get fondant supplies here.
If you haven't seen my fondant cake examples, check them out on the Men's 50th Birthday Cake Ideas page.
And if you want to learn to make gorgeous fondant birthday cakes yourself, check out our tutorial pages.
Really Fun 50th Birthday Cake Ideas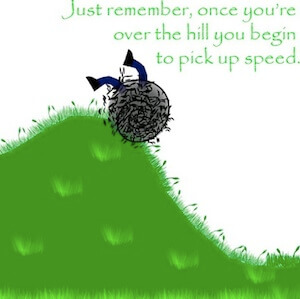 Cute Over the Hill Idea (like the image shown): Make a cake with a few tiers to it, round the tiers off to make it into the shape of a hill. Cover the cake with green icing, and maybe green coconut for grass, and add a little figure person at the top of the hill or just starting the journey down hill like the picture here.
Try this page for more cool birthday cake ideas if you don't find it on this page.
Create or buy a cake in the shape of two feet with a toe tag attached to one of them
Some bakery shops and stores can print out a picture in icing to top a cake. You can pick your favorite picture, or create a collage of pictures to go on top of a cake.
Create or buy any cake and decorate it with 50's.
There's always the option of just buying a basic cake and decorating it with 50 candles, and when displaying the cake put a bucket of water beside it with a label saying "in case of fire".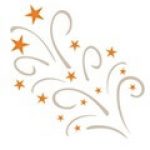 Use free clipart to design your cake's decoration as a photo image or pictures made with icing. Find clipart on the Free Birthday Cake Clipart page.
If your birthday person is into music, how about a guitar shape? We have a free template PDF you can download for making the perfect cake!
---
These 50th birthday cake ideas don't have to be used just for fifty year olds.
You can use any cake, any style and just add to it or change it, like the number 50 or something else to personalize it to the guest of honor.
Here are some more cake ideas for you:
Want even more cake ideas? Check out these pages:
---