A guitar birthday cake would be perfect for a musician's 50th birthday party. Lots of people have a love of music as a hobby and it is a big part of their lives.
In my family the musicians get together every Sunday evening to jam. There are guitarists, vocalists, drummers, and occasionally others.
We have put together a free guitar cake template you can download.
The template fits an 11 by 17 inch cake.
Bake two and cut out the pieces to make a layer cake.
Decorate the guitar cake with icing, or a combination of icing, fondant, chocolate pieces, or other various candies to design the frets, strings, and keys.
You could use strands of licorice for strings, too.
With the extra cake, you could make a couple of guitar picks, treble clefs, or music notes for smaller cakes.
If you are comfortable working with fondant, you could make a realistic looking guitar cake by using colors to simulate wood grain and details on the fret board and headstock.
The guitar template is 2 standard sheets of printer paper. Click here to download the PDF file.
From the cake, you would cut out the guitar body and guitar neck as 2 separate pieces and then arrange them on a large board or tray to decorate.
If you have room, you can cut your guitar cake pieces slightly larger than the template to reduce waste.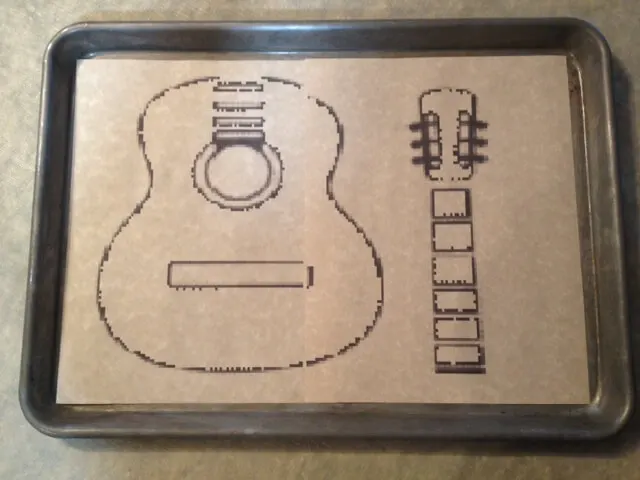 Use this as your centerpiece for a musical theme and decorate the room with guitar pictures, musical notes, music sheets, and music posters.
---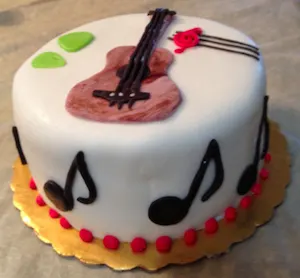 Here's another way to decorate a cake for a guitar or music themed cake.
This one is marshmallow based fondant cutouts.
Clipart makes a great model for the designs.
---
Your musician may have a favorite style of music that you can feature, such as jazz, bluegrass, or heavy metal. (If anyone asks, I would be happy to create an electric guitar template, too.)
Another really cool item to use for decorating is record album covers. If anyone in your family still has a collection, they may let you borrow some of them to hang around the party area.
You could even hang guitars around the room if your musician happens to be a collector.
If not, check out thrift shops and yard sales to find albums and even cheap guitars.