When you are brainstorming to find the absolute best birthday cake designs for a 50th birthday celebration, spend some time to come up with great designs that fit your birthday person and the theme of their 50th birthday party.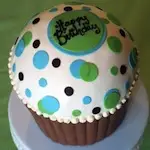 Occasions this special deserve equally special birthday cake designs.
Even if you find the perfect designs in pictures, you have to decide who will make it real for your 50th birthday event.
You'll have to decide whether to find a reliable local bakery that, if you're lucky, specializes in beautiful and expertly decorated cake designs or whether to design, bake, and decorate your own scratch-made cake, or even whether to order one of your designs from an online bakery.
New shipping techniques make ordering birthday cakes online a great time-saving option that can bring gourmet options to you that you may not find in your local area.
So now you can have cake designs from an expert New York City bakery without even getting in your car. Send a birthday cake to your loved ones that you can't visit, instead of flowers.
Another decision you have to make is what type of cake to serve at your special person's 50th birthday party. Traditional layer cake in delicate gourmet flavors, an everyday sheet cake with designer graphics, or elegant and decadent cheesecake in high-style artistic designs.
The bakery department of your discount club, like Sam's Club or BJ's club, can do a pretty good job. They can put photo images or nice designs on a large cake for a reasonable price. You can get ideas from their design books onsite.
Make or Buy Birthday Cake Designs Like One of These
Believe it or not, these designs are not that difficult to achieve. Many of them just require a good recipe for Fondant!
You can see 2 designs that I made myself on the Men's Birthday Cake page.
Some of these amazing cake designs and birthday cake pictures are provided by these companies: Savorique and Edible Gifts
Daisy Delight
In lavender, soft green, and yellow, this cake would be a perfect fit for a girls-only afternoon tea-themed party to celebrate a girlfriend's 50th birthday. Of all the cake designs on this page, this one is my favorite.
Checkerboard Cake
Black and white themed cake designs would be perfect for a man's 50th birthday party. I can see this cake in a racing-themed setting, too, in case your guy is a die-hard NASCAR fan, for example.
No-flour Valrhona Chocolate
Another choice perfect for a chocolate-loving guy, this one is chocolate meringue and mousse. If you need to be careful of gluten, this is the one to choose. Is your mouth watering yet? Mine is!
Truly Elegant and Beautiful in Blue
Do we dare put a big five-o in the middle of one of these beautiful birthday cake designs? Or maybe just let the big bow do the talking? I can't decide!
Chocolate Butter Cheesecake Cupcake
This giant cupcake is beautiful with elegantly placed dots of color. A perfect center of attention for your birthday guy or girl. (Can we still say that about a 50 year old? I think so…
Traditional Elegance
A gorgeous cream colored bow wrapping a cream and chocolate cheesecake with a delicate scroll work design, this cake is the picture of traditional elegance.
Crimson Delight
I love the delicate lines and dots set off by the fabulous crimson bow, don't you? This is one of my favorite gift look birthday cake designs.
Cake Pops Bouquet
An easy way to keep it light with these cake pops. No two are exactly alike, or go with a color theme like this one all in pink.
Red Velvet in White
A southern favorite, this red velvet makes a striking appearance all dressed in white.
Oreos and Cream
What more can we say about this one, except yummy!
Want more cake ideas? Check out these pages:
---