50th Birthday Cake Ideas and Recipes
Every great party needs tasty 50th birthday cake recipes! The birthday cake is always a highlight of any party, so you need to make sure this cake not only looks good but also tastes good too!
Like they always say don't judge a book by its cover – if a cake looks good it also has to taste as good as it looks. We can't leave our guests disappointed, can we?
What Flavor to Choose??
There are many flavors of birthday cake recipes you can use.
First things first! What kind of cake do you want??
You have a number of choices for flavors:
Chocolate
Vanilla (or loosely classified as "white" cake)
Cheesecake
Red Velvet
Marbled
Ice Cream
Strawberry
Orange spice
For scrumptious recipes see the links below for your favorite 50th birthday cake flavor!
Flavor Ideas for your 50th Birthday Cake
Chocolate Cakes: Chocolate is definitely a favorite amongst many, MANY people! These types of cakes are a safety net – if you are unsure of the tastes of your guests, chocolate usually has good odds at being enjoyed by most.
You can do recipes anywhere from basic chocolate cakes, to truffle chocolate cakes. The variety in just chocolate cakes is wide, the cake can go from a casual party cake to the most formal event of the year.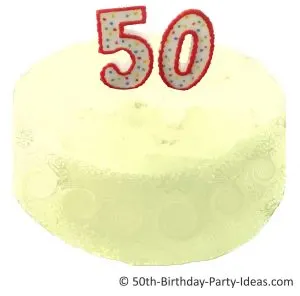 White Cakes: These cakes are always knows as white, but the flavor is usually vanilla. Again a very versatile flavor to choose for large events.
Even as plain as it can be, it can be dressed up with icing, fruit, caramel, etc. Having such a basic base to a cake leaves a lot of room for the decorating aspect.
An interesting note about whtie cakes: Although they are considered white, sometimes they appear slightly yellow. That's because of the egg yolks and vanilla. To get a pure white cake, it is necessary to use egg whites only and clear vanilla. This will eliminate the yellow tint to this popular cake. Either way, white or slightly yellow, white cake is delicious and its simplicity can be the perfect foundation to a wonderful birthday cake.
Check out the links below for suggestions on some great chocolate and white cake recipes.
Chocolate Cake Recipes
White Cake Recipes
Red Velvet Cakes: These cakes are a little different than the basic chocolate or white. Some make them with just a bunch of red food coloring, but that's not an actual red velvet cake. The original red velvet cake recipes use cocoa and buttermilk, which created the nice red color. It is a very tasty cake – moist, creamy and rich. Of course like most cakes the toppings, center and icing complete the cake. This style of cake is very good with cream cheese icing.
Maybe you would like elegant orange cake recipes for something different.
Cheesecake Cakes:
This needs no explanation, except that is it heaven! If you want to be unique in your cake choices for your party, cheesecake is the way to go. Not many parties choose this style of cake – but it will pay off if you do. There is large variety but any one is a winner.
The links below will take you to some tasty red velvet 50th birthday cake recipes and some cheesecake recipes.
Red Velvet Birthday Cake
More Cake Ideas
Tips for the Best Birthday Cakes
Here are some points to remember about the birthday cake:
The cake is the centerpiece of any party
The look of the cake is not the only important part – it MUST taste good as well!
Be sure that your toppings and fillings match well with the flavor of cake you choose – so don't go decorating a chocolate cake black licorice icing – best I could think of for an odd combination 🙂
Make sure the guest of honor is the person you keep in mind most when choosing your flavor.
Fresh is always better, make sure to have the cake made as close to the big day as possible.
Personalize the cake. If you are writing on it, use their name. If you are using a theme, base it around something the guest of honor likes – like a hobby.
These are just a few suggestions on some great 50th birthday cake recipes – but the options are nearly endless.
We are always out there tasting around for some yummy recipes so be sure to come back to visit and see what's new!