Fondant Birthday Cakes – Your Essential Guide
Have you tried making fondant birthday cakes yet?
Over the years while my kids were growing up I loved planning their parties and especially the cakes to go with them. Until a few years ago I was limited to cream style frosting decorating techniques…
Then I discovered how easy it is to make awesome looking fondant birthday cakes.
This tutorial will take you through the process of making fondant and then turning it into amazing cake designs.
I recommend reading through it first, then going back to follow the steps.
Here's what we'll cover:
Choosing a design
Making a shopping list
Making the fondant
Preparing the design
Putting it all together
Final touches and tips
What are Fondant Birthday Cakes?
Fondant birthday cakes are regular cakes decorated with a very smooth type of sugar-based covering. Our version is made from marshmallows. It isn't really frosting, since you can't spread it. It is more like a soft sheet of candy.
The effects you can get with fondant are much more precise than you can get with a cream type of frosting. Fondant allows for a more arty and professional looking result.
Choosing a Design
Here's a simple to make racing themed cake.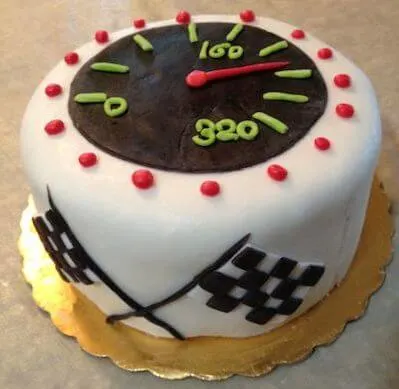 More Decorating Ideas to Get You Started
By now you probably have some kind of a theme in mind, something that is related to the occasion, or you may have, to quote Monty Python, "something completely different."
A note about planning: projects like this usually take much more time than we think they will, so try to allow several days to get it all done.
Here is a breakdown of time to allot:
Design – this depends on what you want. Could be an hour, could be several days.
Shopping trip – an hour or two after work or whenever. Definitely before fondant and baking day. Don't try to do it the same day.
Making fondant – do this the day before you plan to decorate the cake. The fondant needs to rest over night. If you decide to wimp out and buy pre-made fondant, use this day to do your colors. (Hey, I'm not judging, but this IS a tutorial on making and decorating with fondant 😉
Bake the cake – do this the same day or next day after making fondant. Once cooled, cover with whipped frosting.
Decorating day – you will need a few hours, the more colors, the more time you'll need.
Let's Brainstorm a Bit for Fondant Decorating Ideas
Think about the occasion, the mood you want to create, the person or people to be honored, the color scheme, decorations, and so on. There's a lot to consider, right?
Will it be a layer cake, a small sheet or an elaborate constructed cake creation that doesn't fit a cake pan?
Perhaps you want to get your notebook or tablet and start doodling some ideas. While you think about that, here are some ideas to get you going.
Fondant Cake Theme Ideas
Adults
Hobbies: music, genealogy, stamps, knitting, sewing, models, pottery, wood working
Sports: baseball, soccer, football, golf, basketball, tennis
Games: card games, Sudoku, Chess, computer games, Scrabble
Travel, Career, Education
Favorite TV shows and movies
What they're known for or good at. Example: shopping, managing money, etc
Kids
Cars and trucks, construction sets, Legos, trains, planes, dinosaurs, dolls, crafts
Roller skating, swimming, kickball, dodge ball, hide and seek
Chutes and Ladders, Candy Land, Uno, puzzles, Tic Tac Toe, Hangman
Favorite cartoon shows and characters
Future career plans: doctor, nurse, pilot, etc.
Design Ideas for Fondant Birthday Cakes
Here's an example of how you might brainstorm a design. Just write down a few ideas and notes about what you might need. Before you get too far into it, continue reading for more ideas and pictures to help you drill down even further.
Subject

Guitar or Piano for a music lover

Checkered for racing theme or game board design

Flowers – tulips, roses, ??

Colors

Brown, black, white, various

Black and white, sticks for paper flags

Pink, yellow, green
Size, Shape, and 75 Ideas
The size and shape of your cake will naturally make up part of your fondant design.
What size of cake will you need? A layer cake or sheet cake? Depending on how many people you want to serve, you may come up with a theme that uses multiple cakes and shapes, like our Minion cake (on page 2), for example.
Here are 75 design ideas for gorgeous fondant birthday cakes. Anything sound good yet?
A pink trimmed cake with animal prints and a high heel shoe or handbag.
Music symbols surrounding an acoustic (or electric) guitar. Guitar picks, music sheet, music notes.
Tie-dyed cake with a VW bug and flowers, trimmed with grass for a new or old hippie type
Yoga poses or a gymnastics scene.
Game boards – Chess, Checkers, Bingo, Scrabble, Monopoly for example.
Sudoku puzzle in the person's favorite colors. If done with layer cake, sides could have numbers in random patterns.
A cake that looks like a US Passport.
Brightly colored cake with an iPhone or Ipad showing their favorite App.
Mardi Gras colors and designs
A Big Top tent for a Carnival theme with animals or games.
A Cowboy hat or boots.
A cake covered with jewelry.
An open book with special message.
A potter's wheel with a pot on top.
Animal print designs with detailed trim.
Kaleidoscope design.
Ping pong paddles and net.
Baseball, glove, and bat or baseball field.
Basketball court and ball.
Playing cards with winning hand.
Casino slot machine
Beach scene with lighthouse.
A piece of Luggage with travel stamps
A large credit card.
A piggy bank.
A spreadsheet for an office party.
Bathroom scale for a weight loss success party.
Wine bottle with meaningful label.
Artists palette.
Skeleton, skull, or casket for Halloween or whatever.
Favorite candies like Candy Crush game.
Spiders web and spiders
Paisley prints
Favorite car, Thunderbird, Jag, Model T
Wood working tools
Cake looks like a camera
Dinosaurs, trees, mountains, water
A map to a destination
An airplane for a pilot-to-be.
Icon or box design of their favorite game: Scrabble, Candy Crush, etc
Construction equipment, dump truck, backhoe, cones, hard hat
Quilt pattern
Scissors and comb for a stylist or barber
Dictionary for a grammar geek
Movie trappings, like camera, director chair, clapboard
Vegetables for a gardener
Tragedy and comedy masks for a theatrical person
A giant flip flop shoe, or any special type of shoe
A large wine glass, beer mug, or shot glass
A to-go coffee cup
An assortment of favorite foods like pizza, cheeseburger, ice cream, etc.
A train, either old style for kids or modern for a traveler.
A window with a cat's silhouette for a cat lover.
Dog house with dog for a dog lover.
Puppy paw prints for a breeder or puppy lover.
The state bird, a pet bird, a wild bird for a bird watcher or bird lover.
A farm scene with tractor.
Road signs, stop, merge, an interstate badge sign.
An aquarium with colorful fish or a reef scene for a diver.
Safety pins and baby powder for a baby shower
Colors and emblems for a favorite team.
Masonic emblems
Rainbow, pot of gold, 4 leaf clover, or other lucky symbols
Dragonflies and butterflies, Ladybugs
Footprints in the sand
Dolphins, or a whale's tale
Celtic signs and symbols
Thistle, Tartan or plaid design for anything Scottish
Baby toys
Weight lifting theme
Country flags, state flags
A vinyl record, cassette tape, etc
Recreate a famous painting like Starry Night by Van Gogh
Emblem of a civic organization, for example Red Cross, police or other badge
An elaborate hat
Once you have a concept in mind, it's time to start sketching out the plan. We have a template for a guitar shaped cake, and clipart resources for your own cake design. There are a few more ideas on this page too.
Sketching your plan is an important activity to save you an extra trip to find that perfect detail that you need.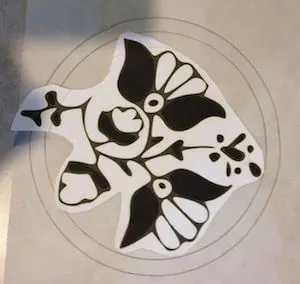 For example, licorice strands for lines or hair, or M & M candies for colorful eyes, unusual glitter color, and so on.
Just tiny touches that really make your design top-notch.
So get as much detail as you can on your design diagram.
Use crayons or colored pencils if you have them. This will help you get your colors down.
Don't use too many colors unless absolutely necessary because you have to be able to mix each color into your fondant.
That's one of the biggest activities, time-wise.
Want more cake ideas? Check out these pages: