Sugar Free Birthday Cake Recipe
Looking for a sugar free birthday cake recipe? If you're having a 50th birthday party and don't want to expose yourself (or your guest of honor) to the unhealthy insulin-raising effects of sugar, this sugar free cake recipe might be what you're looking for.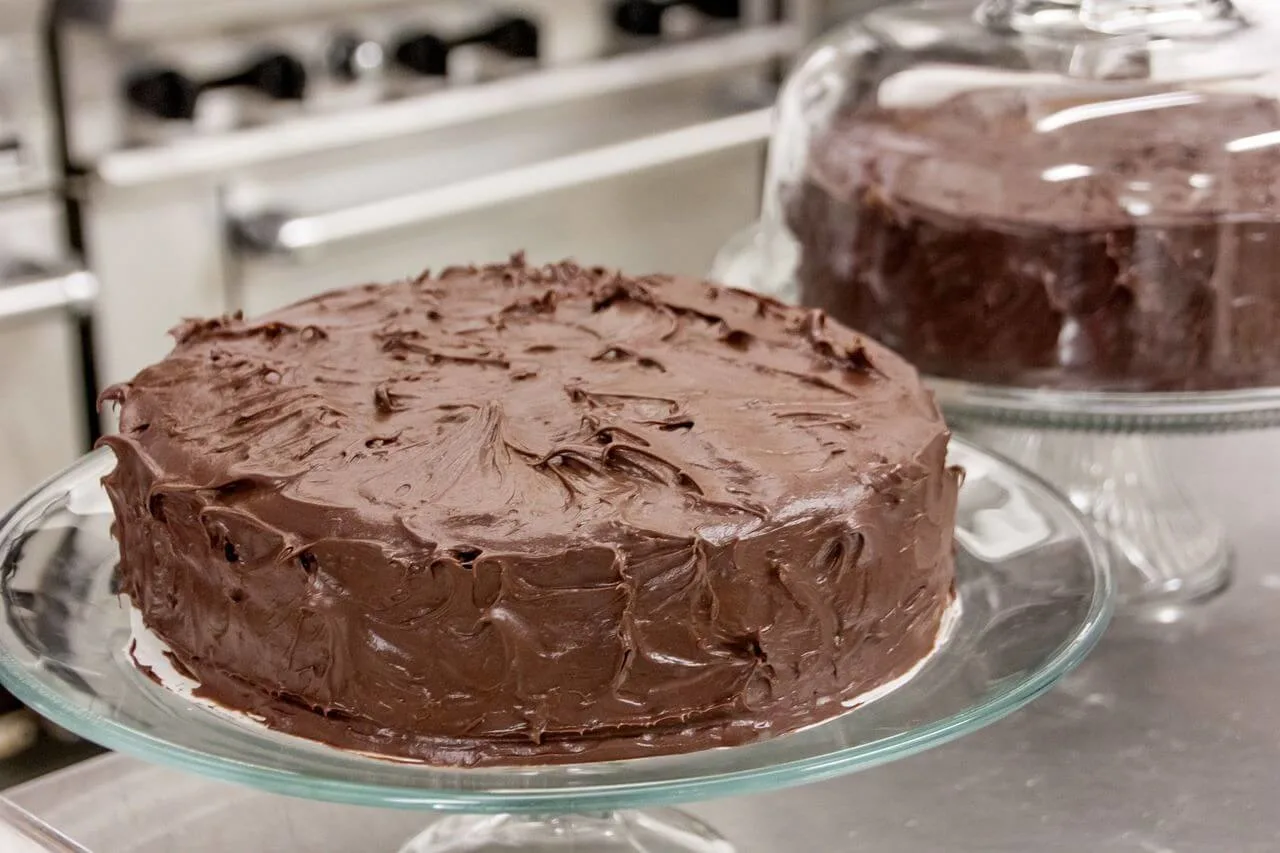 Around my place, the big health challenge is avoiding sugar and reducing calories. When birthdays roll around, it really is a challege because a cake just wouldn't be a cake without some kind of sweetness. Fortunately, it's possible to make a sugar free cake and also cut calories by substituting ingredients.
I know what you're thinking. Most times, "sugar free" means an aftertaste that would send even the most respectable fruit fly packing. So I get it. You're doubting this recipe could be very good. Seriously, you wouldn't believe this cake is sugar free if you didn't know it. The texture is convincing, as is the flavor, and the frosting is light and delicious!
Now, to be honest, there is very limited naturally occurring fruit sugar in one ingredient, but nothing like cane sugar or high fructose corn syrup! For purists, the fruit sugar could be left out, too.
My Advice
To anyone preparing for a 50th birthday party and planning to make the food:
I would never advise anyone to attempt a new recipe for an important occasion without testing it beforehand. The good news is, this recipe is light enough to test without the usual caloric concerns of regular birthday cake, so feel free to give it a whirl a couple of weeks ahead of time.
This cake can easily be frozen, too. Therefore, if an entire cake is too much for your family, you can slice and store it for future use.
Sweet Convenience
One great thing about preparing this cake is how easy it is to make. That's because you make it from a mix right out off your grocer's shelf. All ingredients are easily found and contain nothing for which a specialty store is needed. Easy-peasy! If you've got a Walmart Market near you, I know you'll find everything there. 😉
"Life is a cake and love is the icing on top of it." – Mehek Bassi
Courtesy of wiseoldsayings.com
Here's What You Need for this Sugar Free Birthday Cake
First, you need to choose a sugar free cake mix. For my experiment, I used Pillsbury's Sugar Free Yellow Cake mix. I found it in the cake section on the bottom shelf. I presume it was on the bottom shelf because it's a specialty/diet item. Most times, the mainstream products are on the middle shelves–eye level for adults. So if you look for it in your grocery store, look at the bottom shelf of the cake mix section or maybe even up on the higher shelves. If all else fails, ask one of the grocery store staff to help you find it.
Applesauce: The next thing you'll need for this recipe is unsweetened applesauce. For my cake, I used Mott's Unsweetened Applesauce and specifically selected the package with the single-serving cups as shown above. We don't normally eat a lot of applesauce and with the single-serving size, we aren't left with an opened jar of the stuff in the back of the fridge.
While shopping for the regular unsweetened applesauce, I also encountered unsweetened Granny Smith applesauce, which sounded absolutely delicious. However, it's important to choose the regular unsweetened variety because you don't want a strong or tart or sweet flavor to overpower your cake. We're not making apple cake.
Note: The purpose of the applesauce is to replace the oil called for in the recipe.
Applesauce can be used in a 1:1 ratio and if unsweetened, you don't even notice a flavor difference. If you happen to use sweetened applesauce, you will be adding extra sweetness to the mixture. Plus, since we're trying to make a sugar free birthday cake, using sweetened applesauce would defeat the purpose.
My cake mix called for 1/3 cup of oil, so I used 1/3 cup of unsweetened applesauce and it turned out perfectly. No apple flavor and no added sweetness.
Another great thing about using those single-serving cups is that they are almost the exact perfect size for the applesauce needed. There is a little left over after measuring, which is just enough for a nice big spoonful for tasting the apple-y goodness.
If the you don't want the sugar from the fruit, simply keep the oil and skip the applesauce.
Reduce Even More Fat?
We cown the fat by using applesauce, but you could cut out even more by replacing the whole eggs. Instead, use egg whites or fat-free egg substitute!
The ratio for egg whites is 2:1, so for every whole egg, you would use two egg whites.
Using fat-free egg substitute? Use 1/4 cup substitute for each whole egg.
My Pillsbury cake mix called for three whole eggs, so if you wanted to substitute, you would use either:
6 egg whites, or
3/4 cup of egg substitute.
The other ingredient needed, besides the mix and the applesauce and the eggs is water. Good old H20 and that's it! Simple huh?
Yep!
Putting It Together
You want to mix the ingredients according to the package instructions, which is pretty simple. All you do is, dump it all in a mixing bowl and mix together…with one important caveat: You need to stir the ingredients BEFORE using your mixer. This pre-stir is done in order to moisten everything. Why?
Because if you've ever immersed your beaters into a mound of dry cake mix, you know it makes your kitchen look like a dust devil hit.
Afer a disaster like that, you would need your Dirt Devil.
And we don't need an unplanned cleaning job on top of everything else, do we?
Seriously. The stuff flies everywhere. You do NOT want a kitchen full of cake powder! So, stir the ingredients together with a spoon until moist. Then use your beater to mix it for two minutes until the batter is smooth. And don't forget to taste! Mmm-mmm scrumptious!
Very good. Now once you're done with the mixer step, feel free to try a little taste. If you used the applesauce correctly, your batter will taste like yummy, vanilla-y cake batter. If not, you could have apple cake or some other cake flavor mutation. (All the more reason to test your recipe ahead of time!)
Now next, you pour your batter into prepared pans (greased and floured) and pop it into a preheated oven. Be sure to heat your oven according to package directions with the proper allowances for your pans' types and sizes. Then bake (again, follow package directions). Your cake is done when a toothpick in the center comes out clean.
Once you take the cake(s) out of the oven, you place them on a cooling rack. The cakes should be slightly rounded with a golden brown color on top.
Okay. It's time to make the frosting.
The Frosting
What's great about this frosting is that it can be as light as you want it. It gets its flavor from pudding and its fluffiness from whipped topping. If you're not a fan of buttercream, you may become a fan of this.
You're going to need one package of instant sugar free/fat free pudding (pair your pudding flavor with your cake flavor choice). You'll also need one cup of cold skim milk and one container of light or sugar free whipped topping. I chose sugar free.
Note: You must use cow's milk for the pudding or it will not set. This means you cannot use almond milk or any other nut milk. But skim milk will eliminate the fat, so the calories are going down, down, down. Yay!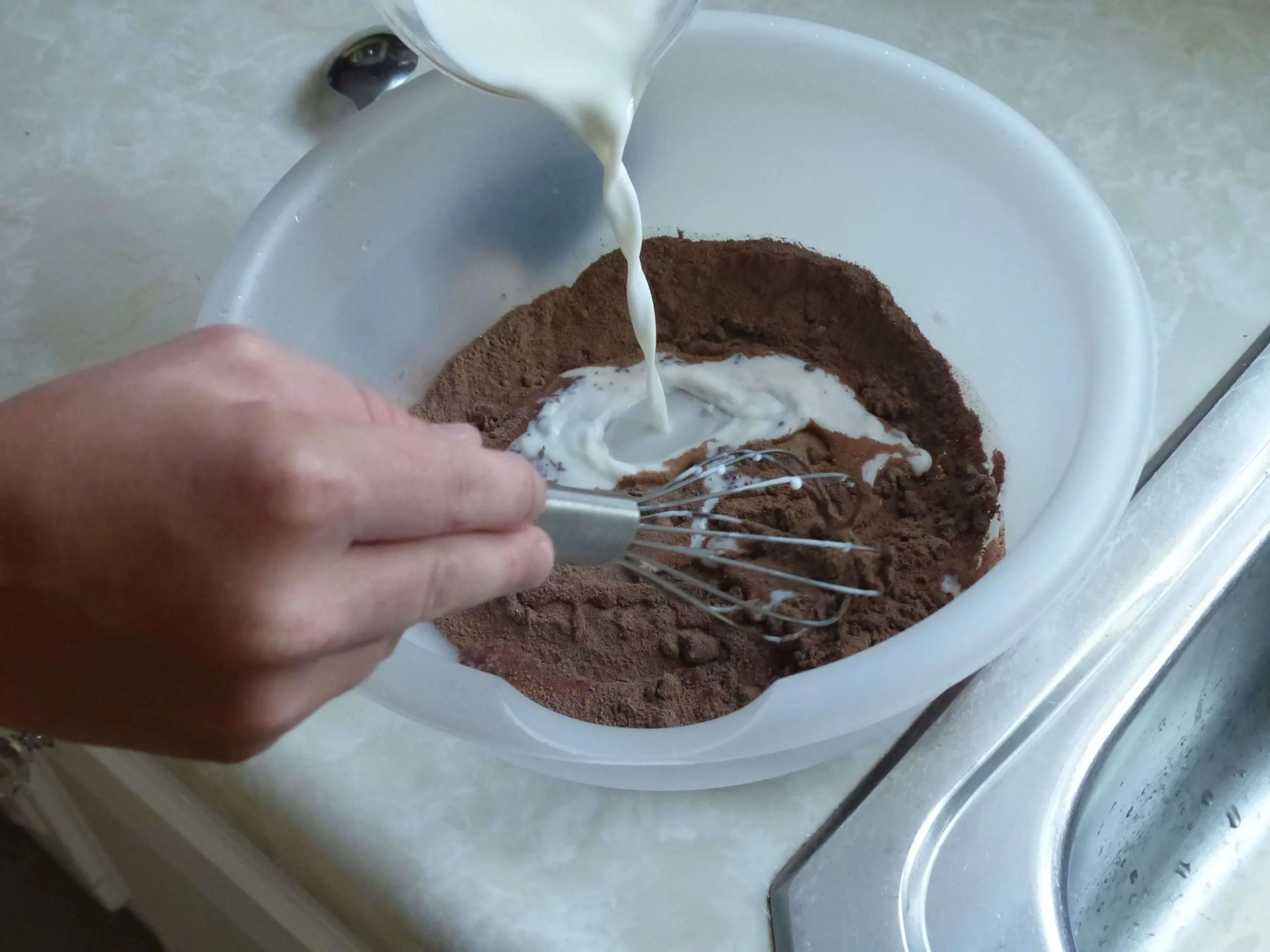 Pour one cup cold milk into a bowl with the pudding mix and whisk until it begins to set. Be sure to break up any beads of pudding mix that might make your frosting grainy. Once the pudding is smooth and slightly thick, you want to gently stir (fold) in the whipped topping, one generous dollop at a time. You'll continue stirring gently until all white streaks disappear and the color is uniform. Keep chilled in the fridge until it's time to frost your cake.
"Cake is happiness! If you know the way of the cake,
you know the way of happiness." – C. JoyBell C.
Courtesy of wiseoldsayings.com
Frost and Decorate
Once your cake has cooled, assemble your cake as appropriate (pop the layers from their pans, for example), then begin frosting. For layer cake, place a generous dollop of frosting between your cake layers then smooth with your frosting applicator of choice. I used an offset spatula.
Place your second layer on top and complete the frosting process.
You can experiment with flowers and piping if you wish, but you may not get the results you're after. You sacrifice stiffness with this frosting, but gain a lot of fluff.
Instead of piping, you can use premade embellishments to decorate your cake or use peices of fruit. If using fruit, I'd advise waiting to add it until right before serving, if the cake is going to sit for a day or so. This will prevent fruit juices from causing problems with the frosting or making the cake soggy.
Once you're happy with the frosting, you're all done!
See? Doesn't it look great? Actually, in the interest of transparency – that's not my cake, it's a photo from Pixabay. :-O My finished cake picture didn't turn out due to technical difficulties. It had nothing to do with the camera operator. (That's my story and I'm sticking to it. ;-)) I couldn't leave you without a finished cake picture, so used this. I'll make another sugar free birthday cake soon and update the image then. It'll look very much like this.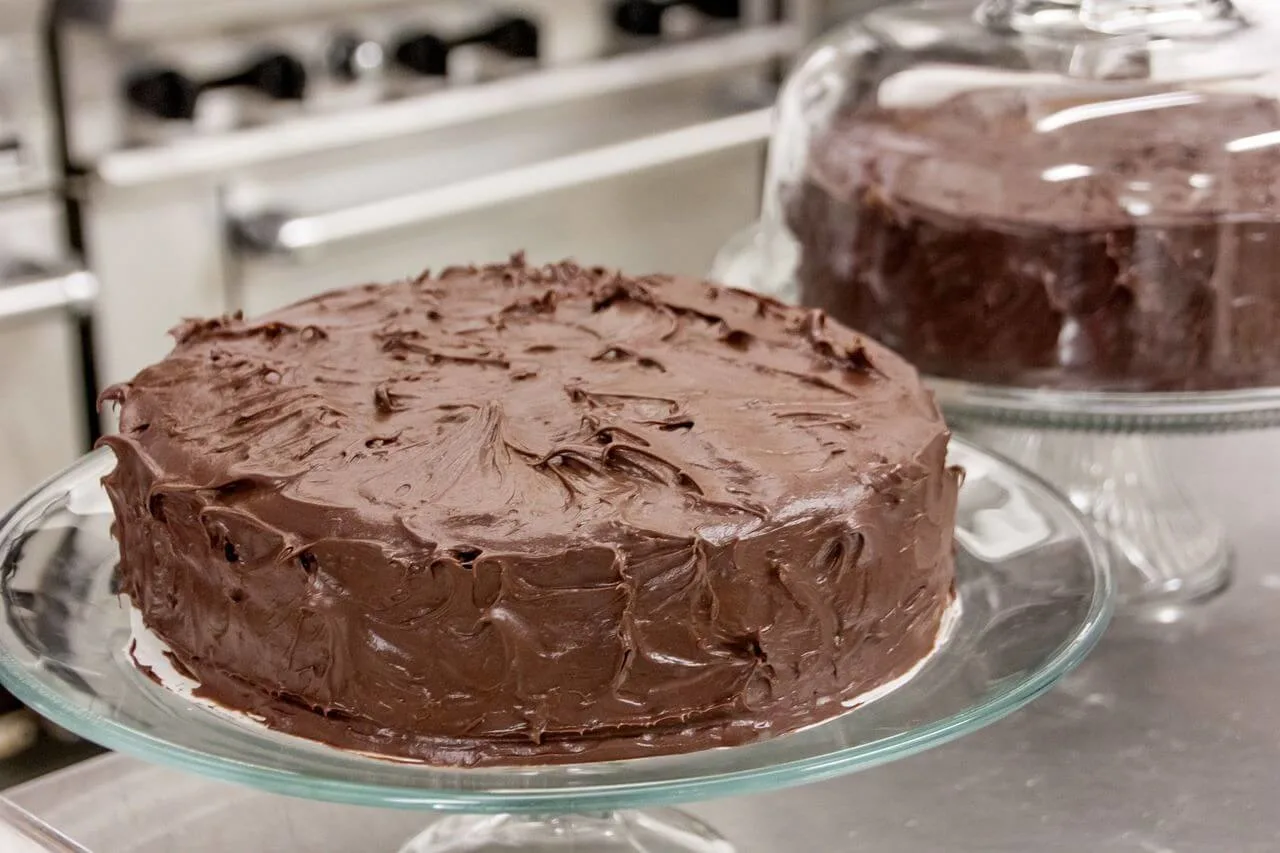 Serve and Keep
Because of the whipped topping in the frosting, this cake needs to be refrigerated until serving. Any leftovers should be refrigerated, as well.
I used a cake keeper for my layer cake, but you could also make a tent with toothpicks and plastic wrap, as long as you're absolutely sure to pull out all the toothpicks prior to serving your guests. A forgotten toothpick could cause injury. Also, use a knife to smooth over any holes by toothpicks.
There you have it folks! A light, delicious sugar free cake. It doesn't have to be a yellow cake, either. Other flavors would work just as well. Try adding orange extract to the batter or other flavor. You could also get a chocolate mix and try that!
I hope you enjoy the 50th birthday party you're planning and I hope it turns out to be a huge hit!
In closing – and for those watching their carbohydrate intake – this cake is lower carb than a regular birthday cake, but may not be suitable for folks on a low carb diet because of the applesauce and flour content. I am working on developing a low carb birthday cake recipe and will share that soon. In the meantime, this sugar free birthday cake recipe will help many, many people who are watching their sugar intake, their calories or even their fat grams. Hope you like it!