Are you searching for 50th birthday decorations? The fiftieth is a milestone birthday and that's definitely a cause for celebration. Party décor can really pull the whole party together. It can set the stage for your celebrations, help to honor the guest of honor, and just lift the mood of everyone who attends.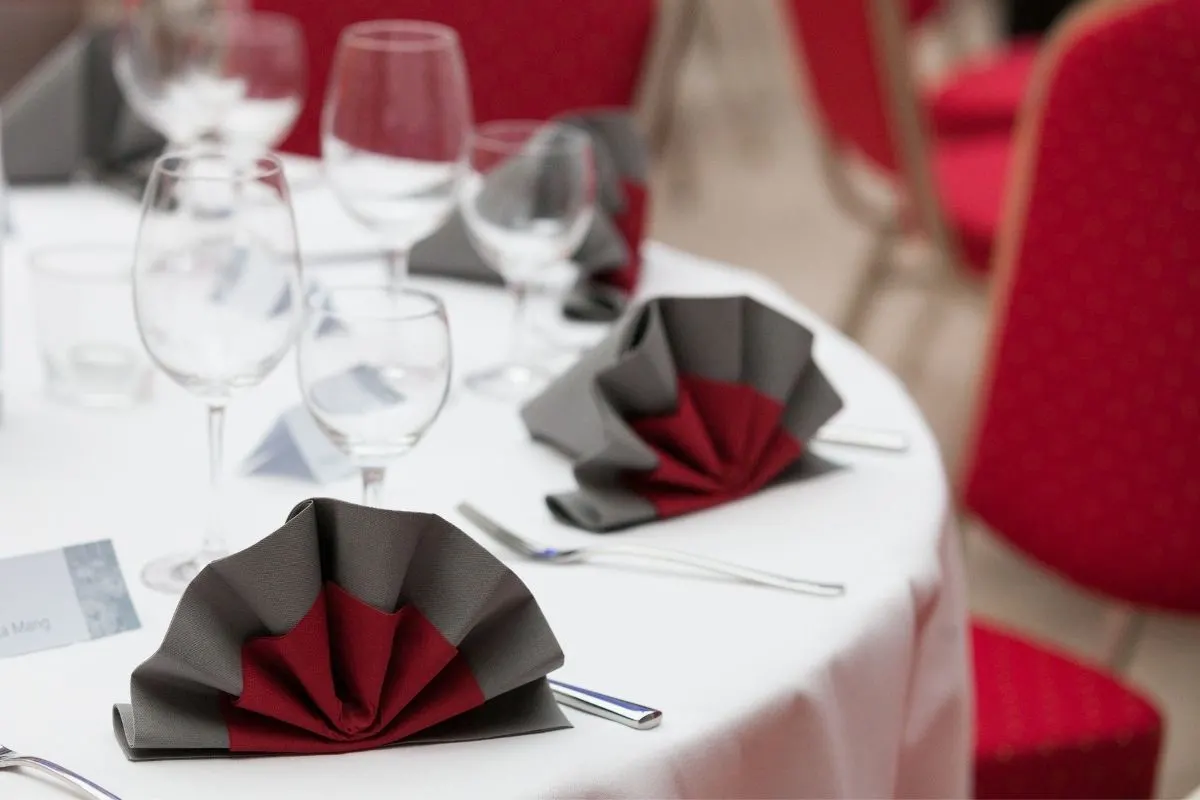 No matter how old you are, blowing out candles, eating birthday cake, dancing to favorite music, or playing favorite party games can all be fun. But it's the time spent with friends and family who are close to you that really makes the day special. A 50th birthday party is a big deal, but if you're feeling a bit overwhelmed about how to plan your party, you're in luck.
I've found that there are three common problems people have with planning a 50th birthday party:
They don't know where to begin
They can't afford expensive decorations
They don't have the time to invest
That's why I've taken the time to compile some tips and ideas to help you with each of these issues. You'll learn how to plan a party and what items you need to complete a great celebration, and you'll also learn how to do so on a budget or with limited time.
50th Birthday Party Decorations on a Time or Money Budget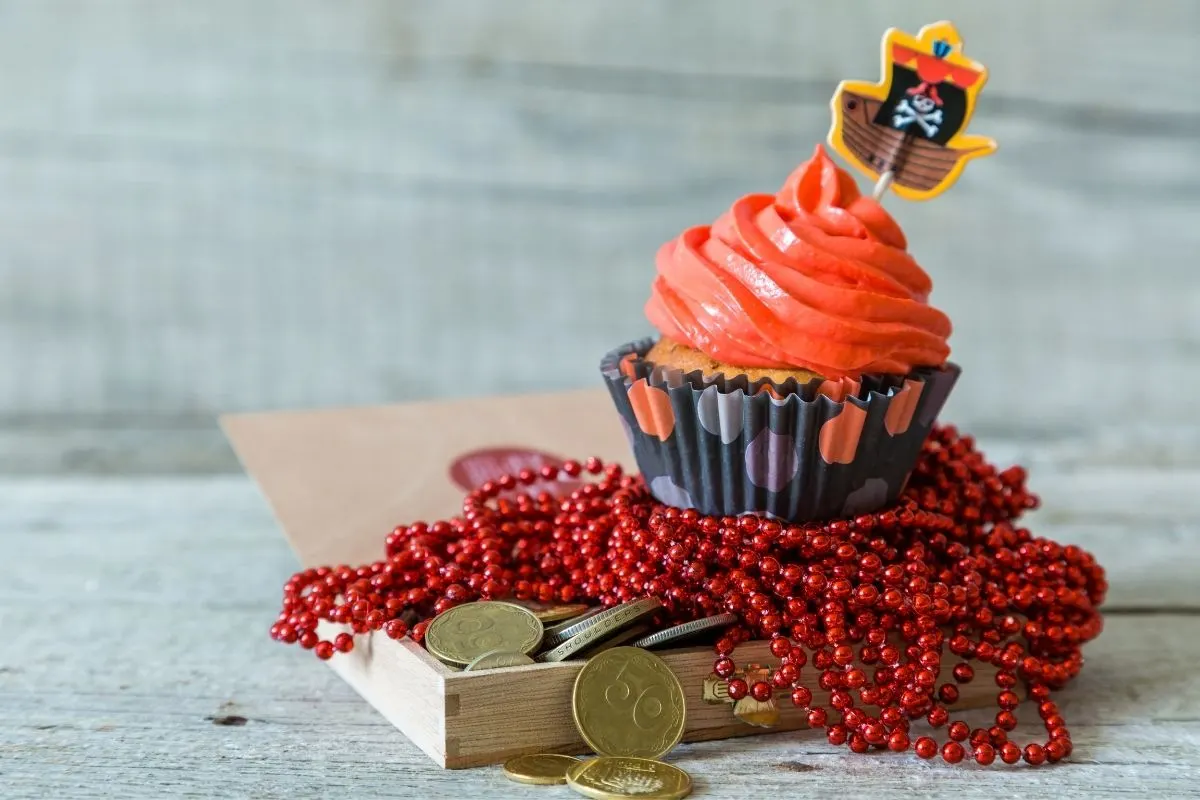 The first step in planning your party is to decide on a theme or color palette. You could choose a common theme like gold and black, silver, or "happy birthday" themed. Another option is to build a theme around the birthday guest of honor's favorite color or hobbies. For example, if he loves fishing, you can do a fishing theme.
Choosing a 50th birthday party theme doesn't have to be hard. Try not to overthink it. Sometimes the theme is just about the colors you use. Or it could be centered around a party game with close friends. I'm going to show you some 50th birthday party ideas to help you get started. Feel free to borrow them or use them to inspire your own.
If you're on a budget, don't stress. There are many ways you can save money on decorations without cutting quality. And if you're worried about time, that's okay too. I'm going to give you some ideas to help you save time on the party planning and also on the actual setup process on the big day.
I can help you build a 50th birthday party theme and find 50th birthday decorations and 50th birthday party supplies that work for your budget and time constraints. These tips will help you celebrate the guest of honor in style for this very special milestone birthday.
At the end of the day, remember that a party is what you make of it and the people that are there – and this can be done with very little expense or time from you. If you want to learn how you're in the right place!
Time-saving tips for 50th birthday party decorations
If you need to create an amazing birthday celebration but you're pressed for time, I have some tips to help you. If you're looking to celebrate the birthday boy or girl who is turning 50, it helps to personalize as much as you can. The best way to make someone feel special on their big day is to highlight the things you know they love and appreciate. This also means bringing together all the friends and family members they would want there to share in the fun.
Order party decorations online
First, you can save a lot of time when you order online. You can do it in your free time, in the comfort of your own home, and there are many great party décor websites to browse. And of course, there's my go-to favorite: Amazon. If you have Prime, you can usually get your decorations in a day or two, which can save you in a bind if you've waited until the last minute to get your supplies, too.
By spending a little time choosing a party theme, you can select coordinated items from online stores instead of running all over town spending precious time searching for the perfect decorations. Find what you need online, pay, and have it shipped right to your door.
What kind of items might you need? Streamers, lights, table toppers and table decorations, party favors, cupcake toppers or a cake topper for the main cake, 50th centerpieces, birthday cards, happy birthday banners, and much more to add that personal touch.
If it seems like there is too much to do, don't worry. I'm going to simplify it for you as much as possible.
You may want to start your theme by choosing a color scheme, such as gold, fuchsia, mango, or white, depending on the mood and the guest of honor, male or female, their likes and personalities, and more.
Enlist volunteers
Another way to save time but not sacrifice the quality of the party is to delegate some tasks. You don't have to do it all. You can find some close friends or family who will be attending and ask them to help you out with making or buying supplies and with setting up the event on the big day.
When you delegate tasks and you know who is doing what, you don't have to stress about doing it all yourself, but the big day can go off without a hitch. Here are some tasks your volunteers might be able to help with:
Pick up the birthday cake
Set up the venue
Work with the DJ or band to compile a music playlist
Set up 50th centerpieces on all the tables
Help make or bag up party favors
Help plan favorite foods or catering
Setting up a dessert table
Setting up or serving at a buffet table
Once you know the theme of your party, you're ready to start buying and/or making your supplies.
50th Birthday Party Supplies
Before we talk more about party decorations and how to save money, let's review what kind of supplies you might need. I recommend making a checklist of all the items you know you want so that things are easier once you start shopping.
Then you'd be able to work from this list and check each item off the list once you find it. Here are some things that might go on your list:
50th birthday banner
50th birthday centerpieces
50th birthday balloons
Party favors or gifts for guests
Party lighting and hanging décor
Birthday banners
Party candles
Cake topper or cupcake toppers
Tablecloths
Plates/silverware/cups
Anything else you think is important
Now, if this sounds like a lot, don't worry. For one, there are many ways to save money on these items and I'm going to show you how. Secondly, you don't have to have it all. You only need to choose the things that work best to complete your party theme and the type of party you want to have.
Money-saving tips for 50th birthday party decorations
Here are some tips to help you save money on your birthday party planning. Whether you are choosing birthday themes, shopping for a happy 50th birthday banner, looking for a deal on 50th birthday balloons, or even your birthday cake and cupcake topper, you can find great value in these tips.
Check out the local dollar store
One option for cheap 50th birthday party decorations is the dollar store. The dollar store was one of the greatest inventions, in my opinion. They carry a variety of all the decorations you need and at a very reasonable price. All you need to do is stick to a basic color theme and shop! Pretty easy work!
You can pick up things like:
Streamers – They come in rolls of around fifty feet and usually only cost $1-2 each.
Balloons – You may need to blow them up yourself. Some stores (like the Dollar Tree) will do it for you.
"Happy Birthday!" banners – These are not personalized to say "50" on them, but still work great for decorating. You can even take a marker, or some cut-out construction paper and make a "50" and glue it on. Ingenuity always helps save money!
Ribbons – These work great for your balloons or even as some extra decorations around the party area. To make these work similar to streamers, buy a large number of streamers and tie a bunch together. Take a pair of scissors and run the blade along with the ribbon so it gets curly. If you do this to a bunch of ribbons and put them together you get little bundles of curly colorful decorations.
Remember that cheap 50th birthday decorations don't have to look cheap. You can do a lot with a little, especially if you know how to get creative.
Save money on birthday balloons
Now something else to help save some money: You can buy the balloons at the dollar store, rather than a party store, as they are always slightly more expensive at the party store. Then you just rent a helium tank and blow them up. You can also buy small one-use helium tanks at places like Walmart. Or another option is going to a store and paying per balloon for them to be blown up (usually not too expensive on a per balloon price).
If the dollar store is not even an option, then don't fret! There is always something that you can do to throw a great party – just a little extra creativity and ingenuity to get it done.
Homemade 50th birthday party decorations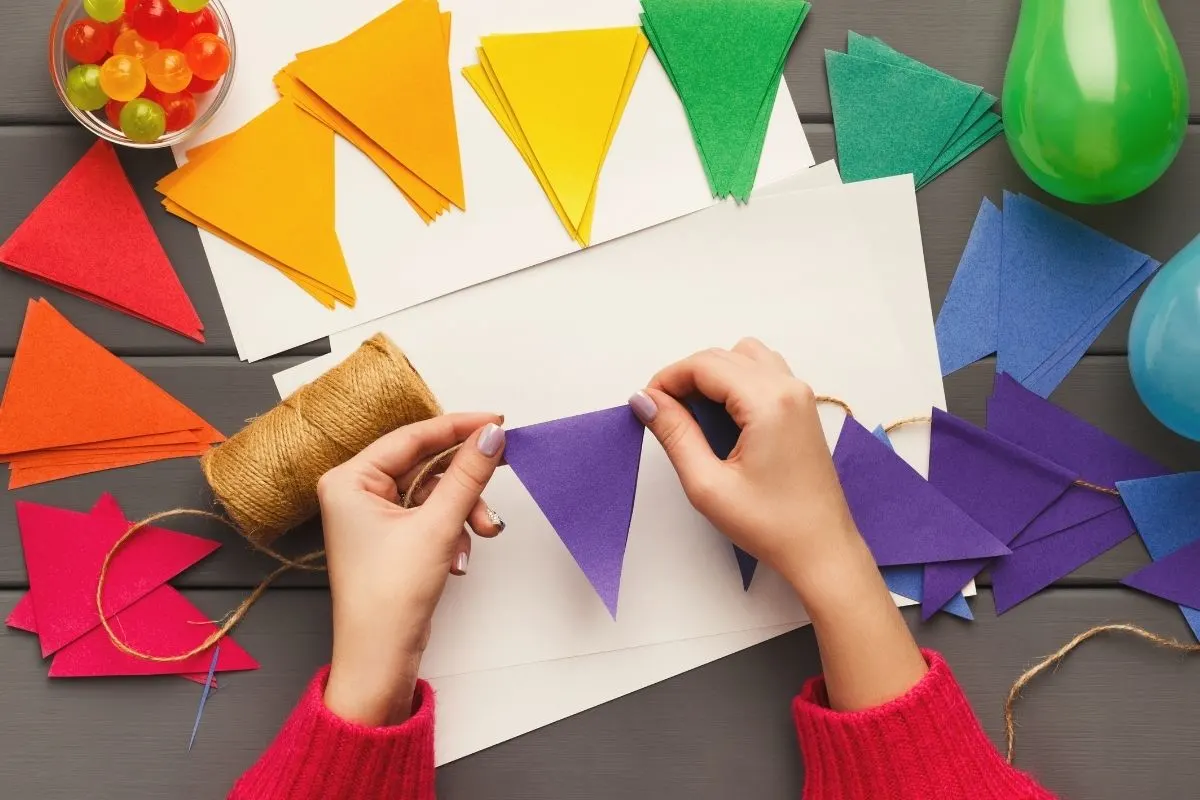 If you have the time to invest, you can almost always save money by making some party decorations on your own.
To create signs and banners for your 50th birthday, break out the construction paper, markers, and scissors. You can cut letters out of construction paper and glue them on a piece of Bristol board. Use the markers to draw on little pictures to jazz it up some more.
You can use your computer and print out letters (to spell out whatever you like – "Happy 50th Birthday", for example). Put one letter on each sheet and use markers to color around them once they are printed. Then you just need to tape them to the wall and spell out the saying.
Use construction paper and scissors to cut out big balloons, birthday cakes, presents, and any other birthday symbols. Again, these can easily be taped to the walls or put on tablecloths or used as table decor.
If you want birthday hats for everyone to wear (or just the birthday boy/girl), this is easy too. Get a piece of Bristol board, decorate it with markers and sparkles, etc. Cut the paper into a half moon. Roll it so the ends of the moon meet and tape or glue it. Instant party!
Now, I'm going to list some ideas for great decorations you can find at great prices on Amazon. When you don't have the time for making things yourself and you just need to purchase simple but affordable decorations to get the job done, these suggestions are going to come through for you.
50th birthday party decorations
Here are some 50th party kits that I really like. With these, you get everything you need in one pack, and it saves you both time and money for your party planning.
Black and gold party kit wth plates and cups
This kit is interesting to me because it also comes with disposable plates, cups, and silverware. This is great if you want easy cleanup afterward and it also has balloons, a tablecloth, and a banner.
Black and gold glittery happy 50th decoration kit
Here we have another black and gold set that comes with great items you need for a big 50th birthday bash. It includes a large banner (no DIY required), 12 pieces of hanging swirls, and 6 paper pom-poms in black, gold, and silver.
50th birthday decorations for men
This 76-piece kit is great for the 50-year-old man in your life. It's a huge, complete kit with so many pieces of everything you need. It has large gold foil number 50 balloons, birthday banners, cupcake toppers and tablecloths, and more.
50th birthday decorations for women
Here is a fun party kit for women. It comes in rose gold and black with 20 printed balloons, plus foil balloons, gold confetti balloons, a giant number 50 balloon, and more. It even comes with super cute cupcake toppers and a foil backdrop.
Purple 50th birthday decorations
When you want purple 50th birthday party decorations, I have some great ideas for you to choose from. Here are two complete kits in purple that you can choose from.
30-piece purple and gold birthday decorations kit
This gold and purple set is a great way to bring purple to your party in an elegant way. It has 30 pieces of foil decorations, including 11 different patterns and 21 different foil swirl decorations.
50 & fabulous birthday party pack in purple and silver
This purple kit has silver as its accent color. It comes with the large silver number 50 balloons, as well as other metallic purple and metallic silver balloons. There's a large "50 & Fabulous" banner for you to hang as well.
Unique 50th birthday decorations
When you want unique 50th birthday party décor, these kits may not be the way to go. Although they are convenient and affordable, they're not very unique. To be truly unique, you may need to go to a specialty party supply store or make your decorations yourself. Alternatively, you can use decorations that wouldn't normally be expected at a birthday party, but that personally suit your guest of honor.
Personalized 50th birthday decorations
If you want to personalize your party décor, it's possible to get balloons, banners, napkins, and more – all personalized with the message you want. You can even get the guest of honor's photo imprinted on your birthday decorations.
This yard sign is one example of a personalized birthday decor item:
From elegant 50th birthday decorations to personalized party favors and fun party games, there are so many wonderful things you can do to help celebrate this big day in style. Another option you might consider is to make personalized table centerpieces or party favors.
50th birthday decorations by color
If you want to plan your birthday party theme around a color, here are some ideas based on popular color choices.
Red 50th birthday decorations
Here are two great red 50th birthday party kit options:
Here's a black, red, and white party kit that includes a really nice banner, balloons, and more. This is a really great kit when you want to have ready-made decorations that you can just put up in a pinch at the venue.
Here's another variation on the black, red, and white theme but this one has large balloons for the number 50 as well as the Happy Birthday, and then other balloons as well.
Pink 50th birthday decorations
Here are some ideas in pink:
This pink-themed Cheers to 50 Years party decor kit is another great option It has a banner, spiral decorations, pom-poms, and more.
This is another play on the pink theme that's a bit more "princessy". From the shiny metallic balloons to the photo props and the sash that says "Birthday Queen", this kit has it all.
Here's a large "Happy 50th Birthday" banner that is great for the present table, a backdrop, or for the cake table at your party.
These honeycomb table-toppers will look great on your tables and go with a pink theme.
And finally, another Happy Birthday kit in pink that has shiny metallic balloons, a banner, and more.
Blue 50th birthday decorations
I've also found some really beautiful options in blue:
This blue kit comes with everything you need to spruce up your party venue for the big day.
This is a classic blue with silver and black that includes the Happy Birthday banner, the 50 balloons, and other balloons and decorations.
This blue and silver birthday kit is so elegant. It has balloons, a banner, and also the large number 50 balloons. It will be so much easier to decorate your venue for your party with a kit that has all the essentials already.
This blue kit has the number 50 in blue balloons as well. It has a blue Happy Birthday banner, some pom-poms, and more balloons. It's a great kit when you have a blue theme.
Gold 50th birthday decorations
We already know that gold is a classic color often used for this milestone birthday. Here are some gold options for the 50th:
This kit is perfect for a classic gold-themed milestone birthday. It has banners, balloons, and more.
This kit is very similar to the one above with a few small differences. For example, some of the balloons are heart-shaped.
Here's another gold and black theme that is very elegant and easy to set up. This is a great kit for your party when this is the color scheme you choose.
Silver 50th birthday decorations
Silver decorations bring a touch of class to any party. Here are some of my favorites:
This giant silver banner is gorgeous and will also be great for photo-taking.
This shiny cake topper is a wonderful way to celebrate the big day.
This kit has everything you need for a silver-themed 50th birthday party. From the banner to balloons of different styles, it's all here.
50th Birthday Centerpieces
When you're shopping for 50th birthday party supplies, don't forget the 50th birthday party centerpieces. Here are some suggestions that I really liked.
This table topper is a great way to show everyone what you're celebrating.
These classic honeycomb table-toppers are a great way to add a little pizzaz to your tables for the party.
These "Cheers to 50 years" toppers are a lot of fun and easy to set up.
When you have a pink theme for your party, these are very beautiful and elegant to decorate your tables.
50th Birthday Party Decoration – Conclusion
These are just a few ideas of inexpensive ways to make for a great party with some fun 50th birthday party decorations. But remember, even if these are out of your finances – a great party is what you make of it.
Good friends, good laughs, and a lot of love will ensure you have a great party no matter what the décor!
Have you decided to use any of these ideas or suggested decorations? I would love to hear about it in the comments.