50th Birthday Decorations and Themes
Decorations help set the mood, whether they are 50th birthday decorations or other, and they provide a great backdrop for memorable birthday pictures.
Your decorations will vary depending on your chosen theme, the party location and budget – use colors that will work with your theme, buy enough decorations to cover the room nicely without over decorating.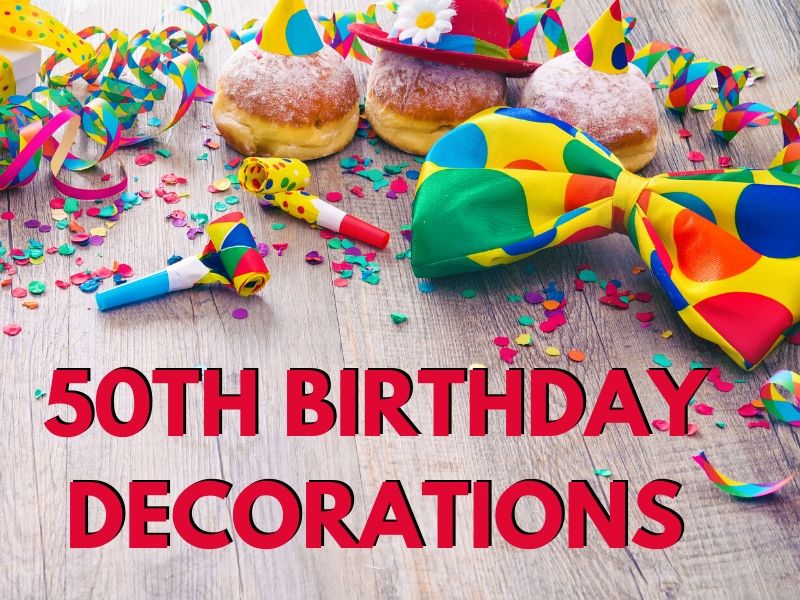 Themes and 50th Birthday Decorations
The theme dictates and guides you to the decorations you will need.
Before you can purchase or make invitations, balloons, streamers, napkins…even the cake, you must choose the theme for the party.
It can be elegant and formal or funny and cheesy, it depends on the people and personalities involved as well as the venue.
The theme can be based on a movie, an era, a decade, or just a favorite color scheme.
Do a little brainstorming with the birthday person in mind.
The budget, season, and time or schedule all need to be considered.
Once the theme is chosen, have fun matching up all the party pieces to fit the theme: invitations, balloons, cake, centerpiece, favors…
This is the fun and creative part of party planning!
Here you will find ideas to get you started.
Balloons and Streamers
No party is complete without tons of balloons and streamers!
Here's a few key points to consider when you are deciding on ballons:
Make sure your balloons match your theme.
Helium so they float or tape them to the walls.
A few balloons with writing like "50th birthday" or just a few solid colors.
Some also may want to get balloons with "over the hill" or other jokes to help ensure that the birthday person is properly notified of their age – because as I said, when turning 50 you have to be prepared for some gags, pranks and jokes!
Never over-do the streamers – simple is better. Pick your colors to match your theme and your balloons and just create a nice frame of streamers around the room or area.
Here's a great look for your balloons that will make any venue a bit more festive:
French Theme Party Decorations
For ideas on decorations for a Paris or French theme also using a black and white theme, visit the French theme decorations page here.
---
Labeling the guest of honor
It is their birthday so make it loud and make sure everyone knows who is turning fifty!
You can make this person look and feel special by getting them a big pin that labels them as the birthday boy, or girl, or guest of honor.
Another nice 50th birthday decorations touch is a birthday hat. This hat can be just the basic ones from the dollar store or could be a huge funny hat you've made yourself.
Be creative to make sure they feel extra special by decorating one chair with extra balloons and streamers – maybe even buy the bigger foil balloons that say "Happy 50th Birthday" and tie them to the chair. This will be their chair and is a good way to make sure everyone gathers around it – especially at gift opening time.
---
Banners and Signs
Banners and signs are another great addition to the 50th birthday decorations.
Signs are a great way to point your guests to the party – especially if it is in a place they have never been to. This can be easily done by just strapping a few balloons with a sign down the street so everyone knows where they are going and no one gets lost.
Celebrate in Style 50th Party Supplies and Banners
It is also a lot of fun to make sure there is a banner and some balloons in the front yard or somewhere visible to the world so everyone who drives by knows its a 50th birthday.
A sign that says "Honk to say Happy Birthday, I just turned 50!" or a similar wording will involve the neighborhood in the celebration as well.
---
Confetti & Noisemakers
Confetti and noisemakers are great for surprise 50th birthday decorations. Instead of just yelling "Surprise!" you can also have everyone throw confetti or make noise with whistles and noise makers. This will make the surprise that much more shocking.
Well, maybe if you don't want a major clean up, just some noisemakers!
---
Decorations on a Budget
This is where your creativity can really shine! By using found and re-purposed materials and some thinking outside the box, you can really stretch your budget and design an amazing decorating plan.
No matter the budget you can always have great decorations – just takes a little extra creativity and elbow grease to make them rather than buy them.
We've created a great guide to decorations on a budget with our 50th birthday party decorations on a budget page.
Use these tips to help create great 50th birthday decorations and party up a storm!!
Pages you might be interested in: