These pirate theme party ideas are intended for grown-ups who want to throw a really fun party they'll remember forever. Wonder if this theme will work for you? Well, a pirate themed birthday party is perfect for times when the birthday guy is irrepressible, a bit mischievous, and hasn't quite "grown up." Is your guest of honor a rascal like this? If so, read on!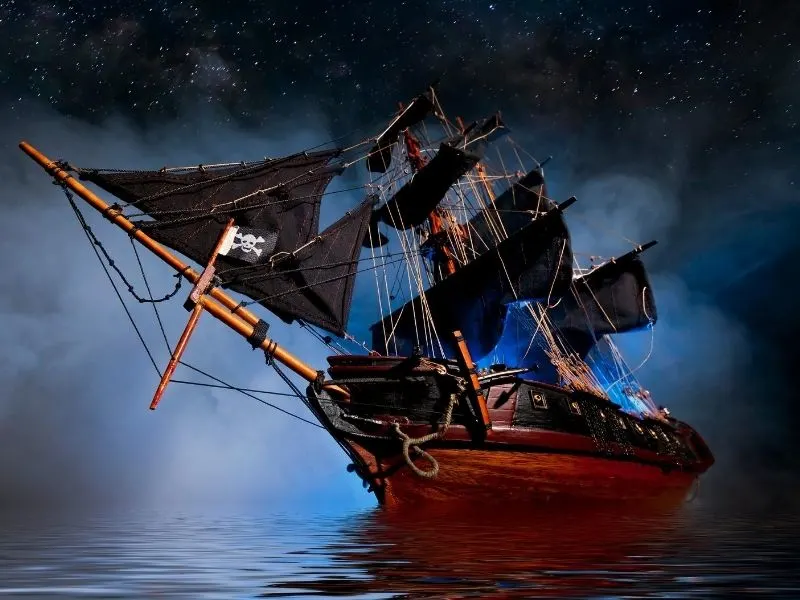 Wait a second. Aren't pirate-themed parties for little boys? Well, yes they are…but! You can make this work for older "kids" and have quite a lot of fun with it. It's a great party to decorate and so much fun for guests and you! Real pirates came in all ages, shapes, and sizes, so it can be that way now.
By the way, I've geared this page towards a male birthday because the vast majority of pirates were men. In fact, women weren't even allowed aboard a ship. It was a crime! However, if you wish to use this theme for a female birthday, more power to ya! We don't discriminate around here. It's completely up to you!
Now, let's take a look, shall we?
The Premise Behind My Pirate Themed Birthday Party
Pirate Eye Patches Black Felt
Pirate Bandana Face Mask
Party Supplies, Paper Plates, Plastic Cutlery, Cups, and Napkins
Funny Party Hats Pirate Party Set – Pirate Birthday Party
Ocean Pirate Beach Theme Party Decorations
Skull Print Pirate Hat Eye Patches S
Pirates were looters and pillagers. They made their living harvesting booty from the high seas by overtaking vessels that sailed through perilous waters. Pirates used as much force as necessary to conquer a ship so they could plunder it. They frequently took prisoners, and capitalized on their human bounty in various ways, including selling those prisoners as slaves.
If they couldn't profit from them, they abandoned their hostages on deserted islands or disposed of them in other, more gruesome ways.
Why am I telling you all this, you ask? So you can appreciate the pirate theme scenarios I've put together for you, which are coming up next. Scroll down a wee bit and you'll see. 🙂
Ah yes, there they are!
You're also going to need some pirate-themed birthday party food, pirate-themed birthday party favors, and pirate-themed birthday party decorations.
Kick It Up With These Pirate Theme Scenarios
A kids pirate birthday party can be a lot of fun, but don't leave the adults out of the action. You can also do a grown up version of this idea. Or make a mixed pirate party that works for party-goers of all ages. Let's look at some fun themes that work with the pirate idea.
Scenario 1 – Captain of a happy pirate ship
Your birthday person could be the captain of a happy crew. His job (and his life) is secure because all the pirates like him and aren't devising an evil pirate plot to mutiny or worse. In this scenario, you and your party guests will treat the Cap'n kindly and show him the time of his life. You and your mates will wait on him hand and foot, give him lots of hugs … and a treasure chest full of birthday gifts!
Scenario 2 – Captain of an unhappy pirate ship
In this scenario, you and your guests are not at all pleased with your captain, the birthday boy, which means you can do all kinds of low-down stuff to him. (Heh, heh. Wink-wink!)
I'm thinking you could prank him lavishly. For example, one very piratey thing you could do is to make him walk the plank. In other words, you would blindfold him and make him go from person to person seeking out his birthday gifts.
However, not everyone will have a gift to give…well, not pleasant a one, anyway. Have them hand him a fistful of Silly Slime or Poo-Dough instead, put vinegar in his drink, hide the stereo or TV remote… anything harmless, but wickedly fun!
If you manage to make your party activities coordinate with this idea, you could give your friend or husband or father a hard time and get away with it c-o-m-p-l-e-t-e-l-y! What a gas, and besides, think of the pictures you could get!
Anyway, this scenario would be an interactive "roast" (more roasting ideas here). You should definitely tease him with toasts and jokes, put whoopie cushions on his seat, put plastic bugs in his food, give him gag gifts, etc. What a laugh it would be!
Remember though, eventually, you'll want to wind down and tell him the truth – how much you all really love him!
Scenario 3 – Prisoner from a hijacked ship
In this scenario, your guest of honor is not a pirate, you are. Instead, the birthday person is a prisoner from a commandeered vessel whose fate has not yet been decided by the pirate crew.
It would kind of work like scenario #2, but in this situation, they would be a captive servant. Of course, the birthday guy would have to cooperate and do things voluntarily, like fetch drinks (bartending) or cook (grillmaster), but I'm sure you can find ways to make him do your bidding. If not, there's always the whoopie cushion trick as in #2 above!
If you choose to wear costumes, remember that he's not the pirate in this scenario. So his costume would be the customary attire of the day.
Have fun with these role-playing scenarios and think of ways to add a spark of fun to your pirate theme party idea!
Pirate Theme Party Decor
The right pirate themed party supplies are going to really seal the deal.
Think about it. This pirate theme party idea would be a blast to decorate! You could do a little bit, or you could go all-out. Get into the pirate spirit and try some of these plans:
Pirate ship
West Mountain Pirate Ship Wall Decal
Pirate Ship with Skull and Crossbones
How impressive would it be to walk into the party and find a colossal pirate ship inside?! This pirate theme party idea can be done without a large prop, which would save space, time, and expense. How? By hanging a pirate ship mural on your wall. You can find decals and wallpaper that can be rolled on.
Pirate birthday party invitations

Don't forget your pirate party invitation! A pirate theme party invitation should convey the motif, foster excitement, and generate anticipation. This idea does just that! Check it out. Treasure map invitations in a bottle. Can you believe that? I found these at InvitationinaBottle.com.
Click the image of the links above if you want more information. They will take you to their page. I know you can mail these little bottles, or have them do it for you. Just be sure to read their policies so you're aware of any limitations.
You can also find a pirate invitation on Amazon, along with other pirate party decorations.
Pirate Birthday Party Invitations (20 Count) with Envelopes
Invitations with a pirate font or other elements of the pirate theme will also work. Remember, your birthday pirate invitation is supposed to help tell guests about the theme but it's also very important that includes all the details they need to know about the party.
Sword toothpicks
Youdiyla 12pcs Sword Katana Charms Collection, Antique Silver Tone, Mix Samurai Ananta Tachi Knife Stiletto Fencing Metal Toy Pendant Supplies Findings for Jewelry Making (HM183)
You can get these novelty toothpicks at most grocery stores. Use them for hors d'oeuvres and drink garnishes. It's a little touch your guests will appreciate.
Anchors
Speaking of hors d'oeuvres, grab a small anchor-shaped cut-out and use it for your cheese slices. There are lots of fun ways to incorporate anchors into your
Fish nets
Fish Net Decoration Party Decor – Blue Cotton Netting 48" x 144" Inches. Fishnet for Nautical Theme, Pirate Party, Hawaiian Party, Underwater, Beach, Ocean & Mermaid Party.
Drape netting along the tops of walls and use the folds to place photos of the birthday person and family. Starfish, seashells, and plastic fish can be interspersed for interest and balance. These can be purchased at any party supply store.
Oars
Check Craigslist or even your own garage for aging oars or canoe paddles that can be laid out as part of the scenery. Clean them well, then place them on the coffee table, if desired, or hang them among the nets.
Treasure chest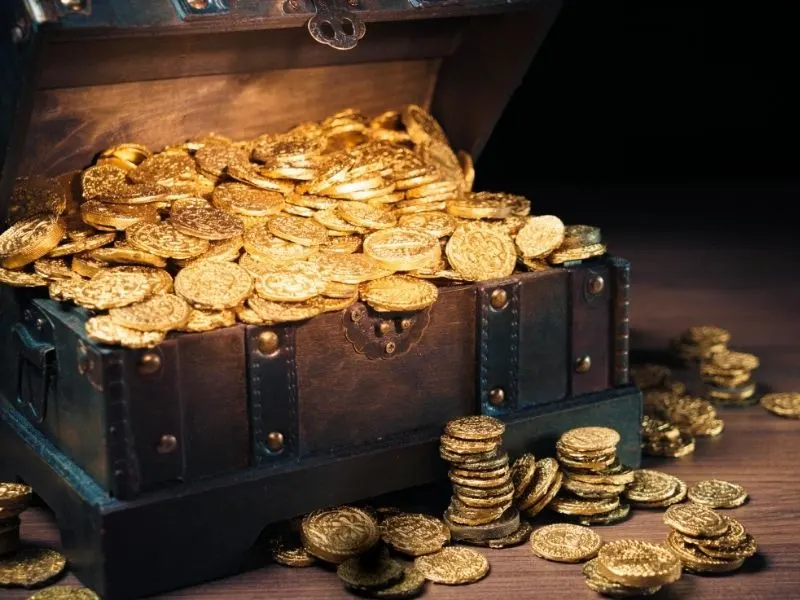 Pull out your old chest or foot locker and drape the interior with a fishnet. Then use it to hold the gifts. Sprinkle some gold coins to really pull off the look. You can use candy gold coins, plastic coins, or have some custom made with the birthday party details on them, for that extra little detail. Your guests can take them home and remember the party for years to come.
Jolly Roger banners
Juvale 2 Pack 3×5 Foot Pirate Flag, Jolly Roger Flag Banner Skull and Crossbones with Red Bandana, Polyester with Grommets for Pirate Parties
You can't talk about pirate party ideas without bringing up this classic icon. The black flag with a white skull and crossbones is known as a Jolly Roger. It's the classic pirate symbol. Use this as your Happy Birthday banner. You can also use a black flag as it represents anarchy which is completely pirate-friendly. Tie black flags from the ceiling and/or mount a Jolly Roger on the wall.
Jolly Roger signage
Anley Pirate Mini Flag 12 Pack – Hand Held Small Miniature Jolly Roger Flags on Stick – Fade Resistant & Vivid Colors – 5×8 Inch with Solid Pole & Spear Top
Need to post signage to help guests find your pirate theme party? Use miniature Jolly Roger flags imprinted with directional arrows on street corners to guide your guests through your neighborhood. If you're consistent with your artwork, words may not even be necessary. Just seeing those ominous pirate flags posted about town with clear directional arrows will give guests the message.
Some other things to consider: gummy fish, little pirates or pirate figurines, a pirate banner, small pirate ships, custom pirate coloring pages with pirate themes, and so much more. You can decorate your party area as much or as little as you want. There are so many great ideas for pirate party food, themed favors, and more. Much of this you can get from a local party store, or by searching Amazon and having it shipped right to you.
You could also use a pirate name generator to help your guests all pick their own pirate names to use for the party. Be sure to include pirate name tags so they can write their names down and wear on their clothing for others to see.
Encourage Your Guests to Participate
Your pirate birthday party invitation should also state whether or not you want your guests to participate. We highly encourage you to invite them to dress up. They can keep it simple, or go all out – it's up to them. But how much fun would it be to see your guests all show up dressed as pirates? You could also get some small items like eye patches, plastic cutlasses, or pirate hats for the people who were not able to get a costume but want to participate.
Costumes
Rubie's Pirate Captain
Women's Eye Candy – Spanish Pirate
If you're planning on any type of role-playing like the examples above, encourage your guests to participate by mentioning it in your invitation. "Don your favorite pirate suit and join us" or "Costumes encouraged" are two possible ways you can work this. Costumes are also a great idea if you plan to hire staff for your event.
Bear in mind, pirate costumes are fairly easy to find, and being in character really puts a finishing touch on your party. However, some costumes are cheap-looking. You can choose from:
full pirate outfits
poet blouses,
swashbuckling pants
dresses
Of course, you can put together a more risque outfit, like something off the shoulder or something with a corset if you'd like, or you could choose loose-fitting harem pants for comfort and authentic looks.
Other sources for pirate costumes can be found at all Halloween shops or Party City if you have one nearby. Amazon or eBay are also sources of inexpensive pirate wear.
Pirate accessories
Depending upon your gender, you will need different things to complete your pirate ensemble. These you can put together yourself, grab at the thrift store, or pick up at a local party supply shop.
Sword
Eye patch
Earring
Wide belt with buckle
Beard/mustache
Black boots
Pirate skull rings
Pirate vest
Perhaps you could purchase some paper pirate hats and eyepatches and hand them out to any guests who couldn't find a costume. You could also put them on a table at the welcome area of the party or next to a guest book for signing and invite them to take a pirate accessory. Hats and eyepatches are pirate trademarks and small items like this help everyone participate, regardless if they were able to find a costume or not.
Pirate cake
And of course, you can't forget the pirate cake. Where would your pirate party be without the best cake?
I hope you enjoyed my pirate theme party ideas and enjoy using them for your birthday party even more.