50th Birthday Humor
Fifty isn't fifty without some 50th birthday humor! It's an age that says please poke fun and make me laugh!
My family is very big on laughing and a fiftieth birthday is the perfect opportunity to not only enjoy a laugh together, but honor the folks we love the most, as well.
Let's take a look at some ideas for humor, shall we?
Funny #1: The Card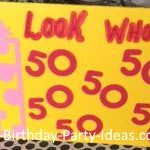 Now this card "looks" innocent and fairly simple to make. but its surprise 50th birthday humor is priceless!
I have a paper cutter machine that makes this super easy for me – but nonetheless – still easy to replicate. Your mom won't suspect anything, at least until it's opened.
This is actually a confetti card. Essentially when opened, there is confetti EVERYWHERE!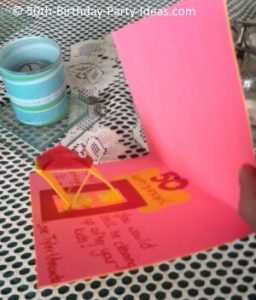 Go ahead and give them their card, but remember to carefully hand it to the person. If you hand it to them too quickly or shake it too much you will end up losing some of your confetti and giving away the surprise.
I made this mistake, but even still, she didn't expect that much of an explosion.
Funny #2: Birthday Dinner
Birthday dinners are always fun, but they're more fun if you let the wait staff know it's someone's birthday. Most places have protocol for events like birthdays.
Here's how it usually goes. You walk into the birthday person's favorite restaurant and no matter if they do say, "Don't say anything to the waiter about it being my birthday, " you reply,"Of course not!"
Then, when you're at the table getting your drink order taken, you tell the waiter, "It's her 50th birthday!" with fingers all pointed squarely on the birthday girl (or guy).
In some experiences, like at a Mexican restaurant, the protocol might be to provide the birthday person with a flattering, large sombrero, a little cupcake and 5-6 of the wait staff loudly singing "Happy Birthday."
Ha ha ha. So much fun!
Funny #3: The Surprise Party
This story is from the Founder of this site:
"I live a few hours from my mom, and for her birthday we decided we would visit. She expected a nice quiet day with my husband and I; as well as my brother and his girlfriend. She especially wanted it after the ordeal we put her through the night before at the Chinese buffet!
"My mom offered to take my husband and I out to a local market in Toronto – which worked perfectly to get her out of the house.
"While we were away my brother went to work, and the guests arrived. Mom had no clue! To even make it better, some of her friends called to wish her a Happy Birthday from her house and said 'they wished they could be there.'
"Once I got the text giving us the green light, we headed home. Mom was easily distracted by something on the front lawn (SEE FUNNY# #4) and walked in the house to possibly strangle my brother. Just as she was bee-lining it to him, SURPRISE! Out pop all her neighbors, closest friends and family. Surprises are always funny – her reaction to this 50th birthday humor was priceless."
Funny #4: The Lawn
Again, from the Founder:
"Now as mentioned about there was a form of distraction on the lawn. I will note here, for Mom's possibly reading this, that I had something along these lines on my front lawn when I turned sixteen!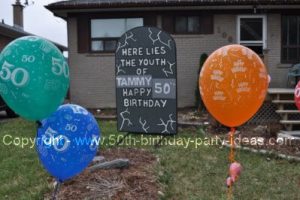 "Again, we did receive warning months in advance NOT to put anything on her lawn. We had fair warning – and of course we told her we just couldn't afford to do anything like that it's too expensive. (It's actually fairly decently priced, but shhh!).
"We learned from Mom that bright and early on March 24th she sneaked out to check the front lawn and with a sigh of relief, went back to bed because she was safe – or so she thought!
"The key to these lawn decorations as a 50th birthday humor item is the surprise factor. Do not put them up first thing in the morning, that's what is expected. What we did instead was while shopping through the market, my brother had the crew come in and set up this 50th birthday humorous prank.
"The reaction again was priceless and those videos will definitely make it up here soon. The words "I'm going to @*$*% kill him" keep repeating in my head, and I'm sure my brother heard them a few (hundred) times within the first few minutes.
"But Mom was a good sport in the end and even posed for the camera."
Funny #5: The Confetti Poppers
This is one of the greatest party inventions every. It's simply a can with a load of confetti in it and when you twist, BANG! Confetti is everywhere.
So, on cue, have the camera ready. Have the birthday person immersed into deep conversation. Have someone approach from the other room, or maybe two – one behind and one on the other side. They can both set the off their cans at the same time. There will be rainbow-colored confetti everywhere! And the expression will be priceless!
50th Birthday Humor for You
Hope you enjoyed the 50th birthday humor here so you can take it away to your party too!
Life is no fun if we pout about our age!