Fifty isn't fifty without some 50th birthday humor! It's an age that says please poke fun and make me laugh! Middle age just wouldn't be the same if we couldn't have some fun with it. All aspects of aging are not fun and pretty but if you can learn to laugh about it, then you'll have a much better time. There are also a lot of things to appreciate about getting older – such as the wisdom you gain from your experiences and also all the memories you make along the way.
My family is very big on laughing and a fiftieth birthday is the perfect opportunity to not only enjoy a laugh together but honor the folks we love the most, as well. And let's not forget, laughter keeps you young! From the years of good memories to funny jokes about the future, there are so many ways to have a great time for a half-century birthday.
The 50th is a milestone birthday and there are so many good things to appreciate about being half a century old. But there are also many things about this special day to laugh about. Let's take a look at some ideas for humor, shall we?
50th Birthday Humor
Funny 50th birthday cards
A funny 50th birthday card is a great way to break the ice on this special occasion. you can create one yourself, or buy a funny card at your local store or from Amazon.
Need some ideas for homemade funny cards?
Here's a good one: create a simple card with a funny or heartfelt saying (check out our list of 50th birthday messages), then put the card into an envelope and fill the inside with confetti.
I have a paper cutter machine that makes this super easy for me – but nonetheless – still easy to replicate. Your mom won't suspect anything, at least until it's opened. This also makes a great gag for a best friend or any of your great friends who have a good sense of humor. You better have the camera ready before they open it so you can capture their first hilarious reaction.
What makes this card so funny? This is actually a confetti card. Essentially when opened, there is confetti EVERYWHERE!
Go ahead and give them their card, but remember to carefully hand it to the person. If you hand it to them too quickly or shake it too much you will end up losing some of your confetti and giving away the surprise.
I made this mistake, but even still, she didn't expect that much of an explosion. See the full horror and hilarity when they open this funny card in front of everyone. It's sure to bring a bright smile or a good cry (or maybe both!).
Funny birthday dinner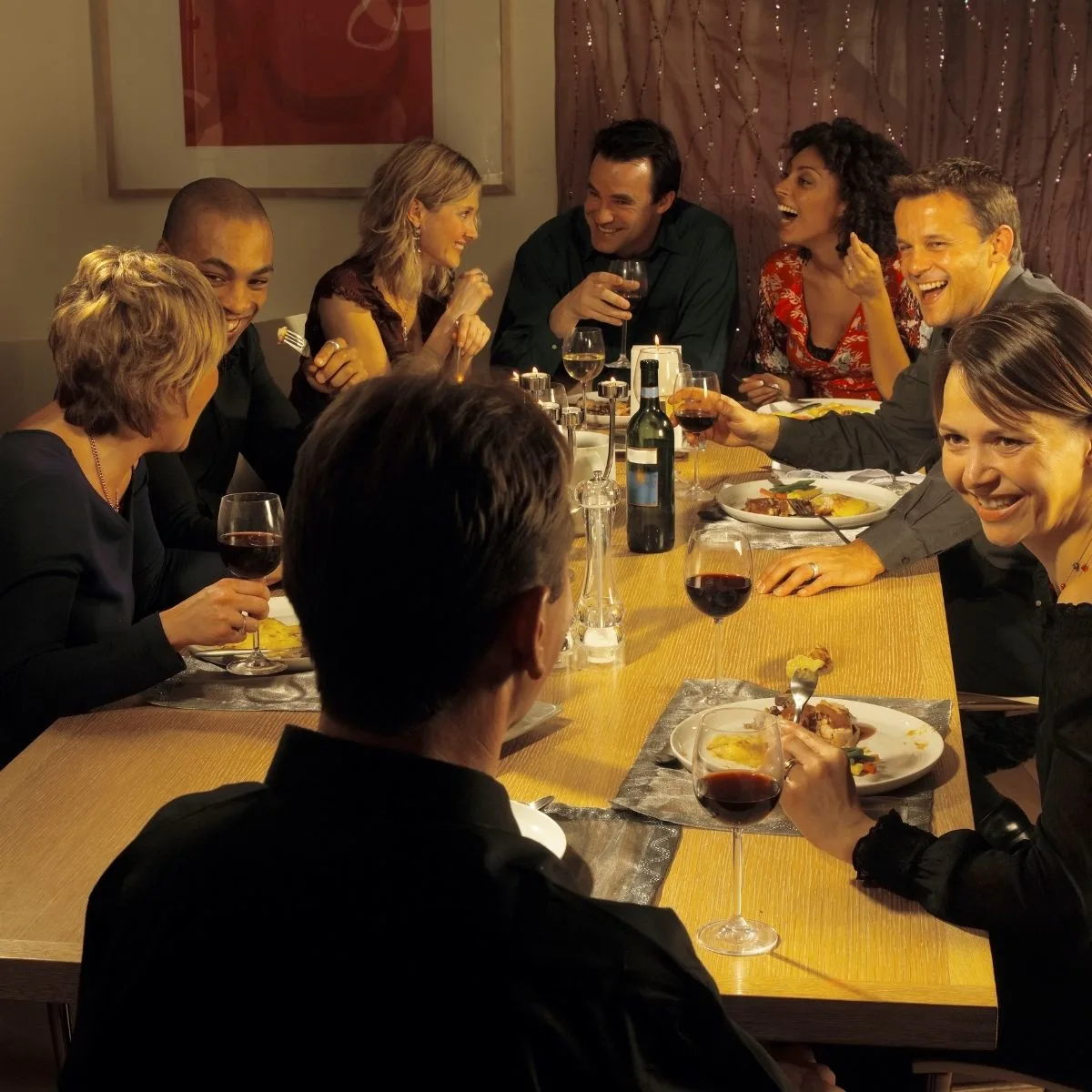 Birthday dinners are always fun, but they're more fun if you let the wait staff know it's someone's birthday. Most places have a protocol for events like birthdays.
Here's how it usually goes. You walk into the birthday person's favorite restaurant and no matter if they do say, "Don't say anything to the waiter about it being my birthday, " you reply, "Of course not!"
Then, when you're at the table getting your drink order taken, you tell the waiter, "It's her 50th birthday!" with fingers all pointed squarely on the birthday girl (or guy).
In some experiences, like at a Mexican restaurant, the protocol might be to provide the birthday person with a flattering, large sombrero, a little cupcake, and 5-6 of the wait staff loudly singing "Happy Birthday."
Ha ha ha. So much fun! This is always fun for a good laugh.
Fun surprise party
Every party needs the best music, a dear friend or two, and a good laugh. This plan will give you it all.
This story is from the Founder of this site:
I live a few hours from my mom, and for her birthday we decided we would visit. She expected a nice quiet day with my husband and me, as well as my brother and his girlfriend. She especially wanted it after the ordeal we put her through the night before at the Chinese buffet!
My mom offered to take my husband and me out to a local market in Toronto – which worked perfectly to get her out of the house.
While we were away my brother went to work, and the guests arrived. Mom had no clue! To make it even better, some of her friends called to wish her a Happy Birthday from her house and said 'they wished they could be there.
Once I got the text giving us the green light, we headed home. Mom was easily distracted by something on the front lawn (see below) and walked into the house to possibly strangle my brother. Just as she was bee-lining it to him, SURPRISE! Out pop all her neighbors, closest friends, and family. Surprises are always funny – her reaction to this 50th birthday humor was priceless."
Funny lawn signs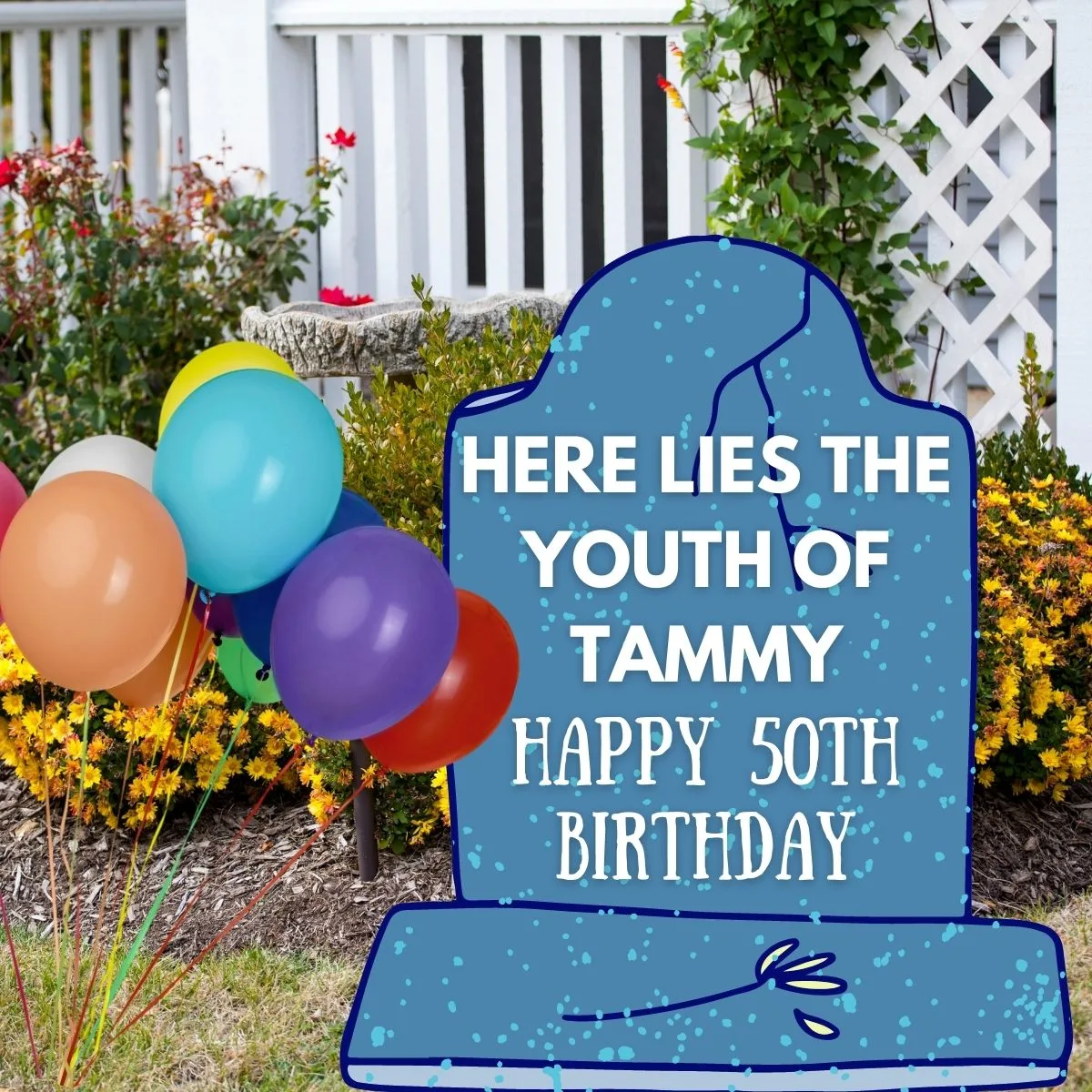 Again, from the Founder:
"Now as mentioned about there was a form of distraction on the lawn.

Again, we did receive warning months in advance NOT to put anything on her lawn. We had fair warning – and of course, we told her we just couldn't afford to do anything like that it's too expensive. (It's actually fairly decently priced, but shhh!).
We learned from Mom that bright and early on March 24th she sneaked out to check the front lawn and with a sigh of relief, went back to bed because she was safe – or so she thought!
The key to these lawn decorations as a 50th birthday humor item is the surprise factor. Do not put them up first thing in the morning, that's what is expected. What we did instead was while shopping through the market, my brother had the crew come in and set up this 50th birthday humorous prank.
The reaction again was priceless and those videos will definitely make it up here soon. The words "I'm going to @*$*% kill him" keep repeating in my head, and I'm sure my brother heard them a few (hundred) times within the first few minutes.
But Mom was a good sport in the end and even posed for the camera."
Confetti poppers
This is one of the greatest party inventions ever. It's simply a can with a load of confetti in it and when you twist, BANG! Confetti is everywhere.
So, on cue, have the camera ready. Have the birthday person immersed in deep conversation. Have someone approach from the other room, or maybe two – one behind and one on the other side. They can both set off their cans at the same time. There will be rainbow-colored confetti everywhere! And the expression will be priceless!
What better way to kick off a 50th birthday celebration?
50th birthday humor for you
Hope you enjoyed the 50th birthday humor here so you can take it away to your party too! Think about everything from the party theme to the birthday cake, the guests you want to invite, and any other important elements of the celebrations. And then think of ways you can bring some humor into it.
Turning 50 is a milestone that deserves to be celebrated. After all, you've made it half a century! But while reaching this age can be a cause for joy, it can also be a time for reflection. As you look back on your life, you may start to see the funny side of some of the things that have happened to you. Here are just a few examples of funny 50th birthday humor for you to enjoy.
Remember when you used to worry about getting wrinkles? Now you're hoping for wrinkles because they're better than saggy skin.
You know you're getting old when the candles on your birthday cake cost more than the cake itself.
The good news is that you're not dead. Yet…
Hey, you're still young! (In dog years)
Turning fifty is a big milestone, and it's one that deserves to be celebrated with family and friends. But it can also be a time of reflection when we take stock of our lives and start to think about what comes next. Whether you're looking for funny 50th birthday ideas or ways to make the day special, here are some tips to get you started.
For many people, funny 50th birthday gifts are the way to go. If you know the birthday boy or girl well, consider something that will make them laugh out loud. A funny book, mug, or t-shirt are all great options. You can also personalize the gift by adding a funny message or inside joke. If you're not sure what to do, let's look at some funny party themes and other ideas.
You can also bring some funny 50th birthday quotes to the special occasion. Put them on a card or read them out loud at the party. What better way to send your best wishes for a special birthday?
Over the Hill & Funny 50th Birthday Themes
Turning 50 is a big deal! It's a milestone that deserves to be celebrated with friends, family, and plenty of cake. But choosing the right theme for a 50th birthday party can be tricky. On the one hand, you want to mark the occasion with a festive celebration. But on the other hand, you don't want the event to come across as too stuffy or formal. A good way to strike the right balance is to choose a funny 50th birthday theme. This can include everything from poking fun at the "over the hill" clichés to celebrating all things 1950s. Whatever approach you take, funny 50th birthday themes are a great way to add some levity to a milestone birthday.
This could involve everything from funny birthday cards to humorous games and activities. Whatever route you choose, make sure to have plenty of laughs along the way. After all, that's what birthdays are all about.
For funny 50th birthday ideas, you might want to use "over the hill" jokes or you might want to get borderline-morbid with it.
Would you go this far?
The "over the hill" or a funny 50th birthday theme is not only used for 50th birthdays, so feel free to use these for any age! The best part is it doesn't take a lot of excess planning to pull it off.
These themes can vary from a mild hint of "getting old" jokes to outright twisted and funny themes to really tell someone they're getting old!
The key to making these themes work is knowing if your birthday "victim" is a good sport or if they are too conservative for this kind of fun.
Looking over the hill, it sure is steep!
It is for you to decide how far you want to go with the joke (and of course, how much of a good sport the birthday boy/girl is!)
We wouldn't want them to walk into their party and cry. We want them to laugh and just shake their head (and plot their revenge). For you prankers out there, check out these 50th birthday pranks you might want to try.
If you're looking for over-the-hill birthday party themes, there are plenty of options to choose from. One popular theme is a 'last opportunity' party, where guests are encouraged to take part in activities that they may not have the chance to do again. This could include skydiving, bungee jumping, or even getting a tattoo! Another over the hill birthday party theme is an 'around the world' party, where guests dress up in traditional clothing from different cultures. This is a great way to encourage people to learn about new places and try new things. Whichever over the hill birthday party theme you choose, be sure to make it a night to remember!
"You're old now"
With this theme, you would play up the "you're getting so old" idea. You would arrange things like:
Make the decorations with HUGE letters, visible to those with poor eyesight.
The beverages that would be set up at the tables would be prune juice.
In front of the bathroom have a pile of "Depends" available.
Arrange to have the party games be stuff like Bingo and knitting.
Get a bunch of knitted sweaters or lap blankets and place them on each chair, in case they are cold.
You can put denture holders, walking canes, or reading glasses on all the tables.
Have someone hover over them, carry their things for them as if they aren't capable anymore.
Offer them a back pillow.
Get a friend they don't know to pretend to be a doctor or nurse that checks up on them periodically during the party, maybe checking blood pressure at "appropriate" times.
Give them a life crisis supply kit.
With this theme, you would just have FUN, and always be on the alert for joke opportunities! All those things you remember seeing at your grandparent's house, or a nursing home, should be at your party!
And this fun party theme can be done within another theme. For example, decorations could be black and gold or themed around a hobby or their favorite sport from college, etc.
Over the hill
This is a theme of hills. All about the impending descent that the birthday person is about to make. This important milestone needs to be celebrated with the right amount of age-related humor.
Make the room look like hills are everywhere. Use a green color theme and have pictures of hills with a person just about the head downhill. You would have signs that say "It's all downhill from here".
For a cake, you can have it in the shape of a hill with a person on top heading down.
You might also be interested in another Over the Hill Party Idea and Over the Hill Party Games.
Themes for the extremes
These next few ideas are for those that are not faint at heart and are really brave! These themes are a little twisted but could be a lot of fun for those that can handle the extreme funny 50th birthday themes!
Decorate like a funeral parlor.
Decorate like heaven, or hell if the person is or used to be a trouble maker.
Host the party at a nursing home.
These are just a few funny 50th birthday themes that you could use to have a fun birthday atmosphere.
Of course, you can be creative and ideas from many themes.
If you decide to use any of these ideas, we hope you'll let us know how it turns out.
Humorous 50th Birthday T-shirts
Turning 50 is a milestone worth celebrating, and what better way to do it than with a funny 50th birthday t-shirt? There are plenty of designs to choose from, so you can find the perfect one to match your personality. If you're looking for something truly unique, you can even have a custom shirt made. Whether you're planning a big party or just want to wear something special on your birthday, a funny 50th birthday t-shirt is the perfect way to add some levity to the occasion. So go ahead and make this birthday one to remember – with a funny t-shirt, it's sure to be a hit!
For example, you could go with a shirt that says "Finally old enough to know better" or " officially over the hill." If you want something a little more lighthearted, you could choose a shirt that features a funny cartoon character or says "50 is the new 40." Whatever your sense of humor, there's sure to be a 50th birthday t-shirt that will make you smile.
Here are some funny shirts I really liked:
Look Who's All Grown Up And Ready For A Colonoscopy T-shirt
Star Wars Yoda 50th Birthday T-Shirt T-Shirt
Funny 50th Birthday Shirt B-Day Gift Saying Age 50 Year Joke
So Happy I'm Fifty 50 Year Old Gag Gift Funny 50th Birthday T-Shirt
Star Wars I Was Born A Long Time Ago 50th Birthday Portrait T-Shirt
Humorous 50th Birthday Cards
Anyone who is approaching their 50th birthday deserves a well-chosen card to properly mark the occasion. There are plenty of funny 50th birthday cards on the market, but it can be tricky to find one that strikes the right balance between funny and rude. The best cards manage to be both funny and sweet, poking fun at the birthday boy or girl without crossing the line into offensiveness.
Often, the funniest cards are the ones that make light of aging, such as cards that feature old people or retirement jokes. However, it's also important to choose a card that is appropriate for the recipient's sense of humor. In other words, don't give your grandmother a card with a dirty joke on it (unless she's into that kind of thing)!
Here are some funny 50th birthday cards I liked:
Funny 50th Birthday Card for men or women with envelope
Funny 50th Birthday Gifts for Men Women
Funny Colonoscopy Birthday Card
Funny Birthday Card for Wife, Mom, Auntie, Female Friend
50th Big Funny Birthday Card
Funny 50th Birthday Card, Hilarious Unicorn Pole Dancer
And if you're feeling extra creative, you can even create your own custom card. Whatever route you choose to take, funny 50th birthday cards are sure to get a laugh.
50th Birthday Humor Conclusion
Let's close this 50th birthday humor post out with a couple of related jokes to really set the tone. What do you call a 50th birthday joke? Antique!
Here are some of my favorites:
Why did the 50-year-old cross the road? To get to the other side!
How can you tell if a 50-year-old is having a midlife crisis? He's buying a Harley Davidson!
Why did the 50-year-old man take Viagra? Because he wanted to see what all the fuss was about!
As you can see, there are so many great ways to share 50th birthday messages with a laugh. From funny quotes to jokes about the coming years, and everything else that brings the biggest smiles, you can send happy 50th birthday wishes with humor. Are you ready to plan your own party now? Good luck!