Fifty is a milestone birthday. It deserves an unforgettable party to celebrate. These over the hill 50th birthday party ideas will help you plan for your big event. If someone you love is crossing that half a century mark, you want to be sure to celebrate with style.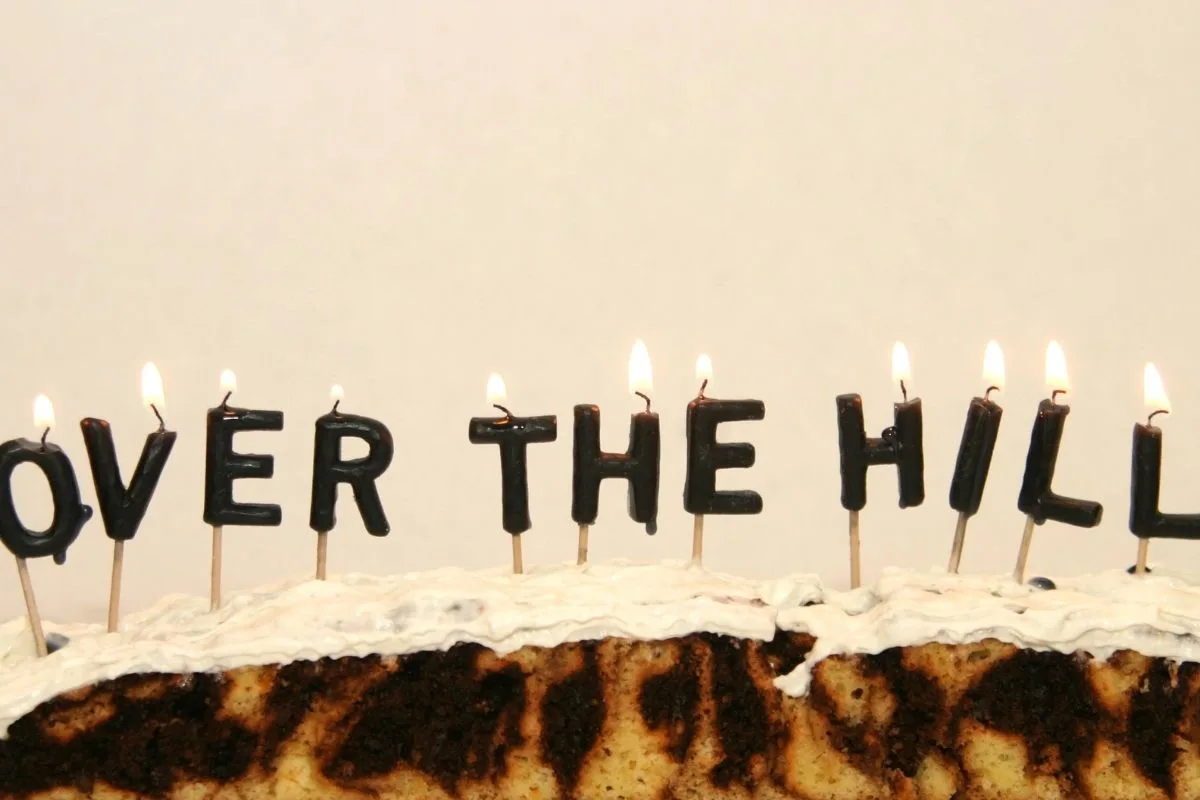 When we say, "over the hill", we're poking a bit of fun at the fact that you're getting older. It isn't meant to be mean-spirited, and some people really enjoy having fun with their own aging. Your over hill party can be to have a laugh and a fun time with the birthday guest of honor and also a great way to celebrate their life.
Special occasions call for the best celebrations. The guest of honor should have their favorite things, close family and friends, and wonderful food or treats to help them enjoy this momentous occasion. Old age doesn't have to feel old and these great over the hill party theme ideas will help you express that.
Over The Hill Theme Ideas
Here are some 50th birthday party themes that will make them feel extra special on their very important day.
"In memory of…"
This may sound like an obituary card, and that's the point really… make them scared of the rash of pranks. But in all actuality, this theme is all about the guest of honor. It's in memory of them, even though they are still alive and kicking!
For this theme, the decorations are all about the guest of honor. It could be a number of different things like:
pictures of them from different ages in their lives, like old school photos
create a hill on the wall with pictures of the person as they are growing up… and on the top of the hill a recent picture
get balloons with their pictures on it
put their pictures on the napkins, plates
have pictures that have stories written under them (or on the back) from their life, like funny stories, and memories
get a picture of them printed on the cake
Make it all about them
This theme is pretty much everything about the guest of honor. It shows that special person that it is great to be 50 and all the great memories they have created. It's one of the great over-the-hill party ideas that won't poke fun at their age but instead celebrate it.
To make this theme even more sentimental, you could ask everyone to bring one thing as a gift for that person that reminds them of the guest of honor. With this gift have them write down why this reminds them of the birthday person. Here are some examples:
Bring a framed picture of a great memory you shared with the person. Buy a frame that is bigger than the picture so you can add in a nice paragraph explaining why you loved that memory.
If you have an inside joke or pet name for the person, bring something that signifies it. Like, if you always call the person Tiger, bring a stuffed tiger for them.
Maybe there is something they do constantly that makes you laugh, like maybe they always trip over their shoelaces because they are always untied. You can bring them the spiral shoelaces that do not require to be tied up.
Another idea: instead of memento gifts, you can have everyone write a short speech as well. Check out our 50th birthday speech samples.
More party ideas
An over hill birthday means an over-the-top party. There are so many great ideas of things you can do for a 50th birthday party. For example, you can turn it into a fancy dinner party and have all of your guests show up in their best clothes. You could even organize catering and someone to serve you.
Here are some more ideas:
Black and gold theme
Silver 50th birthday
Great Gatsby theme
A fancy dinner party
A swing dance party
Keep Calm and Party On
50 and Fabulous
"Through the decades" party
Red carpet event / black-tie affair
An exclusive golf course event
A relaxing yoga retreat
A surprise birthday party
Over The Hill Party Decorations
If you're planning an over-the-hill party, you must have great party decorations. The décor really brings the whole thing together and there are many great ways you can do it.
If you're going for a retro party or a 1950s theme for the 50th birthday party, you might dress up in poodle skirts and serve malt shakes. It will be a fun party that's like a blast from the past.
Another great idea is to rent a photo booth or set up your own photo booth area and bring some props and fun items for your guests to take pictures together and remember this great event.
Here are some great 50th birthday party decorations you might like for your party:
Happy 50th Birthday Party Decor Pack
This amazing pack of happy 50th birthday decorations has everything you need to decorate for your party, including fun photo props.
Happy 50th Table Toppers

Here we have some great gold and black table toppers to decorate for the big 5-0! They will go great with any milestone birthday gold and black theme and they sit nicely on the tops of the tables because of their honeycomb bases.
Happy 50th Banner and more
Here's another gold and black theme idea for you. This beautiful banner says "Happy 50th Birthday" and there are also other decorations you can use around the room.
Pink 50 & Fabulous place settings
Next, we have some beautiful pink plates, cups, napkins, and flatware to celebrate "50 & Fabulous" in style. And they can be a real time-saver because your guests will just toss them when they are done. It makes cleaning up very easy.
Happy 50th Birthday Banner
This is a large black and gold banner that reads "Happy 50th Birthday". You can hang this indoors or outdoors at your vendor. You can also use it as a space for photo-taking, or to place the gift table or a cake table in front of it.
Cheers to 50 Years Banner
This banner is skinnier, but also has the gold and black theme, with silver, sparkly number 50 on it. You can use it the same way you might use the banner above, although it's not big enough to be a photo backdrop like the other one is.
Pastel colors banner and decorations
Here's something soft and more feminine than the common black and gold color scheme. This kit comes with a beautiful Happy Birthday banner, as well as balloons and different colored pom poms for decorating.
50th birthday party supplies
If you want to speed up the process of party planning and décor, you can purchase some 50th birthday party supplies that are already made for the occasion. Supplies you can purchase include wall décor, banners, balloons, table toppers and centerpieces, party favors, party favor bags or boxes, plates, and more.
Here are some ideas that I liked:
Over the Hill Party Games
What's a good party without some awesome party games? Here are some games you can play at a 50th birthday party:
Never Have I Ever
Two Truths and a Lie
Walk Down Memory Lane
Remember That Time?
Indoor Scavenger Hunt
Birthday Word Search
BINGO
And it's all fun and games with a great party game but we can't forget the cake!
Over Hill Birthday Cake Ideas
No party is complete without an amazing cake. There are many great ideas for over the hill birthday cakes that you can explore for your party. When it comes to the type of cake, think about the guest of honor and what they like. Whenever possible, get the cake in their favorite flavor and icing.
If you have a larger cake, you could also do half and half, or a multi-tiered cake with different flavors on each tier. Another option is to do cupcakes and have them in different flavors.
And of course, you're also going to need some over-the-hill cake decorations. The flavors of a delicious cake are important, but the decorations on the cake become part of the party décor itself.
Over Hill Birthday Invitations
What is a party if you don't invite your closest friends? These invitations will give all the guests an idea of what fun times are to come to the party.
So, pull out that guest list and get started making or filling out some great birthday party invitations.
In addition to the best over the hill birthday invitations, you also want to be sure you remember the birthday card.
Here are some ideas for 50th birthday cards:
Funny Over the Hill Birthday Gifts
Is shopping for gag gifts out of your budget?? If you need some great ideas with little cost, we also have some awesome ideas for gag gifts for the 50th birthday that will cost little to nothing to give!
Here are some great, hilarious over the hill birthday gifts:
If you want to make the most of your funny gift or gag gift, you might also give a birthday card with some funny sayings inside.
Over the Hill Birthday Gifts for Men
When you need some great 50th birthday gift ideas for the birthday boy in your life, consider these options.
Choosing gifts based on his personality and his hobbies is a great way to ensure he will love his gift.
If he likes classic cars, you might get him a gift of a model car, or some accessories, or anything else that reminds him of his favorite car. You could also do a party on this theme if he's a big fan.
Here are some other gifts for men that you might enjoy:
Your favorite birthday guy is guaranteed to love these gifts.
Over the Hill Birthday Gifts for Women
Now let's take a look at some birthday gift ideas for the woman in your life who is turning 50. Say happy birthday with a gift that shows you really put some thought into it. Her 50th birthday bash will go off without a hitch with some careful and thoughtful planning. Leave no small detail out, including the gifts.
Sometimes the best gift is the memories you make together. One fun idea for a birthday party activity is to create a time capsule to mark the five decades leading up to his birthday.
It will be a walk down memory lane to put it together. Try to choose at least one thing from each decade your guest of honor has been alive.
You could also do a "reasons we love you" jar and have every guest put a reason into the jar for her to read later. Another idea is to create a memory book and have friends and family sign pages with stories about her, memories of time with her, or reasons they love her. It will be something she can cherish for many years to come.
Here are some great gifts for women that you can get on Amazon and if you have Amazon Prime, you will get them fast and with free shipping.
These gifts will all have the birthday girl smiling on her big day. And when you take time to make the gifts great, it shows you added that little personal touch to make it extra special. A 50th birthday doesn't come every day.
Over The Hill 50th Birthday Party Ideas – Conclusion
Now that you have these great over-hill 50th birthday party ideas, you're ready to start planning your party. Gather your best friends, your favorite foods, and a fun way to party. It's guaranteed to be a day to remember for many years to come.
Whether it's a surprise party for someone you love or your own birthday bash that you help plan, a 50th birthday is a BIG reason to celebrate. I hope that these ideas I've researched will help you have a really special time.
Is there anything you would add to my list?