50th Birthday Party Invitations
Now, it's time to create your 50th birthday party invitations to make sure all your guests are in attendance.
Here's some great examples of invitations you can replicate.
I've just made some basic clip art versions of ideas for these party invitations. You are free to use these ideas for your perfect birthday party invitations, by creating them in Paint, like I did, or get extra creative and make them by hand!
As I create more I will be sure to add them here, so please if you like the ones you see be sure to come back from time to time and see what's new!!
---
Look Who's 50!
This 50th birthday party invitation is for a general 50th birthday. It is very basic and just given the guests the needed information, with no RSVP or crack about the birthday persons age!
This party invitation will look best with one of the images on the front and the other on the reverse side of the same paper. This way your party goers will get one piece of paper with all the needed information. These can easily be printed from a color printer or have then printed on same basic white card stock at a print shop.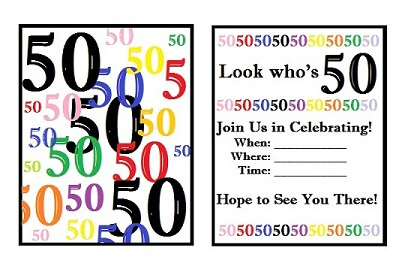 This invitation is great to use because it is very colorful and eye catching. Also, you will be sure all your guests know its a 50th birthday, without poking fun at their age or using any of the classic over the hill pranks.
---
Bring Your Own Party
This 50th birthday party invitation goes hand in hand with our BYOD 50th Birthday Party Theme.
This party invitation does have a spot to write in your theme. This is used to coordinate the decorations, or you can use it to coordinate food – if you're having them bring food. You can change up the invitation to match your theme. If you are just having your guests bring their own alcohol, then you can edit this to just have the "booze". There is a variety of things you can have your guests bring, like alcohol, chairs (if its an outdoor party), food, desserts, decorations, etc. Then just create this invitation based on what you want them to bring, easy as changing the letters in the BYO ____ .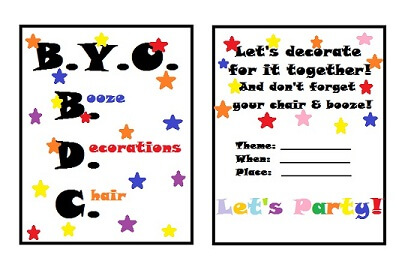 Again this invitation is very colorful. The stars can be changed out for hearts, or little balloons, or anything you can think up. Its all about creativity.
---
Surprise Invitation
Make sure your surprise 50th birthday party is Top Secret with this cool invitation. This style of invitation is a great way to stress the importance of keeping the party a secret, and a cute play on the "top secret" missions of the government, etc.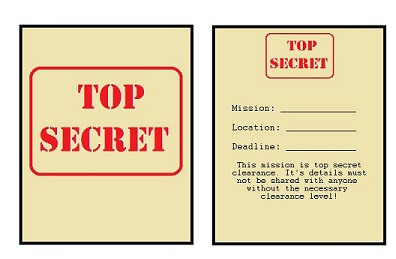 You can print this invitation up on basic card stock. Try to make the color similar to that of a file folder. Or you could even have them cut out like a little file folder, have the first image on the front and a page with the second image on the inside. This invitation is all about making it look like a CIA or FBI top secret file. It gives a good laugh and ensures the secret is kept from the birthday boy/girl.
---
If you need to have an RSVP card with your invitation?
Be sure to check out my other invitation ideas for the perfect 50th Birthday Invitation Ideas that require an RSVP.
Hopefully these few ideas get the creative juices flowing and give you a good start to the creating of your invitations.
Be sure to join us on Facebook below to keep up to date on what's new.