You can't have a milestone birthday like the fiftieth and not have an amazing party with all of your friends and family. And if you're going to invite guests, you need to do it in style with some amazing 50th birthday party invitations. While you can always purchase generic invite cards from the store, I wanted to give you some ideas to go above and beyond, since a 50th birthday is such a special occasion.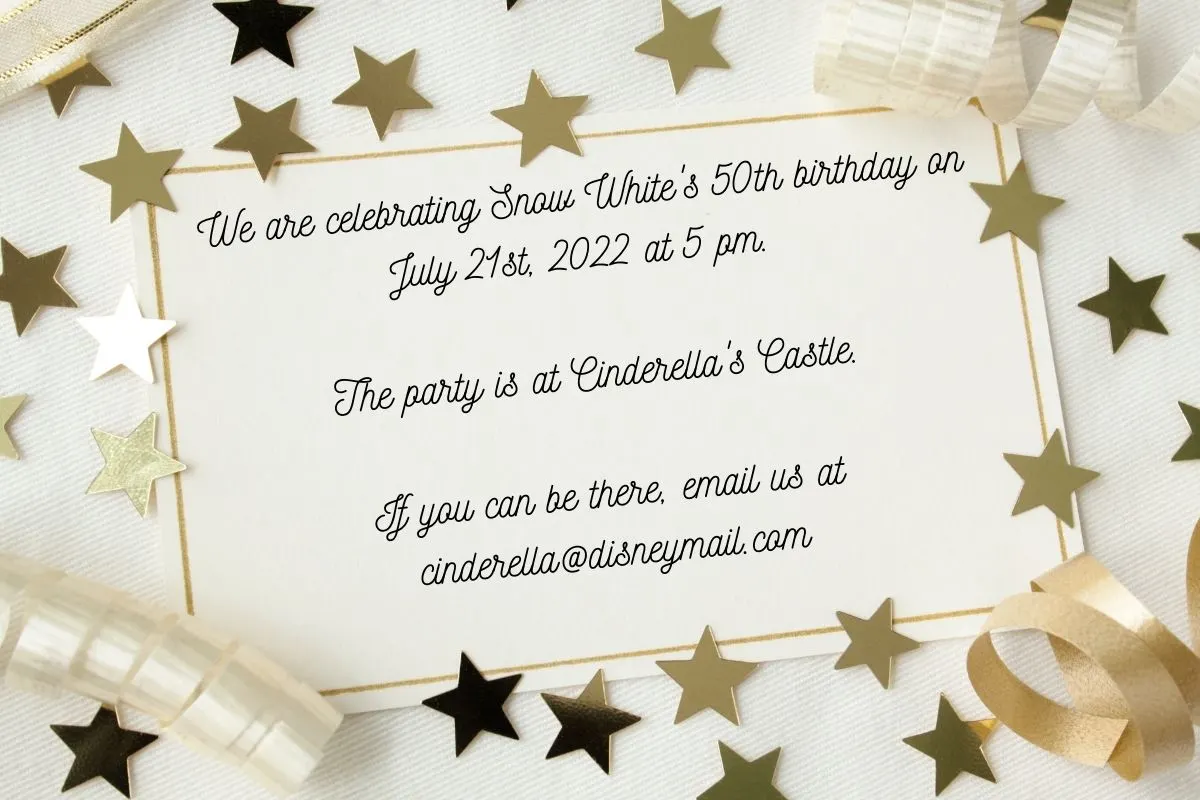 That's why I have compiled this post full of great examples to help you get started. You can invite best friends, close family, or anyone else you want to the birthday celebrations and do it in style when you have these tips for the best party invitations around.
50th Birthday Party Invitations
Planning a party for the birthday boy or girl is a big deal. You have so many things to cover to make this milestone birthday a success, from decorations to food, to the venue and also the guest list. Once you have those things in place, it's time to create or purchase a fabulous 50th birthday invitation that matches the mood of the party.
The best 50th birthday party invitations will make sure all your guests are in attendance and will make it super easy for them to get the info they need and also to RSVP so you know how to plan for who's coming. This is important when planning food, birthday cake or cupcakes, and other events of the party.
Here are some great examples of invitations you can replicate below, as well as some tips for birthday invitation wording, how to make your own, and some examples of some nice ones you can just buy off Amazon if you're pressed for time or not the crafty type.
I've just made some basic clip art versions of ideas for these party invitations. You are free to use these ideas for your perfect birthday party invitations, by creating them in Paint, as I did, or get extra creative and make them by hand!
As I create more I will be sure to add them here, so please if you like the ones you see be sure to come back from time to time and see what's new!!
Printable 50th Birthday Invitations
A fiftieth birthday is a big deal. Isn't it important to have invites that showcase this momentous occasion? I have compiled some free printable 50th birthday invitations to make it easier than ever before to make your own stylish birthday invitation. Here's a great idea for fiftieth birthday invitations to get you started.
Look who's 50!
This 50th birthday party invitation is for a general 50th birthday. It is very basic and just gives the guests the needed information, with no RSVP!
This party invitation will look best with one of the images on the front and the other on the reverse side of the same paper. This way your party-goers will get one piece of paper with all the needed information. These can easily be printed from a color printer or have then printed on the same basic white card stock at a print shop.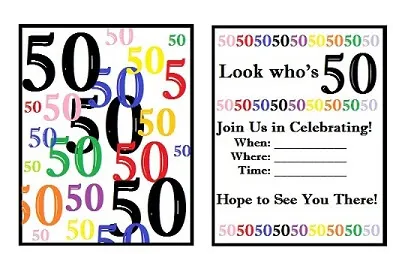 This invitation is great to use because it is very colorful and eye-catching. Also, you will be sure all your guests know it's the 50th birthday, without poking fun at their age or using any of the classic over-the-hill pranks.
Bring your own party
This 50th birthday party invitation goes hand in hand with our BYOP 50th Birthday Party Theme.
This party invitation does have a spot to write in your theme. This is used to coordinate the decorations, or you can use it to coordinate food – if you're having them bring food. You can change up the invitation to match your theme. If you are just having your guests bring their own alcohol, then you can edit this to just have the "booze".
There is a variety of things you can have your guests bring such as chairs (if it's an outdoor party), food, desserts, decorations, etc. Then just create this invitation based on what you want them to bring, easy as changing the letters in the BYO ____.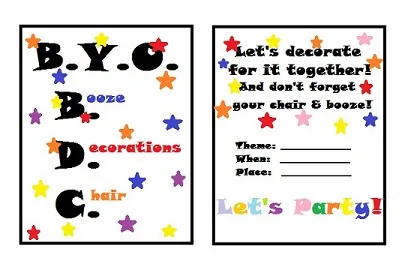 Again this invitation is very colorful. The stars can be changed out for hearts, or little balloons, or anything you can think up. It's all about creativity.
Surprise invitation
Make sure your surprise 50th birthday party is Top Secret with this cool invitation. This style of invitation is a great way to stress the importance of keeping the party a secret, and a cute play on the "top secret" missions of the government, etc.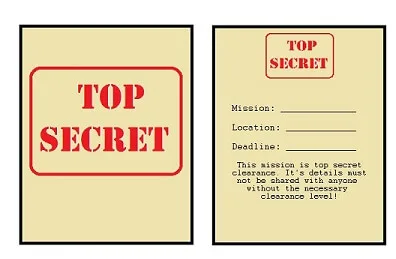 You can print this invitation up on basic card stock. Try to make the color similar to that of a file folder. Or you could even have them cut out like a little file folder, have the first image on the front and a page with the second image on the inside. This invitation is all about making it look like a CIA or FBI top-secret file. It gives a good laugh and ensures the secret is kept from the birthday boy/girl.
Do you need to have an RSVP card with your invitation?
Great 50th birthday invitation ideas that come with RSVPs. These are the type of invitations you can use, and help you with a headcount for the big day!
An RSVP invitation is especially important for a larger party. Knowing how many guests are going to be in attendance is vital for food preparation as well as for the size of the venue. These invitations can be simple – and make it very easy for someone to RSVP to your party. We don't need their life story, just a simple YES or NO.
We've got some great ideas for ways to send out your invitations with an RSVP included – but still, be simplistic and cost-effective!
This invitation is a basic "look who's 50" invitation with a perforated section that can be ripped off, filled out, and mailed back as an RSVP. It can be used for a basic headcount.
When mailing out this invitation, you can add a stamp into the envelope to allow for your guests to send back the RSVP easily, without a trip to buy stamps!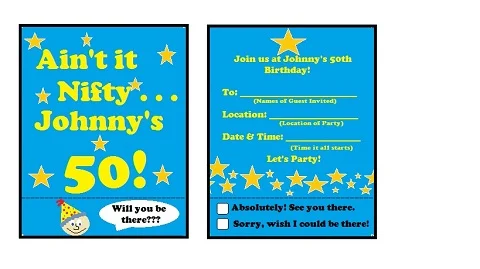 Note: In our fast-paced world, some people will leave things like this until the last minute, so it's a good idea to specify when you need the response, AND include a phone number and/or email address for those procrastinators among us.
This RSVP card can be put in any invitation you make or buy. Add this 50th birthday invitation RSVP card with an envelope and stamp to ensure all your guests give you a response. You can make it simple, or match the theme of your invitations.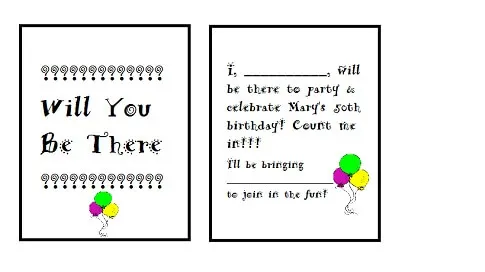 These are just a few 50th birthday invitation ideas that include an RSVP. We will be sure to always add more, so check in with us often!
The Perfect Homemade 50th Birthday Invitations
When you can make homemade 50th birthday invitations, you know that they're going to be unique and add a fun touch to the party as well! Plus, you can make them more heartwarming for the occasion, too!
You need creative and fun 50th birthday invitations if you want to make sure your party is a success. Even if it's a small party these birthday invitations can be a unique way of enticing your guests to be sure they are there!
These do not have to cost you an arm and a leg, they can be very inexpensive by just making homemade invitations.
What you need for your 50th birthday invitations
Even though you are going to make creative and unique invitations there is some vital information that is needed for all invitations!
We have created a simple brainstorming form to make sure you include all the necessary pieces of information.
You would fill in the blanks and of course, make it much more creative!
With this basic list of information to put on your 50th birthday invitation, you can just fill it in, and "ta-da" you have the first stepping stone for your invitations!
Here's an example! After seeing this, you're ready to get creative and make great invitations.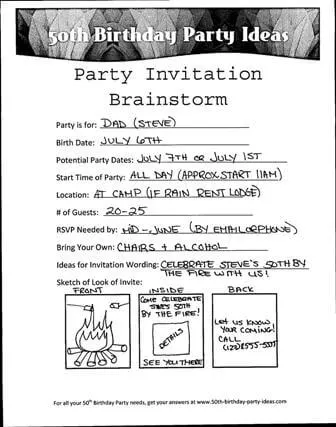 Once you have your basic information you can start deciding how you want your invitations to look and what kind of 50th birthday invitation you want to create.
The look may depend on your theme, so take a look back at what kind of theme you have and match your birthday invitations accordingly. If you have a specific theme or colors, incorporate these into your invitations as well. Take a second and make a quick sketch of how you want it to look then use the blank squares to sketch what you want your invite to look like.
What style of 50th birthday invitations?
Do you want to make a funny 50th invitation? Maybe something elegant? Do you want people to RSVP? If you want people to RSVP you need to be certain to include how they should RSVP.
When asking people to RSVP, decide on how you want them to do this. It can be by email, phone, or include a response card and postage with your 50th birthday invitation.
Next on our list to create the perfect invitation is the wording to use. Now that we know the theme, the style, and a rough sketch of the look. We can decide on what we want it to say.
We've got some great wording for your 50th birthday party for you to check out.
Elegant 50th Birthday Party Invitations
Here are some elegant 50th birthday party invitations for you to consider using for your upcoming event.
25 Gold Foil Traditional Invitations with Envelopes
These simple but elegant invitations are generic and do not specifically say 50th birthday on them. This is good because if you have leftovers, you can always use them for another event.
Blush Pink and Rose Gold 50th Birthday Invitations
These beautiful blush pink and rose gold invitations scream elegance. They have a 50th birthday at the top and the message "please join us as we celebrate" and below are all the lines for you to fill in the details.
Confetti Polka Dot 50th Birthday Party Invitations
The sparkle in the gold really takes this fun, ordinary invitation up to an elegant level. This pack comes with 20 envelopes and 20 fill-in cards.
Bliss Collections Watercolor Floral Elegant Invitations
Here's a pretty floral design in a watercolor theme that is beautiful and elegant. Each set comes with 25 cards and envelopes. This floral 50th birthday invitation is beautiful and will be cherished along with memories of the big day.
Black and Gold Elegant 50th Birthday Party Invitations
This set of 10 cards with envelopes plays on the popular gold and black theme for this milestone birthday and they are absolutely stunning and perfect for any gold and black themed 50th birthday.
Now, what if you're looking for something to tickle your funny bone and give your guests a chuckle instead? I've found some great funny birthday invitations to add to the list as well.
Funny 50th Birthday Invitations
Here are some cute and funny 50th birthday invitations that you might choose for a lighthearted invite to the big event.
Aged 50 Years Vintage Invitation
This invitation is available in a 24-count package and makes light of the idea of getting older.
Edited Expletetive Funny 50th Birthday Invite
This card pokes fun at getting old and features bright, bold colors in the design. Comes in packs of 20 with envelopes.
Shhh! It's a Surprise Birthday Invitations
These are funny and cute, and also come in the gold and black classic 50th birthday colors, but are more playful than the elegant options on my list above.
While it's very easy and affordable to order these cards from Amazon and have them shipped right to your door (free shipping with Amazon Prime), what if you prefer to put a bit more thought and time into yours? You could make your 50th birthday invitations yourself, rather than buying them. Let's take a look at some ideas on how to do this.
Making Your 50th Birthday Invitations
Once you have your wording and you have a sketch of what you would like them to look like, you have three options.
Break out the craft supplies and make the invitations by hand
Get in touch with a company that makes invitations
Create the invitations on the computer with your desired software and print them out
But if you just don't have the patience for designing your own, hire someone to do it for you. You can find graphic artists on Etsy.com, eBay, and Fiverr, just to name a few options.
Get the design done, then print your own invitation cards. If you only pay $5 for the design, the rest is just your paper and ink (card stock).
With all this information in hand, you can make great, unique birthday invitations to send out to all your guests!
Do you need some fun and simple phrases or catchy sayings to add to the front of your invitations?? Check out my tips for invitation wording.
50th Birthday Party Invitation Wording
The 50th birthday party invitation wording is a very important part of the invitation as a whole. The wording gives all the important information to help your guests arrive at the party! It can set the mood or theme, as well as provide the party details.
The wording on the front of the invitation is also is the attention-getter. It evokes excitement to attend your party. Check out these 50th birthday invitation wording ideas to get you started.
Example 50th Birthday Party Invitation Wording:
Join us in saying "happy birthday" to "Snow White"! She is turning 50 (I know she looks great for her age!).
Her birthday is July 21st, 20__.
We've created a number of 50th birthday party invitation wording samples for Snow White's party.
Feel free to use these in your invitations, but please do not copyright or use them on your website without permission.
General Invitation Wording with No RSVP
These invitations are informal and usually light and humorous. They do have a requirement for the guest to bring something along to the party – like alcohol or food.
But no RSVP is really needed.
Ain't it Nifty,
Snow White is Fifty!!
Help Us Celebrate!
Place: Cinderella's Castle
Date: July 21st, 20__
Time: 5:00pm
Bring Your Own: Adult Beverages
See You There!!
This next example is also a general, informal invite, but does not have that guest requirement to bring something. It's just telling them where the party is.
Snow White is over the hill!!
***
Let's Rock and Roll!!
Join the fun at 5 pm on July 21, 20__ at Cinderella's Castle!
General Invitation Wording with RSVP
The party invitation wording for this choice is still informal but includes an RSVP. This invitation is great for an informal gathering but needs an idea of who will be attending. The RSVP is also informal, there is no formal RSVP to return; your guests are supplied with a simple contact number or email.
50 ROCKS!!
Want to celebrate Snow White's birthday with us??
Date: July 21, 20__
Time: 5pm
Place: Cinderella's Castle
Can you come? Call us at 123-123-1234 and let us know!
Here's another informal RSVP-type party invitation you could also use. This one uses an email-type of RSVP, and could always be sent out by email as well!
We are celebrating Snow White's 50th birthday on July 21st, 2012 at 5 pm. The party is at Cinderella's Castle.
If you can be there, email us at [email protected]
Formal Invitations
These invites are for those fancy, formal events – the ones with a dress requirement!! Penguin suits and dresses are a must!
It will be a grand event, help us commemorate fifty wonderful years for Snow White at Cinderella's Castle on July Twenty-First. The celebration commences at five o'clock.
These wordings are used for a larger event, which you need confirmation of your guest list. These are accompanied by RSVP cards to return.
Don't forget to add a prepaid return envelope so your guests can RSVP at no cost to them.
Snow White's golden years have begun, let us celebrate together at Cinderella's Castle on July 21, 20__.
Please return the enclosed RSVP card by June 15th to reserve your seat.
The invitation is the first impression of your party. Begin the festivities with a bang with these 50th birthday party invitation wording samples.
50th Birthday Invitation Do's and Don'ts
Use our 50th Birthday invitation Do's and Don'ts to make those perfect invites and RSVPs!! The invitation is the precursor to any special event, it sets the tone for the whole affair. These invitations work as a first impression for the upcoming event.
Use these DOs and DON'Ts to ensure your invitations provokes this reaction . . .
"THIS PARTY WILL BE FABULOUS! I GOTTA BE THERE!!"
Before creating your invitations keep all of these in mind.
Tips for 50th Birthday Invitation Success
When you want your personalized 50th birthday party invitations to go off without a hitch, follow this list of tips to help you get them right every time.
DO
Match your invitations to your party theme.
If your theme is black and white, coordinate the invites in the same color scheme.
Include all necessary information.
Make sure to include the purpose of the event, the honoree, the date and time, name and location, who is hosting, appropriate attire, RSVP (if applicable).
If the location is far, or difficult to find, make sure to enclose a map or directions.
Remember to proofread and proofread again! Nothing looks worse than sending your guests to the wrong address or misprinting the date!
Use the third person when writing your invitations. For example, "John invites you to their 50th birthday."
Should the party be an informal gathering, this rule is not extremely important.
Make sure the invites are mailed out in a timely manner.
A good guideline to follow is 2-4 weeks for an informal event; 7-10 weeks for a formal event.
DON'T
Include the zip code or postal code. This information is not needed for GPS or Google Maps, so why waste space?
Use abbreviations. Make sure you spell out the road, street, state, etc. in full.
Mention gift registries or mention anything that comes across as asking for gifts.
The only appropriate thing to mention is "No Gifts Needed" should that be the case.
Provide RSVP without a self-addressed, postage-paid envelope. If it's not within your budget to provide pre-stamped RSVP cards, a more cost-efficient option is email or phone.
Don't make your guests pay to send back an RSVP.
Some other basic tips to remember:
Be prepared and on time with your invitations
Make simple and uncluttered invites
Use your theme and make the invites pop
Stick to your color theme, and make sure the invitations are bright and vibrant.
Make the guests want to be at the party.
Spell check, grammar check, and do it twice.
Make sure the date you choose is not on a holiday or a special event that will limit attendance at your party. Steer away from long weekends and keep in mind other major events like weddings.
Have fun, and make your milestone birthday invitation stand out! You will have a great turnout, and a party to remember.
Online Invitations
Another option that you might consider is online invitations. You can send these by email or social media to save on postage and paper. A birthday party invite sent through email could tell them just to reply to the email as their RSVP. It's instant and easier than ever before to see who will be attending, so you can plan accordingly. Another way to use a paperless invitation is to make use of social media. For example, Facebook allows you to create events as virtual events or in-person and then invite Facebook friends to them.
Online invitations are also very good for the environment since you won't be using any paper or the eco-footprint of mailing. Don't forget to include all of the important details such as when and where the party is taking place, as well as how they should RSVP to the event. Send your electronic 50th birthday invitation with any of the images or printables I included at the beginning of this post if you'd like.
Other Great Birthday Items To Add To Your Celebration
Some other items that are helpful in ensuring your guests get to your party are banners and signs. These are nice to not only decorate at the venue but also in areas along the way to the desired area – especially if your party is in a hard-to-find area.
Check out some great ideas for signs for your party and some banners for the wall.
It's also important to remember a great 50th birthday card with some special words to help the guest of honor know how much they mean to you.
Now you are well on your way to having a great turnout of people at your 50th birthday party.
With the 50th birthday invitations, and the signs and banners, no one can forget or get lost on the way to your big event!
50th Birthday Party Invitations – Conclusion
These 50th birthday invitations will give you everything you need to create your own party invitations that suit the tone and theme of your party, and your guest of honor. When you want your 50th birthday celebration to go off without a hitch, take the time to put thought into each and every detail, including the invitations. Other milestone birthdays like the 50th include a 21st birthday, the 30th birthday, or the 100th birthday, just to name a few. You can use these same ideas for any of those birthdays, too, with just a few tweaks to make them more age-relevant.
Hopefully, these few ideas get the creative juices flowing and give you a good start to the creating of your invitations. Are there any that stick out to you as your favorites?