Make sure you have just the right 50th birthday party supplies for the big event to make your party unforgettable!
Always start with deciding on your theme and your location. Once you have this information ready, you can decide what decorations you need and where to put them all.
Consider your theme, as well as favorite colors, then merge those ideas to choose the color theme you would like to have.
If you are unsure of a theme, you can check out the 50th birthday party themes we have to offer.
Here are some of the important party supplies you will need:
Decorations
Decorations are important for any party! These create a great atmosphere, because when you're taking pictures, it's nice to have decorations in the environment to give the event a birthday feel.
See our page of 50th Birthday Decorations for a list of the must-have decorations for any party, as well as some great ideas and creative ways to save money when buying decorations.
50th Birthday Party Supplies: Favors and Party Games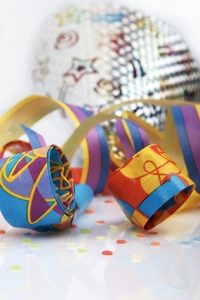 When we were kids, favors were noisemakers and "loot bags" but who said only kids can have party favors? These are great to buy when you are shopping for your 50th birthday party supplies.
Loot bags are not just for kids, and we have a great page full of ideas for 50th Birthday Party Favors.
The best way to make sure it's a memorable event is to give each guest something at the end of the party to commemorate the special day.
You can also give small prizes to winners of your party games. You didn't forget about the games did you? Some people think games are silly, but they always get a laugh even if they are on the goofy side.
Remember when being goofy was so much fun? Visit our party games page for ideas.
Party Food and Drinks
No party is complete without a large variety of food and drinks! Add this to your 50th birthday party supplies list.
A lot of parties are remembered for having either really good food or really bad food. What you serve at your party is something most people will remember (especially if it's bad).
Go with your theme if you can get -theme-food to match. Otherwise, just keep it simple. If your party takes place in the evening, be sure to have a nice supper (followed by cake, of course!). If you're having an afternoon party, serve a simple lunch. Also keep in mind the number of people that will be attending and think of foods that are easily purchased and prepared in bulk!
Here are some great ideas for meals to serve if you're planning a casual 50th birthday party:
Have a BBQ. Serve hot dogs and hamburgers with chips and salads.
Be creative and have breakfast for supper (bust out the bacon and eggs!)
Have a potluck with the party. It gives everyone a chance to get involved and be creative.
If a big meal is not important, offer an array of finger foods, like meat trays, cheese trays, shrimp, dips, etc.
Once you decide what kind of food you want to serve, you can add it to your 50th birthday supplies shopping list.
Be creative, and just keep it simple. People are here to celebrate and socialize, not to spend a few hours on course-after-course of food. And the less work you plan for yourself, the more you'll enjoy joining in on the celebrations.
Don't forget it's always a bonus to have something out to snack on throughout the party like chips, candies, etc.
For drinks, it's best not to provide the alcohol if you're on a budget! It's not a bad thing to make the party a B.Y.O.B (Bring Your Own Booze). For non-alcoholic drinks, keep a good stock of soda and juice available throughout the party. These are not only good to drink, but if your guests do bring their own alcohol, they can use these beverages as mixers.
A good thing to add to your shopping list is also paper plates, cutlery and cups. This makes post-party clean-up a breeze!
Music
Take a look at your budget. Do you want to hire a professional DJ? This is usually a good option if it's a large party and you expect people to want to dance.
If you're having a smaller party or not wanting to focus your party on dancing, a DJ is not usually needed.
For music, just sit down at your computer and make a bunch of mixed CD's and label them by genre. For example, make one for dance music, another for rock music, etc., all depending on what styles of music suit your taste.
Making your own playlist is a good way to save on your 50th birthday party supplies cost.
This way, if they are mixed CD's you can easily just stick one in and when it's done, change it to the next.
No need to spend a lot of your time in front of the stereo.
An even easier option – if it's available – is to attach an MP3 player full of music to the stereo and let it shuffle through the music. It will act likes its own DJ with no cost to you!
---
Don't forget to make a list of your 50th birthday party supplies to guarantee you don't forget anything!
I've also found that a supply checklist is very helpful in making sure nothing is forgotten. Feel free to print out our FREE 50th Birthday Party Supply List!