Are you looking for 50th birthday party games for a gathering at home or at work? Party games can help pass the time during transitions at a birthday party, and also can serve as a main event part of the big day. A 50th birthday celebration is cause for only the best. This is a milestone birthday, and it should be celebrated with all the things the guest of honor would love.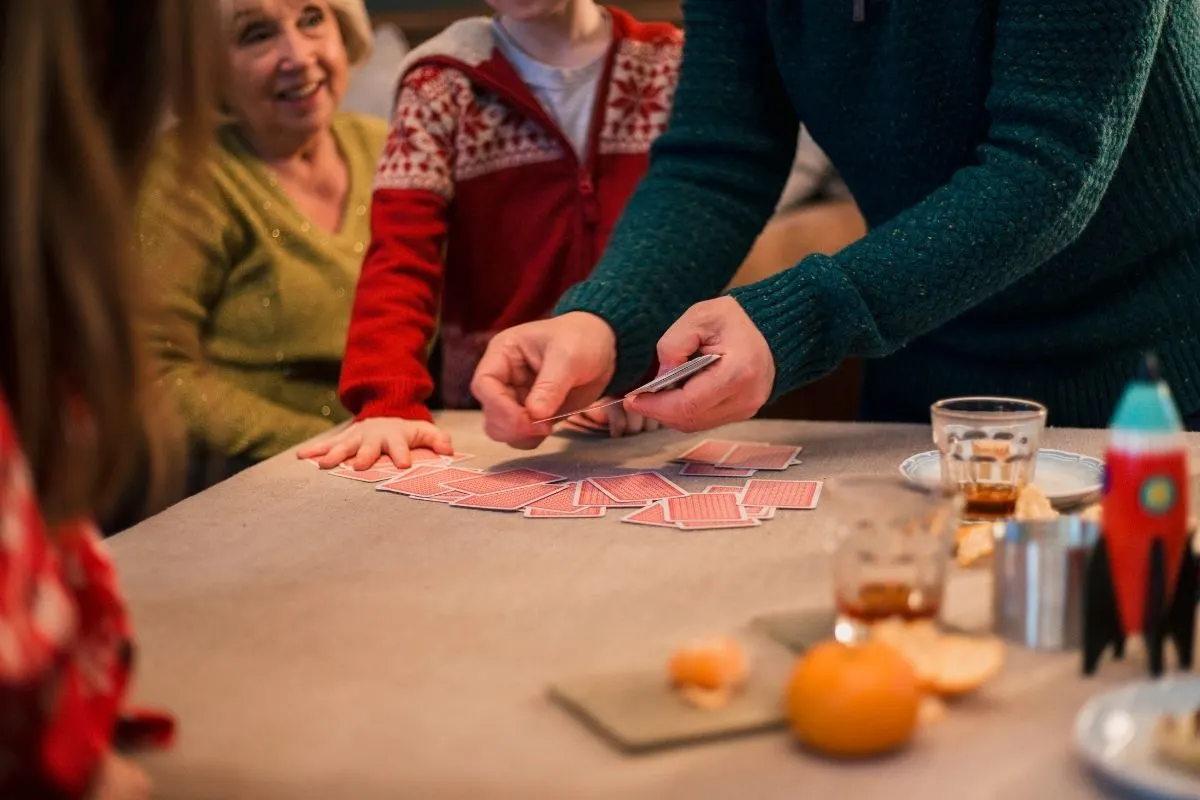 This might mean a meal with their favorite foods or a gathering with their closest family members, or maybe it means a big celebration with tons of people they know. And there can be food, entertainment, decorations, music, birthday cake, and of course, great birthday games. In this article, I'm going to talk to you about the party games that you might enjoy at a 50th party.
If you're looking for a great idea the guest of honor will also appreciate, I hope you will read over the party games I've compiled for you here. I think they are a great way to keep the party spirit alive during your 50th birthday bash and it's also a good idea to keep the guests entertained.
Check out these games, designed specifically for 50th birthday celebrations.
Why Have Party Games?
First, why party games? I know, some people are completely anti-game (I have family like that, too), but games are very useful when it comes to successful party hosting. Party games are definitely not just for kids' parties. Although the games will change, the fun can last no matter what your age. Let's look at why it's great to have party games.
Here are a few reasons:
They're a great icebreaker at private birthday parties. They put guests at ease.
They help liven things up at moments when parties grow quiet or dull.
At work, they get things rolling quickly and turn a lunch-break party into an instant holiday treat.
For those who don't like the "mushy stuff," games help you show you care by creating a fun memory so your friend or loved one's birthday can be properly acknowledged.
The bottom line is, party games help you celebrate in a fun way, with lots of laughs and jokes.
The games are listed below, I promise! But let's look at some tips on how to manage these games.
50th Birthday Party Games Ideas + Tips and Tricks
If you're going to use games at your party, it's important to have some ground rules in place before the games begin. This will help you to prepare for any situation that may arise and to make the game time more fun.
1. Prize Ideas for Your Party
Everybody loves to win, and many games call for prizes. The prize doesn't even have to be a big deal, it's still fun to win! What prizes to use can be a trick, so I've created a short list of possible prizes you can use at your party. Here they are:
Gift cards
Movie tickets
Party favors
Bags of candy
Personalized items that signify the event like coasters, drink cups, etc.
Cookies
Snacks
Bath supplies (make them gender-specific and distribute accordingly)
2. Handling Ties or No Winner Situations
Sometimes it occurs that you end up with a tie or in some cases, no winner at all. So, what do you do? Here are some ideas.
In order to break a tie, you could flip a coin, grab a playing card deck and draw a card (high or low wins, your choice), or you could have the crowd vote by a show of hands.
In the case where there's no clear winner, use the game conclusion as a toasting opportunity, or, if you know in advance you're likely to not have a winner, use the game as a photo opportunity where you can get live pictures of folks participating and having fun at your party.
3. Have Fun
The important thing is to relax and have fun. Don't get too formal or hung up on details, especially if your guest list consists of friends and family. They'll go with the flow and won't get picky about rules. Be sure to buy or prepare a few extra prizes in case there are goofs or unforeseen circumstances.
You could assemble a range of prizes from small prizes like party favors, to larger, more desirable prizes, like movie tickets or gift cards. Put an emphasis on the smaller prizes so you can use them to smooth out any rough spots in the party if needed.
Guests are usually very understanding but having these extra helps will make you a more confident host/hostess.
Now, let's take a look at some of these games, shall we?
Special 50th Birthday Games
Nothing says happy birthday like an event planned especially for the guest of honor. When you want to be sure everyone has a good time, you need to plan the best party games. You can also use live music or play their favorite songs to set the mood in the room, too.
What better way to build a favorite memory?
Give these games a try at your event or modify them to suit your needs. They're my gift to you!
1. This is your life
For this game, you can run through the highlights of the guest of honor's life and special events. You can make a list of items or ask trivia questions and see which guests remember certain things about the birthday person's life. You can also use old photos to show these experiences or have an old photograph of the birthday honoree that you can bring and place on the table or use during the game.
2. 50th birthday bucket list
Another fun idea is to create a bucket list jar or homemade bucket, and then have each of the guests write a bucket list item on a piece of paper and add it to the jar. The guest of honor can read them at the party or take the jar home and read them later. For added fun, they should try to do some (or all) of the things in the bucket list jar.
3. Birthday trivia
For this fun game, the guests will see how much they really know about the guest of honor. You can create a trivia card game (or buy cards online made for this reason) and then have the guests fill out the trivia cards. The birthday girl can then say what was right and what wasn't, and you can see which guests knows you best.
4. Guess my age game
You can bring pictures of the guest of honor at different ages and get party guests to guess how old they were in each picture. Have prizes for the people who get them all right, or small prizes or party favors for people who get any of them right. This game is simple and fun!
50th Birthday Games Women Will Love
This 50th birthday party idea is one that the birthday girl will enjoy, although any of the games on this list can work for anyone, man or woman.
5. Go for the Gold Game
They say that the 50th birthday is a golden birthday, and in honor of that, we'll use a gold object to play a game. Your "gold" can be anything. Examples include a gold coin, a piece of jewelry, something "gold-like" you found at the dollar store–whatever works for you. Here's how to play:
Hide your gold-something in an inconspicuous place before guests arrive.
You could type up the game on party paper and distribute the instructions as guests arrive. Let them know it's hidden and give them clues as to what it is, but don't tell them exactly.
Leave it there during the party.
The guest who guesses what it is, wins. People can't continually guess or blurt it out. They have to write it on a piece of paper when they think they know what it is.
A drawing at the end of the night will prove the winner.
This prize could be your "grand prize."
6. The Silver Streak Game
This is called the Silver Streak game because aside from gold, silver is a perfectly acceptable color to represent a 50th birthday!
In this game, players have 2 minutes to write down 10 facts they know about the birthday person on a sheet of paper. (No sharing, please!)
After the time is up, the items should be read aloud by each player and should include funny, strange, or endearing qualities the birthday person possesses.
Of course, the birthday person is the judge, so they will say which items are facts or not.
The player with the most correct facts wins.
7. The Don't Say 50 Game
This 50th birthday game is fairly self-explanatory, but simple games are a blessing for conscientious hosts and hostesses!
Make a note inside each invitation introducing the game. Explain that the word 50 is forbidden during the party.
As guests arrive, give each a token in order to play the game. (Poker chips or something similar could work.)
Anyone who slips up and says "50" forfeits their token.
At the end of the night, the players with the remaining tokens can compete via drawing for a larger prize, or a grand prize if appropriate to your plan.
Note: The word 50 can include 50th, the number 50,000, etc.
Here is a suggestion on how to mention the game in your party invitations:
John is so broken up about turning 50, he just doesn't want to talk about it…NOT!! He's actually looking forward to turning 50. It's an excuse to party and he definitely wants to play a game.
Here's how it goes: Throughout the party, don't say the word 50. If you can make it all night without saying "50," you could win a very cool prize! We hope you'll join us and play the game, too. It will be a blast!
8. The Friendly Neighbor Game 50th birthday game
This 50th birthday game is just for laughs and another possible photo opportunity. One person begins the game, and each player takes consecutive turns, always passing to the right.
The game goes like this:
The first player starts by saying a sentence beginning with the birthday person's name.
When they pass to the right, the next person begins a sentence starting with the person's name.
The sentences should link together in some way, to form a story about the birthday boy or girl, but people don't have to repeat the sentence(s) from the previous player(s) as they recite their own.
You can try to assign a topic for the story, or just let the story evolve and see where it goes.
There would be no winner for this one, just fun, and laughs.
Try to see if people can keep it going without breaking the chain.
Take pics during and after. You should get lots of laughs and remember, if you play the "Don't Say 50" game, anyone who messes up during this game loses their token!
50th Birthday Party Games for Inside or Out
Ever wondered what 50th birthday party games you could play at your party to keep things exciting? Use these ideas to keep any party hoppin'!
Who says games are for kids? Have you ever found that you have even more fun playing party games as an adult? Well, nothing is more entertaining then acting like a bunch of kids and having fun. So let's explore the possibilities…
9. Kick The Bucket
This is not only a fun game, but the name of the game is very fitting for a 50th birthday party!
This game is more fun in the dark, but if your party is in the afternoon, you can also play during the day.
Have all your guests wear dark clothes (or wait until it is dark outside) and you'll be set to play.
You'll also need a steel bucket or any metal item that is visible enough and large enough to kick.
To play:
Place the bucket in a large open area of the yard.
You need to choose a way to pick the "it" person who goes first. You can always make the birthday boy/girl start!
Like hide and seek, the "it" person will cover their eyes and count to a certain number (depending on the size of your yard and amount of people), say 30.
As they are counting, everyone else will run and hide. Once time is up, the "it" person will start to search for everyone. In the dark, this is more difficult than it sounds!
The objective is to get to the bucket and kick it before your name is called out by the "it" person. As you run for the bucket, if they call your name, you become the next "it" person. Those who kick the bucket are safe and cannot be caught.
If you are playing in the light, you could use tactics to disguise yourselves so the "it" person doesn't know who you are. (Masks, for example). Again, whoever gets caught first will become "it" for the next round. This game has no time limits. Play as long or as little as you like.
This is one of the more active and fun 50th birthday party games.
More 50th Birthday Party Games for Grown-Up Kids
The the older kids or the kid in all of us adults, here are some more fun party game ideas.
10. Capture The Flag
Find a large yard or field for the game, similar to a football or soccer field.
The field has two territories, one for each team, like soccer or football. Each team has a flag of a different color which is placed somewhere in their territory.
Each team tries to get into the opposing team's territory and grab the flag, then return without being tagged. Each person who achieves this earns a point for their team. The team with the most points at the end of game time wins. (You choose how long you play.)
In their own territory, team members are safe and can't be tagged. Once they enter the opposing territory, they are vulnerable.
This is a fairly active game for a 50th birthday party, but some party groups may be up for it.
11. Charades
This is the typical game we all know about. It's an acting-style game.
To make it more personalized you can create your own phrases to make the charades specific to the occasion – make the phrases about the guest of honor. Create these cards and shuffle them up.
You create two teams and have them gain points for guessing the phrases correctly. To be able to guess the phrase one team member must act out the phrase in a way their team will be able to guess it.
12. A Poker Tournament or Other Card Games
For the parties that are located inside – and you don't want people throwing horseshoes or running around the area – there are always card games.
Poker has become a very popular game in recent years.
You can set up a few tables and create a mini-tournament.
The game can be played just for fun with poker chips, and you can always provide a prize for the 1st, 2nd, and 3rd place.
There are also other card games you can play, any card game really can be played in groups.
It could be classics like UNO, Spades, Canasta, Rummy… there are tons of possibilities!
13. Be a Kid for a Day
Play all the games we did at birthday parties as kids.
Bust out party games like:
Pin the Tail on the Donkey
Musical Chairs
Limbo
Hang up a Pinata
Bingo
This is a great way to just get everyone laughing and also gives chances to talk about your childhoods, especially the guest of honors. Use any of those games you played as a kid as your 50th birthday party games.
14. Backyard Games
If your party is in a field or backyard, you can always play games like:
Horseshoes
Bocci
Lawn darts
Badminton
Corn Hole
These can all be purchased at the store and are fairly inexpensive – some stores even have sets that come with all the games in one.
This is especially good for outdoor summer parties, nice slow-paced games that everyone can join in and socialize with as they all do so.
50th Birthday Party Games Men Will Love
When it comes to games for men, card games are always a winner. Here I have compiled some of the best birthday party games you can play with cards. Some other games men might love are:
Darts
Horseshoes
Bean bag toss
Any variations of fishing
50th Birthday Party Games with Cards
Cards are an old classic that works for nearly any occasion. You'll never be bored when you have a pack of playing cards in your pocket. So, let's take a look at some games you can play with cards at a 50th birthday party.
15. Variation on "Go Fish"
If you have some decks of cards, try this game:
Use the 5's in the deck as the most valuable cards.
The person who accumulates the most 5s wins.
You could also use the Kings and Queens, depending upon the birthday person's gender.
16. 50th Birthday Game – How's Your Memory?
Is your memory going as you age or is it still sharp as a tack?
Each person has to share a memory that includes the birthday person.
The story can be true or it can be made up.
To make it really fun, guests should share their particular memory in a way that is fun and interesting. For example, the story could be an adventure (or a misadventure), a trip, a coworker experience, a funny thing that happened, etc.
The point is to be as convincing as possible (while being upbeat – no insults or put-downs, please).
A show of hands will indicate the person who they think had the best, most convincing memory.
The birthday person will reveal at the end which memories were real and which were made up.
17. 50th of Anything
And here's another option:
In this 50th birthday game, each person has one minute to come up with something that is the 50th of something.
They should write their guesses on a piece of paper that bears their name.
Using a smartphone or tablet, look up each 50th thing and whoever is correct wins a prize.
This one can be tough, so if guests get stumped, move on to another game… 😉 Or play for laughs without writing things down and the first person to come up with a correct 50th-something wins.
18. 50th Birthday Memory Test
Here's another variation of a memory game.
Each guest takes turns counting backward from 500,000 without making a mistake.
He/she who makes it the longest wins.
If you're playing the "Don't Say 50" game above, players must start with "Five-Oh Thousand" (not the word 50 as in 50,000) and must say "Five-Oh" instead of 50 each time that number comes up.
It's trickier than it sounds and is a good way to get people to lose their tokens!
There are many games for 50th birthday party events that work really well, not only for the fun, but also as icebreakers. A lot of times people at these types of parties will know each other and the guest of honor, too. But no one knows everything about a person, and these games can be great fun to learn little tidbits of trivia about your friends and family.
There are a number of games for your 50th birthday party that will work great for group events. Let's take a look, shall we?
Icebreaker Games for Your Birthday party
Icebreaker games are a fun way to get to know each other, and get the party going. There are a variety of games you can use, some of which you may have been involved in at other parties or even at work.
Icebreakers are very common in the workplace, but people don't see the fun they can create at a party, even with people you may already know.
19. Two Truths & a Lie
This is a common game at a lot of events like work, school, and parties. It's a very simple game. Here's how it works:
Everyone takes a turn telling three pieces of information about themselves. Two of the pieces are true and one is a lie. The group needs to guess which one is a lie.
You can give little prizes for correct guesses.
A different twist you can use for this 50th birthday party game is to make each person say two truths they know about the birthday boy/girl and one lie. Have everyone guess what's the lie. Try to make these tidbits things that only you know about the person (but make sure it's not personal and private).
20. Famous person
For this party game, you would tape a name of a famous person on the back of each person. For the first half of the party, each person must ask for hints as to which famous person they are. The first one to guess their famous person gets a prize.
21. First Impression
As everyone enters the party, tape a piece of paper to their back and give them a pencil. Have everyone mingle and write their "first impression" of each guest on their back. Make sure these impressions are not rude or mean, just funny or nice. If everyone already knows each other, like family, you can change it up and make it that each person must write something funny they know about the person or a funny event that happened.
22. Stickers
Upon their arrival, give each guest a pack of 10 stickers. Buy these at a dollar store or party store, coordinate the colors of the stickers to your party theme.
The object is to get rid of your 10 stickers by sticking them onto other guests.
BUT … here's the catch! The guest must not notice that you stuck your sticker on them. If they catch you, they get to stick you. The first one to get rid of all their stickers wins.
Board Games for a 50th Birthday Party
There are also many board games for 50th birthday party events that you can play together. These board games are created for large groups and can be the source of a sore stomach from all the laughing. I can vouch that CRANIUM causes some very funny memories.
** All these games are available to be purchased in retail stores, most are fairly inexpensive and can be used over and over **
23. Cranium
The object of the game is to move around a track and into the center, first, one to the center wins. The adventure is on the way to the center. You are divided into teams and as you round the board you must work together to complete the tasks. It can be trivia questions, Pictionary style trivia, charades, sculpting with modeling clay, humming a tune, etc.s, and much more.
24. Pictionary
The object of this game is to get your team to guess what the saying/word on your card is. You are only allowed to communicate through pictures.
25. Malarky
This is a bluffing game. You are asked off-beat questions and are required to give an answer, it is the goal of the other player's to figure out what is the correct answer.
26. Monopoly
This one doesn't even need an explanation! But there are many kinds of monopoly. Some are themed to movies or cities, and much more.
27. Quelf
Another great party game, that required everyone to make a fool of themselves. This is not a game for someone extremely shy. Again, the object is to round the board to the finish, but along the way, you will encounter one of four categories of cards.
It's these cards that are the danger.
You can be required to do things like:
Demonstrate your own animal-inspired yoga moves for 30 seconds
Before speaking (at any time for the rest of the game) you must ask your left foot for permission to speak in the squeakiest voice you make.
Leapfrog with the person to your left 10 times.
People tend to think that as we age, we're too old to play games, but all of these games are a great way to get everyone involved and have a great party!
50th Birthday Party Big Bang Theory Themed Games
If the birthday guest of honor if your life is a fan of the Big Bang Theory, you might decide to use that theme in your birthday party and the games.
You could create your own Trivia games based on Stan Lee comics or Star Wars movies. Or get a Star Trek trivia game here: Star Trek Trivia Game
If your party is not too large you could plan a Paintball game before or during your party. If the Paintball group plays prior to the party, take photos so the participants have war stories to share.
Kick off a session of Karaoke with several people doing "Soft Kitty" in harmony. Or if your group is really ambitious you could try the theme song, "The History of Everything" by Barenaked Ladies.
Our family always has a great time playing Pictionary, which was on a recent Big Bang episode where they played guys against girls. You could choose a theme for the game by doing it on science or math topics.
28. Games Featured on the Show
Give everyone instructions when they arrive to shout "Bazinga" anytime something happens. For example, any time someone finishes a beer, or anytime someone returns from the restroom, or anytime someone says a certain word – you choose the trigger. To make it extra funny, just tell the guys to do it and wait for the ladies to figure out what it means.
Here is a list of just a few of the themes and games played on the Big Bang show.
Jenga
Paintball
When Howard came home from space:
Pictionary – guys against girls on two whiteboards
Where's Waldo
Bat circling followed by long division
Wrestling – girls against guys
Blueberry pie eating contest
Rock 'em Sock 'em Robots
Karaoke
Star Wars
Star Trek
Fantasy games like Talisman
Computer role-playing games
Rock paper scissors lizard Spock
Comic books by Stan Lee and Marvel Comics (Spiderman, Incredible Hulk, Fantastic Four, and more)
I hope these ideas will help you with your Big Bang Theory party theme. Have fun with it!
50th Birthday Party Games Wrap-Up
Well, there you have it, folks! My ideas for 50th birthday games. Share them and use them as you can. These fun 50th birthday party games are an excellent way to lighten the mood at the party or to be used as an icebreaker to warm things up.
I hope that you enjoyed these party game ideas and be sure to check out the rest of the site. I have lots of posts about 50th birthday parties. I hope you have a wonderful celebration!