50th birthday party favors are a nice way to remember the special day. In addition to 50th birthday party decorations and 50th birthday party supplies, you can choose favors as a special gift to say thank you to the people who attend the party. It's basically a nice little take-home gift for each of the guests who attend the party.
I have compiled some of my favorite ideas for the big day, but before we get to those, I want to tell you a little more about party favors and how I define them.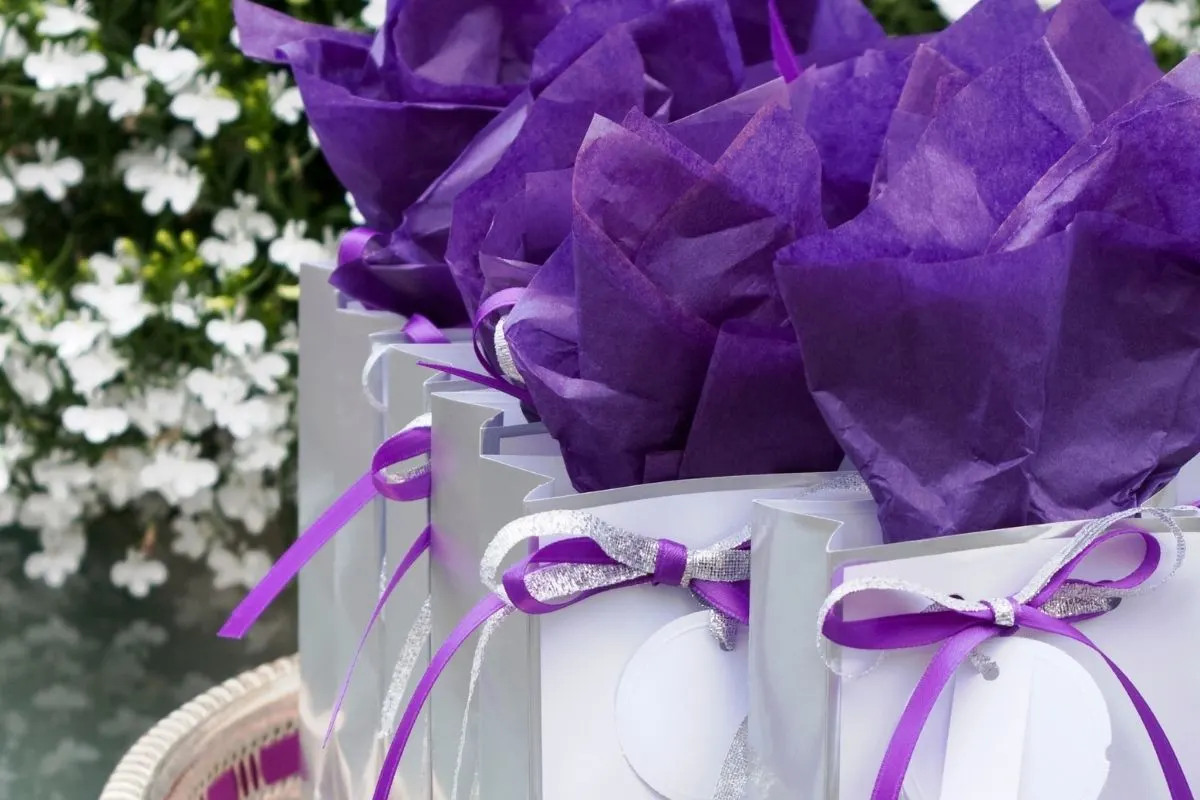 What are party favors?
Technically, party favors are not a requirement. However, they really can be very nice to give to your guests when they attend your party. Before I get to the ideas, let's do a brief overview of what kind of party favors we're talking about.
A party favor is a gift or item that your guests receive at your party and that they can take home with them. It's important to note that if you want to give party favors, you need to be sure you have one for every single guest so that no one feels left out.
Big or small, your party favors are a way to commemorate this milestone birthday event in a very special way. You don't need an event planner to make your special day go as planned. All you need is a few tips to get you on the right track. Your party favors just might end up being your guests' favorite memory.
Things to consider when choosing party favors
Before you can decide what party favors you want for a 50th birthday party, here are some things you can consider.
How many guests will be attending the party?
What is the party theme or color scheme?
What is your budget for this party expense?
Are there any time constraints to consider?
Is the presentation and packaging important?
50th Birthday Personalized Party Favors
When you want to make it feel extra special, consider personalized party favors for the 50th birthday event. It's always a great idea to personalize the party favors. This way your guests will be able to look at the favor in the future and remember the party because it has the birthday guest's name or picture on it. This personalized item can be something that's very inexpensive or you can spend as much as you want on it. It all depends on what you have personalized.
Here are some ideas:
Buy some mugs and use ceramic paint to personalize them. You can write something like "Had a blast at Mary's 50th Birthday Party!" or "Thanks for coming to my 50th Birthday Party." If you're not the artistic type or don't have time to paint a bunch of mugs, you can always go to a photo printing place and have a picture and a saying imprinted on each mug. That's a little more expensive but it's a great time saver!
When using photo printing places, you can also personalize a large number of items with pictures and a little saying. You can put pictures on almost anything! You can buy calendars, mugs, mousepads, t-shirts, puzzles, key chains, etc. The possibilities are endless.
A great idea for a 50th birthday party favor that would be given to your guests in the days after the party, is a DVD slide show of the party. This is an inexpensive way to cherish the memories of your special day. All you have to do is make sure you take tons of pictures throughout the event and afterward jump on a computer and create a slide show of the pictures. You can even add captions for some pictures with comments on them. Once the slide show is completed you can throw it on a bunch of DVDs or CDs (depending on the size) and mail it out to all your guests. If it's small enough you can even email it to people! It's a great way to capture the memories of the party.
Another idea for party favors is personalized t-shirts. I have another post about that to give you more information on how to use shirts for your party favors.
While it's not a necessity, some people like to use party favor bags to put their favors into.
50th Birthday Favor Bags
What can you use for 50th birthday party favor bags? Well, it can be as simple as going to a dollar store and buying some simple bags. Then you can fill them with whatever you want. Another idea is to buy some 50th birthday-designed favor bags like this.
Here are some of my favorite 50th birthday celebration favor bags:
Things to put in your favor bags or boxes
Now, if you're wondering what can go inside your party favor bags or boxes, I have some ideas for that, too. You can use candy, food, and small treats, but there are also a lot of other ideas that are not food items at all.
Here are some examples:
Cookie cutters
Mini flashlights
Personalized folding mirrors
Lip balm/ Chapstick
Mini playing cards
USB flash drive
Keychains
Bubbles
Personalized candles
Sticky note packs
Reusable straws
Coasters
Cell phone Pop Socket
Earbuds
Small multi-tool
Small succulent in a pot
Cheap 50th Birthday Favors
You don't have to pay a lot of money for your favors. Here are some cheap ideas that don't look cheap at all.
36-piece birthday party paper eyeglasses
These glasses are fun to wear and take pictures in and your guests can take them home with them.
24-piece bottle opener in the shape of 50
This is a useful, fun party favor they can use again and again. It's perfect for opening old-style glass Pepsi or Coke bottles and root beers.
90-piece 50 years celebration candy wrappers
And here we have chocolate candy with decorative labels that celebrate the 50th birthday occasion.
When you want to get the best party favors at the lowest price, these ideas will help you.
Handmade 50th birthday party favors
If you love to DIY or want to make things by hand, here are some ideas you can try. When you make them yourself, they have that extra personal touch that can really mean a lot to the people who receive them.
Paper Cupcake Holders
You can send them home with a cupcake, decorated like the cake was, as a little treat for after the party. These are fairly easy to make and can be decorated to match your theme.
This is similar to the regular cupcake holders you get at the grocery store. You would use card stock and around the top of it, you can embellish with flower petals or stars.
Paper Fortunes
These are fun origami activities you can use. You can give each person a fortune cookie with a personalized fortune in it, especially from you.
These are very easy to make and all you need is a piece of paper, a ribbon and a marker.
Here are some simple steps:
You pick the pattern or color of paper you wish and cut it into a perfect circle (use a cup or bowl as a template).
Fold the circle in half, you do not need to crease it just a bend is okay.
Take both corners of your circle and bend them towards each other – this will make it look like a fortune cookie.
Glue together both sides where they meet in the middle, so your cookie stays closed.
For the fortune, you can either place it inside before you create the cookie (but keep in mind they will have to rip your memento to see it) or you can hang a piece of ribbon out each side with a little thank you or fortune on it.
Something like this:
A Little "Extra"
Get packages of Extra gum (as many as you need).
Cut out pieces of colored paper in whatever shape you like – maybe a star.
Make sure it is the size to cover the majority of the gum package.
On the paper, write something like "Thanks for making my 50th extra special".
Punch holes on two sides of the star and wrap a ribbon through them and around the package of gum. This will hold the card to the gum.
Cup of Goodies
Get Styrofoam cups and decorate them with paper cutouts to match your theme, or personality.
Fill the cups with candies or some form of goodies for your guests to take home.
Write something to thank them for coming to your 50th on the cup.
After they eat all the treats, they could always use the cup as a pencil holder, a plant pot, etc.
I hope these few ideas help you get along on your way. I can go on for hours with different craft ideas!
You can also find a lot of 50th birthday ideas at online stores. With online shopping, you can comparison shop, save time and money, and have the party favors shipped right to your house. This makes it easy to find a specific design or to get great benefits like free shipping or control over your delivery date.
50th Birthday Favor Boxes
These party favor boxes will help you create your own unique party favors to show your guests you appreciate them and to give them something special at the end of the night to help them remember the special occasion.
All gold metallic boxes
Cheers to 50 years boxes
Happy birthday big dot 50 party box
From elegant gold 50th birthday party favors to funny 50th birthday party favors, there is something for everyone. I'm going to give you a few more ideas to help you with your own party planning.
50th Birthday Party Favors for Men
These are ideas that the birthday boy of any age can appreciate.
Candy bars – The front and the back of the candy bar wrappers can have personalized parts printed on them.
Mini measuring tape – You can personalize a mini tape measure with themed stickers or "Happy 50th" stickers and they make a great party favor.
Mini hand sanitizer – Another fun and useful option are small bottles of hand sanitizer that are personalized with the date of the event and/or the birthday guest's photo.
50th Birthday Party Favors for Women
Here are some perfect party favors for the woman in your life turning 50.
Picture frame – You can use a small picture frame, decorative frame, or a DIY frame in each of your party favor bags.
Purse charm – Purse charms are cute and fun, and you can have some made to go with your party theme or personalized for the 50th.
Cupcake topper – You could also use your cupcake toppers as a party favor. Just keep in mind that this method can be messy if you don't have a good way to clean them or rinse them, you may need a design where the part that touches the cupcakes breaks away and the top part that is clean is taken home.
Place card – Another idea is a personalized place card at the table. This will show guests where to sit and they can also take it home with them.
At the end of the day, the point of the party is for everyone to come together and celebrate the life of the birthday guest of honor. Five decades alive is something very much worth a party. While party favors aren't a requirement, they can definitely make it a lot of fun for everyone.
50th birthday party favors can be a great addition to any party. Everyone appreciated memories, especially of such a great party!