50th birthday t-shirts are great mementos and fun ways to celebrate the big day. When someone has lived for five decades, they've experienced a lot that life has to offer. This is a milestone birthday, a special day, and a fabulous t-shirt can make the perfect gift idea for the guest of honor or for party favors for other people who attend.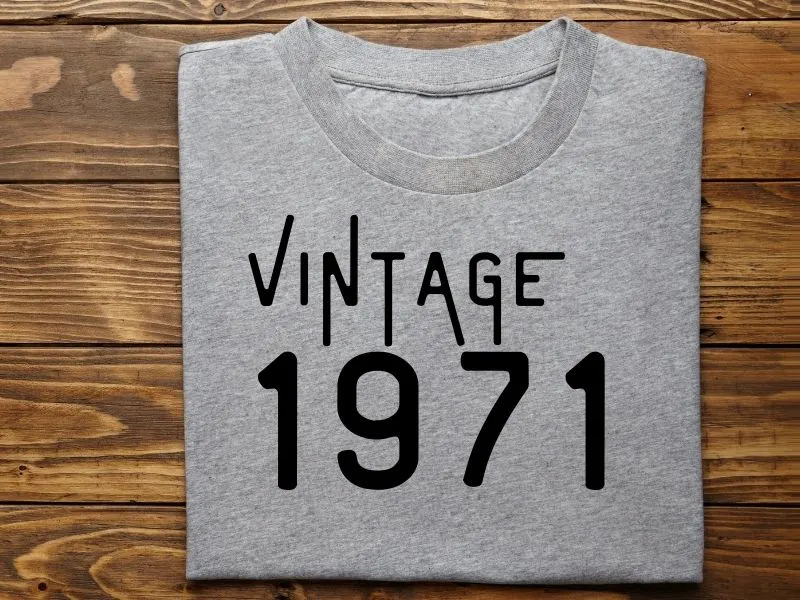 What makes t-shirts such a cool choice? There are a lot of benefits. Let's take a look:
They can be customized and made very unique
It's a practical gift that everyone can use
They can be made to size to fit anyone of any age and size
They bring a fun and creative touch to the even
They can bring spotlighted attention to the birthday person
It can be a great gift for anyone attending your party, or for the guest of honor. I have compiled some of my favorite ideas for unique 50th birthday t shirts that I think you will enjoy.
50th Birthday T-Shirts for Women
If you're looking for 50th birthday t-shirts for women, there are some great options available. I've taken some time to gather some of my personal favorites, but you definitely don't have to stop there. Look for shirts that already have the 50th birthday theme on them or shirts in a color and design that the guest of honor loves.
Vintage-style "50 years of being awesome" shirt
This vintage-style t-shirt is fun and fashionable.
50 and fabulous diamond crown t-shirt
This one makes a perfect gift for the beautiful girl turning 50 and fabulous!
Hello 50 birthday shirt
Here's a simple but stylish "hello 50" t-shirt for her.
A customized 50th birthday t-shirt is a limited edition item that your guests will never be able to get anywhere else. You can create custom 50th birthday shirts for your event and then you can be sure that no one else will ever have this same design.
50th Birthday T-Shirts for Men
Now we can't forget the men in your life either. If you want 50th birthday t-shirts for men, I also have some options for you to consider. From serious to funny and everything in between, there are custom shirts and premade shirts that you can consider.
Star Wars 50th birthday troopers stormtrooper shirt
A perfect idea for the 50-year-old Star Wars fan, this shirt featuring birthday Stormtroopers is sure to be a hit.
I don't get older; I level up t-shirt
Here's a great shirt for the gamer fan having a birthday.
Retro vintage 50th birthday shirt
Here's a man's version of the retro, vintage shirt I found for women above.
Built 50 years ago t-shirt
Here's a fun shirt with a cute saying that he's sure to love.
T-shirts like this make the perfect gift idea for the birthday guest of honor and also to be given away to people who attend the birthday celebrations. You can wear these at a 50th birthday party and you can even get them in custom 50th birthday designs. Custom shirts are a great idea because you can make them work for your needs, whatever they may be.
50th Birthday T-Shirts for Kids
The same idea of birthday t-shirts can work very well for kids, too. If there will be children at the party, you can make custom shirts for them with ideas like:
It's my mom's 50th birthday!
It's my dad's 50th birthday!
The birthday boy is my uncle
The birthday girl is my aunt
I went to ___'s 50th birthday party and all I got was this t-shirt
You can also design kids' t-shirts that just say, "happy birthday", or they could say the name of the birthday person on them, too. Special occasions are a wonderful way to get all of the family together, young and old so that they can bond and form great memories together.
Unique 50th Birthday T-Shirts They'll Love
Funny 50th Birthday Tee Shirt I Women or Men
Retro Vintage 1967 50th Birthday Tee Shirt
The great part about t-shirts is that they can be made for everyone. You can get them printed with the design or logo you want in any size from infants to adults. It's something that crosses ages, personal styles, financial class, and even cultures and language barriers. Basically, anyone can appreciate a great t-shirt. Let's look at some ways these can be used for the 50th birthday celebrations.
For the Guests: T-shirts can be made for each guest as a party favor.
You could think of it as a commemorative shirt like the ones rock concerts might offer. Brainstorm to come up with a unique image for the shirt, really have fun with the ideas and concepts.
Or you can make up jokes about the birthday person with each shirt having a different joke. These can also make great birthday presents themselves.
Not sure what to put on your fiftieth birthday shirt? You can get the birthday team together and brainstorm for a memorable idea! This is a simple and fun idea that will give them something they can remember the day by.
Make the tee-shirt memorable
When you really want your t-shirt gift to blow them away, make it memorable. In fact, the more memorable, the better. You can go with something quirky and fun, humorous and funny, serious and sweet, or anything in between. It's all about finding the best shirt design for the occasion and the birthday guest of honor.
And when they wear their shirt outside after the event, people will likely ask them about it, giving them the chance to share the experience with others. Here are some ideas for making your shirt design memorable:
Use an inside joke or quote from the guest of honor
What is something the birthday guest of honor always says?
Put their face or name on it – or both!
Can you draw or design an image just for this event?
When we think of memorable t-shirts, funny shirts are also a common theme.
Funny 50th birthday t-shirt
Humorous or funny t-shirts make a big impact and funny sayings stick in people's minds. Many of the shirts you find for a 50th birthday try to use humor as a way to play on the idea of aging and keep it lighthearted.
For these birthday t-shirts you can use sayings like:
Look what I got at Bob's 50th!
I'm with an old duck (arrow pointing to picture of the birthday person)
Look who's 50! (Use a picture of the birthday person)
Hungover from a great 50th birthday celebration for Bob!
Some other options for using t-shirts as party favors are to create a t-shirt with a great group photo from the party and give them out after the fact. These make a great reminder of a memorable event.
Here are some examples of funny t-shirts:
I'm not old, I'm classic
Like a classic car, getting older can be a good thing.
Party animal cat t-shirt
This cat is a real party animal, just like the birthday guest of honor.
Don't forget my discount funny shirt
Sure to make the birthday person have a laugh, but don't forget their discount!
50th t-shirts for the guest of honor
You can also get a special t-shirt just for the guest of honor. Let's take a look at what that might look like.
For the Birthday Person: A custom t-shirt is a great way to label the special person, for both the party and just in the general public. You can make them wear a t-shirt all around town.
This makes for a big giant label telling the world they have turned fifty. It's certain to turn heads and be a great conversation starter!
Great sayings to use on these t-shirts
HEY! I'm 50 years old today!
Over the Hill, but glad I'm not under it!
Holy Crap! I'm really 50?!? I demand a recount!
18262 days old
Kiss Me, I'm 50
Fabulous at 50
Half a Century Young
I'm 50 and I feel great! Want to feel?
50 years of awesomeness
Made with original parts (mostly)
There are many, MANY, more sayings you can use for the 50-year-old. These t-shirts are a lot of fun, and the birthday person will feel special with all the attention they get from the shirt.
50th t-shirts for the guests
You can also use t-shirts for the party guests. Everyone can have a cool shirt to commemorate the event. Shirts made of cotton material are the most popular because they are easy to find and comfortable to wear. Short sleeve shirts are more common than long sleeve shirts, but both are an option.
For the Party Guests (during the party): Create t-shirts for each person to wear during the party. Here are some ideas to use:
Each guest's name
Name and relation to the birthday person
Funny picture of that person and their name
Picture of that person with the guest of honor.
These 50th birthday t-shirts help make introductions and icebreakers a lot of fun. It kind of lends to the introductions without formally naming all the guests. You can be as creative as you want with how you implement this.
Here are some examples that can be personalized:
This is a simple black tee that you can add your chosen text to. It has options of a variety of fonts as well so you can fully customize it however you want.
Here's another customizable t-shirt that also has different colors nad you can choose your text and an image to go on the front of it.
Here's another simple t-shirt with a round color that you can add your design on. You can use a logo, text, or photo.
This t-shirt is a great choice if you want to use a family photo or a photo of the guest of honor for the t-shirts.
This shirt is hilarious and would be so fun to have the guest of honor's face all over it. You could get one just for them, or you could get several and everyone could wear them and surprise the birthday guest of honor.
Here's a great shirt for the father or grandfather in your life.
Here's another great one for grandpas that you can get personalized with names as well.
When you shop online, it's very convenient and easier than ever before to get whatever shirts you choose shipped right to you. In fact, you can even get free shipping a lot of the time, and you don't have to wait for a long time to get your t-shirts.
Whether you choose from popular designs or custom ones of your own, there's something for everyone. Keep in mind that you can also get sweatshirts or tank tops, too. It doesn't have to be a t-shirt, although I have found those are the most common choice.
50th Birthday T-Shirts – Conclusions
If you've been thinking about using t-shirts to help celebrate a special milestone 50th birthday for someone special in your life, I hope that these tips and ideas have helped you. You can use any of the ideas or links that I left here on your own t-shirts and if they don't work for you, I hope they help inspire some ideas you do love.
A funny birthday t-shirt may be just what the occasion calls for. After the event, there are even many great things your guests can do with the t-shirt. Obviously, they can continue to wear it and enjoy it. However, there are also crafty ideas for commemorating it.
You can turn an old t-shirt into wall art by folding it, so the design is showcased and then putting it into a frame behind glass. You can then hang it on the wall. If you're crafty, you can also turn it into a throw pillow and display it in the home. And some people just like to collect t-shirts in different designs from different places they've been or events they've been a part of.
Whatever they decide to do with them afterward, I've given you some great ideas for a gift for your 50th birthday bash.
Do you have any other unique saying or ideas for 50th Birthday T-Shirts?