Are you looking for the best birthday gifts for 1 year old boy? This list of gift ideas is perfect for toddlers and little kids who are curious and ready to play! You're going to love the unique gift options that are certain to bring hours upon hours of joy and happiness to the child you're gifting it to. Giving gifts to kids is seriously the best.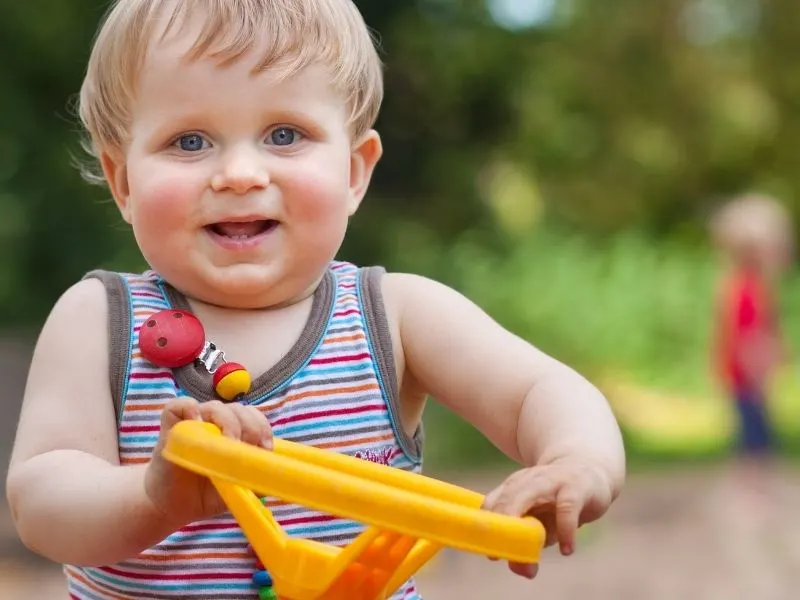 Best Birthday Gifts For 1 Year Old Boy
The great part about giving presents to toddlers is that you get to gift and then watch the look of joy on their faces. (and you also don't have to stick around and listen to it if it's a noise-making toy!)
You could easily spend hours upon hours thinking of birthday gifts or holiday presents that you want to give but when it really comes down to it, the kids aren't all that picky about the toys that they're getting. They're really not.
Spend a short amount of time gathering a few ideas and then jump into the shopping with both feet. The more that you see gift options, the more that you'll be certain of what you want to gift, and what you don't want to gift and go from there.
Fun present ideas for one-year-old boys
Don't forget that gifts can also be educational as well. Once you stop and think about all the options, it's pretty overwhelming, to say the least!
This is why we've gathered up some of the best present options for toddlers and babies that are certain to bring a smile to their adorable little faces.
If your little one's birthday is in the summer, this splash pad will be a lot of fun, not just for your one-year-old, but for older siblings as well.
Noise Making Gifts for Toddler Boys
These toys are loud and meant to be heard. (and again, these are the kind of gifts that you can give, listen to for a short amount of time, and leave to not have to worry about again!)
Baby Einstein Toddler Jams Musical Toy
This toddler toy is perfect because it's going to instill a love of music in them. They can easily carry around this musical toy as well to all the rooms as they travel.
Great for toddlers and safe for them to pick up and set down and play with. It also has lights that are super fun and has over 30 different melodies and tunes as well.

Honk on the Road Book
Yes, books make great gifts! (at least they were in my house back in the day growing up!) This book is all about the vehicles on the road and when the toddler presses the buttons, they make the sounds of that vehicle as well!
This is a great gift to encourage reading and curiosity! The pages are also easy for small hands to turn and there's really no way that they'll be able to tear out any pages of the book, either.

Funny Birthday Gifts for Toddler-Aged Boys
Does the toddler that you're gifting have a great sense of humor? Check out some of these funny birthday presents that they're certain to love!
I Need A New Butt Book
Get ready for the giggles to start! This is what happens when the little boy in the story finds out that his bottom has a crack in it and he doesn't think it's good anymore!
Belly laughs will be happening non stop with each turned page. This is one birthday gift that they're going to read over and over again.
Light up Beanie Hat
What do you give to the child who already has anything? A lighted beanie hat, of course! What makes this birthday gift such a great idea is that it's totally unique and fun. Where in the world have you ever seen anything like this? You haven't and that's what makes it great.
Plus, if they live in a colder part of the world, it serves a good purpose, too.

Cuddly Gift Ideas for Boys Under the Age of 2
Even boys like to snuggle down and get all warm and cozy with a cute stuffed animal or two. These cuddly ideas are not only cute but they're great for a snuggle fest as well.
Giant Fluffy Sloth
I know that there's a little girl holding onto the sloth in this picture but trust me, boys will love this as well. Sloths are one of those pokey little animals that just bring a smile to your face.
This stuffed animal present is giant and just might be about the size of them! They'll love to snuggle up and hold it and carry it all over the house.
Stuffed Shark with Sea Animals
This shark might look tough but he's stuffed and cuddly. Even though his mouth will fit in all these cute little sea animals, it's up to the birthday boy to use his imagination that way or not.
Giving this as a gift is like giving multiple gifts because of how many stuffed animals there are that come with it!
More Fun Birthday Gift Ideas for Toddler Boys
As you can tell, there are so many fun presents that you can give to a little boy. Just keep in mind that you want the presents to be age-appropriate and to not have any small parts. This is because you don't want to be giving them a choking hazard on their birthday!
As long as you read the reviews and take a good look at the gift options, you shouldn't have to worry about any of these other worries that I've brought up.
Last but not least, you can show up to their birthday celebration and bring your own entertainment as well. This simple pump and balloon animal fun is an amazing way to celebrate and spend the day.
If you were to bring this to their party and make balloon animals for the afternoon, that just might be one of the best birthday presents that they're never going to forget! Just brush up on your skills before arriving as it's harder than it looks!
There you have it! These are some super fun and simple gift ideas for boys under the age of two! Have fun celebrating their birthday. It's such a special day of the year.
Do you have any other birthday gift ideas for a 1-year-old boy?