Check out these best birthday gifts for 1 year old girl! This great list of gift ideas is perfect for toddlers and early learners who love to play with toys. Each baby girl gift idea listed below is unique and full of fun. The good news is that they all make great gifts for birthdays, holidays, and more!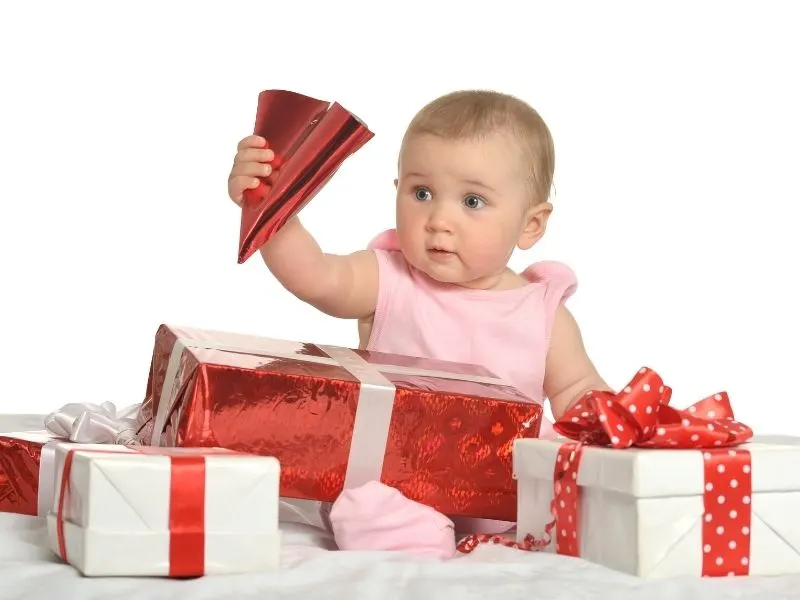 Best Birthday Gifts for 1 Year Old Girl
Finding the perfect gift for toddlers is always a lot of fun. This is because they're young and excited and looking for all the new toys to add to their toy room and imagination time during the day. This makes gift-giving fun for you, too!
The best part about having this list of great gifts for girls is that they give you a great starting point so that you can get a list of great options to buy.
Keep in mind that buying toys for kids is a process that is going to be fun for you too because you'll start thinking about all the fun toys that you played with as a kid!
Related: Best Birthday Gifts for 1 Year Old Boy
Unique present ideas for one-year-old girls
Toys have changed a lot over the years and there seems to literally be a toy an idea for just about everything that anyone could love. Some toys are educational, some are silly, and some are all about getting up and being active.
If you know of a girl who loves to get up and move, this dance mat for kids can be a great way to help them be active while having some dancing fun, too!
Sensory gifts for toddler girls
When kids are young and learning, sensory gifts help them explore with all their senses and play as well. Some of these gift ideas are really fun to touch!
Egg Sensory Toy
This fun egg sensory toy will be simple to grasp and also work their brains as they try and figure out how to crack open the eggs and piece them all back together as well.
Busy board school bus
Being busy is what being a kid is all about and this adorable busy board will help them work on 12 basic activities that will keep their hands and minds active.
Silly birthday gifts for 1 year old girls
There are so many reasons to give funny gifts to kids! Their smiles and laughter are contagious and that's one of the best gifts that they can give back to you.
A silly book of goodbyes
This is a fun gift that you can read with your child. Pages upon pages of funny ways to say goodbye with lift-the-flap book images to explore as well.
Mrs. Potato Head silly suitcase
This is one classic toy that just never gets old! Since Mrs. Potato head loves her fashion and style, let your toddler have a blast dressing her up every single day. There are so many fun and funky looks that she can easily have.
This toy is also great for working on hand-eye coordination and fine motor skills, too.
Snuggly gift ideas for girls under 2
All kids love to snuggle and this just means that you need to help foster that need and love by giving them some of these fun and cuddly gift ideas!
Burrow bunny
This just might be the cutest, and softest bunny ever. Toddlers love to snuggle and carry around their stuffed animals so making the choice to give this adorable bunny as a gift means that you're giving them their new best friend!
Snuggly pea pod baby
Talk about adorable! Any toddler is going to love being able to care for their own little baby and take her in and out of her snuggly pea pod as well.
More Fun Birthday Gift Ideas for Toddler Girls
This list is just a small portion of gift ideas for toddlers that you can get. The biggest thing to remember when you're buying a gift for a young child is to make certain that anything you're purchasing is age-appropriate for them.
This is important to remember because you don't want any small parts causing issues or potential choking hazards.
As with any type of gift, doing your research is going to help you figure out what best route to take. There are plenty of parents who leave great reviews about toys online so take your time in reading through them to make an educated decision.
Another easy way to find great gift ideas is to talk to other moms or parents as well. Just by asking their toy recommendations, they might have some really great gift ideas that you can easily look up and see if they're potentially a fit!
Gift ideas that are fun to do with your toddler
Last but not least, give a fun gift that you can do with your toddler! This is a great way to bond and spend some true quality time together, too.
Toddler scavenger hunt at home
Talk about an awesome gift idea! Not only are the activities on a ring clip so that they can't get lost but they're also a fun way to have indoor fun while having everyone be able to join!
Get up off the couch and help your toddler locate the items on the card. This is one gift that they're going to want to use over and over again. Plus, this leaves the possibilities of adding to the game endless as well just by talking about different things in the home to try and find.
As you can see, there are some great gift ideas for toddler girls. All you have to do is think outside the box and see what you can find. Any of these gifts would make their birthday or holiday celebration special and remind them of you every time they play with it or use it.
Great gifts are truly the gift that keeps on giving! Find the perfect gift and then watch their eyes light up with joy!
Do you have any other birthday gift ideas for a 1-year-old girl?