1st birthdays come around so much quicker than you think they will. But your baby's first birthday is right around the corner and you want to celebrate, so you need some 1st birthday invitation ideas.
You've spent one whole year devoting your life to your precious munchkin and the anniversary of that special day when you first got to lay your eyes on them has now arrived.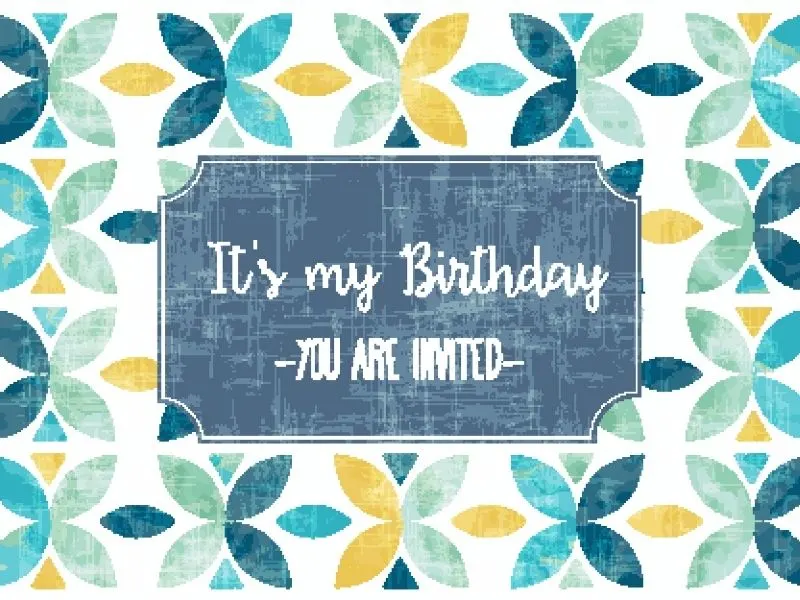 Since then you've spent endless nights bouncing them up and down trying to get them to go back down whilst they scream with no mercy, heard their first baby giggles, and lost count of how many times you've stared at them thinking how you created that creature.
Your baby turning one is a momentous occasion and one that should be remembered, so throwing a birthday party should help joyously commemorate this milestone.
To mark this special occasion, you'll want to make sure you celebrate with all your favorite people around you and your soon-to-be one-year-old.
However, before that, you need to make an invite to send out so everyone knows when and where the party will be.
We've put together some helpful insights to create some creative and fun invites for your child's 1st birthday party.
What do you write on a 1st birthday invitation?
If you're making your 1st birthday invite by hand, you could include a sweet or thoughtful quote about childhood or babies at the top or anywhere on the invite, to make it more personal to you and your family.
As with any birthday invitation, you'll want to let the invitee know what they will be celebrating, so for you, it will be your child's first birthday.
You'll also want to write where the birthday will be held and maybe include an address and some instructions to get there if the place is not local to your friends and family.
Another key element to include is the date and the time of the birthday celebration. Always make sure to write both the day and the date as some people do get confused and end up turning up on a wrong day.
As for the time, write down what time you'd be happy for people to start arriving from. If you've got to set up, cook, or decorate beforehand, you don't want people turning up early – that's unless you want extra pairs of hands to help you out.
If you plan on having a themed birthday celebration, then let your invitees know on the written invite so they can also join in on the theme – there's nothing worse than turning up to a themed birthday party in regular clothing.
If you'd like your guests to RSVP to your invite so you can get an estimate of how many people are coming, maybe for food or seating purposes, then you should state so on the invite.
You'll also want to include some contact information like a phone number or an email address where they can respond to the invite.
It is commonplace for people not to RSVP to invites other than in-person nowadays, so if you want to be sure of numbers, clarify the importance of their response on the invite.
Notice of whether food and refreshments will be provided. This is always appreciated by guests as they know whether to eat before the celebration or also bring food along with them for themselves or their children.
There's nothing wrong with adding a 'Hope to see you there!'' to finish off your invite.
So to summarise, the key things you'll want to include on your written birthday invitation are:
What you're celebrating
Where the celebration will be held (address, travel instructions)
Date & time of the birthday celebration
Themes/Fancy dress
RSVP & contact information
Notice of the provision of food or drinks (not essential)
Finisher sentences like 'Hope to see you there!'
Blues Clues 1st Birthday Party Birthday Invitations Bundle for 16 Guests
25 Jungle Safari Zoo, Elephant Animals Themed Kids Party Invitation
Dinosaur First Birthday Party Invitations
How do you make a simple birthday invitation?
If you want to get creative, you could choose to make your birthday invitation using paper or colored card stock, this is cost-effective and also a more personal way to invite people to your child's first birthday.
Invitations don't need to be huge and if you are going to be inviting a lot of people it's best to use smaller pieces of paper. You can use felt tip pens, glitter, stickers, and so much more to create a colorful and fun design on your invitation. It doesn't need to be super fancy, especially if the invites are focused on children.
If you are going to add colorful creations to your invite, it may be best to write down all the information needed on the invite before making a start on the design, this way you can ensure that there is enough room for all the information and for it to be understandable.
A cute idea for 1st birthday invites would be to use paint footprints or handprints of your one-year-old for the background design and then write the invite information on top.
There are so many designs for birthday invitations on websites like Pinterest, so we're sure you'll be able to find some inspiration for some creative yet simple designs that will suit any budget.
If you're not into arts and crafts, then you could take an easier route and make your own online using websites like Canva or software like Photoshop.
You could completely make it from scratch to your own taste, or use set templates provided by the site and alter the information, imagery, and colors to suit your occasion. This is a way to achieve a more professional-looking invitation without having to spend loads of money.
Or, if you'd rather spend a bit of money than hours of crafting, buy a pack of invitations from Amazon.
How do you wish a baby "happy birthday"?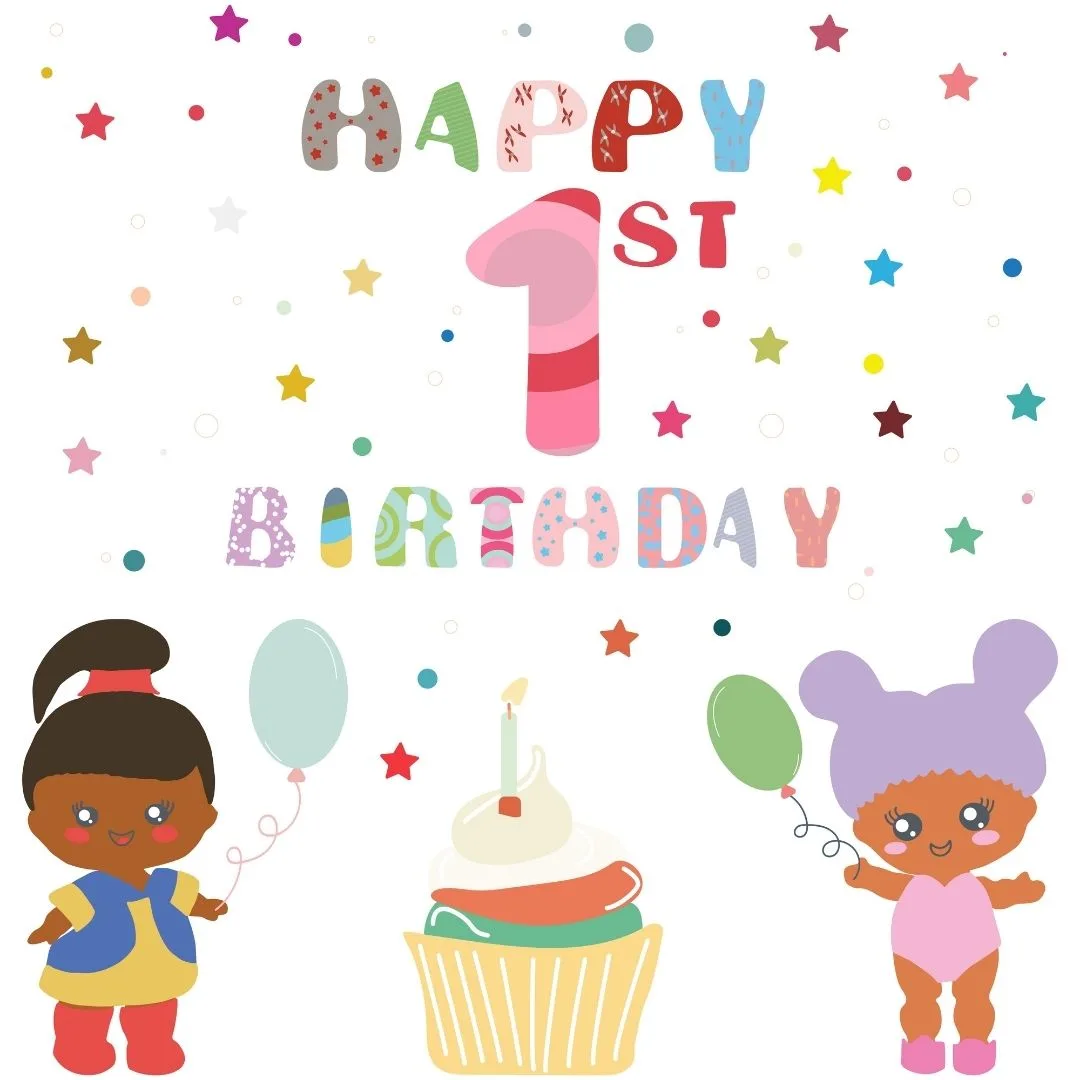 The most common way to wish a one-year-old baby a "happy birthday" is by giving gifts or presents. Babies are too young to appreciate the art of gift-giving so it's often the parents who will be on the receiving end of these gifts.
In many cases, parents will keep cards or letters that the baby has received on their first birthday so that they can read them when they are older.
So even though it may seem strange right now to be writing such thoughtful words to a baby that cannot read them, bear in mind that they could be kept for future purposes.
Many guests and friends of the child will write about how much they care about them, how they've loved seeing them grow so quickly or even an anecdote from a time they've spent together.
However, if you're not a close friend or family of the child, then a simple 'Happy Birthday' message is more than sufficient.
You could always ask the parents of the baby, how they would like people to wish their child a happy 1st birthday. Some parents may ask for nothing whatsoever with the presence of their friends and family being a big enough gift alone.
However this does not satisfy a lot of gift-givers, so many will give checks or cash to the parents which can be deposited into a bank account for the child's future or also spend on toys or clothes for the baby.
One of the most popular presents for one-year-olds to receive would probably be cuddly toys or educational toys.
These are often appreciated by parents as children are always growing out of things quickly and constant buying of toys or games can add up.
How do you make a first birthday invitation video?
If you want to make an invitation video for your guests, you'll need an electronic device like a mobile, tablet, or computer.
You can choose to make your own on software like iMovie, Windows Movie Maker, or any free editing software you may find online. However, if you're not too familiar with this sort of tech then you'll want to take an easier route.
One of the simplest ways to create a first birthday invitation video would be to use a website or software that already provides templates for these sorts of things.
Apps and sites like Animaker.com or Inviter.com are simple yet effective ways to make a lovely birthday invitation video easily from your phone.
You'll be able to customize the colors, add effects, add your writing, and even include any photos or videos of your own. Make sure to include all the relevant information that you normally would on a regular birthday invitation on the video.
Some software will allow you to add some royalty-free music or some songs of your choice to the video to make it fun.
Once you're happy with your video, you can download it to your device and post it on your social media feed or send it to your invitees via email or private messages.
How do I make a birthday invitation on Whatsapp?
If you want to take the simple route, you could simply add all your guests to a Whatsapp group chat and then post either a typed-out invitation including all the relevant information, a video invite, or a pre-made digital copy of the invitation.
This gives everyone a chance to RSVP within the Whatsapp chat to make it easier for both you and them.
Alternatively, you could do this in individual Whatsapp conversations to save everyone being added to one group chat.