Congratulations! Your baby has reached an important milestone: a whole 365 days in the world! The best way to mark the occasion is to throw a party that everyone can enjoy: both adults and babies. If you're stumped for what to do, you'll love these 1st birthday party theme ideas.
If anything, a 1st birthday party is perhaps a little more for you than it is for your little one. This is because your tiny guest of honor is a bit too young to fully appreciate your party-throwing efforts.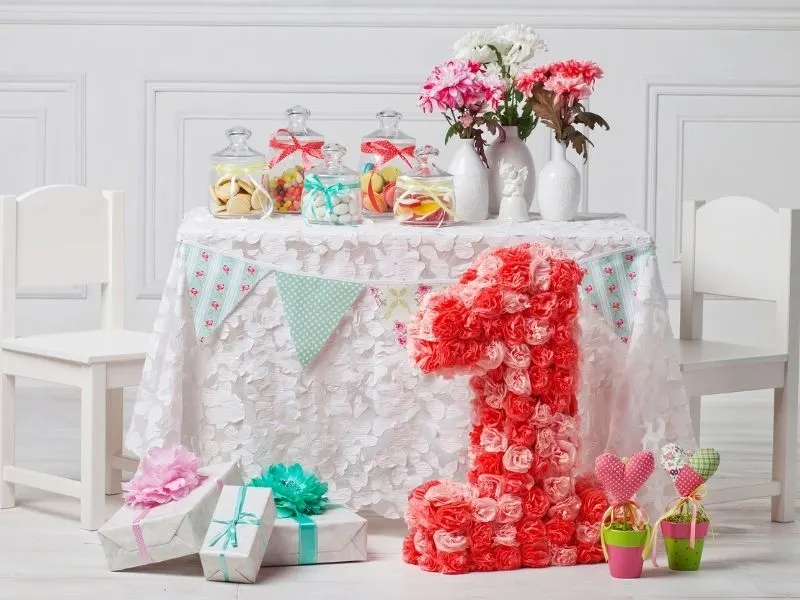 So, aim to include party details like décor and cake that are baby-friendly, but keep your grown-up guests in mind as well when you plan the celebration.
And remember that most babies won't be able to handle the birthday celebrations for too long, so keep the party short. A couple of hours is plenty of time to celebrate and have fun without risking a baby burn-out.
Need ideas for 1st party invitations?
So sit back, relax and read on to discover our 1st birthday party ideas for a unique and memorable day.
What is a good theme for a 1st birthday party?
When choosing a theme for a 1st birthday party, you may feel overwhelmed by the sheer amount of options out there. However, it's important to remember that this is only your baby's first birthday.
So, they're a little too young to make much sense of it all, and they're unlikely to remember any of it. Regardless, creating a fun-filled birthday for your mini-me is still important.
The internet is full of crazy and quirky 1st birthday party theme ideas. However, we're not sure that all of them are entirely suitable for babies of this age.
Lots of the suggestions we've found online include specific movie-based themes, such as Harry Potter. While this may be a great theme idea for children who are a few years older, it's not entirely suitable for a one-year-old.
Instead, try choosing a theme that will stimulate a baby. The best 1st birthday party themes are the ones that involve lots of bright colors and sensory details.
It's best to opt for a more general theme for a 1st birthday party, as the baby won't recognize more complicated themes.
Here are some 1st birthday party theme ideas that your little one will actually be able to relate to:
Rainbow theme
The simplicity of this theme is what makes it perfect for a 1st birthday party. While the supplies and decorations should be very easy to get a hold of as rainbow decorations are widely available, the children will love it, too.
Rainbows will be a familiar sight to any 1 year old, and the bright colors will be eye-catching and stimulating.
A rainbow-themed 1st birthday party may involve balloons, streamers, or big sheets of colored paper to create a rainbow-hued backdrop.
A rainbow-themed birthday party also makes for great photographs that you can treasure forever. You could purchase plates, utensils, and cups in three or four primary colors.
Opt for a cake with frosting in rainbow colors, or press on colorful candy in rows on a basic vanilla frosted cake. For an easy game, adults can help babies and children find items in the house that are red, orange, yellow, green, and so on.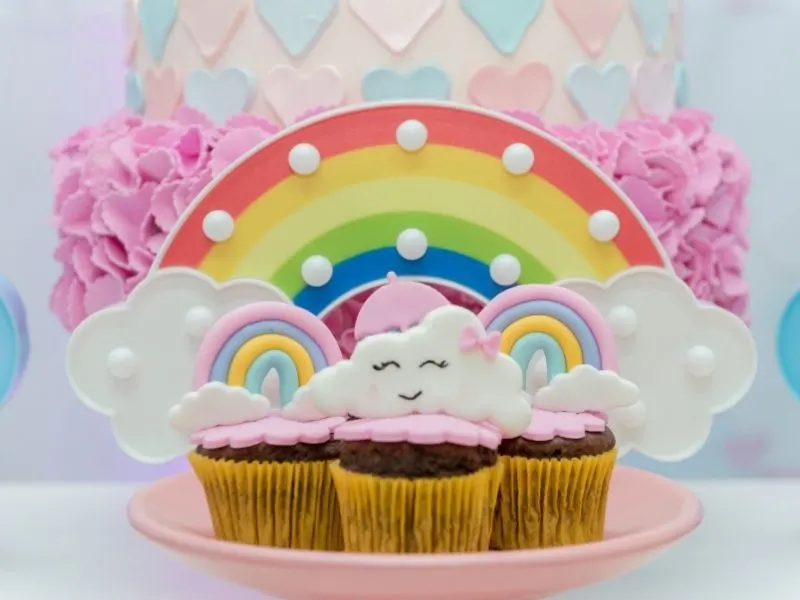 Outer space theme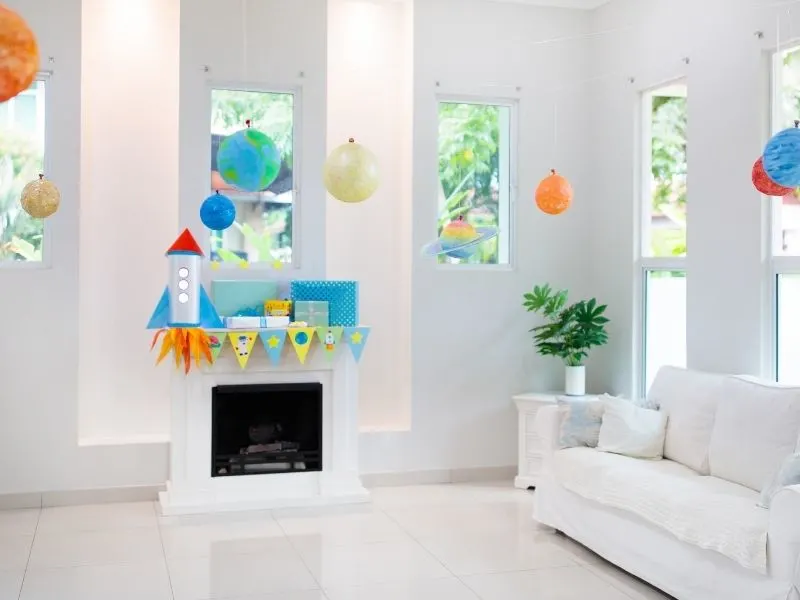 Space-themed first birthday parties are out of this world! Most one-year-olds are familiar with celestial themes such as planets, the moon, and stars.
You could hang some DIY planets from the ceiling, these can be made from balloons or styrofoam.
You could fill your buffet table with cute star-shaped cookies (check out this star cookie cutter set) or sandwiches in galaxy-themed shapes.
You could even curate a space-themed playlist for your party, including bangers such as Elton John's "Rocket Man" and "Drops of Jupiter" by Train.
Zoo theme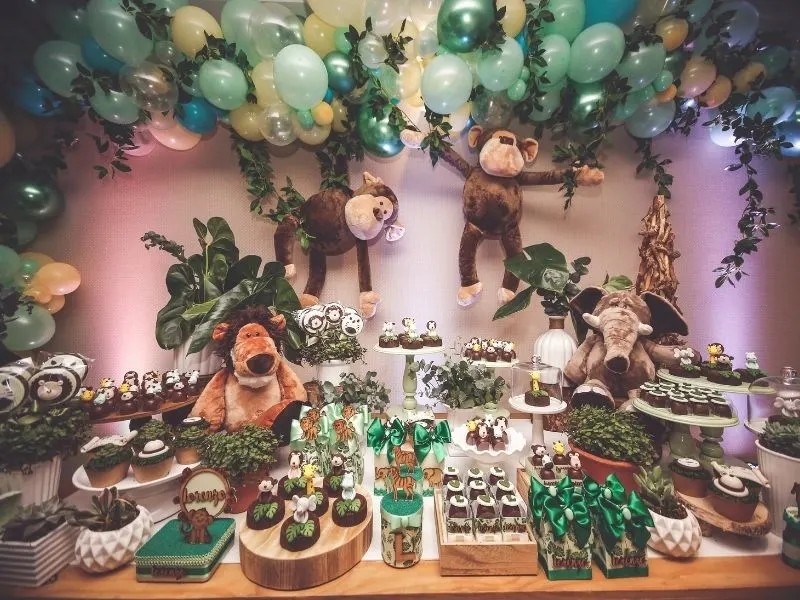 Babies love animals, so a zoo-themed 1st birthday party will always go down well.
Consider decorating your space with animal-shaped balloons and maybe ask the guests to come dressed as their favorite animal.
Alternatively, you could set the table with animal-themed paper dinnerware and place an animal-themed mask at everyone's seat- these are very affordable, especially the foam type.
Games such as pin the tail on the donkey, or any other animal for that matter, are great options for a zoo themed birthday parties.
Summer first birthday party themes?
Strawberry theme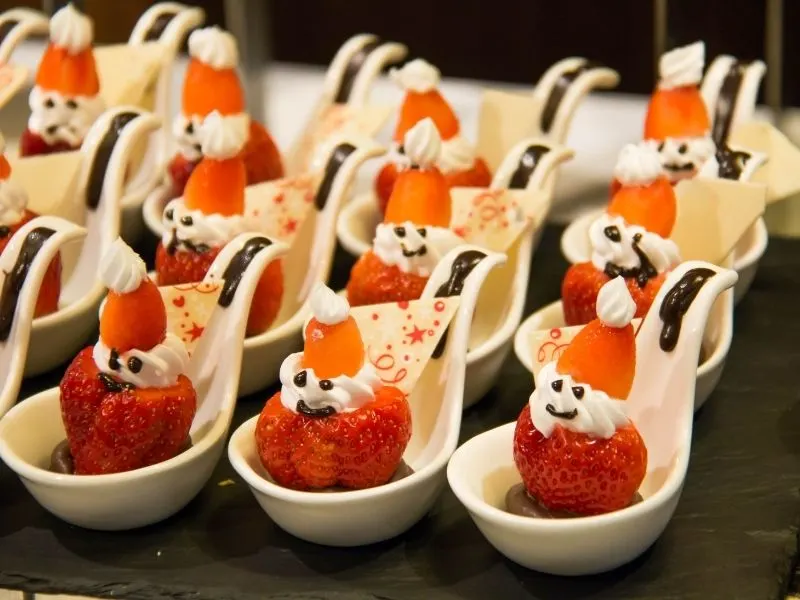 Strawberries are a summer fruit, making them perfect for a summer 1st birthday party!
You can decorate the buffet table with a traditional red and white gingham tablecloth.
In the center of the table, be sure to include a strawberry-flavored birthday cake! Decorate the area with clusters of pink, red, and green balloons.
Teddy bear's picnic theme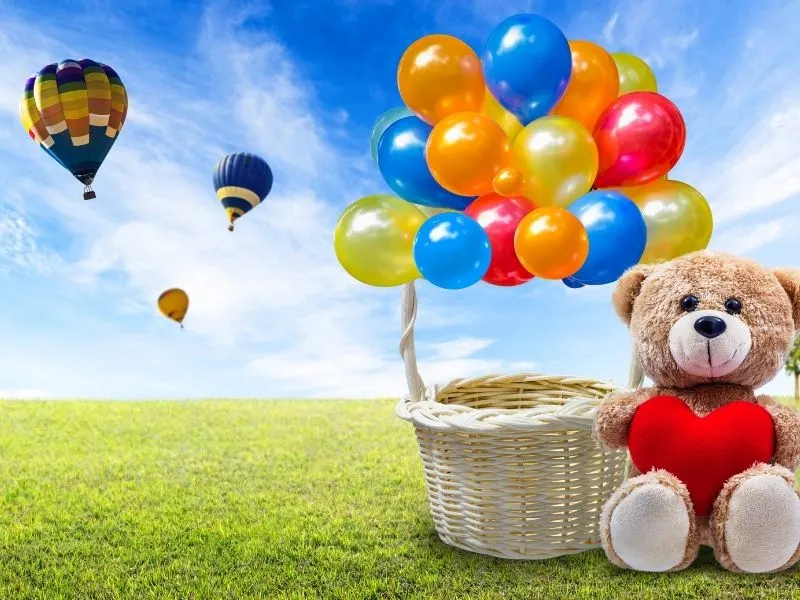 This theme is great for babies that are turning 1, as they may actually be able to comprehend what's going on.
Instead of a usual indoor setup, consider taking the party outside to your yard and have everyone sit on a picnic blanket with their favorite stuffed animal to enjoy their food.
Consider a sing-song session for extra fun.
Tutti frutti theme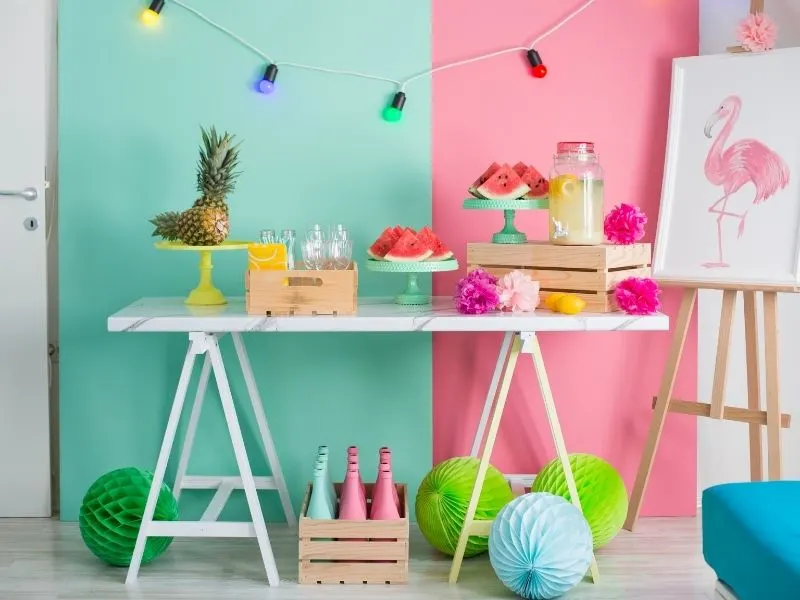 Just like the strawberry theme, a tutti frutti theme screams summertime.
If the weather is pleasant, take the party outdoors and celebrate in your backyard instead.
Serve a variety of yummy chopped fruit skewers and fruit juices.
Tutti frutti themed 1st birthday parties should be bursting with color, so try to incorporate this into your decor.
Spring-themed first birthday parties
Butterfly theme
Butterflies ooze springtime charm, making them ideal for a 1st birthday party theme. If you have a little girl, you could keep the theme understated and pastel with a few hanging butterflies from the ceiling.
Alternatively, you could ditch the pink and frills and incorporate the popular children's storybook "The Very Hungry Caterpillar", this makes the theme appear more gender-neutral.
Floral theme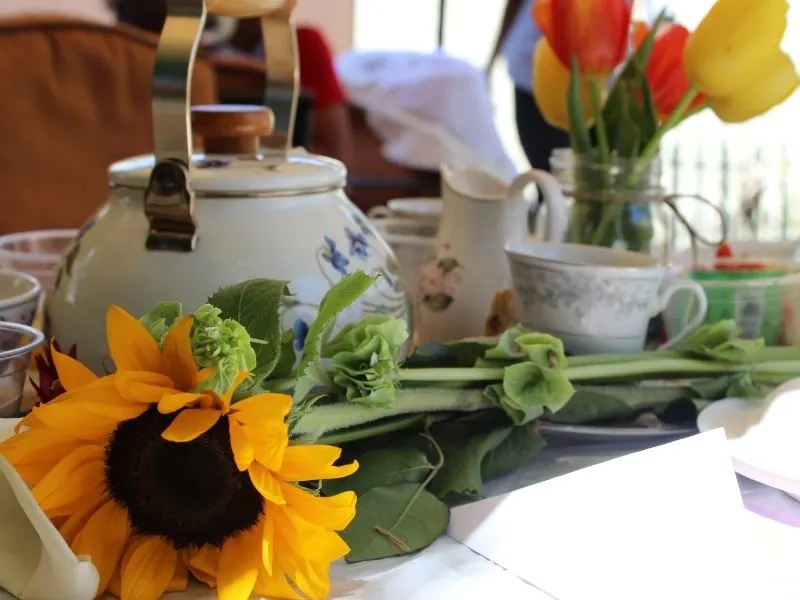 While this theme is rather girly, it's probably one of the classiest. If done correctly, an understated floral-themed first birthday party can look spectacular.
You could even focus on one flower, in particular, consider which flowers your baby is usually drawn to. Sunflowers are a great gender-neutral option and allow you to use bright and happy yellows and oranges.
I hope you found something fun to do to celebrate your little ones' 1st birthday.