Are you looking for some great sweet 16 birthday party ideas for girls? These fun ideas for a special birthday party are an easy way to have a fun and festive experiment for her to always remember! With the 16th birthday being quite the big deal, you're not going to want to miss out on any of these awesome birthday party ideas!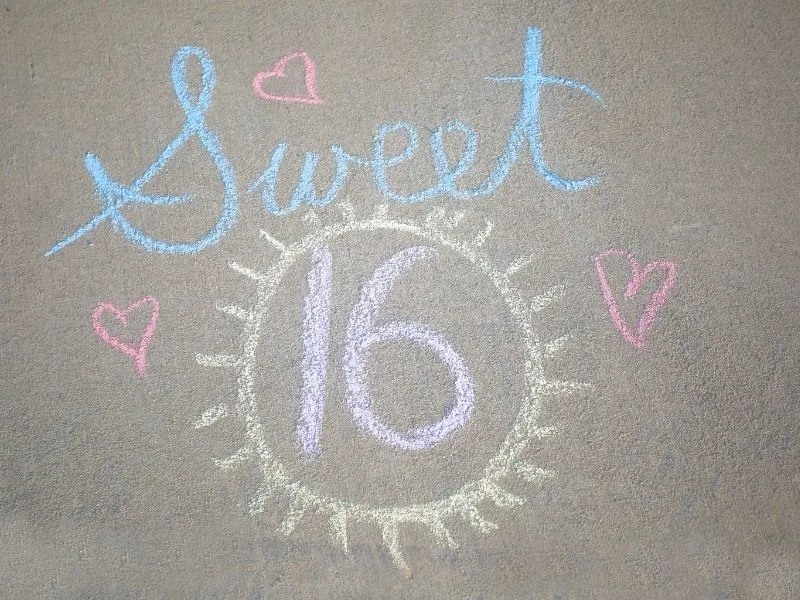 Sweet 16 Birthday Party Ideas For Girls
Birthday parties are a big deal. It seems like every year, the wants and needs for parties tend to grow and grow. This being said, birthday party ideas for a sweet 16 birthday are quite the event. Not only is this a time when they might be getting ready to get their driver's license but it's also a point in their life where they're starting to feel a bit of independence as well.
You'll find some great ideas for a birthday party here that may work for your party planning OR be a great way to branch off and create an even more unique birthday celebration as well.
"Pretty in Pink" Birthday Party Theme
Not only is this one of the best movies to watch, but who doesn't love the color pink? This is a fun and feminine birthday party theme that will treat them like the princess that they are.
Some fun birthday party decorations to add to this party theme include:
Happy birthday pink and white decorations
This pack of fun decorations is adorable! The white, pink, and gold make for a beautiful decor birthday package and really does work for making the room pop with fun!
16th birthday tiara and sash
Every girl wants their own princess tiara to wear. This is the perfect birthday tiara and birthday sash for her to wear all day long. She can literally let the world know that it's her birthday with these adorable wardrobe additions.
"Pedal to the Medal" Birthday Theme
More than likely this is the birthday that she's been looking forward to for many years. Putting the pedal to the medal means that she's looking forward to getting out and driving on her own! While you might not be gifting her a car for her 16th birthday, there's a good chance that you can pull of a super fun car-themed party!
Yard signs for the new driver in the house
Who says that the birthday party fun has to be for indoor use only? These fun birthday yard signs are a great way to let everyone in the neighborhood know that you have a birthday girl in the house!
The great part about using yard signs is that it's a fast and easy way to decorate. It's also a great way to really surprise her, too! She won't even know the yard signs are out there until she takes a peek out the window or walks out the door to explore.
The big gift
Are you thinking about gifting her a car for her 16th birthday? If you are, you need a big birthday bow! What better way to shock her than by having a beautiful car sitting out in the driveway with a giant bow right on top? Just be ready – the screams of joy are going to be LOUD!
Fashion & Style Birthday Party Fun
If she's into style and fashion, roll with that theme. You can easily let her create her own fashion area in your home for all your family and friends to join in on the fun as well.
When it comes to style trends, you can really help her have a fun birthday party or celebrations that she'll never forget!
Diva birthday party
The main thing to keep in mind about a diva birthday party is that you need lots of makeup, clothes, and more! These fashion balloons are a great way to let everyone know the theme fast!
Look how cute these fashion plates and napkins are! These would be a great addition to a fashion-themed party for her!
Now that we've talked about some great birthday party ideas to celebrate her sweet 16, let's go over a few more birthday party tips that are important to remember as well.
Simple Tips for Throwing a Birthday Party
It's important to remember that while birthday parties might have different themes, there are certain ground rules that do apply to planning and throwing birthday parties that will work with any type of party.
Follow these easy tips to make certain that your birthday party planning goes off without a hitch:
Sent out birthday party invitations easily
If you're going to invite guests, let them know at least 3-4 weeks in advance. You can mail an invitation, send a virtual invite, or even create a Facebook event and sent out the invites that way as well.
With the world that we live in now being virtually dependant, it's no longer considered to be taboo to send invites online.
Also, make certain to ask people to RSVP. This is a big deal in being able to help you plan and figure out how much food or drink you're going to need.
Keep it simple
Maybe one of the biggest tips to remember is that birthday parties should be fun. This applies to you, even if you're the one doing all the work and planning it.
If you're starting to feel overly stressed with your birthday party planning, take a step back and remember that everything is just fine.
Include the birthday girl in the process
You may REALLY want to surprise them but sometimes, it's just better to include them in the process. They'll have some great tips and ideas on what they're hoping for with their birthday party and that is going to make the entire party planning process that much easier for you.
Now that you have some great ideas for sweet 16 birthday party ideas for girls, it's time to make the planning happen! Get ready to throw one of the best parties ever to highlight such an important year in her life!
What other fun sweet 16 birthday party ideas for girls would you add to this list?