Here is a list of party themes to help you brainstorm your party plans. If you see a link in the title, that means that subject has its own separate page, so be sure to click through to get detailed information on that theme.
Hopefully this list of ideas will spark your imagination and help you design an amazing 50th birthday party for your soon to be 50 year old loved one or friend.
80s Party Themes
People turning 50 these days enjoyed their teens in the late 70's and early 80's, so themes like this one can be very nostalgic and perfectly fun for a 50th birthday party. Think of 80's music, big hair, and early music videos.
College Party Themes
College themes are really easy. Find out the Alma Mater of the birthday person and make the colors match the team logos for their college. Visit the team store and make a list of things that might fit for decorations. Organize this nostalgic event like a Frat party with a keg and the college's sport of excellence.
---
Image By Robertito1965 (his own work) [Public domain] via Wikimedia Commons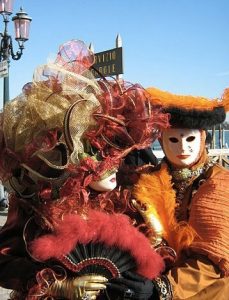 Italian Party Themes
Italian themes might bring to mind rolling countryside with vineyards, think Tuscany. Italian wines and Italian food, but make it authentic.
The venue could be your favorite Italian restaurant's party room, if yours has an Italian decor.
Another really wonderful idea for an Italian theme would be a costume party on a scale of the Venice Carnivals.
This is my favorite out of this entire list of party themes. An event like this would be the ultimate high-end party of all parties!
Imagine masquerading as someone completely different!
Elaborate and exquisitely detailed costumes and beautifully designed masks mean that pulling this off would require careful planning and lots of enthusiastic friends willing to go all in with your theme. Keep this in mind as you build your guest list.
To help you plan such an event, you could consider hiring a trained theater costume expert, or order directly from a costume shop in Venice.
If you need help finding such a person, contact me and I can give you suggestions for finding the right person.
For lots more info see the Venice Carnival party theme page and the Carnival supplies page for lots more great pictures.
---
French or Paris Party Themes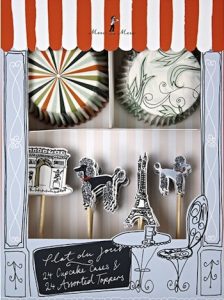 For French themes, decorate with images of France or Paris, such as the Eiffel Tower, sidewalk cafes.
Plan your celebration in a Bistro or a Jazz bar.
Go here for supplies shown.
For more ideas see the Paris Party Theme page, and when you're ready to start your shopping list, visit the decorations for French Themes page.
Cocktail Party Themes
Decorate according to the favorite cocktail of the birthday person.
Is their favorite a Pina Colada? If so, pineapples and coconut.
Coconut cake, perhaps.
Go all out with the umbrellas and garnishes.
You may also want to plan for a few other exotic cocktail recipes besides the signature drink, or a punch bowl with the alternate drink being a great punch recipe.
Food could be finger foods or light hors d'oeuvres.
Ask the ladies to wear their best little black dresses.
Make a list of drinks, a list of appetizers, and of course a list of guests, then choose what goes together.
---
Tea Party Themes
This theme is perfect for a girlfriends 50th birthday party in the afternoon.
Tea cakes or a pastel colored cake and delicate china teacups.
If you don't have fancy china, visit thrift shops to find mismatched cups and saucers so each person has their own china pattern.
Don't forget to find a beautiful teapot and a favorite flavor of tea or an assortment. Use delicate place mats and real cloth napkins. The ladies on your guest list will feel really special.
Mardi Gras Party Themes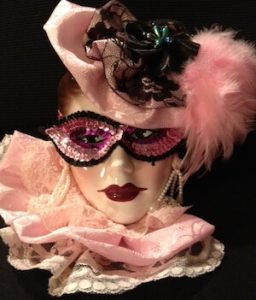 New Orleans Style: Music, bright colors, beads, and masks would be the foundations of this theme.
Add in a few touches from the French, and choose a venue with a balcony and you have it down.
For Mardi Gras favors, go here.
Shopping list: beads, masks, face paint, music, colorful decorations, and loads of yummy food. See the carnival theme and carnival supplies pages for more ideas for this theme.
Carnival Themes
Carnival could be Mardi Gras style or it could be the traveling circus-style carnival.
Either way, bright colors are required. For the latter type, hire a few performers and setup a few carnival games. Keep your guest list in mind to make sure it will fit. (Later we'll provide a list of vendors for doing this one well.)
If you could time the celebration for when the carnival is in town, you could have everyone meet at the carnival and carouse together on the spot, then follow up at someone's home or a local bar for the after-party.
Three types of carnivals and ideas you should see are on the carnival theme page.
---
Summer Party Themes
Plan a barbecue poolside for a summer themed birthday celebration. Have everyone bring beach towels and swimsuits.
Designate a grill master and a bartender/pool boy, or hire people for these tasks.
Go here for a custom apron for the grill master.
The ideal time for this party is Saturday afternoon and into the evening.
Hang strings of lights or lanterns in case the celebrating lasts into the night. Find them here.
---
Nautical Party Themes
Sailboats or pirates could be the focus of this theme's decor. Pictures of ships and boats, ropes, and the high seas.
You could even rent a houseboat for a floating celebration, and stay up all night or crash in place.
Beach Party Themes
Beach party themes would include volleyball and Frisbees, beach umbrellas, colorful beach towels, and sand and sea shells.
If you don't have a beach available, make do at a swimming pool.
Check into renting a public pool, hotel pool, or ask a friend who has a pool.
You could also do beach themes without actual water and just base the birthday decorations on the activities and colors of the beach.
Have you started your guest list yet?
Water Party Themes
If neither of the above things floats your boat, how about a pontoon birthday party on a lake?
Rent a party-sized boat and deck it out with gorgeous lighted decorations if it will be evening.
Include swimming and water toys like jet skis, floats, and maybe even water skiing if you or someone you know has the right boat for it.
If you're not sea-worthy enough to handle a boat, rent a lake house and plan a cookout beside the dock.
---
A Few More Ideas for the List of Party Themes
Here is another short list of party themes to give more ideas and spark your creativity:
River Boat restaurant venue
Camping out together by the campfire
Woodstock-style with late 60's music – get tie-dye party supplies here.
Psychedelic party with light show and psychedelic colors and music
Flower power/flower children – another variation on the hippie themes
70's themes/sock it to me/Goldie/disco
Vegas or Casino party – poker tables, roulette wheel, dice games
---