If you're thinking about a Carnival themed birthday party for your birthday celebration plans, there are several ways you could go with it. You could think about a traveling carnival with games and rides for a casual outdoor event, a Mississippi/Gulf Coast style Mardi Gras Carnival, or even a more formal and elaborate Venetian Carnevale masquerade party.
The Carnival of Venice is an annual festival held in Venice, Italy and it's famous around the world for its elaborate masks. The carnival ends on Shrove Tuesday, which is the day before the start of Lent on Ash Wednesday.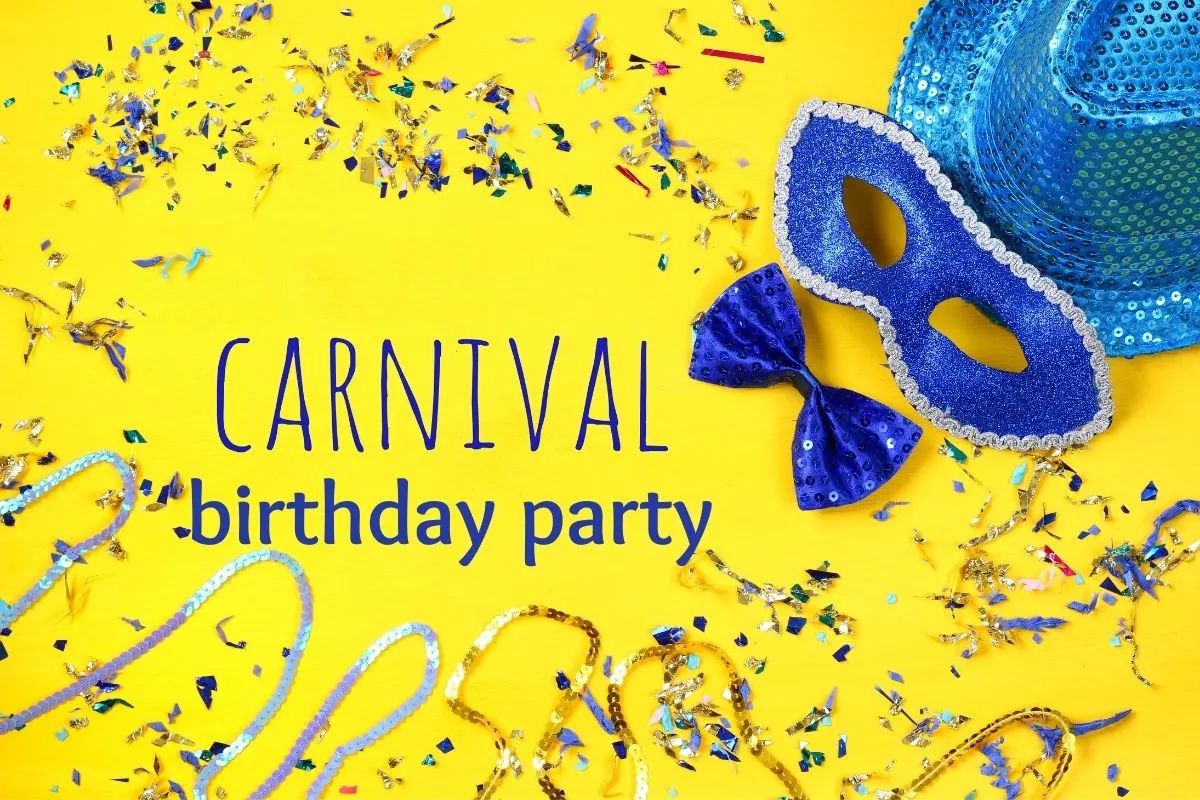 The last two options could be extra fun because they involve everyone wearing costumes! You can search online and find pictures from past years' Carnival of Venice and see how other people dressed up and what kinds of costumes and masks they wear. You could then use this as inspiration for your own party. How exciting that would be for a really fun party theme!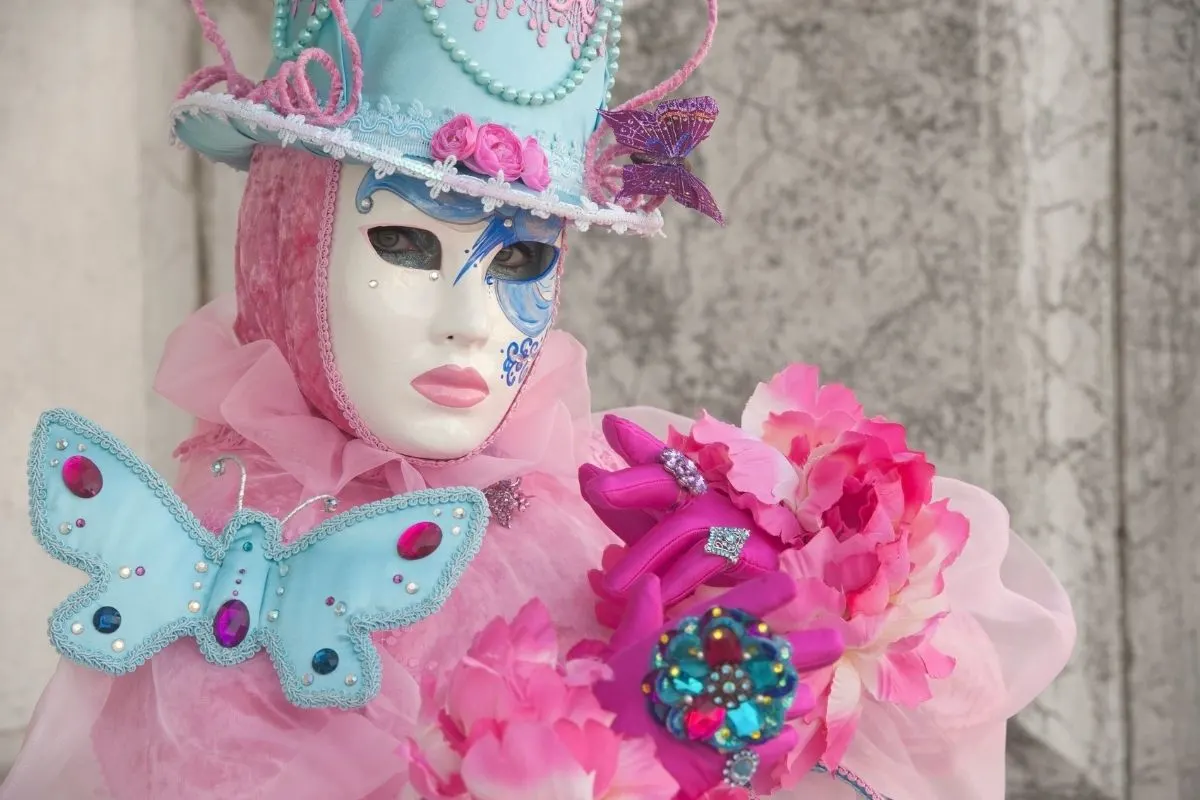 Carnivals date back to Roman times and are closely tied to Christian traditions, especially Catholic celebrations preceding Lent. Wikipedia has interesting articles on the topic if you're interested in the history of these traditions.
You could have carnival games for guests to enjoy, a photo booth so everyone is sure to get photos of their amazing costumes to remember for years to come, and you can add a dessert table full of carnival-inspired foods and ice cream.
Your carnival party might have cotton candy or other snacks found at a carnival, as well as a birthday cake. All of these ideas work well for a themed birthday party. Your first step will be to decide on the theme.
A Traveling Carnival Theme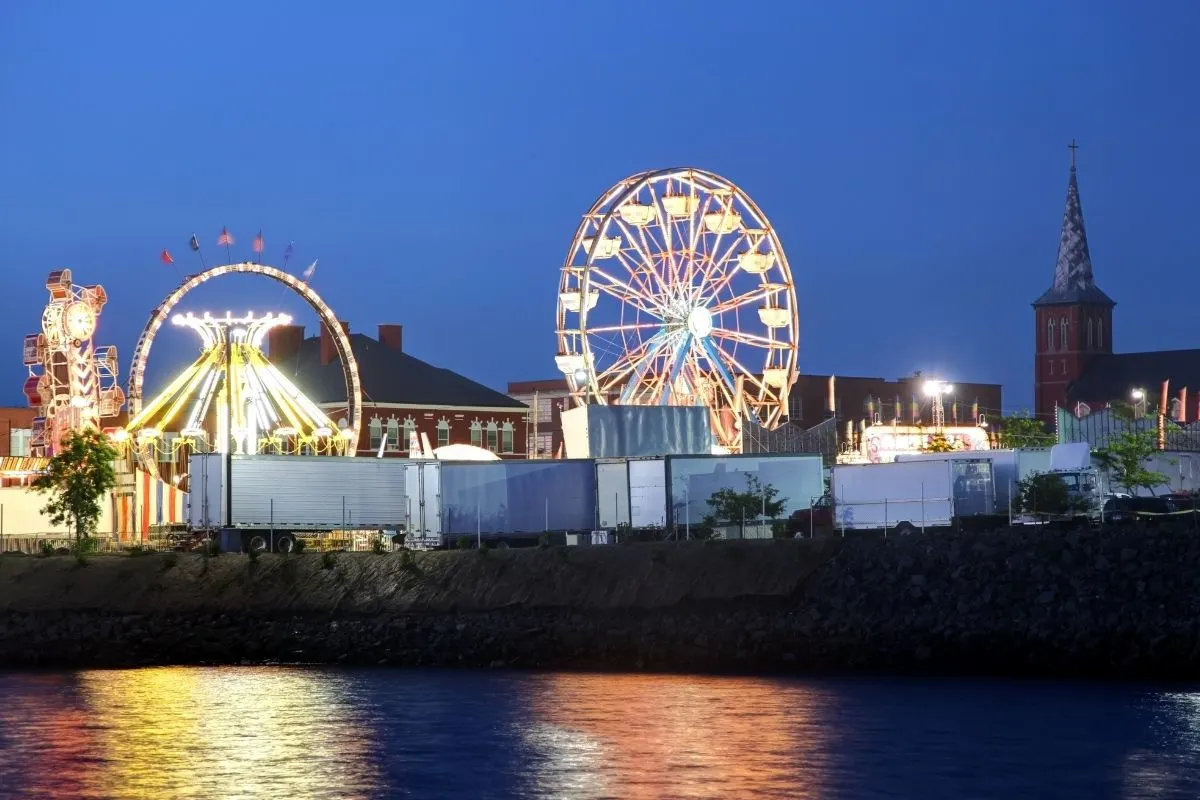 Your carnival party idea begins with deciding what type of carnival you want to honor in your birthday event. A traveling carnival theme party would have many similarities with county fair-type amusements.
Sideshows and freak shows used to draw crowds, along with cotton candy, hot dogs, funnel cakes, a Ferris wheel or tilt-a-whirl, and games like knocking down bottles with a baseball, a ring toss, and maybe a bell-ringing hammer challenge. If this brings back all the fun memories of going to the carnival as a kid, then this may be the right theme choice for you. It will be a lot like a circus theme.
If your guests enjoy outdoor activities, you might even want to arrange a bounce house or water slide. There are also a lot of fun games you can organize like ring toss, bean bags, and a water gun fight. It doesn't have to be a kid's birthday party for you to enjoy these fun games. Kids of all ages can get into it, and their parents as well.
If this is the theme you choose, it will be important to think about your venue and how many guests you plan to invite. It's important to ensure you have enough space. For this type of event, you'll need a piece of ground either in your backyard or a rented space.
Visit a few carnival equipment rental websites and decide what types of amusements would work best for your particular group of guests. Some have their prices posted for the equipment rental, but the transportation fees would depend on how far away you are. You'll save money by choosing vendors in your region due to delivery costs. Sometimes you can also save more based on the time of year you are hosting your party, as these types of events can be seasonal.
Of course, while you're looking, you'll have to keep your budget in mind. In fact, starting with your budget is advised so that you can be sure you remain within the budget while shopping around and planning. It's easy for a big, elaborate party like this to start to rack up the costs. And if your budget is large, you may not be as concerned. But if your budget is smaller, you want to be sure you can fit everything in before you run out of money.
When it comes to party decorations and party supplies for a carnival themed party, many people go with bright colors, white stripes, a big top tent that makes you think of the carnival or county fair, face painting stands, a prize table, a prize board, game stations, and much more.
Get more info about decorations, costumes, and equipment on the carnival supplies page.
Carnival theme party supplies
If you're looking for carnival theme party supplies, here are some fun ideas to consider. You can purchase them right off Amazon and have them shipped straight to your door, making it easier than ever before to get everything you need. From party favors to wall decor, it's important to set the stage for the main events with the best supplies. You can also search for carnival party supplies to get great goodies for this party.
Carnival Treat Boxes Great for Party Favors
These would make great treat boxes or goodie boxes for your guests to take home.
Carnival Circus Party Decorations
This is an awesome fun pack that has everything you need for your carnival party.
Welcome To The Carnival Banner
Let everyone know where the party is with this large banner!
Don't forget your clown noses!
Red Foam Clown Noses for Costume Parties
Carnival-themed party foods
Of course, you can't forget the delicious food, either. Some foods and treats can be worked into the party games, like bobbing for candy apples. Others are fun treats include:
hot dog bar/ hot dogs
carnival cupcakes
swirl lollipops
funnel cakes
funnel cake cupcakes
paper straws
sno-cones
apple pie
mini corndogs
spiced kettle corn
popcorn
fried pickles
Mexican grilled corn
deep-fried cheesecake bites
fried ice cream
caramel apples or candy apple
soft pretzels
French fries
other fried foods and finger foods
Let's look at another theme that plays on the carnival idea but in a different way.
Mardi Gras New Orleans Style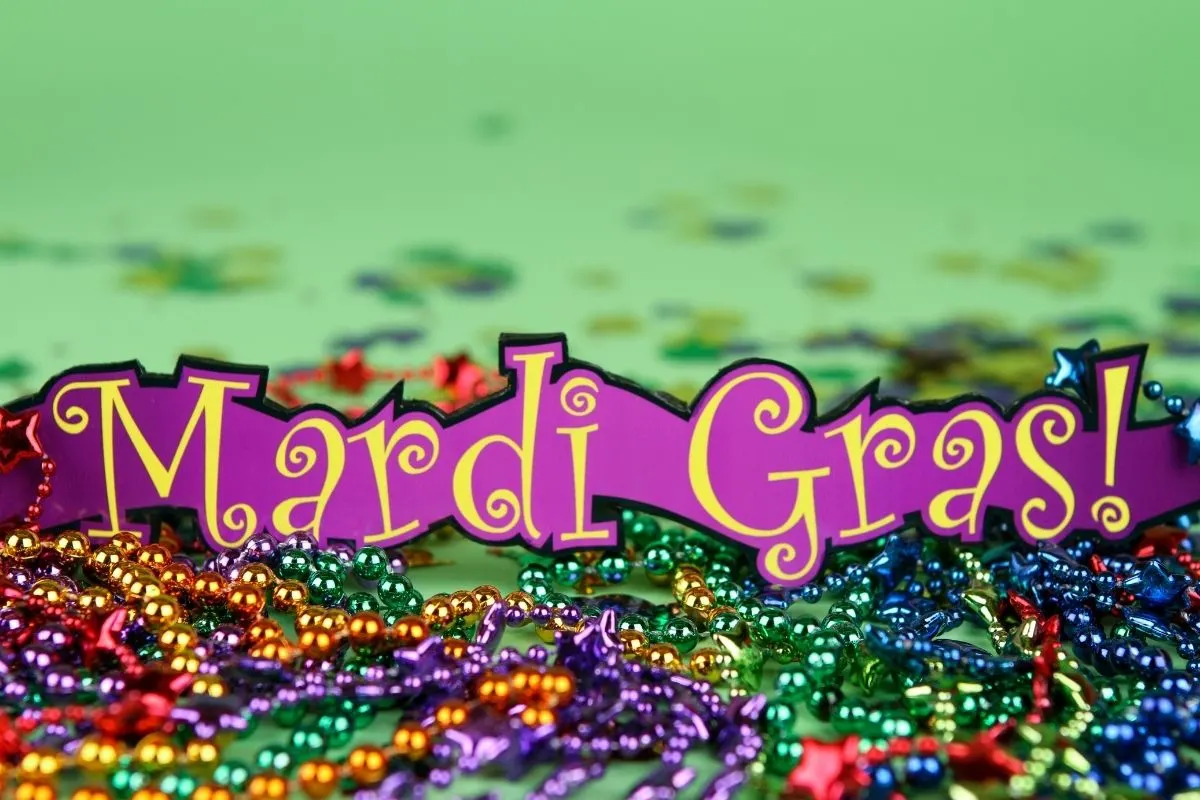 Along the Mississippi and Louisiana Gulf coast, the Mardi Gras festival occurs in various towns on various dates during the festival season preceding Lent. This is another theme you can use for an outdoor party or carnival-themed party.
There are elaborate parades and floats, and carefree celebrations up until Fat Tuesday when Mardi Gras is observed with gusto in New Orleans. To recreate a Mardi Gras party theme ala New Orleans and Fat Tuesday, you would need colorful beads, trinkets, masks, perhaps costumes, but for certain you need all sorts of indulgences. What are some ways to take this big and elaborate theme and bring it down to a party level?
Instead of building a parade float, why not use a large pinata as your centerpiece?
The colors for this theme should be purple, green, and gold. You can add other secondary colors if you want, but these are the main colors associated with Mardi Gras. When it comes to birthday ideas, this one will definitely be a crowd-pleaser.
The throwing of beads and trinkets, and King Cake, are traditions that are specific to this region, so make sure you include these in your party for this theme! You can get beads in the colors above and include them in party favor bags for your guests, leave them on tables, and literally put them everywhere. When it comes to Mardi Gras, you can never have too many beads.
King cake is a pastry similar to cinnamon or sweet rolls and is always served at Mardi Gras festivities in the Gulf Coast region of the U.S.
There are also other traditions related to this event. It sometimes contains or covers a trinket representing the baby Jesus, and the person who finds the baby has special privileges or responsibilities, such as hosting next year's party. If you're going to throw a Mardi Gras themed party, it's important that you learn all that you can about these traditions so you can be respectful to the culture and also so that you can be accurate with the themes and ideas you borrow.
A Venetian Carnival Theme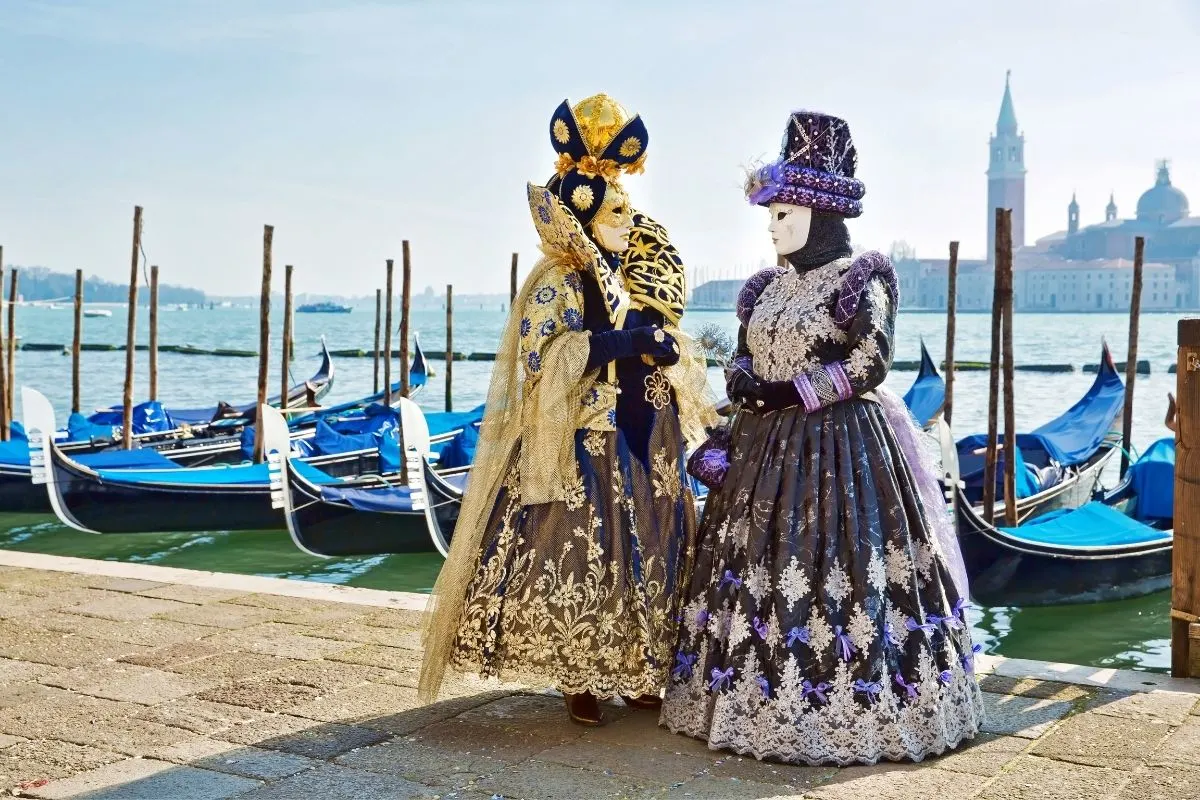 For a more formal carnival theme party, a Carnival of Venice theme would make an amazing birthday celebration. We talked a bit about this at the beginning of the post, but it makes for a great costume party. When you want to encourage your guests to dress up and have a fun time, this could be the perfect party theme for you.
This masquerade party theme revolves around exquisite costumes and beautiful masks, but to capture the true spirit of Carnevale you and your guests must assume and act the part of the costume you choose. So if you choose to be a jester or buffoon, you need to practice clowning around. You don't want anyone to recognize you, so really stretch to be a different person.
Some other ideas for a masquerade party include
black tie party
Great Gatsby theme party
holiday party
Are there any other party ideas you can think of that we did not include here?
Carnival Themed Birthday Party – Conclusion
As you can see, there are many ways to plan the best carnival birthday party. From the carnival games to circus foods, great entertainment, fun music to dance to, and everything else your party deserves, this is sure to be a celebration you and your guests will not soon forget. The only rule is to remember to have fun! A carnival is all about making memories and finding your inner child again. From carnival party games to plush toys and brightly-colored decorations, you can guarantee your party is a slam dunk.
And the end of the party, be sure to thank all of your guests for coming and sharing the fun with you. Which ideas from this list do you like the most?