These creative party theme ideas will help you plan an unbelievably cool celebration for an adult birthday whether they're turning 50 or "29." If you want to wow your birthday person with something unique or create unforgettable memories, get ready for some inventive inspiration and read on!
Put The Birthday Person Front and Center
Deciding on a creative party theme idea can help you develop and plan a wonderful party, one that you'll remember for a lifetime. However, you sacrifice "wow factor" when you don't make it special to your loved one. So how do find something that will resonate and impact your birthday boy or girl? My answer to this is my usual solution: brainstorm.
Finding the perfect party theme idea is similar to finding a perfect gift — and it comes with the same difficulties. If you focus too closely on one quality or aspect of the person, you could have a hard time finding something that works. That's why brainstorming works. Do a brainstorm by jotting down a list not only to refresh your knowledge of the person, but to open up the mental gates so ideas will flow.
What do they like?
What do they dislike?
What subjects are they passionate about?
What are their hobbies?
What are some of their proudest achievements?
What do they consider important or deeply memorable?
What are some of the most unusual things your person has done?
What are their avid interests?
What would you like to honor them for?
The answers to these questions can be found by reminiscing old memories you have together, going through your (or their) photo albums, visiting their social media pages or asking their family and friends. Next time you visit their home, you should also pay close attention to what they've hung on their walls or placed about on display. Whatever you come up with, jot it down on your list.
Once you identify a few you special characteristics, you will begin to know where to look. At this point, we can begin to explore ideas.
Creative Party Theme Ideas
Now that you've done a little thinking and have lots of information to hand about the guest of honor's personality and qualities, let's take a look at some specific creative party theme ideas.
I've tried to group these ideas into categories, although many of them span several categories, so you might want to browse the entire list just in case.
Okay, let's go!
Simple and Creative Party Theme Ideas
If you want to do something new and different for your birthday person and need to stay close to home, here are some creative party theme ideas for you:
An Outdoor Movie Party – Don't just have a typical backyard BBQ party! Head outside at dusk and turn your BBQ into an outdoor movie party! To do this, you'll need a laptop computer that will project onto a screen. Select a movie from your favorite movie provider, then create a menu your guest of honor will love, supply your guests with drinks and seat them in comfortable chairs. When the movie starts, enjoy the show!
Dinner Tour Party – Do you own a passenger van or a large SUV? If not, rent one! Then gather your little group together and head out for an about-town tour of drinking and noshing. (With a designated driver, of course.) Stop one place for drinks, another spot for dinner. After a walk or a show, sit down for coffee and dessert at the best pie place you've got. You'll have a glorious evening with lots to talk about!
Go to the Library – Is your birthday person an intellectual and do you want to make them feel special by catering to their keen mental abilities? Then, why not book a date at your local library? Many library calendars are booked solid with interesting lectures and events. Find something your friend is interested in, book the date and make it a day all about them.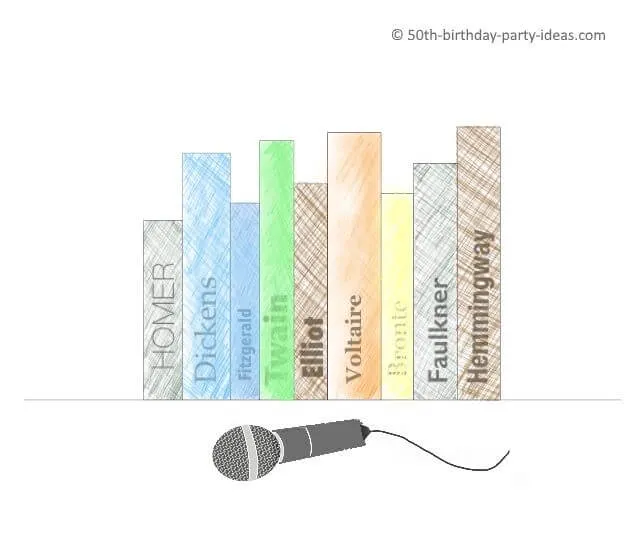 Visit a Used Bookstore – If your loved one enjoys reading, take them to an old used bookstore and see what treasures you two can find. Take your time browsing the shelves and pick up a few old books to go. Then stop for coffee and peruse your treasures together.
Get Trivial – If the birthday person loves trivia, invite a group of friends to trivia night at your neighborhood pub. Or you can play at home. Most pubs offer drinks and prizes for the winners but at home, you can create our own and really be creative.
Go to a Group Movie – If your gang has the same taste in movies, go together to the movie theater and take up a row of seats. Afterward, go out for drinks and finger foods and discuss the movie together. Toast your birthday person after giving them the chair at the head of the table.
Have a Hiking Party – If your birthday person is active, create a hiking party by heading to the park. Have a picnic before or after, but get out in nature and take a long stroll. Don't forget the camera so you can take advantage of photo opportunities along the park path.
Fondue Party – Here's something you don't hear about often! Pull out the fondue pot, grab the floor pillows and gather around the coffee table. Put on some music and enjoy the fun fondue has to offer. It will create an evening of dining and conversation!
Pizza Grilling Party or Gourmet Outdoor Cooking Party – Need I say more? Get out the pizza stone and make pizzas on the grill! Or gather up some fine gourmet recipes and make them all outside. This is the perfect creative party theme idea for a beautiful day.
Attend a Block Party or Local Music Festival – Most towns have block parties during the summer as well as music festivals. Take advantage of these events and turn one into a birthday party for your friend or spouse.
Amusement Park Party – If you live near Six Flags, Disney World or Universal studios, this idea is very realistic. Just meet at the gate and have a great time. Any amusement park will work, as long as it's something you guy or gal will enjoy!
Have a Crafting Party – Does your birthday person like to make things? Gather the group together and do it as a party. You could even hire a teacher to present a project and coach you all through it.
Bring a Pet – If he or she is an animal lover, make it a pet-focused party. Have all the guests bring their own Fido or Fluffy. This creative party theme idea might be best held outside. 😉
Cruising Party Themes
Another fun and creative party theme idea is to plan a birthday cruise. Here are some variations:
Cruise Trip – The price of cruises have really come down. Find an affordable cruise to a destination that matches your interests and budget. Book in advance and have a good time! Your party can meet for dinner, in the bar for drinks, or at the pool. You might be able to reserve a special space for an evening to have your own private shindig.
Dinner Cruise – Depending upon where you live, you can sign up for dinner boat cruises complete with ride, drinks, food and entertainment. You can find these boats on rivers, in lakes and along the coast. Book a dinner cruise with your friends and eat, drink and dance while floating or sailing at sunset.
Car Cruise Caravan – Create a caravan of cars and travel together to a destination. For example, reserve a fleet of convertibles (in advance, of course) and head up the coast. Stay over at a predesignated spot and sight-see together or individually. Meet for dinner and toast the birthday person.
Rent a Boat – How about renting a pontoon or speed boat and spending the day on the water?If you live near water, you can do this where ever you are, and don't have to travel to do it. Again, be aware of regulations and be safe. Find a place for picnicking and pull over for a land-based meal or pack prepared food and dine on board. Folks who live in resort areas may be able to dock and dine.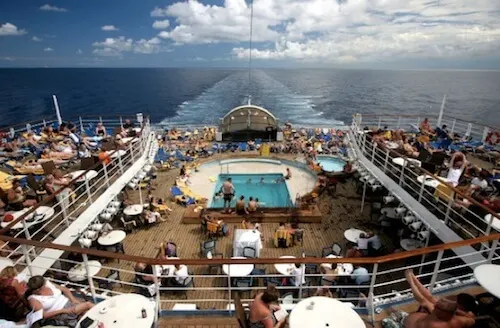 Cruises are one of the Creative Party Theme Ideas
Aquatic Party Theme Ideas
You can find some great creative party theme ideas that involve H20. Here is a short list:
Beach Picnic – This is good for smaller, more intimate parties. If you live near the beach or are vacationing near one, pack a bottle of wine and pick up some gourmet treats available at higher-end grocery stores or Trader Joe's. To honor the occasion, be sure to pack nice glasses and serve ware. Then find a private little spot on the beach, launch Pandora on your mobile device, and have the picnic of a lifetime.
Beach Camping – There are many coastal beaches that permit camping. Grab a group of friends and do it in a group. Pitch your tents or set up your RVs and party site to site. Beach campsites fill up quickly. Be sure to plan ahead and make your reservations early, particularly if there will be several sites needed for your party.
Beach Bonfire – If you can't camp, maybe you can have a bonfire. Call up your favorite buddies and have everyone bring their own grub. Be mindful of the regulations. If alcohol is prohibited, yet something your party can't do without, you may have to think of something else.
Pool Suite Hotel Room – If your guest of honor loves water, they might like the idea of booking a pool suite. These are hotels that feature private swimming pools as part of their hotel rooms. You can spend the night, swim, enjoy the fireplace and party it up. All inside your very own room.
Undersea Lodge Party – Plan a small party in an undersea hotel. This creative party idea is perfect for water-loving people who are already familiar with scuba diving. To learn more about this creative party theme idea, visit this page.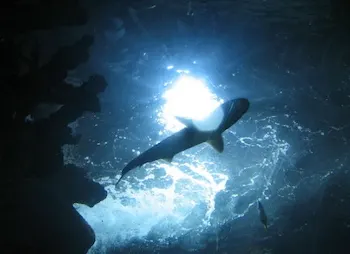 An Undersea Lodge Party is a Very Creative Idea
Actively Creative Party Theme Ideas
Don't want to sit around at a boring old birthday party? Try these active and creative party theme ideas and burn some birthday cake calories.
Ballroom Dancing Party – I realize most people these days don't know how to Cha Cha, Foxtrot or Waltz, but that's the point. Hire a dance instructor for the evening and get everyone on their feet. It will be a blast and a lot of laughs. This will also work with Country Western Line Dancing, too.
Walking Party – Pick a town or an area that has special significance to your birthday person. Two examples could be an historical location or something like a nature preserve, but it can be whatever you think of. Put on your walking shoes and go! Bring the camera and grab the great shots.
Art-Related Theme Ideas
Is your guest of honor an art buff? Here are some ideas to please him or her on their special day:
Tour an Art Museum – Art museums are wonderful places to spend an afternoon. Take them to the museum and spend some quality time together roaming the exhibits.
Thrown an Art District Dinner Party – If you are lucky enough to have an art district in town, take them on a tour of the various galleries and follow up with wine and a nice dinner at a nearby sidewalk cafe.
Take in a Classical Music Concert – Don't forget music! Many cities have their own symphony orchestra. If your city is one of them, take advantage of this priceless amenity and take them out to a concert. Invite your group to go along and again, follow up with dinner.
Once-in-a-Lifetime Party Theme Ideas
Bucket List Party – Have a pre-party dinner/meeting/gathering and have the person write out their bucket list. Take one really cool thing from that list and turn into a party.
Meteor or Eclipse Party – Recently, we've had some really phenomenal eclipse events. Meteor showers occur fairly frequently. Use these cosmic events as a theme for your birthday party. The event will be just as unique as your friend.
Fairy Tale Creative Party Theme Ideas
If your 50-something birthday boy or girl is a romantic, they may be in love with the Renaissance period and these ideas might appeal to them.
Invite all your friends and book a few days at a castle and host your 50th birthday party with a Medieval style banquet.
Find a great castle for rent, suitable for small to medium-sized groups, as well as others of various sizes.
Or if you're already in Europe or planning a trip there, you can book time in an ancient castle complete with history. There are many places that provide these services.
For a smaller, more intimate getaway, there is an affordable castle in the North Carolina mountains (pictured at right), perfect for a party of two, or two couples.
Travelling Party Themes
If your birthday person loves to travel and the various modes of doing it, try these ideas:
Train Party – Some people, like me, love travelling by train. Having a party on one would be a dream. To use this idea, you can go with public transportation like Amtrak, or you can find private trains where you can book a dinner ride or an overnight stay. You can charter one or more private cars for their birthday party, either stationary or while traveling. For example, you could use one car for the party complete with lounge and another car for sleeping, if you decide to party on the move.
RV Wine Tour or Casino Tour – If you have a designated driver, pool your money together and rent a motor coach. Then map your route to various vineyards and/or casinos and let your designated driver take you there. You can stay over in a nearby campground or park the RV and book a hotel. Either way, it's a safe way to party hearty and be comfortable, too. Also, if the action slows down, you don't have to stay in one spot!
Shopping Spree Day Trip – If your birthday girl loves to shop, make her birthday party all about fashion. Take her to a shopping mecca, like Mall of America and let her go crazy. Stay overnight and enjoy some fabulous dining. Hint: a credit card with a generous spending allowance is a dream for some ladies.
Other Creative Party Theme Ideas
Has your spouse or friend ever been interested in the paranormal? If so, you could hire a medium and host a seance. If your party occurs during the autumn months make it a costume party, too.
If you have a friend who's a wine enthusiast, you could arrange to have their 50th celebration at a vineyard or winery.
For a sports fan, you could rent box seats at a favorite stadium and have a blast with your pals. Hire a limo for transport so the party is free to celebrate safely.
I hope these creative party theme ideas will help inspire you to plan and throw the perfect party – or the perfect 50th birthday party! Whatever your occasion, I hope you have fun!