This black and white 50th birthday party theme is very classy and yet simple at the same time! It's a very easy theme to organize, with one rule: use black and white. Using these two together has a great impact because there is so much contrast, everything pops!
This theme uses black tablecloths, white napkins, white chair covers banded with black sashes, and black and white balloons as centerpieces for each large round table.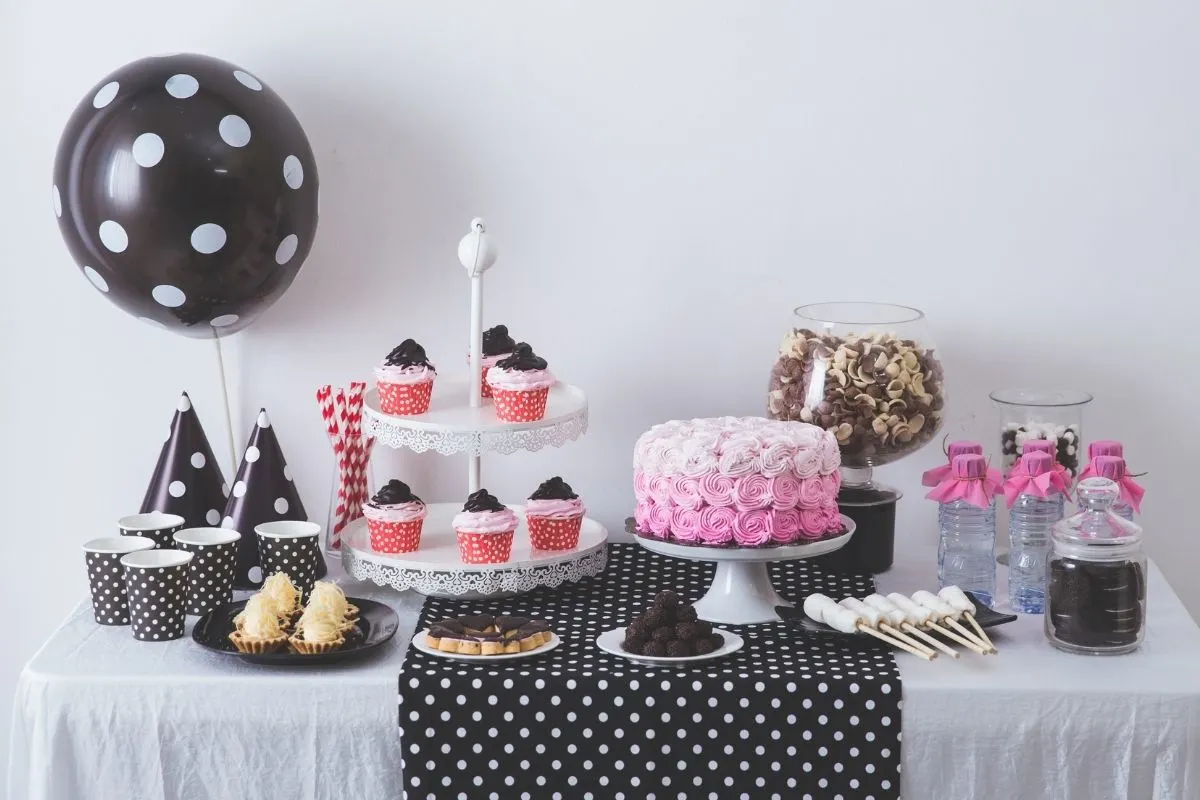 Elegant Black and White 50th Birthday Party Theme
Balloons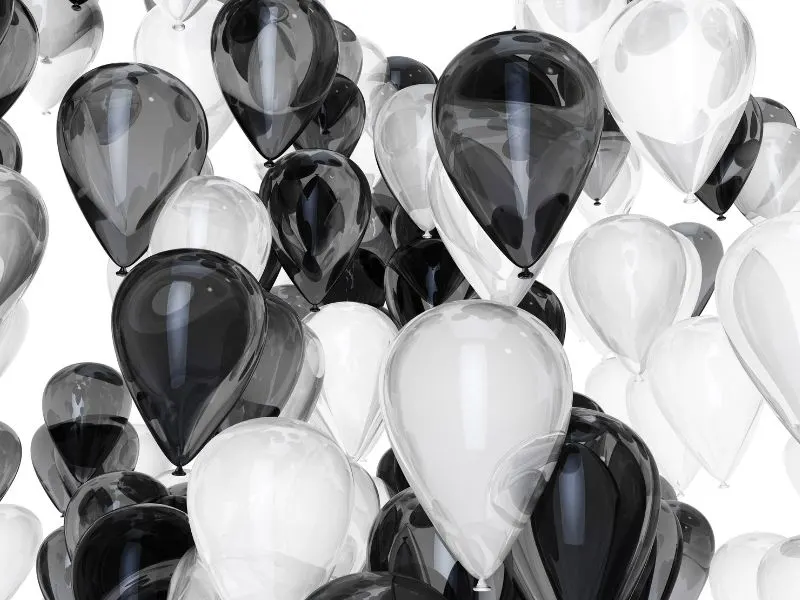 Decorate with a bunch of black and white balloons. Be sure to use a black ribbon on the white balloons and a white ribbon on the black balloons. It is nice to have clusters of balloons all over.
Another idea is to have 3-4 balloons on every table attached to your centerpiece.
Streamers & Banners
Decomod Happy Birthday Banner Bunting Laser Cut Felt 60 inches Wide – Black & White
Hughes Manufacturing 100′ Black & White Pennant Flag
Checkered Black and White Pennant Banner Racing Flags, and 10pcs Checkered Flags with Plastic Stick
Buy black and white streamers and inter-twine them together. You can drape them from corner to corner in the room, or around the edges of the tables.
If you are using a banner have the banner in black with white writing or vice versa.
You have two options for dinnerware for a black and white 50th birthday party theme:
Use all solid color utensils and dinnerware. With this just alternate between black and white. For example, have black plates with white utensils, etc.
Find striped dinnerware. So find something that is pin-striped in black and white for plates and cups. To accent use a black fork, white knife, etc.
Cakes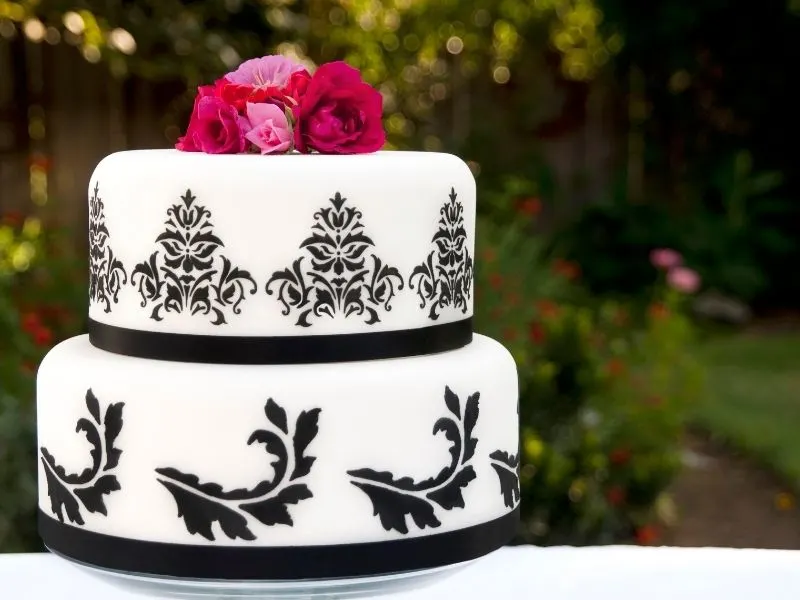 There are plenty of cake ideas, but here are a few I could think of for a 50th birthday party theme in black and white:
Get bright white fondant or icing and make all the writing in black. This will give your cake a crisp look and any writing on it will stand out lots.
Create a black cake with white "50's" all over it.
Pinstriped cake, or polka-dotted.
Instead of one cake, make a bunch of little black and white cupcakes.

Centerpieces
There are a lot of options when it comes to centerpieces.
Here are a few ideas:
White candle with something written in black on it (like "50").
Fishbowls with fish in them. Alternate between having black rocks with angel goldfish (which are white in color) and white rocks with Chinese fighting fish (which are a black color). Just don't mix goldfish with the Chinese fighting fish. (They are called fighting fish for a reason!)
Martini glasses filled with black and white jelly beans
Black and white salt and pepper shakers filled with sparkles (if you don't mind the mess).
White roses in a black vase
Black and white rocks with a nice sign that says "50 rocks".
Invitations
Simple and inexpensive for sure. Use a white invitation with black writing on it. To add a pop to your invitations fill the envelope with black confetti. This will give an extra surprise when they open it.
Party Favors
Anything black and white can work here.
You can fill little black boxes with white chocolates.
Fill cellophane bags with black and white candies.
Get a picture of the birthday guest of honor and frame it in a black or white frame (you could even make the picture a black and white picture.
Black White Stripes Cello Bags
Kraft Paper Striped Bags
Hexagon Striped Candy Box
Black and White Swirl Pop Suckers
Black and White Striped Favor Boxes
Clear Cello Bags
A Black and White 50th birthday party theme is a great theme to use. Black and white go well together because of the fact that they are complete opposites. There is a great contrast which is very easy to achieve. It is also a somewhat inexpensive party theme because the colors are so basic.
Food
Here are some great ideas for finger foods (so you don't have to slave over an actual sit down meal):
Sandwich platter
Cheese platter, with crackers and dip
Sushi
Spinach dip and pumpernickel bread
Seven-layer nacho dip
Veggies and dip
Lunchmeat platters
Fruit platters with dip
Garlic bread
Breaded cheese sticks and jalapeno poppers
Meatballs
Devil eggs
Quiche
Other Ideas You Might Like:
Pirate theme for a 50th birthday party
Ideas for a great 50th celebration