We have tons of great ideas for the perfect 50th birthday gifts for mom! All of these gift ideas are meant to spoil her and keep the focus entirely on her. After 50 years of life, she truly is a reason to celebrate! It can be difficult sometimes to know what to get as the perfect gift for such a special occasion. Your mom means so much to you and she's done so much for you, and you want to show her just how much she means to you. This is a milestone birthday and if you want to make it extra special, it all begins with giving the right gift.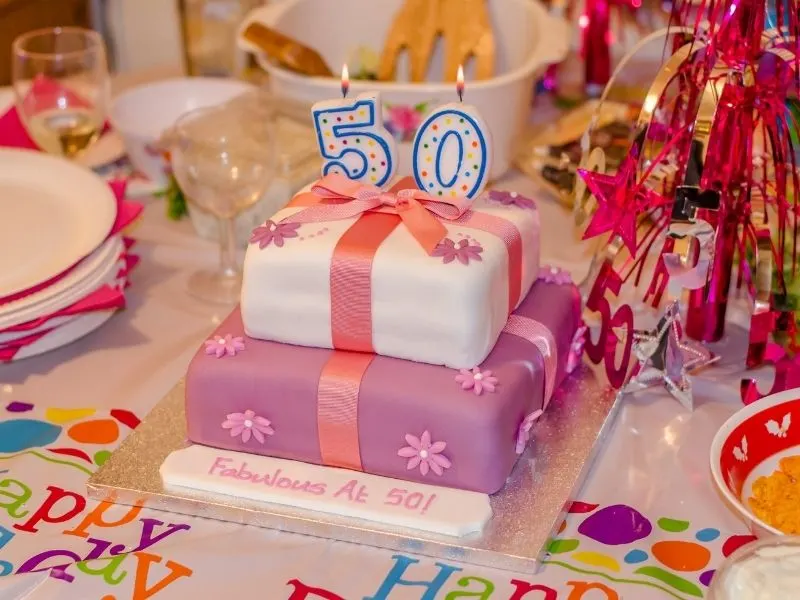 Sometimes a gift card just won't do. You need something more unique, like a thoughtful gift that showcases how you really feel about her. Moms love thoughtful gifts, so make sure to put a lot of love in your presents for her! She'll love the thought process and you'll be giving her wonderful memories to break in her first year of being 50. The best gifts are the ones that show you truly know her and that you appreciate her.
Memorable and Fun 50th Birthday Gifts for Mom
Mothers are the reason we are all here today and her 50th birthday is a wonderful time to show her how much she means to you and how you appreciate all she has done for you. She put up with us from the crying baby stage to the temper-filled teenage years, and beyond. She helped teach us, guide us, and mold us into who we are today. She deserves a one-of-a-kind, awesome gift!
A good option for gifts for mom's birthday is something she wouldn't buy for herself. Has she been eyeing something special or talking about a place she'd really like to visit? That could be a great place to start when planning a memorable and fun birthday gift for her. What better way is there to celebrate her special day than with something that makes her feel special?
Here are just some categories with great ideas for 50th birthday gifts for mom.
1. Pictures & memories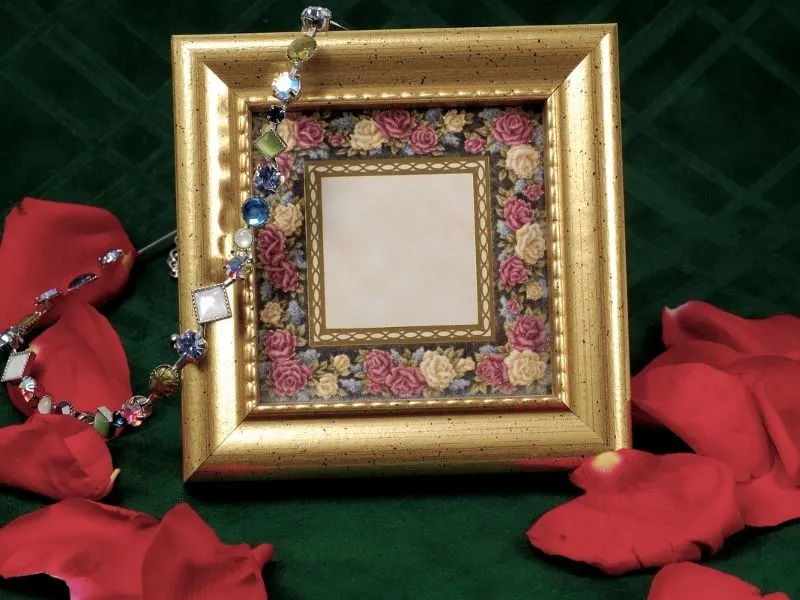 Moms love pictures of their families. (At least I know my mom and mother-in-law do!) It's a foolproof gift idea that is very personal and everlasting. You can even get other family members involved to help you make a photo book, a photo collage, or a memory book. This could be a great way to wish her a happy birthday and open up a lot of beautiful memories she has about past years with her family. You could also talk to her best friend about things she knows that other people may not know and get insider information or fun stories from her past to include.
It's a great way for her to bring back all the great memories she has.
But photo gifts can be incorporated in a lot of different ways today. You can do it old-school with a photo album or you can try something new like a digital photo frame. You can also get crafty with it and make something handmade, or you can purchase a memory book with the photos you choose to put in from a service like Shutterfly.
And there are many ways you can give the gift of pictures:
Put a special picture in a "mom" frame. You can get the frames anywhere that sells frames, they have a "mother" or "mom" theme to them.
Make a collage of pictures of you and her and frame it.
Fill a photo album with pictures of you over the years and different memories from baby to now.
Personalized family calendar with pictures of the family each month, and you can even make the pictures correspond with the months. Like, for December have a family Christmas picture or winter picture, etc.
Locket necklace with pictures inside. Make sure to pick some of mom's favorite pictures.
Buy her a digital key chain, this way you can load a bunch of pictures on it, and mom can change or add to them.
Create a scrapbook of all the great memories over the years. You can do this by hand, or have a simple one made through stores, like Walmart.
Another great option that is perfect for your mom's birthday is special jewelry. Let's explore that more.
2. Jewelry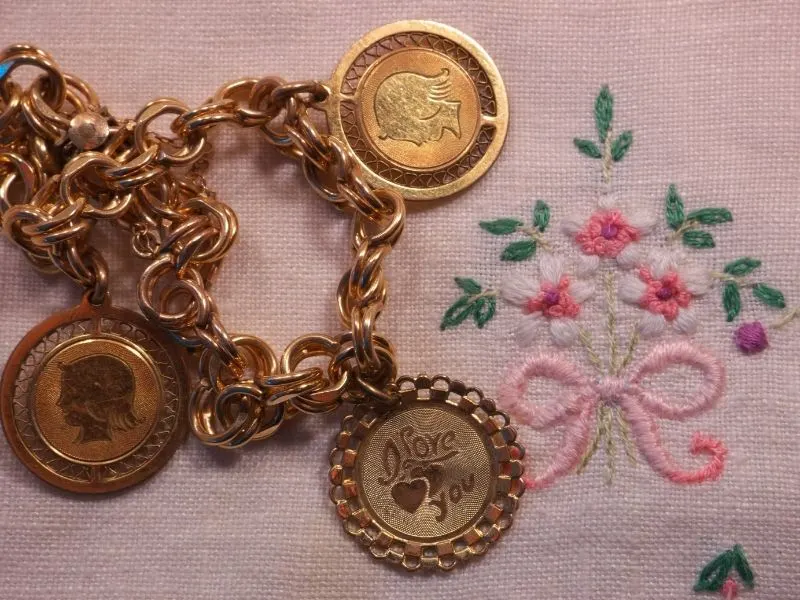 Jewelry is always a great 50th birthday gift for mom, and well, for any woman really! It's always a good idea to make the jewelry you buy her a little personal – moms always like the sentiment in the gifts. A good gift is jewelry of the highest quality. This is a very special occasion, after all. It's a great idea to get something that is personalized like a Mother's ring or something engraved.
Charm bracelet with charms for "sister" (see birthday gifts for sister), "mother", "grandmother" "friend", etc to all those that apply to your mom. Or you can have nicknames she uses engraved in charms, like "nana", "mama" etc.
Gold jewelry – gold being the color of the 50th milestone, this makes a great thing to get mom. Have the jewelry engraved to say something special to mom.
Mother/daughter matching rings or necklaces.
Necklace with pendants of all the children's names
A gold locket with photos of her loved ones inside
In addition to jewelry, you might consider something special like a jewelry box to keep her special items in. It can bring an elegant look to the home decor and also act as a keepsake item in its own right. You might be able to personalize the jewelry box with her name or a sweet message, too. A unique piece of jewelry can be a perfect way to show your mom how much you love her. When just any old gift won't do, consider these ideas for an extra special gift.
3. Personalized gifts
Another option to consider is personalized gifts. A personalized gift is always a great idea for an occasion because it shows you took the time to make it just for them.
Let's Make Memories Name Art Pillowcase, Personalized with Name, Naptime/Bedtime – Butterfly
Another good idea for mom is something personalized with her name. Many different things can be embroidered or engraved.
You can have her initials or name put on things like:
Duffle bag, or luggage bag
Tote bag
Towels
Aprons
Pillowcases
Housecoat and slippers
Jewelry box
Imagine how she will feel when she opens this kind of gift at her birthday party. Mom's birthday will be one of the best birthdays she has ever had when you take the time to pick a personalized gift for the special occasion.
4. Spoil her
Maybe you can also take this time to spoil her a little bit. There are so many great ways you can do this, like a day at the spa, or pampering at home. You want to make her feel like these are the best years of her life and you're here to shower her with the attention she deserves. Let's look at some ideas.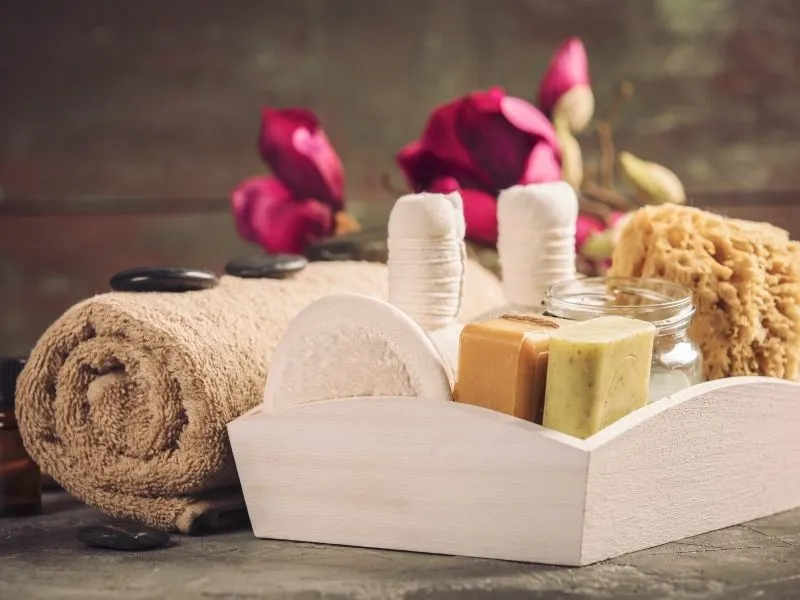 Every woman, and every mom, LOVES to be spoiled! You can get great 50th birthday gifts for mom that will be sure she is super spoiled. You can make mother's 50th birthday extra special with these ideas.
Day at the spa. Get a gift certificate for a spa with luxury to spoil her every need.
Make a spa in a box. Get everything she would need to pamper herself. You could include things like a nice plush towel, housecoat, bubble bath, body wash, bath salts, inflatable bath pillow, candles, face mask kits, sponges or loofas, foot massager with salts for it, etc.
Plan a home-cooked meal, like it was catered to her. And make sure she doesn't lift a finger! (and that includes chores)
Purchase or make bath bombs in her favorite scents. She will enjoy a relaxing bath whenever the mood strikes her.
They call it the golden birthday for a reason and you can make your mom feel like a queen by pampering her on her special day. The best 50th birthday gifts are sometimes just a special time for your mom to indulge and relax. Moms spend so much of their lives taking care of everyone else. It can be a great gift idea to celebrate this important milestone. If she's the type of mother who isn't into pampering or spa days, that's okay. There are some other great ideas for her, too.
5. Other 50th birthday gifts
But the gift ideas don't stop there. Sometimes all your mother really wants for her big day is to get to spend time with the ones she loves. It could be a great gift for your mother's 50th birthday if you plan some time to spend with her. Gather her other children and loved ones – anyone in her life who is close and special to her – and plan an activity together, or invite them all to her birthday party to honor her.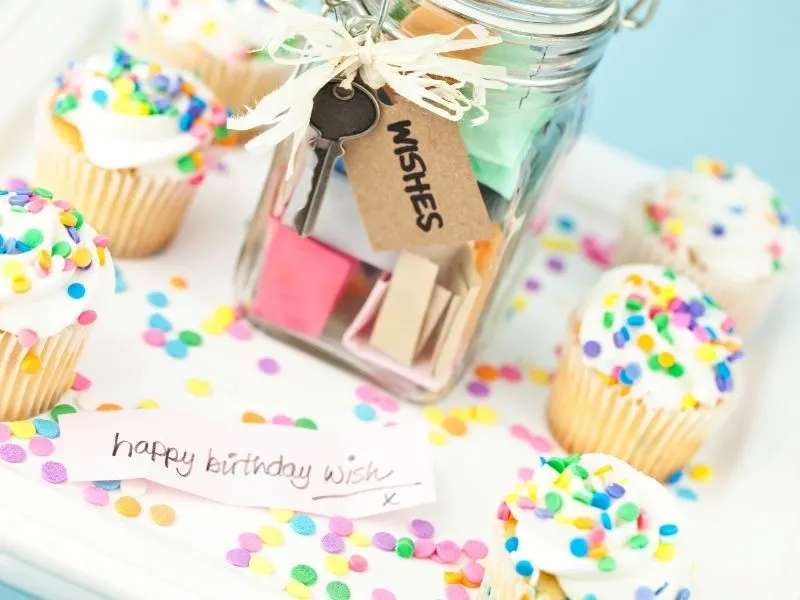 If you didn't see anything on our list that really jumps out as something your mother would love, we have a few more ideas. Take a moment and think about the things your mom really loves the most. What would make the birthday girl feel extra special on her big day?
There are also many other things you can give mom as a 50th birthday gift. Here are some additional ideas:
Gift certificates for her favorite stores or restaurants.
Jar of wishes, filled with $1 and $2 coins – she can use this for whatever she likes – coffee, treats, bingo, etc.
Mom keepsakes – things like the statues or poems dedicated to moms. Hallmark and places like that sell a lot of different items that are dedicated to moms.
Cookbook stands, or recipe boxes for all mom's secret recipes. If you can get hold of all mom's best recipes you can make a recipe book filled with the "Kid's Favorites".
A practical gift – some mothers want something they can use in a practical way. If your mom is the more pragmatic type, consider a practical gift.
Some of her favorite books – Look for books she loves but doesn't have, or signed editions, or limited edition books
Dinner parties are a big win for the foodie mom or for any woman who loves a nice, fancy dinner for a special occasion
There is a 50th birthday idea for every person out there; you just have to know how to find it. The best birthday gifts are ones that come from the heart and that show you really put some thought into it. Your mom's birthday is a special occasion and you want to treat it with the level of respect it deserves. At the end of the day, your mom just wants to know you care about her and any of these ideas could be the right way to do that.
This is a holiday gift above all others. It's the time to give something truly monumental and special. See how many great 50th birthday gifts you can easily choose from? Which one of these is perfect for your mom?