Let's brainstorm for unforgettable 50th birthday party themes. Every party needs a theme, whether your 50th celebration will be casual or elegant, simple or elaborate.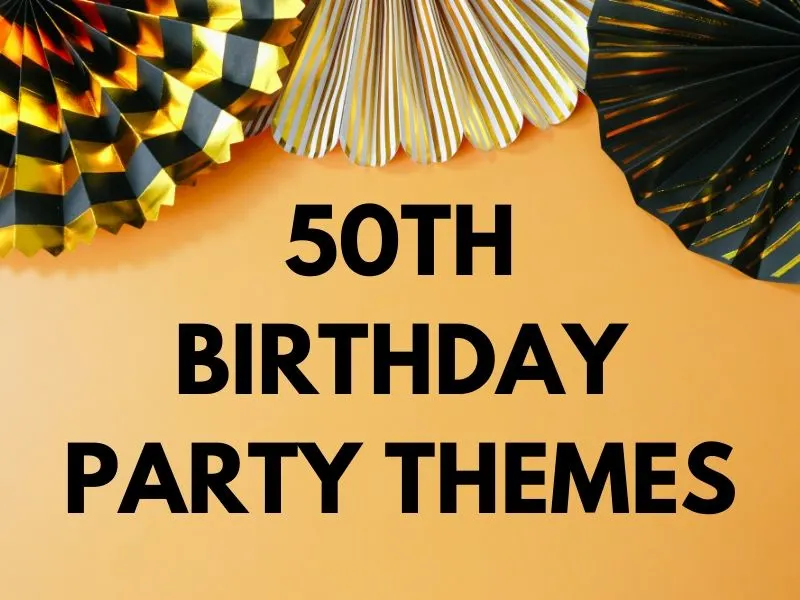 The theme helps you tie it all together into something interesting and memorable. It can also guide you in deciding on the color scheme, entertainment, even the food.
You can create a theme of any kind for your event, and we have tons of ideas to inspire just the right party plan.
Your theme can guide you in selecting:
Decorations
Location or Venue
Cake
Centerpieces
Dinnerware
Party Favors
Invitations
Food
Music
Games or Entertainment
Don't forget!! For detailed steps to perfect planning for any of our party themes, just click the matching link (or the picture).
And if you need more after browsing this page, there is another list of themes at the bottom of this page.
Many of the theme ideas have a detailed outline of how each of these themes can be achieved.
My Ideas for 50th Birthday Party Themes
We just created brand new pages of 50th birthday party themes, including these creative theme ideas.
Black & White Party Theme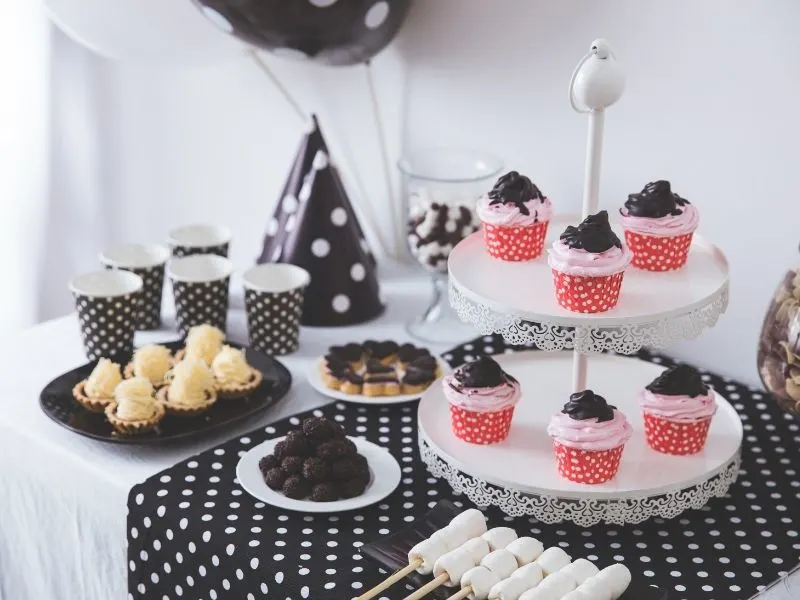 This is a common one for a lot of 50th birthdays. Using black and white gives the party an elegant look but still has an "over the hill" feel to it. This one is pretty easy to accomplish just stick to those two basic colors – black and white.
Blueprint for a Black and White Party Theme
Over the Hill
If you want more than the subtle hints of "over the hill" style of themes we've got some a little more extreme. Why not go for a more outrageous theme with a full out "over the hill" theme.
These types of themes make sure EVERYONE knows that it's the 50th birthday and that the guest of honor is heading over the hill.
Scavenger Hunt Birthday Party
Having a scavenger hunt birthday party can be a ton of fun. You start their day out with a treasure hunt and end off with a party! Who doesn't love treasure and parties!
See all our tips and tricks to help you create a Scavenger Hunt Birthday Party for your 50th!
Gold Party Theme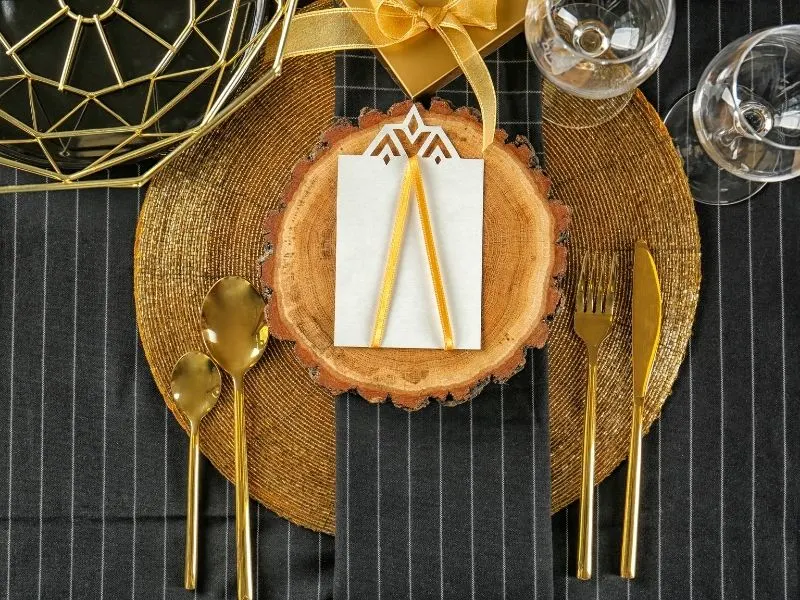 This is one of the most popular 50th birthday party themes!
Gold is the color for the 50th milestone. With this theme, you will use it!
No, it doesn't have to be real gold – unless you really have some money to spend! Just have decorations in gold as well as the dinnerware. You can go a step further and ask all your guests to wear their gold jewelry or if they have any gold colored clothing.
Click Here for a Detailed Blueprint of a Gold Theme
Year of Birth Theme
This style of theme is dependent on the year the birthday person is born. You would decorate according to that year, or era.
For example, if the person is born in the 60's you would decorate like you were throwing a party in the '60s (have bright colored (tie-dyed) decorations, hippy style everything, etc). You should even have music to match.
If your guests are up for it you can even make it a dress-up party and have everyone dress like they're in that era! This theme can be a lot of fun, and bring back a lot of memories.
Another option for this theme is, instead of the year they were born, pick the era they grew up in.
So someone that spent their teenage and early adult life in the '80s would have an 80's themed party. This may jog more memories than the year they were born because most of our memorable experiences are in our teens and early adulthood.
Even the planning for this party can be fun! Get your best pals together for a brainstorming session to flesh out the theme. It will be great to toss around all those memorable songs, TV shows, and movies that can become part of your theme.
Kids Again Theme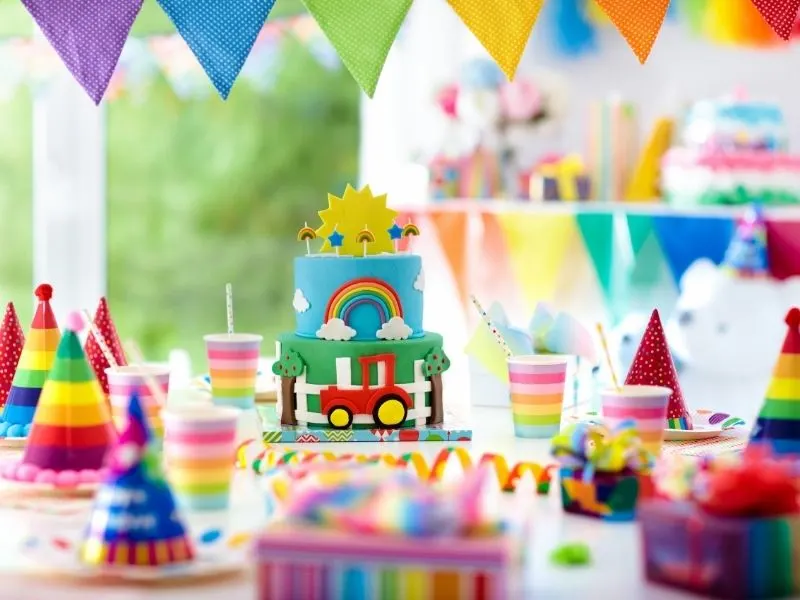 For this theme, it's exactly as it sounds. Make the party a kids' party, go back to the good ole days, and have the exact party like you did when you were 5 or 8 years old.
You could decorate in bright fun colors, have everyone dress to match the theme or have everyone dress as a kid.
Break out the party games and of course, the loot bags! Do everything the way you did when you were a kid.
Click Here for a Detailed Blueprint for a Kids Again Theme
Bring Your Own Party (BYOP)
Bring Your Own Party! For this style of theme, you would add the instructions to the invitations. Essentially all your guests will bring decorations to the party.
Pick a color theme, like Mango Orange, and add that information to your invitations. Then the guests must stay within that color scheme but each person brings decorations. Have the guests show up a little earlier than the guest of honor and have everyone help decorate with what they brought.
You can make this a bring your own party and also have a potluck at the same time, and of course, everyone brings a gift.
You could have them bring their own music, chairs, booze, games, etc. The options are huge! Check out confetti, party favors, string lights, and colorful decorations.
"Everything You" Party
This is the special day for the guest of honor. With this theme, you would brainstorm everything the birthday boy/girl likes, the hobbies they have, the things they don't like, their favorites, etc. With this, you would create a theme that involves them all.
Perhaps photos on mugs, coasters, or anything you can think of.
When someone walks in the room it's like a story about the guest of honor. It's everything about them! You can even have pictures of them all over the place, from different stages of their life. This will be a great way to honor the 50 years they have experienced.
Winter Birthday Theme
If your birthday falls in those wintry months, you are more limited to themes that could include outdoors. Summer is always an easier month to celebrate outside. But, we are here to save the day (again!) with this fun winter 50th birthday party theme.
Detailed Blueprint for a Winter Birthday Theme
Jungle Theme Party
Bring out your inner animal with this jungle theme party idea, or if you just want a jungle theme invitation check out our different ideas there too!
Detailed Blueprint for a Jungle Theme Party
These are just a few ideas for 50th birthday party themes. You can, of course, still, use any of the regular birthday themes, or use themes related to one of their hobbies or interests.
Be sure to always check back, as new themes and ideas are put on here all the time.
If none of these 50th birthday party themes feels right to you, here is another List of Party Themes here that might spark your interest.