There are so many different great party ideas out there but nothing is quite as exciting as donning your favorite mask or full costume and pretending to be someone else for an evening. If you're looking for masquerade birthday party ideas, you'll love our ideas below. Part of planning your masquerade party is planning out the details of the masquerade theme, the party favors, finger foods and snacks, your own mask and costume, and other details. How fun!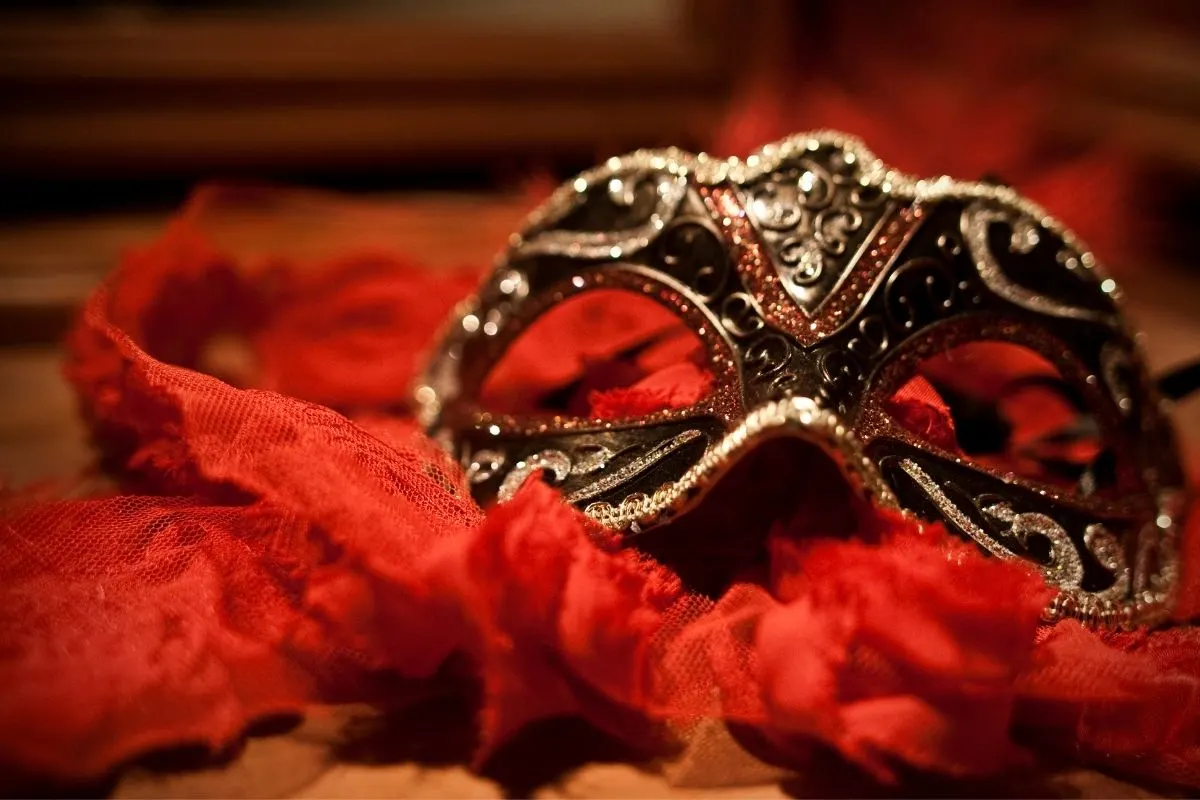 If you need ideas for masquerade party supplies, we have them. Masquerade decorations, costumes, masks, and more, plus pictures that will get you excited for a party!
Parties are so much fun and a masquerade party is an opportunity to take the fun up a notch and wear costumes and more. When there is an upcoming birthday for someone you care about, you want to be sure you go all out and give them a bash that no one will soon forget.
It's also a wonderful choice for a milestone birthday. A masquerade party makes a wonderful celebration for a 50th birthday party!
Masquerade Party Themes
Why do people love masquerade parties so much? There's something exciting about going to a party incognito. Everyone will be doing their best to guess the true identities of the well-disguised guests.
Be sure to keep your costume plans a secret to maximizing the intrigue.
What a fun party to organize, too!
Everyone will be so excited and there will be a buzz about it for weeks!
"What are you wearing? I heard Joe is coming as a Wizard!"
"I wonder if anyone will dress as a superhero! "
"There was a masquerade party last year where everyone was dressed as a vampire. Some of those costumes were really elaborate!"
Think about what themes might be fun and inspirational to your guests. Here are some theme ideas to get you thinking:
Hunger Games
Twilight
The Avengers
Batman
Star Trek or Star Wars
The 60's Flower Power
Gone with the Wind
Hamlet
The Wizard of Oz
Grimm's Fairy Tales
The Untouchables
NCIS
The Bands of Woodstock
Brave Heart
You could also do a masquerade ball theme where everyone comes in their best dress, black-tie affair, or fancy clothes, and then they wear masks to cover their faces. This is the kind of party that will be talked about for years to come. Many of us don't have the chance to dress up like that in our day-to-day lives anymore. A party like this can bring out that side that may not have been explored since childhood in some people.
These masquerade party ideas are all great for the theme of your party. You can use one of these directly off the list, or you can use them to help spark a new idea for you.
Alternatively, you can merge them, mesh them, add to them, tweak them, or change them however you wish to create the perfect party theme for your event.
If you're doing this party theme for a birthday party, consider the guest of honor and what they would like the most. Think of their personality and what serves them best, and unless it's a surprise party, you can ask them and get their input.
Next, let's look at some other masquerade party aspects.
Masquerade Party Ideas for Venue
If you are organizing a masquerade party for a 50th birthday party, and you're planning a really big party, you may need to arrange for a party venue other than someone's home.
Hotels and restaurants are a possibility, but they may not be suitable for your event. Other places include country clubs, golf clubs, and possibly halls you can rent from organizations like Elks, Masonic, or churches.
Another easy way to find a suitable venue is to think about popular wedding locations. Many wedding venues can be used for private parties, too. Consult people who often provide services for weddings, such as photographers, bakers, or even wedding planners to find out what's available in your area.
Masquerade Birthday Party Invitations
For a masquerade party, you may want to give guests extra time to prepare. This is why it's important to get your birthday party invitations and send them out early. Send your invitations for a masquerade party a bit earlier than for a standard cocktail or birthday party. You want to be sure you give each of your guests the full amount of time to do what they need to do to prepare.
What kind of masquerade birthday party invitations should you use? Well, that's completely up to you and how you want to go about the process. You can make them yourself if you have the time and you're feeling crafty.
Invitations should be festive, colorful, cheerful, and informative.
They should include everything about then when, where, and what of the party details. If you don't have room on the invitation itself for the necessary information, add a small card or note with additional details.
You could create them yourself, or you can also look for masquerade party invitations online at sites like Amazon and have them shipped right to your door.
Gold & Black Masquerade Ball Personalized Party Invitations
This is such an elegant, classic style, it goes perfectly with a black-tie theme or masquerades ball birthday party. I love how high-class they look.
Amanda Creation Masquerade Black, Silver and Teal Party Fill in Party Invitations, Set of 20 Including envelopes
This one is fun and stylish and follows the theme of a masquerade party.
Big Dot of Happiness Mardi Gras – Fill In Masquerade Party Invitations (8 count)
These are fun and have a bit of Mardi Gras-themed fun to them. The colors, the masks on the front, the bead pattern… it's all a lot of fun and gives the guests an idea of what they can expect on party day.
Mardi Gras – Shaped Fill-In Invitations – Masquerade Party Invitation Cards with Envelopes
This set has a Mardi Gras theme and is perfect if you're using that theme for your masquerade birthday party. All you need to do is add your info and send! It's also a great idea to get all of your party supplies in advance.
You want to allow time for any mistakes, shortages, lost shipments, or other "oopsies" that mess up your birthday party. Let's take a look at some party supplies you may need for your costume party.
Masquerade Costume Ideas
Costume themes
Anything Goes – Let guests use their creativity
The Untouchables – Eliott Ness, FBI agents in suits, gangsters, and their lady friends.
NCIS – Gibbs, Tony, Ziva, McGee, The Director, Abby, Duckie, lots of others
Star Trek – Captain Kirk, Bones, Spock, Scottie, Ahura, the crew, and all kinds of alien monsters and enemies
Bands of Woodstock – Janis Joplin, Jimmy Hendrix, Jefferson Airplane,
Brave Heart – William Wallace, Robert the Bruce, various Scottish characters
There are costume pictures that you might like on the Carnival Theme page.
Make, rent, or buy
For costumes, you and your guests could purchase reasonably priced costumes from costumes retailers, or you could invest a little more time and planning and designing your costumes yourselves.
Contact a theatre group at a nearby college, or a community theatre to ask for suggestions on where to find costumes.
Theatrical quality costumes can be rented or purchased from companies who provide costumes to schools and theatres. Search for "theatrical costumes rental" to see what's available in your area.
Check thrift shops for clothing and fabrics that you could use to make your costumes.
Check into used formal wear, on eBay or craigslist
Hire a local seamstress to do some of the sewing if you don't have that skill or equipment. They are more reasonable than you would expect for most projects.
Masquerade Party Supplies
What party supplies do you need for a masquerade party? Well, there are some basics you can't do without, then there are some fun extras you may want to have if you can spare the budget for it, and then there are some things you will expect your guests to bring for themselves.
For example, you might order some extra Mardi Gras masks, feather boas, black masks, hats, beads, and skirts or tutus they can pull on over their clothing.
These are great accessories to have for your themed birthday party but they'll also help out in a pinch if any of the guests were unable to wear their own costumes. No one will have to feel left out if you give them a little something to put on at the door.
An excellent party theme will also include party supplies that correspond with that theme. Consider these items for your masquerade party supplies:
party invitations (paper or email, or both)
tables and chairs
chair covers, cushions, or chair decorations
plates
flatware/ drink-ware
napkins for guests
extra paper towels for cleanups
place cards/ table cards/ name tags
serving trays and platters for food
serving utensils
centerpieces/ table-toppers
streamers
confetti
balloons
wall banners
outside banners
ribbons, garland, etc.
candles and lighting
And whatever else seems important to your big day. Some of these supplies on our list above technically qualify as party theme decorations, like the balloons and banners. We consider decorations to be part of your party supplies but they warrant a section of their own so we can talk about it in more detail.
Masquerade Party Theme Decorations
The decorations and masquerade party supplies could be planned around a color scheme or tied to a theme. For example, an Anything Goes theme could be decorated with your favorite colors.
Mardi Gras party decoration colors would be purple, gold, and green. Harlequin patterns might also work, in black and white, perhaps. The diamond harlequin pattern could be other colors, too. With this, you can create a party scene fit for New Orleans itself.
If your masquerade theme is something like Rock Stars of Woodstock, you might want some kind of psychedelic decoration. For a Star Trek theme, a burnt-out planet landscape might be your backdrop. An eye-catching color scheme helps set the stage for your big event and birthday parties with decorations are always instantly more fun.
Your venue will also dictate some of your decoration choices. If the decor of your venue doesn't match your theme, you could camouflage it with drapes of fabric, room dividers, screens, murals, or posters. Everyone on your guest list will be excited to see the way you set up for your party. And if you're having masquerade party theme decorations, I highly recommend a photo booth as well.
You can hire a professional photo booth and let an expert handle it all for you, or you can set up a DIY photo booth your guests can use for taking selfies and group photos to show off from the event. There are also some fun masquerade-themed photo booth props you can purchase for your guests to use. Here are some examples:
Big Dot of Happiness Mardi Gras – Masquerade Party Photo Booth Props Kit
Mix of Hats, Lips, Mustaches, Crowns and More
Another great idea for the decor is fun lighting. Think about decorative light strings that will make your party sparkle. Here are some examples:
Outdoor String Lights
These are really cute and unique and when they light up your venue at night, they look fantastic. They bring just the pop of color you need to this type of party.
Patio Multi-color Smart Lights with Music Sync
These lights are unique because they have a music sync function. You can use their app for a Bluetooth remote control and sync the waterproof lights to the beat of your party music. You could also give the controls to your DJ and let them handle it. It will be so much fun!
Fairy String Lights with Remote and Power Adapter
These are simple and elegant and would look great on or near the present table, photo booth, or other areas. They also come with a remote control that lets you control the settings for blinking, brightness and more.
Globe Led String Lights
These globe lights are big, bold, and full of color. They are perfect for an outdoor masquerade party, too. But you can use them just about anywhere, indoors or out.
If you need to provide tableware, you can coordinate the colors with paper and plastic supplies. Everything can tie nicely into the theme and your guests are sure to be impressed. These masquerade birthday party decorations will be perfect for your event!
Masquerade Costume Ideas
And now we get to one of the best parts of a masquerade party. What better way is there to celebrate a birthday than by dressing up and getting on the dance floor with your closest friends and family? Some people get intimidated by the idea of a costume party, however. If this is you, or one of your guests, there are some tips that can help you make the most of it.
Costumes can be put together with real clothing, such as a gangster's fancy duds, or they can be purchased from a costume supplier. It all comes down to how crafty you are and whether or not you want to make your costume or just buy it. If you want to purchase something ready-made, there are some great online suppliers to help you do so.
If you're serious about making an authentic-looking costume, you might want to use theatrical-style costumes. Gold masquerade masks and elaborate costumes are a great choice. It can be lots of fun to create the perfect look from flapper girl to dapper black-tie suit, there's something for everyone.
Purchased costumes can cost under $100 for simple Halloween-style outfits to thousands for theater-quality costumes. It helps to know your budget range before you begin. Then you can filter your searches to that which is already in your budget and save yourself time and possibly headache.
Renting higher-quality costumes can keep the costs manageable. If it's a very upscale party with fancy dress requirements, and if you know you're only going to wear it the one time, you can just rent it.
Make your own masquerade costumes
Making your own is another option. Thrift shops and eBay are good sources for interesting-looking clothes or clothes that can be altered for a unique look. You can also go to Amazon to get accessories to complete the look. It's a lot easier than you might think, if you just know the right places to look first.
It all depends on what works best for you, your vision, and your guests' budgets. If you're worried your guests will be overwhelmed by the idea of a costume, you might consider creating a "cheat sheet" of info for them on how to do it.
By the way, it's best to let your guests know what you have in mind unless you aren't fussy about getting some of each type. Many people prefer to leave all of this to their guests so that it's more fun. And you get the added surprise of seeing what they show up in. It's the little touches that can truly make a costume unique. You can use drapes of silk for a shawl, or an intricate mask design to draw all the focus to the face and the mask.
If you want to help your guests, you can let them know tactfully by providing a few tips on where to find costumes.
For example, give the names or web addresses of costume suppliers that have costumes that would be appropriate for your ideal party (or send them to this page.)
You could provide the names of a few companies with costumes for sale or rent, along with the name of a local seamstress or alterations shop to help the do-it-yourself people.
It will be masquerade madness fit for the French Quarter. You'll want to roll out the red carpet for all of your birthday guests when you see them showing up looking amazing at the party venue.
Venetian Masquerade Masks
For a really awesome masquerade, the best masks for a classy party are Venetian masquerade masks. They bring a feeling of mystery and intrigue that you don't get with other types of masks.
Masquerade Birthday Party Ideas – Conclusion
I hope these masquerade party supplies and ideas we've provided have been helpful to you in planning for a truly spectacular masquerade party!
A traditional part of the celebration is the costume and keeping an air of mystery about everyone in attendance. However, this is your birthday party and you can tweak it however you see fit. You can play very close to tradition, or just use it as inspiration and implement it in a simpler way, or in your own way.
Remember that the perfect masquerade birthday party decorations will only take you so far. It's also all about inviting the right people, enjoying great food and great time together, and also the memories that you will make together with this fun party. The glittery garland is just the icing on the cake. The real thrills are the memories you will make with the people you care about the most.
What ideas from this list do you like the most?