Planning a 50th birthday celebration for yourself or a loved one? Any 50th birthday questions that you may have will be answered right here and right now. Are you wondering about the perfect party theme, gorgeous decorations, yummy cakes, or attention-getting invitations?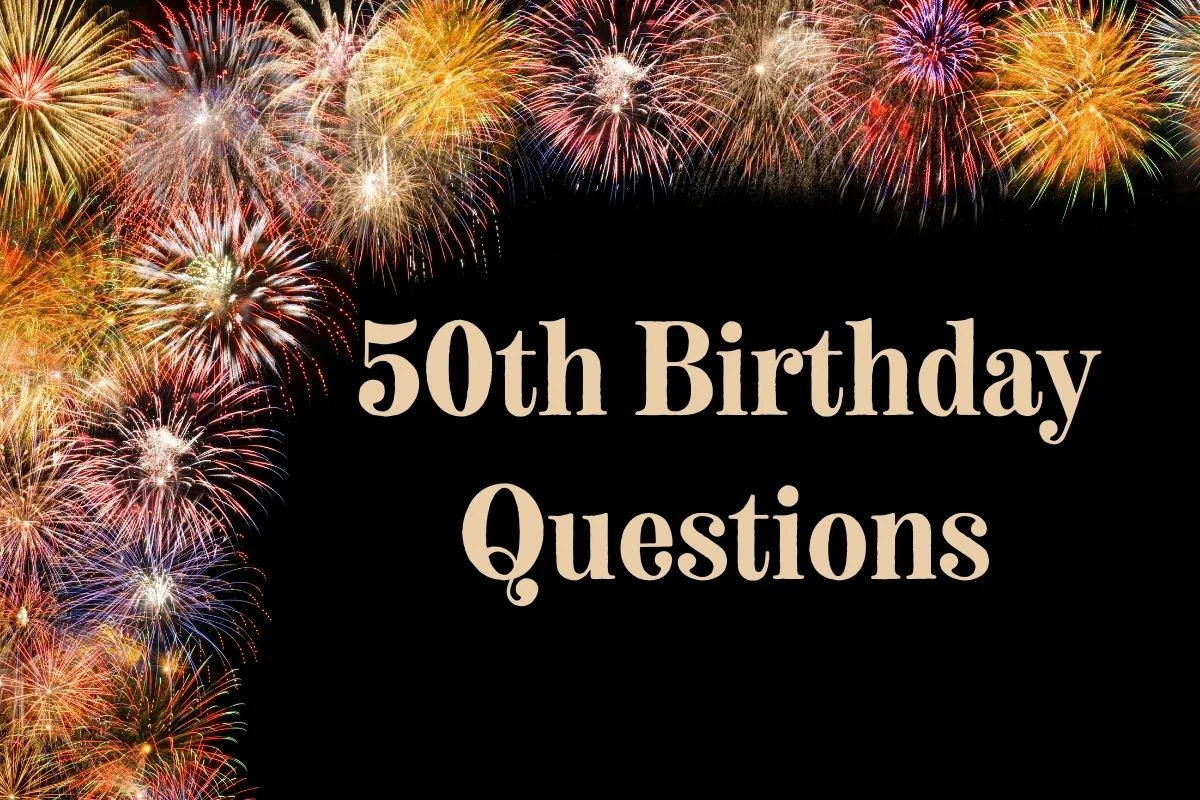 Or you can tell us about your concerns – we can help ease any anxiety over throwing a 50th birthday party. Ask the experts and we will have an answer for you!
Our purpose is to give you ideas, tips, and tricks on any aspect of planning for your party. We hope you'll ask us if you don't find what you need, or you have a specific question, and maybe you can even answer questions that were asked by others!
So ask us your questions, and we will share great answers and ideas for you to use at your party. We are here to help make your party the best one in town!
This is a great place for a bunch of great minds to get together and help each other plan the best 50th birthdays! So feel free to browse through and give your 2 cents on other questions as well as ask your own. The best ideas come out of brainstorming and working together. We love to hear from everyone!
Common 50th Birthday Questions
Here are some common questions people ask for this milestone birthday.
What is the traditional gift for a 50th birthday?
There isn't a specific gift that is associated with a 50th birthday. However, there is a traditional color that is associated with 50th celebrations, to include birthdays, wedding anniversaries and other occasions. That color is gold, and you can work it into your gift, your decorations, or your party theme.
What is the symbol for 50th birthday?
Golden Jubilee is the symbol for a 50th birthday. It's also often seen paired with black for an elegant look.
What is 50 years birthday called?
Your 50th birthday is often galled a golden birthday year. Sometimes it is also called the golden jubilee birthday. It's also the Half Century birthday.
What are the colors for 50th birthday?
Usually, gold is associated with a 50th birthday. Sometimes gold and black are used together for an elegant look. Less commonly, gold and silver are used for the 50th birthday milestone.
What do you buy a 50 year old?
What you buy a 50 year old for their birthday will depend on the person and also your relationship with them. I have many gift ideas here on this site, based on whether you are shopping for a parent, a sibling, a partner, or a best friend.
What should I get for my mums 50th birthday?
For your mum's 50th, you will want to get her something extra special for this very special milestone birthday. You might get her a special piece of jewelry, or give her an experience she has always wanted and then join with her to spend time together.
What stone is for 50th birthday?
The 50th birthday is often associated with gold and the imperial topaz. You might also use the person's birthstone if you wanted to get jewelry for their 50th milestone birthday.
What can you do for someone's 50th?
There are many great ideas on this site for how you can celebrate someone's 50th. You might throw a big party with their closest friends and family. Or you might give them a special experience such as their favorite meal or a trip to somewhere from their bucket list.
I'm throwing the 50th birthday bash – am I expected to give a gift?
You don't have to give gifts to guests when you are the guest of honor. However, many people like to give party favors or little memory gifts the guests can take home after the occasion. If you decide to do this, it's a way to say thank you to your guests for coming out for your big day.
Should I keep track of who gave what gifts for a birthday party?
It's a great idea to keep track of who gave what gifts during your birthday party so you can send personalized thank you notes afterwards. However, many people like to assign a friend or family member to help them do this so they can just enjoy the experience in the moment.
Should I let guests know that they are expected to bring a gift?
Inviting a guest to your party does not obligate them to bring a gift. Generally, it is considered rude to ask for a gift. However, you can put a note in your invitations that says "gifts are welcome and appreciated" or something to that affect.
How much should I spend on a birthday gift?
How much you spend on a birthday gift really depends on your relationship to the birthday guest of honor, and also your own personal budget. In general, the budget goes higher based on how close you are to the person. For example, you might spend more on a birthday gift for your sister than you would on a co-worker. But again, it's really up to you where to set your budget.
Should I send a gift if I cannot attend the milestone birthday party?
If you are unable to attend the milestone birthday party of someone important to you, then you should first RSVP as soon as possible to let them know. Then, in lieu of your presence, you could send a gift or birthday card with money or a gift certificate. This is a great way to show them you care about them, even though you won't be able to attend.
Other Readers Asked
50 plus 1 birthday
My husband will be celebrating his 51st birthday, but I want to make it into a 50th birthday celebration for friends and family since we could not celebrate last year.
So the theme is going to be 50 plus 1. Can you provide any ideas for this? We will have it in our home in Florida, and I intend to rent tents, similar to wedding tents, with servers and bartenders. I need ideas to make the evening grand instead of bland. Thanks!
Expert Answer
I'm envisioning those tents you mentioned and have some ideas on how to put things together for you. Even if these ideas don't jangle any bells, perhaps they'll trigger other ideas and get the ball rolling for you.
First, let's talk about a motif
I'm thinking of using a nostalgia motif using your husband's birth year, which is fairly easy to implement.
For example, musically, you could create a playlist of important musical events from his birth year.
Would you rather hire a DJ or live musicians? If so, have them cover the songs on your list or just use the premade playlist in the background during set breaks.
You can find the tunes on iTunes or even YouTube and string them together. Then connect your device to a sound system, either wired or Bluetooth, hit "play" and you've got tunes! You could make it super simple by setting things up on Pandora, too, although you may not have the control you would by hand-selecting each tune.
For imagery, put together a slideshow of images of the musicians in the playlist. You could also include famous actors and/or historic events from the era, or pictures from your husband's life…or include them all.
Then you could project the images onto a big screen. They make projectors that connect to your laptop or another device, so it's fairly easy to set up. You should be able to rent the equipment from your party rental folks. If you're prone to weather events, you might be able to keep the electronic components under the tent, and project onto a weatherproof screen like sailcloth hung from poles or trees.
For lighting, wrap tiny solar white lights (like these) around tree trunks and string them up in your tents. Then fill the tents with plenty of balloons using whatever color is his favorite (or any color of significance to him). Or just use gold balloons, which is the official 50th birthday color. You can place floral arrangements on the tables and coordinate your arrangements and linens with the balloons and chairs.
Menu
If you're planning on hiring waiters and bartenders, you'll be best off hiring a caterer. I would gear your menu to all your husband's favorite foods.
However, when I first started thinking of your party, my initial idea was to set up a large central grill (or several grills, if your guest list is large) where people could grill their own meats and veggies. I believe they're called communal grills.
This would be a great way for people to mingle, enjoy a cool drink and be fully engaged in the party. Again, a local party rental company should be able to help you obtain the grills, and waiters could supply drinks and distribute the sides such as salads, potatoes, and bread.
I would ensure there are grill masters available to assist people with their cooking adventures or even do it for them if anyone is grill-shy, so to speak.
Barring the grill idea, I think smokers would be an excellent idea and I don't know a man who doesn't love smoked BBQ! For this option, waiters could deliver platters of assorted meats to each table, and the sides could be served family-style, if appropriate. The waiters could then refill any platters or bowls, as needed.
Elements for Impact
Of course, you'll have the music as mentioned above with the nostalgia motif running through the decor, as desired. But if it works, perhaps the party could span several hours, with special events offered for your guests.
For example, offer a charter fishing excursion during the day prior to the main event. Folks can catch a fish and have it cleaned and wrapped. Be sure to have cameras at the ready as photos of that adventure will be special to all who participate.
Perhaps setting up a sightseeing charter boat tour for your guests would be a better fit. Also, look around your local community for other ideas like this. Whatever appeals to your group of friends would work. It's all about creating a memory and sub-events like this double as a way to keep out-of-town guests entertained prior to the dinner party.
Want a really spectacular touch? Make a rock star entrance! Rent a helicopter and have your husband flown into the party with you at his side. In the background, have just the right music playing!! Wow! Hey, you only turn 50 Plus One, once, right?
Coming back down to earth…
Make sure to line up special friends and family to take the stage and share thoughts of your husband. There could be good-natured "roast-type" speeches, depending upon your husband's sense of humor, or friends could propose more appreciative heartfelt toasts.
I think most people prefer a little of both. Along with the 50th milestone point, be sure to tie in the +1 for a special twist. (You could joke about missing the 50th year like you really wanted to be sure about having a party, or you could elaborate on how it was worth waiting for.)
For the cake
You could have two. The first, a large sheet cake with the number "50" and a smaller cake with the "+1". (Or just imprint one cake with "50 +1"!) Definitely consult hubby's taste buds when it comes to the birthday cake. If he loves chocolate, give him chocolate – or whatever his tastes dictate!
I hope those ideas help you with your party planning and I also hope your event is absolutely spectacular. Feel free to come back and share pictures and how it turned out! In any event, please give your husband a big Happy Birthday greeting for me and thank you for visiting my site!
As always, give us a share on Facebook! Appreciate it!
We're celebrating my husband's 50th birthday and my son's 13th. This is a milestone year for my husband and son. (Dad was born on the 18th, son was born on the 20th). I want it to be a surprise and the number of guests will be about 50 people.
Sister 50th Formal party
I am planning a 50th birthday and had a few questions:
Save the date: is it is okay to send electronically and indicate early on no children allowed?
Instead of gifts can I ask people to make monetary donations? This will be used for the honoree's mission projects. She does not have a foundation.
I am looking at gold and winter white because the party is in winter.
Any suggestions as this party is a week before Christmas?
Expert Answer
Yes, it is ok to send a Save-the-date electronically. And it is ok to put something on it along the lines of "Sorry we cannot accommodate children since this is a formal event. Please arrange for a sitter."
On the subject of gifts, some might consider it offensive to ask for money, but depending on the people involved you might be able to do it if people begin asking for gift ideas.
If most of those involved know about the mission projects, you might consider a statement like "In lieu of gifts, consider supporting or sponsoring (honoree)'s next mission project."
Gold and winter white would be beautiful in December. I assume you've seen our page on a winter theme?
Parties in December are risky because people have so much to do and sometimes travel plans, but hopefully by planning in advance with Save the Dates, and possibly RSVPs with the invitation, you will have a good turnout.
I would suggest trying to get commitments from people individually if you're comfortable doing so. There's nothing worse than planning an awesome event and having only a handful of people show up.
This actually happened to someone I know for their wedding which was the weekend before Christmas. By that date, everyone was planning to do family visits and declined the wedding. Turnout was roughly 1/3 of what was hoped for.
Depending on how close it will be, you could consider planning to have it well ahead of the last-minute holiday period.
Good luck! Have fun planning a beautiful event!
What is the right party for a 50-year-old man?
How do you create the right birthday party for a 50 year old man?
Expert Answer
The key to deciding on the right party for a 50-year-old guy is to think about his personality and what makes him special and unique.
Is he outgoing and friendly? What are his interests, hobbies, and activities? Gather his closest friends and discuss what he likes, what he misses, what he likes to talk about, and then take all those things into account as you plan the party.
Does he like boats, beaches, fishing? Plan a party on a pontoon party boat, which you can usually rent on lakes and river areas for such occasions.
Does he like sports – then plan a party around those…
Is he a more literary type? What does he like to read? Plan a murder mystery dinner party with your local theater group or mystery dinner theater.
Maybe he would like a James Bond themed fancy dress party, or a casino theme.
What about a good old-fashioned family reunion cookout party? If this is more fitting for your guy, ask everyone to bring family photos that include the birthday guy and create a photo slide show or bulletin board showing all those memories. Make copies of everyone's photos and present them in a book to the birthday person.
Hopefully, this can get you started on finding the right party, but if you need more ideas see these pages:
Want to Give Our Boss a Surprise 50th Birthday Party at the Office
The people I work with want to give our boss a 50th birthday party at work. It will only last 1 hour during our lunch. I would like it to be fun, but acceptable for the workplace.
My boss is an "A" personality and is very detailed. She likes to have fun, within reason, of course. I need help!
Expert Answer
No worries! We are here to help for sure! Parties for bosses can be tricky: you have to make sure not to go overboard with the age jokes; they are, after all, the ones signing your paycheck in a sense 🙂
I would go to work a little earlier than your boss does and put a few decorations in their office (or cubicle). Get a few balloons and a banner for the door – nothing too over the top. This will make sure everyone in the office knows it's their 50th.
For the lunch hour, I would arrange to have something for food brought in: say pizza or sandwiches. This can be arranged on your break or the night before. Just have reception or whoever will accept the delivery to put it in the lunchroom or bring it to you.
Purchase a nice cake and make sure everyone is on lunch together.
If there are gifts to give, you can give them as everyone enjoys the lunch. Gifts for bosses shouldn't be something over the top or expensive. You just want something that shows them they are a great person to work with and something nice to remember the day by.
You can get things like:
Have a little trophy made saying "Best Boss"
A nice potted plant for their desk
A framed picture of all their staff together for their desk
Gift certificates for restaurants or a spa (everyone can pool together for this one)
Gift basket of goodies they can stash in their drawer for snacking throughout the day
Have everyone take one of the bosses duties for a day (the stuff the other staff is allowed to do), to give them a lighter workload for a day
Of course, there has to be added fun, because she is turning fifty, right?
Here are a few ideas: please think before using any of these ideas if your boss would be OK with them, as most could annoy some people.
All pool together and get her a "getting old survival kit". This would include anti-aging pills, adult diapers, denture cleaner, reading glasses, etc.
Arrange to have a clown or someone dressed as a gorilla or chicken, come to the office just before lunch and sing "Happy Birthday" to her and they can bring her to the lunchroom where everyone will be to continue the party.
Get some "granny" clothes and make her dress up in them for the afternoon. You would get things like reading glasses with a chain around her neck, a knitted sweater, etc.
While celebrating lunch have someone sneak away to her office and fill it to the top with packing peanuts.
Send out an email to everyone that the birthday girl (the boss) is accepting birthday hugs (or bumps, if you want to be mean) all day.
I hope some of this helps your planning. Feel free to ask any questions you will have along the way. Or stop by afterward and let me know how it goes!
Tell the boss HAPPY BIRTHDAY and good luck with your planning!
Reluctant Birthday Boy
My husband prefers not to celebrate his birthday, but I enjoy planning and giving parties. I know he would really enjoy the party and seeing all of his friends and family after he was there and the party was going on.
My dilemma is that I can't really plan the party without him knowing about it, and I don't want to create any tension with him because of the party. What should I do? Cancel the party and celebrate low key with just the two of us, or go ahead and plan the party without him?
Expert Answer
I can relate very well to your dilemma. My husband has always preferred to avoid his birthday, too, and it was only recently that I learned why.
It used to cause conflict between us because I would always try to get the perfect gift and plan a nice celebration. It never worked out, yet I continued to try for a lot of our 27 years together.
Your husband's reasons may be different, but whatever they are, I think you should plan something that he would be happy with, like just the two of you, as you mentioned.
Your gift of respecting his wishes and feelings would be appreciated even more if you could explain how you feel about missing the fun of planning his party.
Try to talk with him about what you are missing, and maybe you can agree on a party for a different occasion. Maybe a non-birthday party, a masquerade party, or a party celebrating the day you met.
If he is not a party person for any occasion, plan one that's optional for him, or plan one that's just for your girlfriends, where you "roast" your husbands, in absentia.
I hope these ideas help you, and that you can decide on a solution that works for you both.
P.S. Did you see the Party for Two page yet?
Box of fifty years
I want to give my aunt a really fun gift for her 50th birthday. It will be from both my mom and me. We want to do a box of 50 things that each have meaning to turning 50 (or something like this). Or maybe each thing has a meaning to each year up until 50. Do you have anything like this?
Expert Answer
Yes, check out our article titled 50 items for 50th birthday
51st birthday
OOPS! A co-worker turned 50 last year, but no one knew about it at the time, SO what creative thing could we do to celebrate a 51st birthday?
Expert Answer
Why not have a "belated 50th birthday party" and use that as your theme? It could be a lot of fun.
Here are some ideas of things you can do:
Invitations
Create a "Belated Birthday" invitation. Use something like "Seeming we forgot last year, let's celebrate John's Belated 50th Birthday".
Decorations
Pick your color themes as you would for any party. For the banners and signs, use things like "Opps, we forgot, but Happy 50th" or "Happy Belated 50th Birthday".
Cake
Play on the theme of everyone else forgetting – even though it is because you didn't know. Add something to the cake that says "You're over the hill, yet we are the ones forgetting your birthday!"
Gifts & Cards
Have everyone purchase belated birthday cards instead of normal ones. For gifts check out our 50th Birthday Gift Ideas.
Music
You can always research what music was popular at the same time last year and set up to play all those songs.
Another idea you can use is to have a double birthday
In this instance, you would have two of everything – one for his 50th and one for his 51st. For example, you would have two cakes, and everyone would bring two cards & gifts. You could create two invitations and decorate with decorations for each.
It's a fun way to celebrate the milestone from last year, and of course the incoming new birthday as well!!
Not only will the age be a focus (because of course 50 is an important year to highlight) you will also be highlighting the fact that it is two birthdays in one!
Hope this helps get you started at throwing an awesome 50th birthday party, let us know how it goes!
Good Luck! Wish him Happy Belated Birthday for us!!
50 and Ready to Go
I am planning my 50th birthday party I want it to be on the high end; soft gold and dark red. There will be 10 tables, and one large table for food. Any ideas?
Expert Answer
You've got a great start! Gold and dark red are very classy colors. You can tie them together by having nice rich, dark red tablecloths on all the tables with some gold dinnerware … okay, we aren't all millionaires, so gold-colored dinnerware 🙂
You can have a large table with a buffet-style dinner. You can also create the same feel as a wedding and have a head table for yourself and your closest friends. This way, if people want to toast you, there is a focused area where you are the center of attention.
For centerpieces, you could use nice dark red roses in gold vases.
When you send out the invitations, you can ensure there is a dress code – make everyone dress right up – no better way to class up a party than suits and dresses!! This will give everyone the fun of getting all dolled up and it will make for a very classy party.
With the decorations, you can still use balloons; just don't put out tons of them. Have a few red and gold balloons scattered around the room, or have two attached to each centerpiece. A nice touch would be to use a ribbon in red and gold and hang it curled from the ceiling. And in the midst of it all, have some hanging lights.
If you are displaying the cake, make sure it is color-themed too. Maybe a red velvet cake with gold frosting?? That would create a huge impact when it's cut into.