I have a great library of interesting 50th birthday gift ideas! This is a special birthday: when we turn 50, we've lived half a century! So you'll definitely need the perfect gift to help your recipient celebrate.
When you are planning a party or celebration for a milestone birthday like the fiftieth, you need to know the best 50th birthday gift ideas. If you're looking for some unique 50th birthday gift ideas, then keep reading. I've compiled some of my favorite ideas for different gift recipients and you can use them for your own shopping and planning.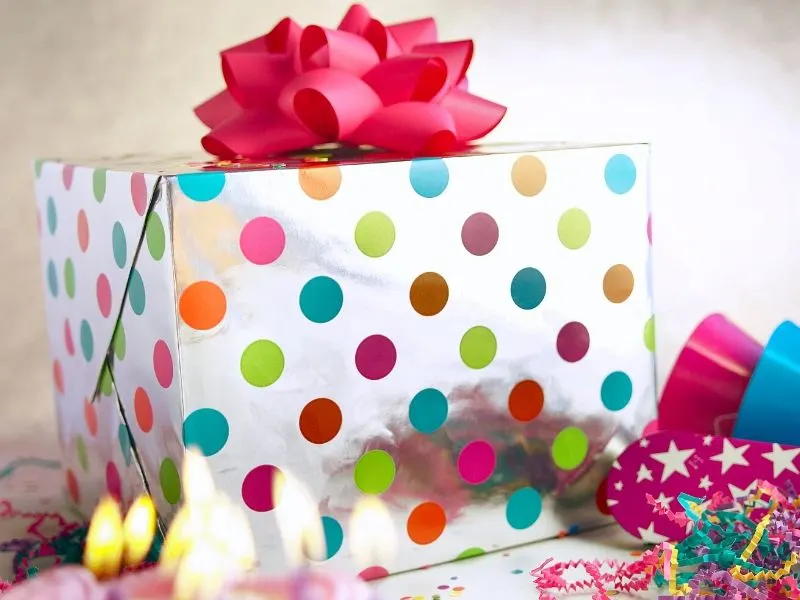 The gifts are an important part of any birthday celebration, especially a milestone year like this one. So it's a way to give them something special to show them what they mean to you!
When someone is turning 50, a plain gift card just won't do. Instead, you'll want to honor this special occasion with something more special. If you do send a gift card, you should send it along with something else, like a gift basket or tickets to somewhere they'd really love to go, to help it be more personal.
We have a great library of the perfect 50th birthday gift ideas for all occasions. Whether you are shopping for your best friend, an aunt, your spouse, or someone else who is close to you, I hope you walk away from this post feeling confident about what you're going to get for them.
Now before we get into specific examples and ideas for this perfect gift, let's talk about the fundamentals of birthday gift shopping. When you want to say happy birthday to someone important in your life, a great gift is a wonderful way to do it. So, how hard can it be?
It sounds pretty simple: you just go to the store and buy the gift.
And, yes, it can be that simple… if you want a generic gift that won't be remembered weeks later. But what if you want to get something that really stands out? What if you want a gift they will remember forever and that will make you feel so amazing for giving it? Well, then you're going to need to think a bit harder.
Tips For Buying the Perfect Gift
It's a good idea to put some research and planning into your gift before you ever even head out to a store. For an important milestone like this, you want to be sure you choose from the best 50th birthday gifts.
To get that perfect gift, something that they will cherish for years to come, start by planning. You can sit and a list of things you know about this person, the things you know they love, what hobbies they have, favorite foods to eat or restaurants to go to, and if they have pets or love animals. Jot down everything you can think of that makes them special and unique because the best gift ideas will be hiding in there somewhere.
Let's take a look at a list of steps you can follow to help ensure you get the best gift for that special person on your list.
Who is the gift for?
Take the time to really think about who they are as a person. A thoughtful gift will show that you know them well. If this person is a close friend or a loved one, this might be easier for you to do. If you know them really well, then you'll know what kinds of things they would really appreciate.
Here is where you figure out what kind of things the birthday person will or will not like. Think of things like:
Their hobbies and how they like to spend their free time
Their likes and dislikes, favorite colors or teams, for example
Those "I wish I had.." things they have mentioned
The things they already have – don't need it or need a new one?
What they mean to you; your relationship
What do they enjoy talking about? Think about past conversations to get ideas for things they are interested in. If buying for close family members, think about their life and what you've seen them do or accomplish, what kinds of things they do in their free time, and what their life passions are. These will all give you hints into what could be the best gift to say happy 50th birthday.
With this information, you have a general idea of what kind of 50th birthday gift ideas they will like, and which ones to stay away from.
What kind of gift style do you want?
This is when you decide what kind of gift you want to get… funny… special…thoughtful…romantic…goofy…expensive…homemade…etc. If you want to give a funny gift, consider a gag gift. But then you may want to give a real gift after that so that the person knows you're taking their big day seriously but just wanted to have a laugh.
Be creative and have fun with it, don't always do the expected. Like, if they expect you to always give the sappy cards… change it up and give them a funny homemade card.
Or if they always expect you to be straight-lined and predictable… go all out with pranks and jokes and out of this world funny gifts. When you want a great 50th birthday gift idea, it's time to get creative. Something ordinary just won't do for such a special birthday.
Different 50th Birthday Gift Ideas
Creative 50th birthday gifts
So, you've decided to go with a gift that's out of the box or unique? I've got some great ideas to use for that one-of-a-kind creative gift. Maybe you will make something so that you can give a truly personal gift.
I'm a very artsy person and usually give homemade gifts – these are always unique and very special. You might sew, paint, make pottery, or take lots of photos.
Any of these can be part of unique treasures for your soon to be 50 birthday person. But if you're not a very crafty person yourself, you can still give a creative gift by purchasing something handmade from Etsy.com or from someone you know who is artsier. Or you can find creative ideas that are unique but don't involve you specifically having to make something.
You might also want to consider making handmade wrapping paper, too. The entire gift, from inside and out, will be truly creative and special.
Special personalized 50th birthday gifts
Another way to make a gift extra special is to give a personalized gift. Something with their name engraved on it, like name jewelry for the woman in your life or maybe personalized grill tools or electronic accessories for him. A personalized gift shows you went the extra mile to make them feel extra special. You can also make a regular gift personalized by choosing to give a poem or special letter with it.
You could create a memory book full of memories you have together, or memories from their life over the past 50 years, or have other friends and family add to it. This would definitely make a unique gift idea.
There are many special heartwarming gifts you can give. You can do things like write and deliver a speech with our step-by-step help for writing a birthday speech, or you can take that favorite child picture and use some of our ideas to create a touching memory-filled gift.
You can also give a useful gift they need but personalize it to make it extra special. The ideas are endless once you start to open that creative flow of planning.
Unusual 50th birthday gift ideas
The next idea is to give an unusual gift. These are the gifts they totally don't expect. It's a great way to make a thoughtful 50th birthday gift stand out.
Use our ideas for the wackiest and most fun gifts you can give. What's a 50th birthday without a wacky and unusual 50th birthday gift! There are many ideas for great 50th birthday gifts.
50th Birthday gift ideas for men
Turning 50 is a huge milestone in a man's life. It's a time to reflect on the past and look forward to the future. What better way to commemorate this occasion than with a special gift? If you're looking for 50th birthday gift ideas for men, whether your husband, dad, brother, or friend is turning 50, there's something for everyone at the link above!
Being a half-century old is a big deal. It's important to celebrate it properly. Some gifts to consider include a personalized 50th birthday t-shirt or a 50th birthday survival kit with fun items inside like Tic Tac Toe and other games!
Some other ideas for him – 50 Things You Can Do at 50 years old:
go to the movies alone
go on vacation by yourself
drive through scenic views while listening to music from your favorite band/artist/genre
visit museums or art galleries near where you live
play the guitar
learn how to play the piano
go swimming
go skydiving
take a trip to Europe
what would you add to this list
The birthday boy is sure to love whatever you come up with if you put some thought into his interests first. It will be a great time for everyone when you plan a golden jubilee with the guest of honor at the forefront of your mind.
If someone is turning 50 years old soon, it's time to celebrate their life with some great gifts and surprises. Here are 50 things for the 50th birthday you might want to give.
50th birthday gift ideas for husband
If you need a great gift for your husband, these 50th birthday gift ideas for your husband are perfect. Get him one of these 50th birthday t-shirts, so he can show off this important accomplishment!
Maybe you could cook his favorite meal or take him out to his favorite restaurant for a lovely night together.
A 50th birthday is a huge milestone and what better way to commemorate it than with a special gift? You can make a memory book of the years you've been together, or get special photos from his youth combined in an album for him. If he's into jewelry, you might order a special customized piece for this occasion, or buy him a nice watch. Every time he checks the time, he will think of you and your love.
50th birthday gift ideas for dad
If you need a great gift for your dad, these 50th birthday gift ideas for dads are perfect. He'll love the "50 ways to celebrate life after 50 book" and more!
Some other ideas include planning an activity day with his friends or family members where everyone can participate in things like bowling alley games (bowling pin game), playing pool at a local barbershop or restaurant, having dinner together while watching TV shows on Netflix or Amazon Prime Video. What else could be better than that? And don't forget about a cute card full of dad jokes to go with your gift.
Here are some other fiftieth birthday ideas for dads:
Dad's 50th birthday gift vintage 1972 perfectly aged hoodie
He'll keep warm and think of you when he wears this vintage hoodie with his birth year.
Neck and shoulders massager with heat
This massager will help your dad relax at the end of a long day. After all dad does for us, doesn't he deserve some luxury?
50th birthday gift ideas for women
Turning 50 is a huge milestone in a woman's life. It's a time to reflect on the past and look forward to the future. What better way to commemorate this occasion than with a special gift? Here are some ideas for the woman in your life for the 50th birthday:
50th birthday sash and tiara
For when she is 50 and feeling fabulous and she wants everyone else to know it too, this sash and tiara would be cute to wear at the birthday party, too.
50th birthday gifts box for women
This fun gift box is perfect for the woman in your life turning 50 and has so many cute things inside.
Here are more 50th birthday gift ideas for women.
50th birthday gift ideas wife
If you need a great gift for your wife, these 50th birthday gift ideas for your wife are perfect. You want to make her feel extra special on what is a very special day.
Here are some other ideas for gifts for your wife:
Sterling silver five circle necklace for 50-year-old woman
Here's a pretty necklace with five rings to celebrate the five decades she has been around.
25 reasons why I love my wife
Show her all the reasons you love her with this beautiful gift book.
to my wife throw blanket from husband
This beautiful, comfy throw has a sweet message and art from the movie Up.
50th birthday gift ideas for mom
If you're looking for 50th birthday gift ideas mom will love, then I have some great ideas for that as well. Remember to think about your mom's personality:
Is she a jokester?
Is she a classical lady?
Does she like outdoorsy stuff or does she like to get dressed up or have fancy tea parties?
Be sure to incorporate her personality into the gifts you choose. Here are some ideas:
Sherpa wearable blanket, seen on Shark Tank
Your mom can relax nice and cozy in this and she'll never be cold!
Aromatherapy Shower Steamers – variety pack
Give her a spa experience at home with these shower steamers.
Gifts for mom from daughter
This beautiful throw will be a cherished gift she will remember for years to come. She'll think of you as she uses it to keep her warm.
Remember that most moms also really love spending time with their kids and family. A great way to celebrate this special event in her life might just be to have all the family come together for a gathering.
Special 50th birthday gifts
We've got some very special 50th birthday gifts you can use for your big event. If you need something special to show your feelings for that special someone, we've got it! There are many ways to get gifts that are extra special, as you can see from the ideas I've already listed.
This is a special day and you need a special gift to exemplify that distinction. Below are some ideas that fall into this category for the special man or woman on your list.
Gift of gold
Gold is the color of the 50th year, be it an anniversary or a birthday. This is a great occasion to buy them something gold.
You can find gold items, such as:
necklace, with an engraved pendant
ring with their birthstone
earrings
keepsake or jewelry box
frame with a favorite picture of you and them
keychain
This is a gift they get to wear day after day. You can also make it even more sentimental by having something engraved on it. This will personalize the gift and give them something to remember you by.
Sentimental birthday speech
You can use speeches as sentimental 50th birthday gifts. It is a great way for you to profess your love for the birthday person in front of everyone.
You can write a speech and deliver it at the party, or privately at home, depending on what you want to say in the speech.
Furthermore, it is a great idea to write this speech out on a nice piece of paper for them to keep as a memento of the beautiful words you've said to them.
We've got some great tips for writing a 50th Birthday Speech and some samples to give you great ideas.
Get scrapbooking!
You can create a scrapbook about them and what they mean to you. Rather than create a scrapbook about life events, create one about how much you love them and why. You can do this by having a page about each great thing about the person.
You could always brainstorm all the unforgettable memories you have, dedicate a page in the scrapbook to your favorite ones. Also, create pages filled with other pictures you love that remind you of that person.
There are plenty of different ideas you can use for special gifts. There are also things like:
Picture collage of you and the birthday person.
Framed baby picture of the birthday person.
A letter or story about how you met them and some of the great life experiences you have shared together.
Song/montage of songs that have meaning to the two of you.
Send the person 50 of their favorite flowers or chocolates.
There are many ways to show them they are special, these special 50th birthday gifts are a great way to materialize the way you feel about them! Remember that a gift that comes from the heart will mean so much more than a generic gift card or store-bought item. So use these ideas to help get your creativity flowing and then pick the best gift for that special person you know.
The gifts are an important part of all parties and hopefully, these ideas give you a great start to getting that perfect gift. Did you see an idea from this list that you want to try yourself?