Did you know that making handmade gift wrap is so simple and easy to do? I decided to try making handmade gift wrap because I got tired of spending so much of my gift budget on the wrapping supplies. I LOVE saying money and being creative as well!
Another benefit? Your gift packaging stands out because it's unique. If you choose to reuse materials from other packages, it might even be eco-friendly as well.
Wrapping paper and gift bags cost around $5 per gift, not including the tissue paper, ribbons, and bows.
You can easily spend $10 on simple wrapping supplies for a single gift unless you buy in bulk.
And who wants to use boring all-occasion paper? That doesn't work for me and probably won't work for you, either.
To me, that's a lot of money spent on something that'll soon end up in the trash anyway. So I wanted to explore other options.
Make Your Own Beautiful Handmade Gift Wrap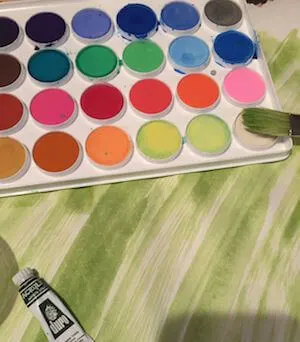 Handmade gift wrap can be a great project to do with your kids or grandkids, or it can be a creative adventure all your own.
It doesn't even have to be limited to paper. You can do some really cute packages with fabric, too.
In some situations, the wrap can be part of the gift.
For example, tie up a box of shoes with funky shoelaces.
Or decorate a girl's gift with hair ribbons or accessories.
Draw or Paint Your Own Gift Wrap
You may have more talent than I have for this idea, but I'm putting myself out there to give you some examples.
Buy a roll of children's easel paper for about $6 and watercolor or acrylic art paints.
These don't have to be the expensive artist versions, any type of cheap acrylic paints will do.
I found some on sale for about $4, and I already had a watercolor set.
You might even find unopened art sets at yard sales or thrift shops for cheap.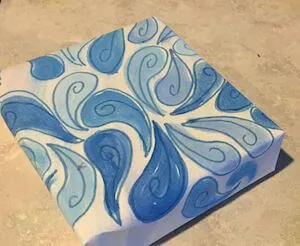 Another option is to use parchment paper (if you already have it), but keep in mind, this idea it doesn't work well with paints that contain a lot of water, like watercolors or diluted acrylics.
Undiluted acrylic paint works fine, or if you don't mind spending a little more time on your project, you can use crayons and markers.
The great thing about parchment paper is that you can trace designs if you aren't keen on freehand doodling, drawing, or lettering.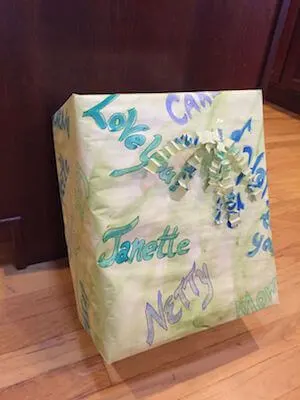 Adult coloring books have lots of designs that would be perfect for tracing.
For some packages, you might need to consider using an extra layer of parchment paper since it is somewhat transparent.
It might take a bit of experimenting to find designs and colors that make you happy.
Then there's the question of which medium works best for you.
If you like pastels and subtle colors, watercolors, pencils, or crayons might be your choice.
For bolder designs and colors, acrylic paints and markers will be stronger.
Sometimes I like a combination of watercolors and markers, which can really make your design pop.
If you're already very artistic, you might even like to do pen and ink line art as your design style.
These can be accented with watercolor washes, or just left alone as ink on white.
Photo Collage Gift Wrap
Gather your scissors, glue, and a pile of pictures for a completely unique way to wrap a gift.
For this idea, first wrap the gift with parchment paper or your art paper from the roll. Print favorite photos of the birthday person, their favorite hobbies, or anything significant related to the person's life.
If you don't have a lot of photos, choose one as the centerpiece and surround it with magazine pictures of their favorite places or things.
Cut out the pictures and make a photo collage right on the package.
Fabric as Gift Wrap
If you happen to sew, you might have great gift wrapping material already on hand. You can use fabric scraps just as they are for wrapping a gift. Or take strips of fabric sewn together to make a pretty patchwork quilt type of design.
Use fabric strips or fabric ribbons to tie up your package, or just stitch it closed for a really cute look.
Yarn is another material that you might try as an accent to a fabric wrapper, maybe with big stitches along the ends in a contrasting or complementary color to the fabric's design.
More Handmade Gift Wrap Ideas
Don't you just love all those decorations in the scrapbooking section of the craft shop? I'm not a scrapbooker (yet), but I love all those neat items, and I think they could be fantastic elements on handmade gift wrap.
And if the recipient happens to be a scrapbooker, so much the better!
If you have jeans you've outgrown, use them along with a bit of leather or lace. Stitch the fabric in place since tape won't hold, unless you decide to use decorative "duck" tape with crazy designs.
Making handmade gift wrap can be a relaxing hobby with the end result being your own signature style of gift wrap. The more you practice, the better your results will be, too.
Who knows, perhaps the gift receiver will love your wrapping more than what's inside.
You may even see your wraps mounted on the wall as artwork.
At the very least, your wrapping paper will be unique and a great topic of conversation, and maybe inspiration for others.