If you're looking for ideas and recipes for 50th birthday cakes, you'll definitely want to consider the cakes on this site for your 50th celebration. They range from indulgent to decadent. I bet just the pictures on this page will make you want to dive in with your fork. (Read on for the best-chocolate-cake-EVER recipe!)
Tips for Brainstorming Cake Designs
First, when you're brainstorming cake design ideas, keep in mind that some cake decorations won't work if you plan to use a saying or birthday messages on the cake itself.
For a truly elegant cake, you may not want to clutter it up with birthday messages. In those cases, your message can be expressed in a greeting card instead.
As for chocolate 50th birthday cakes, you can make chocolate layers cushioned by mounds of chocolate mousse or whipped cream fillings, or topped with dollops of whipped cream.
You can choose between:
A traditional layer cake.
A sheet cake.
A cake baked in a sheet pan or jelly roll pan, then topped with whipped cream and rolled into a log.
Thinking about a rich chocolate cake? Use nuts and caramel, or even a mocha and chocolate cake served with gourmet coffee for an afternoon party.
Idea: Dress up a Cupcake for an Elegant Touch
That's right, even cupcakes can be dressed up to make an elegant 50th birthday cake design. They're all the rage in the baked-goods universe right now, plus you can express yourself on each individual cake. Or have one special cupcake for the guest of honor, and a sheet cake or other dessert for the rest of the party.
What about chocolate cake flavor combos?
Popular, delicious chocolate cake flavor pairings include:
Coffee and cream.
Cherries and glaze.
Coconut.
Hazelnut.
Dark cookie crumb crushed onto a cream frosting.
Cake Garnishment Ideas
Pretty garnishes could be one or more of these: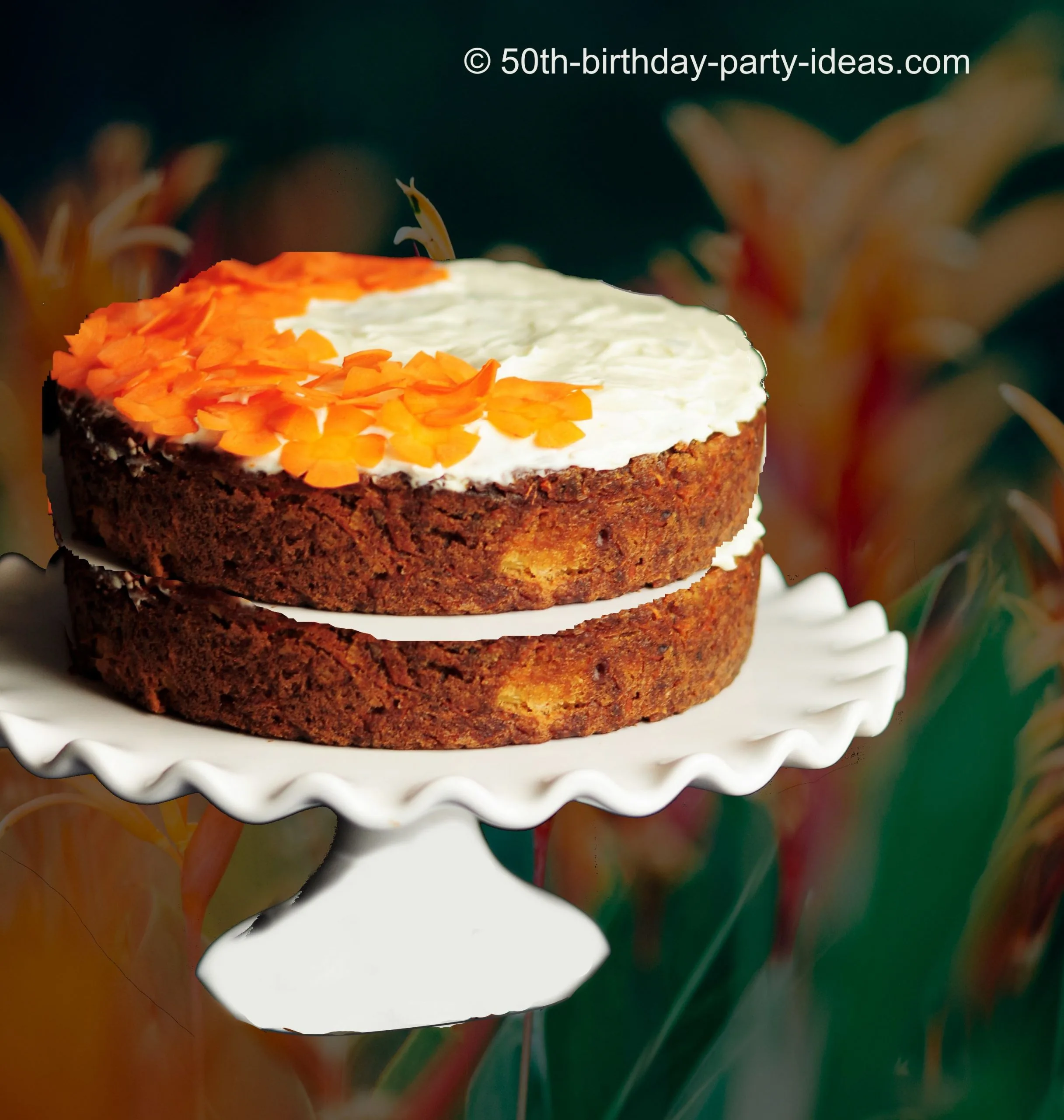 Green grapes.
Cherries.
Strawberries.
Kiwi.
Coconut.
Shaved white chocolate.
Different colors of shaved chocolate.
Coconut.
Or sliced almonds.
Just to name a few.
If you decide to go with a large sheet cake because you want to add a birthday message, you can still have chocolate. Just decorate the edges and sides with indulgent toppings. Yum!
Best Chocolate Cake Recipe
This recipe is my version of Betty Crocker's 1976 Cookbook recipe. I've replaced a few of the original ingredients and incorporated lots of sifting. The sour cream and dark cocoa make for a moist, rich, and very chocolaty cake. Perfect for your chocolate-loving birthday person.
2 c all-purpose or cake flour
2 c sugar
1 tsp baking soda
1 tsp salt
1/2 tsp baking powder
1/2 c sour cream
1/2 c butter, softened (1 stick)
2 eggs
1 cup milk
1 tsp vanilla
1/2 c Hershey's Special Dark Cocoa
Oven: 350 degrees
Pan options: 13 x 9, 2 round layers, one jelly roll pan, one quarter sheet pan, 24 cupcakes
Grease and flour, or line, your choice of pan size. (Very important, so don't skimp.)
Sift together the dry ingredients, then stir in the wet ingredients. Blend for 1/2 minute on low, then 3 minutes on high speed. Pour evenly into pan(s).
Bake oblong 40-45 minutes or layers 30-35 minutes. Cupcakes 25-30 minutes. Note: if using dark pans, reduce oven temperature to 325 degrees.
Cake is done when toothpick inserted into center comes out clean.
Cool on a rack, until room temperature. Chill well before frosting, in order to compensate for the cake's moistness.
Frost and decorate according to your cake design idea. Delicious!
---
Quick Cake-Making Tips
Always be sure to grease and flour your pans, or line them with paper. If not, your cake could tear when you attempt to remove it from its pans.
Use a rack to completely cool your cake prior to frosting it. Otherwise, your could become crumbly or tear, resulting in crumbs in the frosting. Not the look you want!
Fold parchment paper into squares and trim. Slide the squares under your cake so that your cake stand is protected. When you frost your cake, any drips of frosting will fall on the sheets. After frosting, simply pull them out to reveal a completely clean plate or cake stand surface.
Continuing on with our fabulous 50th birthday cakes …
50th Birthday Cakes To Die For
Loooove cake? Check out this page. YUM!!
To make a 50th birthday cake like the one pictured, try these filling and frosting recipes.
Chocolate Mousse (or Mocha) Filling
1 cup heavy cream, whipped
1 – 14 oz can sweetened condensed milk
2 – 1 oz squares unsweetened chocolate, melted
1 pkg instant chocolate pudding mix (4 servings)
1/2 cup chilled water
Optional: for Mocha Mousse filling, add 1 1/2 tsp instant coffee
Mix the condensed milk and melted chocolate in a large mixing bowl. Gradually stir in water, then pudding mix until smooth. Refrigerate for 30 minutes.
Stir the chocolate mixture and fold in the whipped cream. Refrigerate for another hour or more.
Makes 3 cups of filling.
Alternate a layer of cake, 1 1/2 cups of mousse, cake, mousse, cake; or use the mousse as frosting with a single layer of mousse filling between 2 cake layers.
Refrigerate the finished cake.
Fudge Frosting
1/2 lb confectioner's sugar
1/4 cup (dark) cocoa (for darker color and taste)
1/4 cup soft butter
1 tsp vanilla
2 tbsp water
1/4 cup clear corn syrup
Blend the confectioner's sugar, dark cocoa, and butter in a mixer bowl. Add the vanilla.
Heat the water and syrup to a simmer, but not fully boiling.
Combine the hot syrup and sugar mixture and beat on low speed for 3 minutes or until glossy.
This frosting is easier to use while still warm.
This recipe will generously cover an 8 inch layer cake.
It's always a good idea to try out new recipes before using them for a special occasion. Your family will love to be your taste testers, too. I know mine are. Just about everyone loves cake.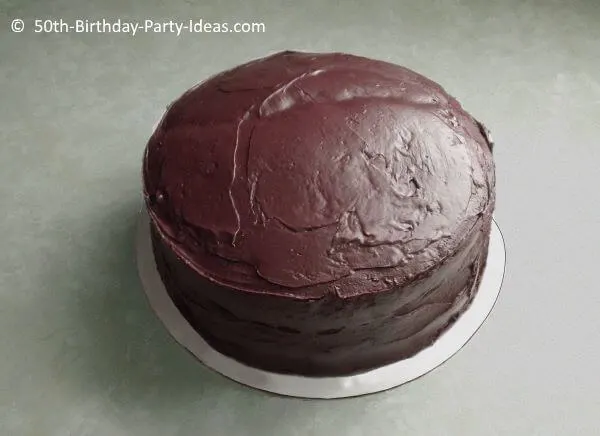 Texturize Your Toppings
Toppings and fillings for a chocolate 50th birthday cake could be gobs and gobs of whipped cream, shaved chocolate, bright red cherries, crushed cookies, or maybe an elegant fondant covering.
Use a variety of chocolate types to create a textured appearance with shaved chocolate curls.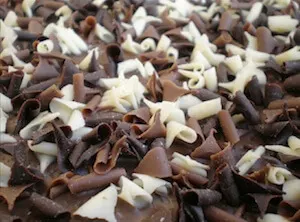 Aren't you excited about trying out these 50th birthday cakes?
If you have success with a scrumptious chocolate cake recipe, maybe you would like to share it with us on our Share your story page.
A picture would be great, too!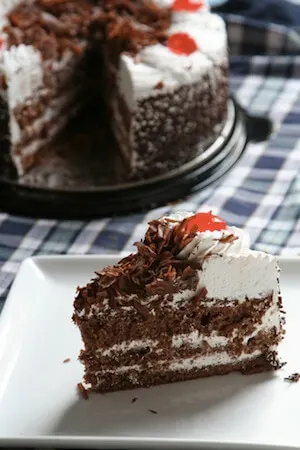 Hello! Looking for other cake ideas and recipes?
Here are links to pages with more, more, more ideas!