When you're looking for something really unique and special to give to someone important in your life for their milestone 50th birthday, consider 50 items for 50th birthday gift. What does this mean? Don't worry, I'm going to explain it all to you. The basic idea behind this gift is that you create a box or a list of 50 things that all relate to the theme of a 50th birthday.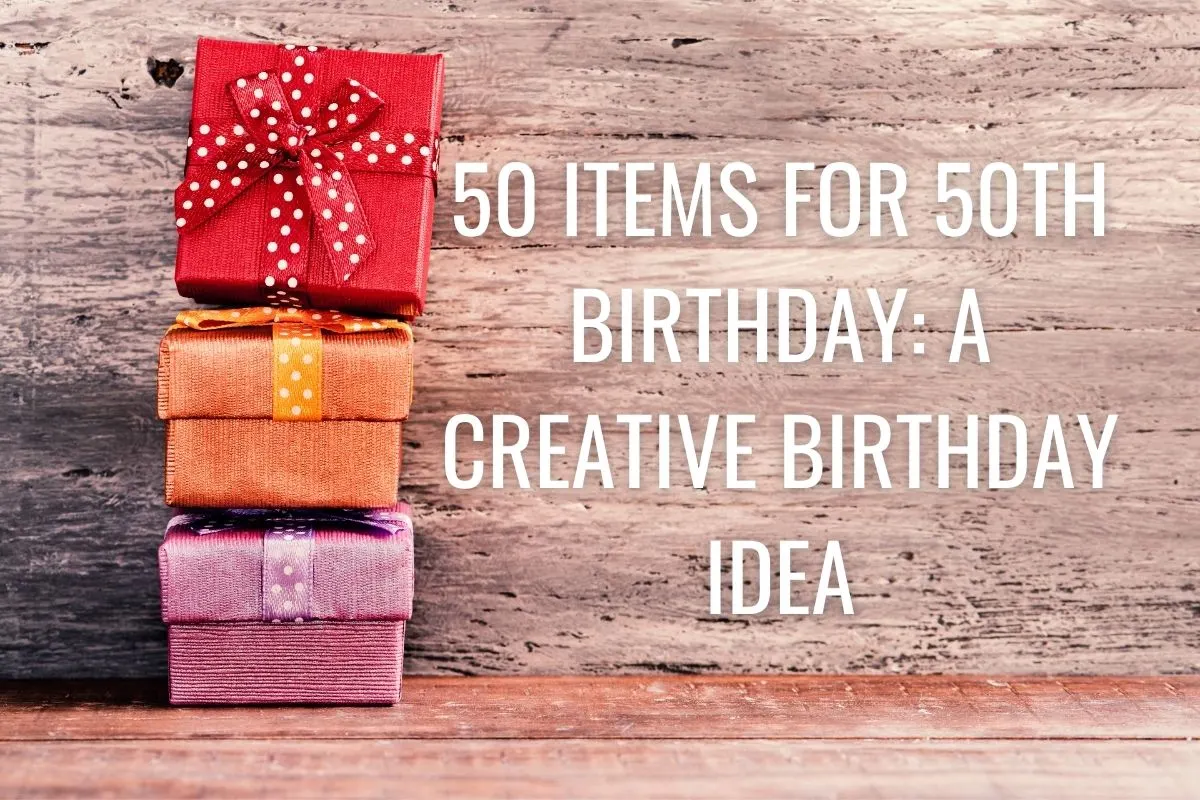 There are a lot of different ways to do this, and I invite you to get as creative as you wish. But the general idea is to collect 50 of something… it could be small gifts, mementos, letters, poems, cards, memories, jokes, or anything else that suits the occasion. And once you have collected these 50 things, you will deliver them to the birthday guest of honor in one of two ways.
You can either box them up, put them in a jar or bag, and give them all at once, or you can trickle the gifts or items out over 50 days leading up to the birthday event. How you do it is up to you but may also vary according to what the items are that you are collecting and giving.
While this gift takes more effort, it'll be a birthday gift the recipient will remember for a long time. A perfect 50th birthday gift for a sister, your mom or dad, or even a special friend.
Let me show you some examples. Remember that you can use these ideas and then expand on them or tweak them however works best for you.
50 Days to Your 50th Birthday
What can be more fun than a birthday countdown? One idea is to create a 50th birthday box or 50th birthday countdown. In this idea, you can create a 50-day countdown and either send small gifts or hints to the birthday person every day for 50 days leading up to their big day, or you can place 50 things inside of a box and then give it to them on their big day.
If you feel like it's too much for you to try to come up with ideas for fifty days all on your own, you might get other friends and family members to join in. You could petition them to give small gifts or items to you for collection and then you can organize it all and send to the recipient.
If you are enlisting others to help, I recommend doing it well in advance and giving them as much time as possible to complete it and send to you. People live very busy lives these days and it can be hard to squeeze in more tasks like this, even if it is for a very good cause. Give them enough time and also give them a firm deadline – this will help make sure the procrastinators also turn in on time.
Here are some other variations on a similar idea.
50 Funny Things about Turning 50
In this one, you can write down funny things about turning fifty. You can also ask other guests, relatives, and friends to include their own funny things about turning 50.
Once you have 50 things, you can place them in a box or a jar, decorate them, and give this box/jar as a present at the party. It could also be a lot of fun to read some of them at the party.
In addition to just writing things down, you can include gag gifts like prune juice, reading glasses, false teeth, "anti-aging" pills, and more.
50 Small Gifts for Your 50th Birthday
You can also pick 50 small things that remind you of the guest of honor or that you really want to give to this special person for their milestone birthday and combine them all in one box.
50 Years in a Box
In this idea, we will collect one thing to represent each year the birthday guest has been alive and include these in the gift box. If they were born in 1965, you can find an item that represents that year. And then something for 1966, and so on. You can include newspaper clippings, music from certain years, major events happening in the world, etc. This one might be a little more challenging, but it can be a lot of fun to put together.
50 Reasons I Love You
Here's another sweet idea for someone you really care about: 50 reasons I love you.
Just as the name suggests, you're going to collect fifty reasons you love this person and give it to them for their 50th birthday. How you choose to do it is up to you. There could be a photo album or memory book, or you could write the reasons down in a journal or on note cards.
You might make a video and speak the reasons out loud. Again, it's all about doing it your way but making it special. Part of what does make it such a personalized gift is that you are making it from your own heart and your memories with this person. It can be something they will cherish for a long time to come.
50 Things that Remind Me of You
For this one, you will collect 5- things, either small objects or photos or magazine clippings or other examples of the things (if Lamborghinis remind you of them, for example, you can use a toy car) and then place them all in a box and gift it on the big day.
Some things you might include are framed pictures of you and her, mementos that remind you of trips you took, things that remind you of her, CD with songs that would portray how you feel about her, etc.
50 Items For 50th Birthday – Conclusion
The 50th birthday is a milestone occasion and it's one that deserves the right amount of attention and care to make it extra special. You should go above and beyond what you would do for a typical birthday when you want to make a milestone birthday special. These ideas are designed to do exactly that but remember that they are just ideas. You can tweak, change, or add to them however you see fit.
The main goal of this gift idea is to give from the heart. When you put thought into it, you show the birthday gift recipient that they are loved and appreciated. What better time than on a 50th birthday is there to do this?