Dads do a lot of hard work in our lives and often go unappreciated. Can you think of times when your dad jumped in to help you, teach you, or fix something for you, and you didn't even ask? Your dad's birthday is a great time to take a moment to show him how much you appreciate all he does for you.
I've compiled sixteen great ideas for 50th birthday gifts for dad to help you get inspired. If you don't see the perfect gift on this list, it will hopefully help inspire you to find it. 50 is a milestone birthday, and if your father is reaching his, you want to get him something that really celebrates the occasion. All family members can come together to create something special and memorable for the dad in your life. Let's take a look at some ideas.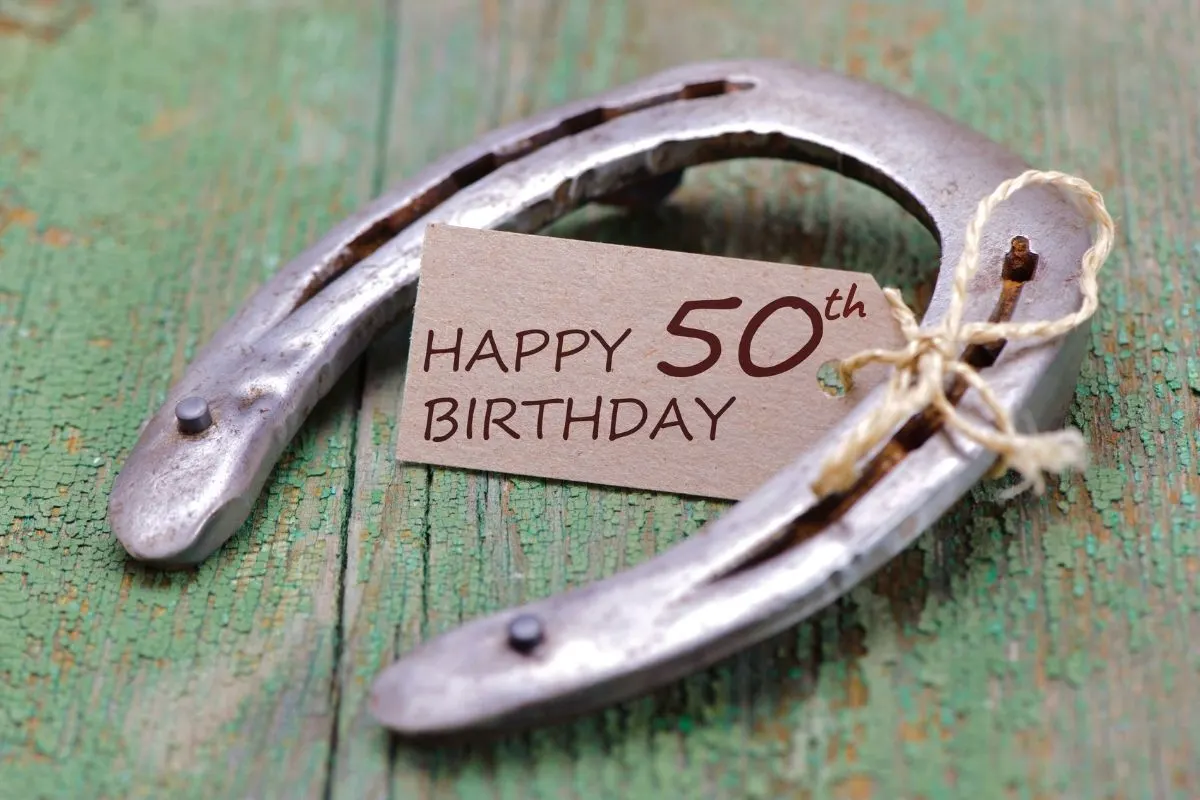 50th Birthday Gifts for Dad
A thoughtful gift can go a long way toward making memories and showing your dad how much you care. A 50th birthday is a special occasion, and the best gift is one that shows you recognize how special this day is and that you really want your dad to feel loved and appreciated on his special day. How you do this can vary because every father is different, and your relationship with him can differ from another person's. But the best birthday gifts are always those that come from the heart. I will give you some ideas to get you started, but it's up to you to make your dad's 50th birthday special by personalizing it.
Does he love to play video games? Maybe he loves music, and there is a special vinyl record he's been eyeing for some time. Great 50th birthday gifts are those that capture the essence of the gift recipient. A memorable birthday gift shows you know your dad well and that you take his interests and hobbies seriously too.
Here are some of my favorite ideas for birthday gifts for fathers on their 50th. Keep your dad's personality and tastes in mind when browsing my list. Does he have a man cave? Does he like to golf regularly with his best friend? Does he spend much time in his favorite recliner in the living room? Think about your dad as you go through this list of unique 50th birthday gift ideas, and we're sure you can find the best one for your dad. Maybe something will jump out at you or spark ideas in you for your father.
Related: 50th birthday gifts for mom
Need a great card for Dad's 50th? Here are some great ones you can easily customize:
1. Shiatsu neck and back massager
By his 50th birthday, your dad has earned some relaxation time. This neck, shoulder, and back massager is the perfect way for him to unwind while lounging in his favorite chair and reading or watching TV.
It can also be used on other parts of the body like the shoulder, legs, feet, and other muscles. It features eight different tissue kneading modes and a soothing head massage that will feel great at the end of a long day. The controls are simple and easy to use if your dad isn't a tech man.
2. Funny 50th birthday coffee mug
Here's another great gift for a dad with a good sense of humor who likes his daily coffee or tea. The mug reads: "Looks 22, feels 18, acts 10. That makes me 50." It's white with black and red font. It comes packaged in a nice gift box, ready to give to your dad. The mug is made of a sturdy, durable ceramic that won't chip and stain easily, and it's dishwasher and microwave safe. If your dad loves to laugh and joke around, he will surely appreciate this.
3. 19-piece stainless steel grill set
If your dad loves to grill, this gift will be appreciated and used often. It's a 19-piece set of stainless-steel barbecue or grilling accessories. The pieces come in an aluminum storage case to keep them neatly all together, and it makes it convenient and nice to package up and wrap.
This very complete kit comes with 1 tong, 1 fork, 1 knife, 1 grill brush, 1 basting brush, 4 skewers, 8 corn holders, 1 replaceable head of grill brush, and 1 spatula that has 4 functions (with built-in bottle opener and tenderizer blades).
This is a complete and professional grill accessory that contains almost everything you need for grilling. It's made from premium material meant to last a long time and through many uses.
4. Vintage style 50th birthday baseball cap
If your dad loves hats to wear or collect (or both), this is a great choice for this 50th birthday. It has wording on the front that reads, "It took 50 years to look this good!" with two thumbs-up hands on the sides of the lettering. This will make him laugh on the day he receives it and each time he wears it.
It comes in black, embroidered black, embroidered grey, grey, embroidered red, red, and ponytail embroidered black for the dad with long hair. It has a vintage, classic distressed denim look to it and is made of 100% cotton.
5. Wooden phone docking station organizer
If your dad comes home and dumps the contents of his pockets on a counter, table, or bedside table, this is a perfect gift for his 40th birthday. This wooden phone docking station has a space for his phone where it can charge, and also other daily use items like glasses, watches, keys, change, and more.
It's made of 100% natural and eco-friendly materials. The smart design is also strong and sturdy to withstand much use. And it even comes in a gift box to make it easy for gift giving.
6. Leather travel journal notebook for dads
This is a great birthday gift choice if your dad likes to write, travel, journal, or log anything from his dad. If your dad doesn't keep a daily diary or journal, it could be used to log recipes, fishing dates, stats, golf scores, or any other hobbies your dad enjoys.
It's made of thick PU leather and clearly engraved with a sweet father's message on the front. The high elastic straps help keep it closed, and the paper is smooth, lined, and easy to write on. You can also add more paper if needed.
7. 50th birthday pocket watch
This engraved pocket watch was designed to commemorate the occasion. It reads "50th. Aged to perfection. Behind you, all your memories. Before you, all your dreams. Around you, all who love you. Within you, all you need."
Your dad will think of you and this sweet message each time he takes it from his pocket to check the time. It's also a great collector's piece.
8. RAK magnetic pickup tool/ magnet stick
Here's one of those fun contraptions or gadgets you expect a father to have. With this magnet tool, your dad can easily retrieve dropped items like bolts and screws. It has a very strong magnet base as well for hands-free use.
This telescoping magnetic pickup tool is handy for automotive repairs, HVAC, boating, camping, fishing, home improvement, plumbing, and other applications. It's adjustable, very bright, and easy to take with you on the go. Your dad will love it.
9. Men's personalized wooden watch
This is a unique gift for the father who loves watches or any dad who deserves a special gift on his big day.
This BOBO Bird men's personalized engraved wooden watch is very lightweight and comfortable on the wrist, has a special customized engraved wooden design, and even comes with a bamboo wooden gift box for easy gift-giving and storage.
It has a 10% guarantee warranty and comes in various engraving options, so you can pick the one that is best for you and your dad.
10. Hanging leather toiletry bag from Vetelli
This item makes an elegant way for your dad to organize his toiletries at home and on the go. This high-quality toiletry bag has four internal pockets, is water-resistant, is very versatile and easy to use, and features a heavy-duty hanging hook and a leather foldable design.
It measures 12″ X 8″ and can be used lying flat or hanging. It has the perfect number of pockets for everything your dad needs.
11. Best dad ever pocket watch and multi-tool
A multi-tool pocket watch is such a classic dad gift that even if your father has one already, he'll still be happy to get this new one. It's made of high-quality stainless steel, is foldable and lockable, features all the tools your dad needs quickly and fits right in his pocket.
This tool has a sharp blade, serrated edge, pliers, bottle opener, can opener, and 9-in-1 screwdriver bits, all in one multifunction tool. It's engraved with the words "Best Dad Ever" on the side.
12. Breville juice fountain plus
If your dad likes to get handy in the kitchen, this juice extractor may be just the kitchen gadget he needs for his 50th birthday. He can make all the flavorful juice whenever he wants, in the healthiest way possible and without all the additives that store-bought juices often contain.
This two-speed countertop juicing machine does fruits and vegetables. It comes with the following accessories: a 1-liter juice jug with a froth separator, a stainless-steel micro-mesh filter basket, and a cleaning brush for the micro-mesh filter basket.
13. 12-in-1 survival kit
This is the perfect gift for a dad who likes hunting, fishing, camping, and other outdoorsy stuff, or just for any father to have in his toolbox or carry in his car when he needs items on the go. This survival kit contains everything you need in a pinch to escape a tough situation.
The 12-in-1 survival kit includes an emergency blanket, emergency window breaker, flashlight, wire saw, 7-in-1 spork, pocket bellow, fire starter, tactical pen, water bottle clip, knife, and saber card. In addition to that, we have also added a high-strength multi-use paracord bracelet with a whistle and fire starter, making it the perfect tool for emergencies.
14. Engraved BBQ grill set
Here's another grill set for your dad, but this one is simple and sure to be used if your dad loves to cook outdoors or on the grill. The 3-piece set contains a functional spatula that says, "Best flippin' dad!", a heavy-duty tong set that says "#1 Dad," and a practical grilling fork that reads "The grillmaster."
Each piece is 15-16 inches long and made of wood and stainless steel. A happy bonus is he might invite you over the next time he grills up one of his favorite classic recipes!
15. Hammer multitool engraved
Here's another fun, simple, helpful multi-tool that always makes a great dad gift choice. It says, "World's best dad," and reads, "Thank you for helping me build my life."
This multitool is shaped like a hammer but has Pliers, Knife Blade, Saw, Assorted Hex Wrenches, Phillips's screwdriver, Bottle Opener, File, Fish Descaler, and more with a Safety Lock. It has 12 functions, all in one tool that fits in a nice nylon pouch (included).
If your dad is a Mr. Fix-It, he will love this.
16. Oldometer 49-50 funny t-shirt
If your dad loves to laugh, tell dad jokes and has a good sense of humor about his age, this could make a fun gift. The 100% cotton t-shirt comes in a few color choices and sizes up to 3XL. It features a meter ticking from 49 to 50 in the image and the word "Oldometer" on the front.
More unique and fun ideas for Dad's 50th birthday
17. Robot lawnmower (also called automower): Yes, there is actually such a thing! Similar to the robot vacuum, this lawnmower will do the work for him
18. GPS for his car: A great 50th birthday present idea! This way, Dad will always know where to go and can plan the most fuel-efficient route to avoid rush hour traffic.
19. Bluetooth headset: You can get a headset he can use everywhere or a Bluetooth system for the visor in his car. Either will give him the freedom of chatting hands-free – and be a safe driver.
20. Digital photo frame: This will give a sentimental side to the gift but is still in that "cool gadget" category. You can load it with all your favorite pictures before you wrap it. And Dad can always add or change the pictures over time.
21. Universal remote: Most dads are couch potatoes for some part of the day – be it to watch a game or a movie. This remote will allow him control of all the devices, so he wouldn't have to fumble with a remote for the TV, Stereo, DVD player, etc.
22. Grilling tool belt: This is a neat gift if dad is an avid BBQ'er. It's a tool belt similar to any trade tool belt, except its tools are required for a great BBQ. There is a spot for the spatula, tongs, brush, and everything.
23. Fishing trip: Buy him all the things he needs for a fun fishing trip with either a father-daughter trip or a father-son trip. Pack a gift basket with snacks, bait, tackle, sunscreen, pop, etc. You can also add in the supplies to cook what you catch. Also, you can create a voucher for "one family fishing getaway."
24. Remote control car: Consider Dad's favorite car – try to find a remote control version. What dad wouldn't want a car for his birthday? To add to the gift, you can buy him a nice pair of driving gloves when he takes his car out on the town.
25. Sports tickets: Buy tickets for his favorite sporting event. Make sure to get a ticket for you and him, and if you have the cash – the rest of the family.
26. Personalized things: You can personalize anything for Dad. You can have his picture or his name put on stuff. You can have "world's greatest dad" or another catchy phrase. You can personalize anything from coffee mugs, beer glasses, clocks, t-shirts, key chains, picture frames, pillows, blankets, etc.
27. Chef's apron: If Dad is an avid BBQ'er or cook, you can get him an apron with pockets for all his cooking utensils. A lot of these aprons have sayings like "Kiss the Cook," "Caution: Man Cooking," "Real Men Don't Use Recipes," and so on.
Sometimes, a plain old gift card won't do. You can give your dad a walk down memory lane with fun pictures from your years together or even from different decades of his life. You can also give gift experiences, like concert tickets or certificates for his favorite golf course. Whatever you do for Dad's 50th birthday, the idea is for him to enjoy it. In addition to the gifts on this list, it can be a gift in itself to give your dad a fun birthday celebration. Having his favorite people come together to celebrate his life is a fabulous 50th-birthday idea, and it's easy to implement with some simple planning.
These are just a few of the many different options for 50th birthday present ideas for Dad. He's put up with you long enough to deserve something great!
50th birthday gifts for Dad wrap-up
Now that you have these ideas, you're well on your way to shopping for your dad's big 50th birthday. Remember, whatever gift you choose to give, it's equally important to let your dad know how much he means to you. This could be a great time to spend time with him doing some "dad things" or taking him out to dinner at his favorite restaurant.
While the gift is a nice touch, it means just as much to a father to know you remembered and cared about him. A 50th birthday is special, but it's even more special for a dad. Show him how much he means to you with an awesome gift on this joyous occasion. Hopefully, these ideas will help you choose the perfect 50th birthday gift for your dad.