If you or someone you love has an upcoming 50th birthday, you want to make it special for the guest of honor. While some people like humor or "over the hill" jokes on their big day, other people want a more elegant theme. This milestone birthday deserves the best you can offer to make it extra special.
I have compiled some of my favorite elegant 50th birthday party themes to help get you started. These are great ideas for anyone who wants a more refined, elegant, or fancy 50th birthday party. If you like any of these party themes, feel free to use them or to make them your own. Your 50th birthday celebration can be everything you've dreamed of and more when you take the time to plan accordingly.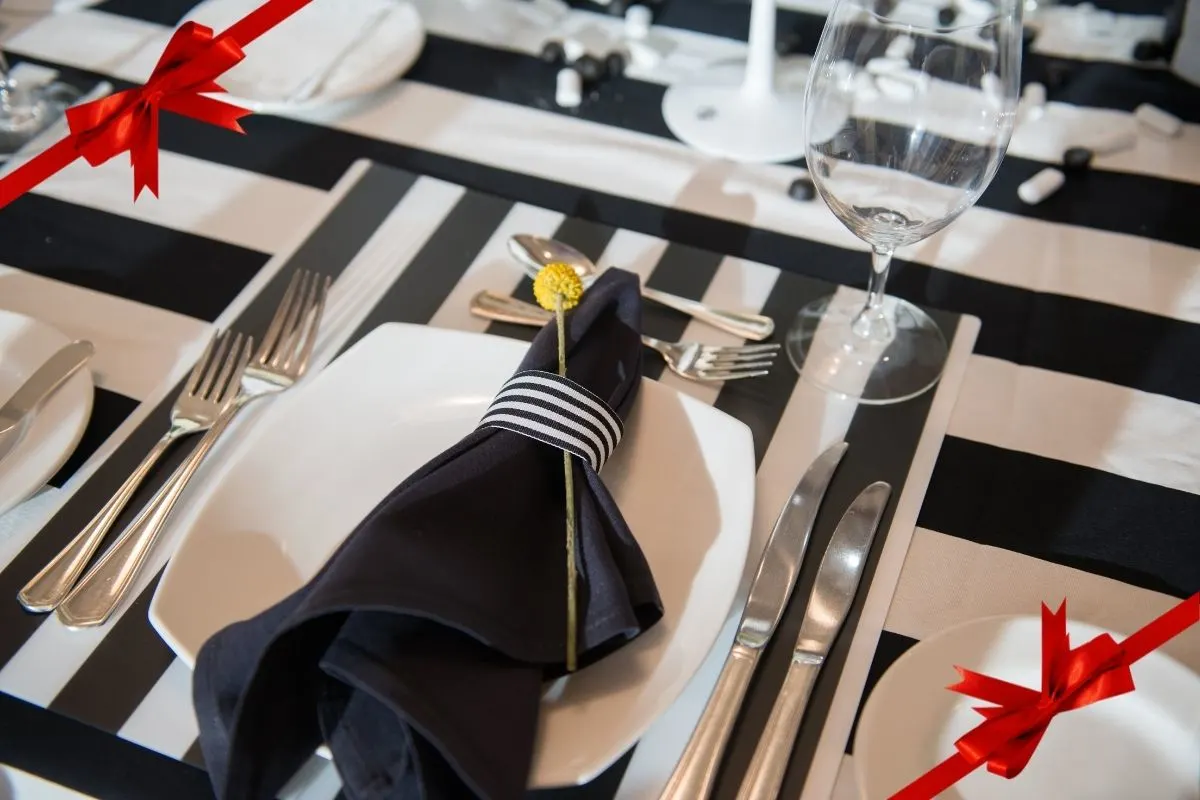 Elegant 50th Birthday Party Themes
If you're looking for a great idea for the birthday girl or the birthday boy, it all starts with making a plan. Deciding on a birthday party theme can help you create a plan for a big birthday bash. Choosing a theme also helps with small birthday parties and everything in between. The benefit to choosing a theme is that a lot of work is decided for you at that point. Then, you can build off of that central idea of a theme.
From there, you can choose 50th birthday party decorations, gift ideas, balloons, and even party games all based on this theme. But if you're stumped on how to choose a theme, I have compiled some great ideas for a fiftieth birthday that will help you. The perfect way to celebrate a birthday is with your closest friends, your favorite colors and your favorite foods, and all the other things you enjoy most.
Now let's take a look at some of those party themes.
1. Black tie dinner party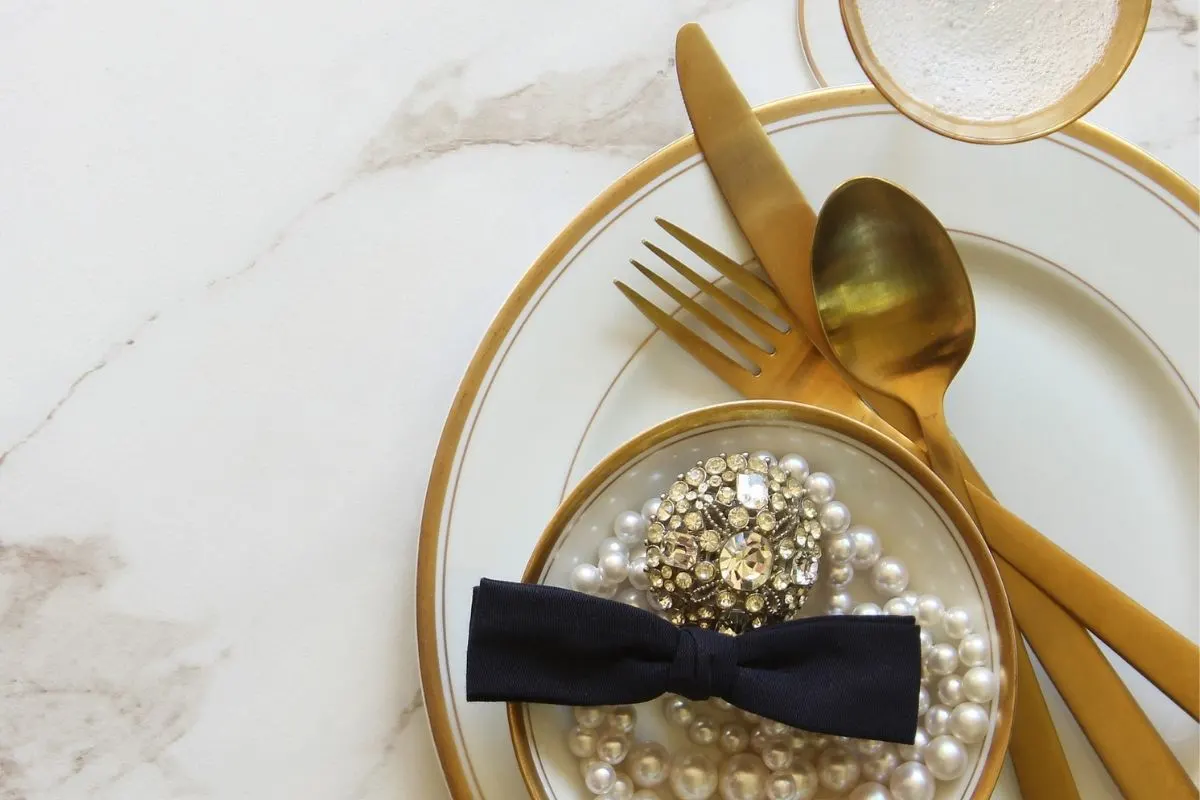 As the name suggests, a black-tie dinner party requires you and your guests to get dressed up in your favorite fancy clothes. You can rent out a venue and host the party there, or you might do it in your own home if you have the space. This is a great theme when you want to go elegant or fancy for the party.
Here are just a few ideas for a black and white 50th birthday party.
This party can be as big or as small as you'd like, and you could make your own food or get a catering service. It is your birthday, after all. Of course, this isn't everyone's style, so let's look at some other ideas.
2. Paris-themed party
Paris is a city often known for its elegance. You can bring Paris to you, no matter where you are in the world, with a Paris-themed 50th birthday party. If Paris isn't your thing, you can do any French style, or any other city you truly love or that has special meaning to you. It will be so much fun to celebrate under a starry night or in the day with a great theme like this.
3. Masquerade ball
Of all the amazing themes I've seen when researching, this is one of my favorites. Masquerade balls are sometimes called fancy dress parties and for good reason. This is a party that is synonymous with elegance. People can don their fanciest clothing, wear Phantom of the Opera style masks on their faces, and enjoy dancing, good food, and good times.
You'll make so many memories for your 50th. For an added touch to preserve your memories, consider hiring a photographer or renting a photo booth for the event.
4. Vintage themed party
Do you have a favorite decade? This could be a great time to celebrate and honor it on your 50th birthday. You can bring a fun element you can't get from a modern-themed party and you can make it what you want it to be.
Vintage parties don't have to be cheesy or tacky. You can do an elegant party with a vintage theme. Have your guests dress in clothing for your time period, make food that was popular in that time period, and even use vintage decorations to complete the look. You can make it classy and fun. It will be a 50th that everyone remembers.
5. Outdoor dinner party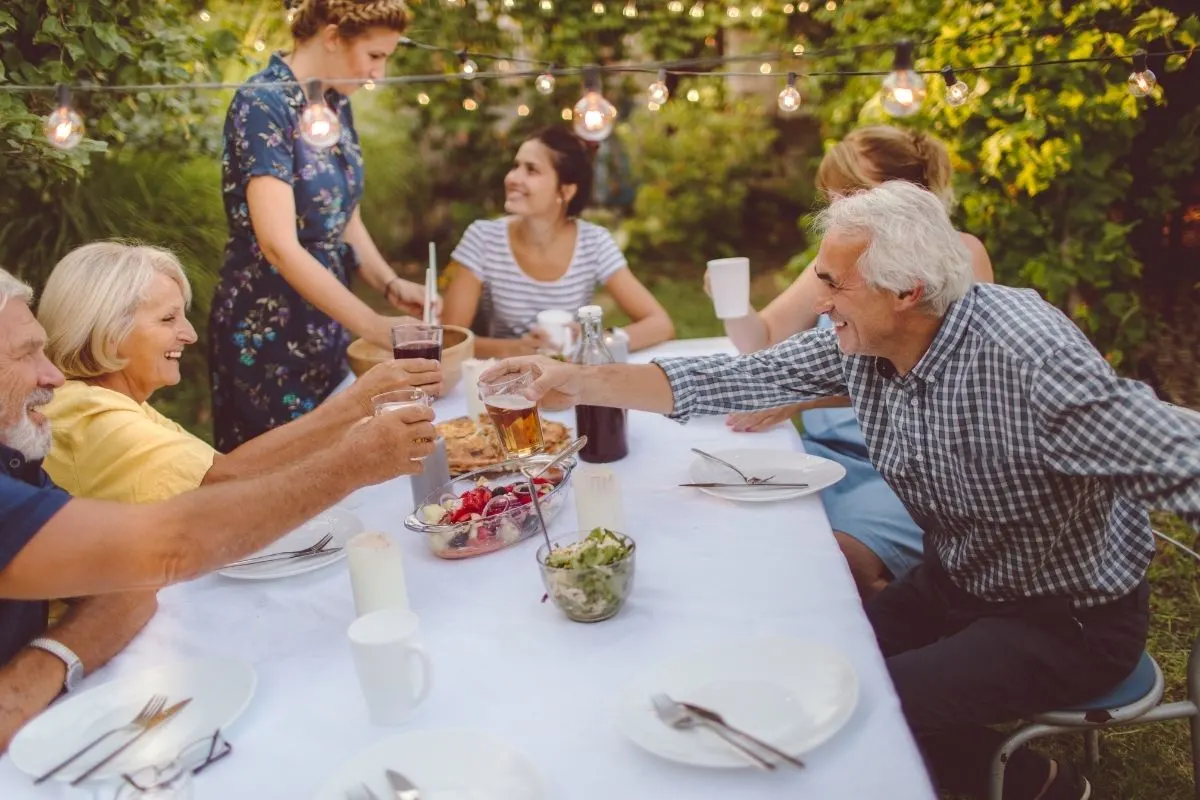 You can also take the dinner party idea and move it outdoors if the weather permits where you are at the time of your birthday. Just because it's outdoors doesn't mean it can't be elegant. An outdoor party is also a good idea for large gatherings because you don't have to worry as much about the venue being big enough to accommodate everyone.
If you have a patio or deck, you can fix it up for an elegant party. Or you can rent a tent and hire catering to take care of everyone on your special day while you just sit back and relax and enjoy your presents and guests. You could also hire a live band to perform.
6. Backyard bonfire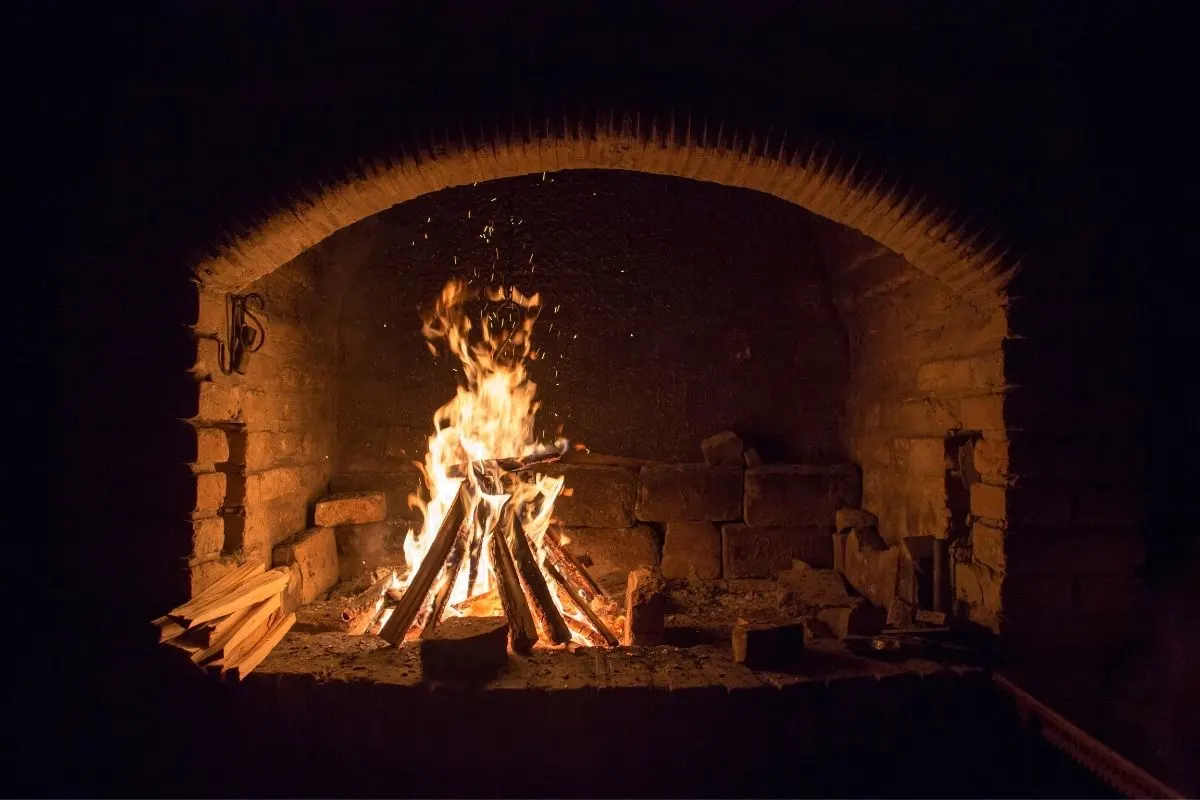 Not everyone wants to go to a fancy restaurant for their birthday. Some people are much more comfortable with something a little more laid back. A backyard bonfire may not immediately bring images of elegance, but there are ways to make it so the same as with an outdoor dinner party. Think of this one like the outdoor dinner party listed above, but that happens later in the evening with a bonfire and some other lights for mood-setting.
You can have candles (real or electric) on nice table settings for dinner, hire catering, and find other ways to make it both elegant and special for you.
7. Retro 70s party
The 70s were a fun decade with a lot to offer. While some think of bright colors, peace signs, hippies, and Volkswagen vans, there was also an elegant side to the decade. Your 50th could be a great time to showcase this and remember all that is a high class about the 70s.
8. Fifty and fabulous party
This has become an elegant theme for many women over the years when celebrating their 50th. You can make it your own however you choose, but it often entails black and white décor, fancy dress, fine dining, and dancing.
You could choose to have a large, exquisite cake baked for the big event, your favorite foods, and have professional hair and makeup done, so you can look and feel your fabulous best.
9. Fondue with friends
Fondue parties are often associated with wealth and decadence. It makes for a fun party theme as well. You can do fondue with friends for a birthday brunch, a prelude to other birthday activities, or as your full 50th celebration.
The best fondue party will have different types of cheeses, charcuterie boards, and a chocolate fondue table as well.
10. Broadway-themed dinner and movie
It has long been a tradition to dress up in your best clothes and head out to see a Broadway show and possibly also have dinner before or after.
You can bring Broadway to you with a Broadway-themed party for your 50th birthday. Choose a popular show or your favorite Broadway performance that is also a movie or recorded and present it to your guests. Invite them to come dressed up as if they were going to the real Broadway.
11. Hollywood glamour costume party
As the name suggests, this is a fun, elegant way to get Hollywood glammed up. You and your guests can choose to dress up like Hollywood stars from past or present, or you can turn yourself into a superstar with a Hollywood makeover. This is a great way to ring in your 50th year in style and elegance.
12. Swing dance party
If you want a 50th birthday theme that will keep you on your toes, consider a swing dance party. Play your favorite swing music (bonus points if you have a live DJ to do it), dress up in suits and swing dresses, or poodle skirts, and dance the night away.
If you or your guests don't know how to swing dance, consider hiring a dance instructor to attend and teach people some moves during the event. It will be a birthday bash that everyone remembers.
Now you have enough great ideas for a 50th birthday party to get you started. If you don't like any of these choices for your party, I hope they will help motivate you to decide on the right theme for your party. Do you have a favorite out of all of these amazing themes?
Elegant 50th birthday party themes – conclusion
These are some of the best 50th birthday party themes I could find. At the end of the day, when you bring together your favorite things, it's guaranteed to be a win. The best 50th birthday party ideas are those that put the guest of honor first. Think about the things they will enjoy and how you can show them
Even if you've never considered yourself much of a birthday person, it's easy to admit that a 50th birthday is a big deal. When you reach this milestone, you deserve a celebration befitting the occasion. These are just a few ideas of how you can do this with both style and elegance. You can embrace getting older and the gift of another year on this earth with a party that will make many memories for you and all of your guests.
Whatever theme you decide to go with, remember that a birthday is a time for celebration, and don't let stress over party themes get in the way of that. I hope that this has helped you to find the perfect theme for your big event. Blow up the mylar balloons and get your invitations ready. It's time to celebrate the 50th birthday honoree in style.
Which of these ideas would you like to see put into action for a 50th birthday party? Let me know in the comments.