Finding the perfect fitting outfit for a special occasion like your birthday can be a challenge when you're plus sized. So many women struggle to find something that fits well and also looks nice and flatters a curvy or plus-size figure.
These cute plus size birthday outfits will inspire you and help you find the perfect outfit for your next big day. Whatever your style and whatever the occasion, we feel confident you can find something that will help you to look your best on your big day.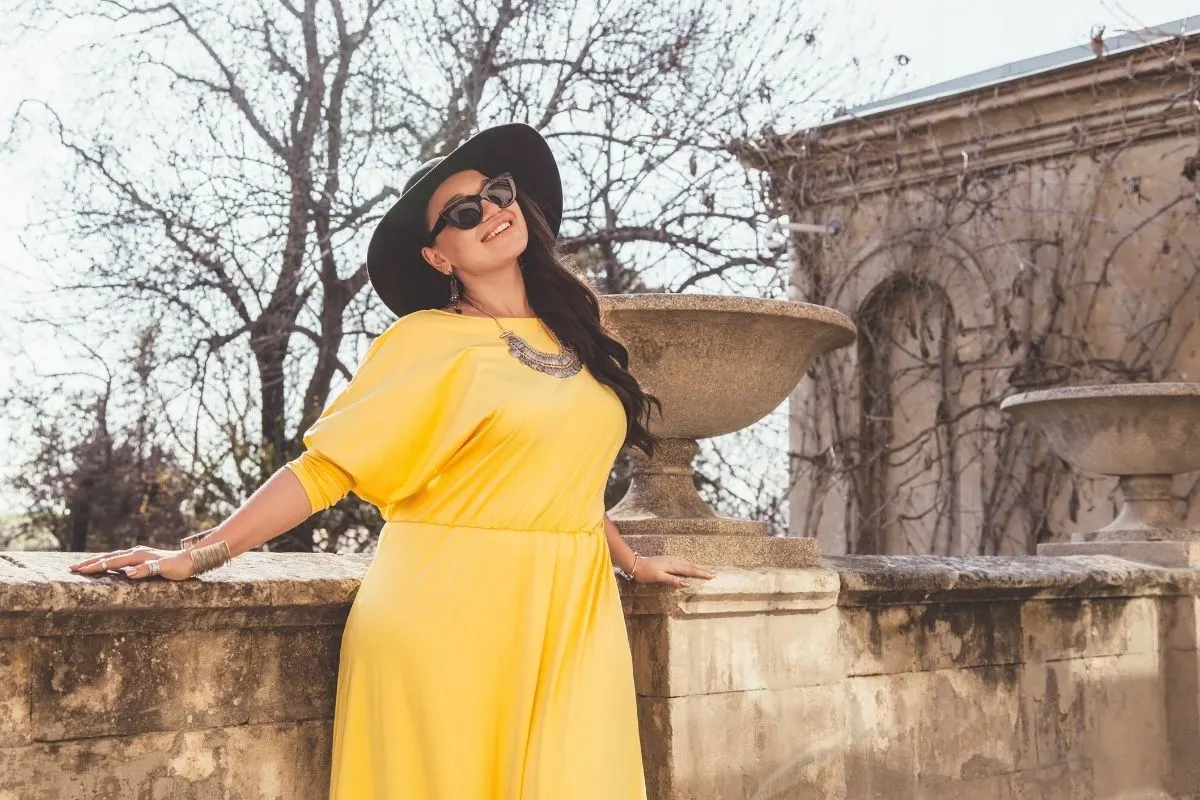 Cute Plus Size Birthday Outfits To Make You Feel Special
You can find more cute clothes in plus sizes than you ever could in the past, which is definitely a good thing. You no longer have to go to specialty stores to find clothes in your size, either. It's much easier than ever before to find clothes that fit and that also look good.
Not so long ago, anything plus sized would be lacking in style. Now you can get all of the latest and greatest fashions in bigger sizes, too. We've compiled a list of 12 cute birthday outfits to get you started, but don't stop there. If you love to shop, you'll find a lot of great things to meet your needs.
1. Sexy plus sized off-shoulder wrap dress
Nothing beats a perfect little black dress, right? This is the perfect party dress and while I love the classic black, it also comes in 11 other colors or prints. It's available up to size 5X Large Plus, meaning it will fit just about everyone.
It's 95% polyester and 5% spandex to add some stretch and it has a tie closure. It's soft and very comfortable to wear.
2. Two-piece printed crop top and bodycon shorts
This outfit is unique, form-fitting, and comes in a variety of colors and prints for you to choose from. It looks to only go up to a 2X but it is true to size and the material has some stretch to it.
You can choose white, blue, dollar grey (interesting design with dollar bills all over it), and more. There's a snakeskin print that can easily take you from daywear to nightwear and many more.
3. Casual matching track suit
If you're doing something more casual for your birthday, you may love this cute two-piece women's winter tracksuit. It has cropped top hoodie and sport sweatpants in matching colors.
This outfit comes in three different colors: khaki, pink, and blue, and several different sizes. If you're going to do something sporty for your birthday, or just want some cute loungewear you can change into after, this may be a good choice. Larger sizes are limited so if you're a large plus, it might not work for you.
4. Ophestin women off shoulder front zip romper
Rompers and jumpsuits are totally in and totally cute and this one is no exception. It's an off-the-shoulder option from Ophestin that also has ruched space layer sleeves and a skinny bodycon form-fitting bottom.
It comes in five different colors, including slimming black. Accent your curves and feel sexy and cute for your birthday with this great outfit.
5. Two-piece floral print open front cardigan cover-up
This super cute outfit is two pieces – a long sleeve open-front cardigan that is extra-long, plus a pair of high-waisted bodycon long pants in matching print.
Featured here is the floral design but there are 25 different color and print combinations. You can choose a shirt or bodysuit of your choice to go underneath, and a great pair of shoes, and your outfit is complete!
This is the kind of cute birthday outfit you can look great in but also still be comfortable in throughout the entire day. It goes up to size 4X so fits many plus-size bodies.
6. Sexy long-sleeved rhinestone mesh see-through mini dress
Here's a hot and sexy dress that is perfect for your birthday party and the club. It comes in four different colors/designs but we're featuring the rhinestone one here because we think everyone could use a bit of sparkle on their birthday. It has pull-on closure, nice support where you need it, but some stretch to the fabric.
It's elegant and comfortable. And this one goes up to a size 5X so it will fit more bodies and sizes.
7. Romew off the shoulder hollowed out scallop hem party dress
Here's a fun, flirty take on the little black dress that also comes in a variety of colors, including red, yellow, pink, green, and blue. It comes in sizes up to 4X.
It's 95% polyester so it's comfortable on the skin and 5% spandex so it has a bit of stretch for you, too. It has a pull-on closure for easy dressing and undressing, and it's great for all seasons. You'll look awesome on your birthday in this fun little dress.
8. O-neck asymmetric short sleeve lace tunic
Sometimes you want a simple but classy look, and this lacey tunic does exactly that. You can pair it with a skirt, leggings, or your favorite pair of jeans for a more casual look.
Here is featured in a classic black, but it also comes in four other beautiful colors. You might like it so much you want more than one.
The lacey V-shaped cutout gives you a sexy look while still giving full coverage and support you want as a full-figured woman. The best part? It's available in all sizes up to 5X.
9. Zeagoo sexy mini skater dress
Here's a fun, flirty, cute little see-through mesh dress that's great for your birthday or any special occasion. It comes in black, white, blue, and orange and sizes up to 3X. It's made of polyester, mesh, and spandex and has a body-flattering shape that works for plus-sized bodies.
10. Two-piece sweater set with high waist
Here's another cute plus-sized option that's perfect for your birthday or any day. It's long-sleeved and long pants so this is a great choice if it's cold on your birthday and you want to look cute but also not freeze.
It's featured here in green, but it comes in six other colors and styles. It's soft, stretchy, and very comfortable.
11. Ophestin women's V-neck boho dress
We love this flowy little number from Ophestin. Featured here is a light blue floral print but there are five other color and print choices for you to consider. Sizes range from XL to 5X.
This pleated swing mini dress has a boho style and flows around you. It's perfect for parties or daily wear and you will look so cute on your birthday and probably want to wear it other days as well.
12. Anything that makes you feel good
At the end of the day, it's YOUR special day and the perfect outfit is anything that makes you feel amazing. This might be a fancy dress, or it could be a perfect pair of stretchy, form-fitting jeans and a nice t-shirt.
A cute outfit is one that makes you feel good just as much as it makes you look good. Confidence is sexy and when you choose something that makes you feel good, you will glow with confidence.
Now let's look at some ideas for choosing the best plus size birthday outfit for you.
How To Choose Cute Plus Size Birthday Outfits
When it comes to choosing great birthday outfits when you are plus sized, there are a few things to know that can make the experience better for you. It can be overwhelming to shop online, especially when you don't have a common, "off the rack" size, but with a few simple tips, you can become a pro at it in no time. You'll be able to choose the perfect birthday outfit and any other outfit you need and want.
Know your measurements
It's important to know your actual measurements because sizes can vary too much from brand to brand. Not to mention, some brands run small, and others run large, so it's just a guessing game.
However, most clothing items, especially those on Amazon, will have a size chart for that particular garment. You can use this and your own recent measurements to help you choose the best size.
When taking measurements, hips, waist, and bust are standard, but you may also want to measure your inseam for pants, your thighs, or other parts of your body, especially for specialty items.
Know what flatters your shape
You can look absolutely amazing, no matter what your size, but many plus size people are never taught how to choose clothing that flatters their shape.
While you can get a professional to help you with this, there's also a lot of info available online today to point you in the right direction. Certain cuts, colors, and materials can help flatter the shape of your body whereas others can make big parts look bigger.
Plus size clothing that doesn't fit well can also make you look lumpy or oddly shaped in some areas.
Don't pick clothes that are too big
Many women choose clothing that is way too big for them because they are trying to hide the parts of their body that they may not be as confident with. The problem with this is that it actually makes you look a lot bigger.
When your clothing fits like a tent, you lose all of your curves and shape. If you're not used to form-fitting plus size clothing, it might feel uncomfortable at first, until you realize that sizing your clothing correctly can make you look your absolute best.