Any birthday is a time for celebration, but a 50th birthday is a very special time. The 50th birthday is often called the "golden" birthday, and this is why you will see many decorations and party themes done with gold. Black is a color that pairs well with gold and adds a touch of elegance so black and gold are common for a 50th party color scheme.
That said, you can enjoy any color and any theme you want because this is your big day, and it should be all about you. Here are some delicious 50th birthday cupcake ideas I think you will enjoy for your birthday party or event.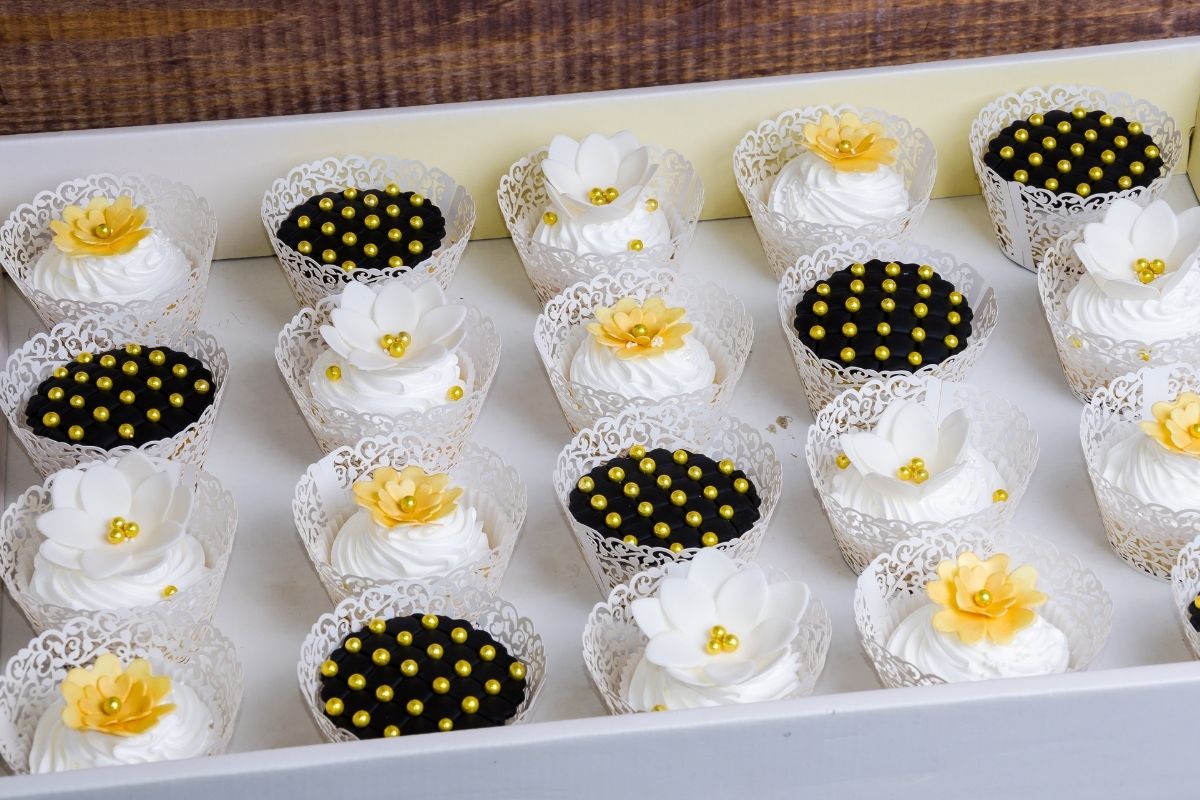 50th Birthday Cupcake Ideas – Best Cupcake Toppers
There are many great ideas for 50th birthday cakes out there to help you celebrate your special occasion, but what if your guest of honor wants something else instead of a traditional cake? You don't have to have a cake to have a happy 50th birthday. It may be a good idea to do cupcakes instead. It's an easy way to fulfill the idea of cake, but you can be a bit more flexible and creative with cupcakes. For example, you can do a little bit of one flavor and a little bit of another flavor. You can even make some of them gluten-free or specifically made for other dietary needs.
Skip the cake for your 50th birthday and get cupcakes instead. You'll be able to cater to more taste preferences, as well as dietary restrictions. Make some with loads of sugar for those who can afford to eat them, but also have some for those with dietary limitations, such as:
sugar-free cupcakes
low-fat cupcakes
keto cupcakes
If you want you and your guests to enjoy some amazing cupcakes on your big day, here are some fun ideas for your 50th. Your cupcake toppers can actually become part of the 50th birthday decorations.
1. Black and gold "cheers to 50" cupcake toppers
Here we have a 33-piece package of black and gold glitter cupcake toppers that feature a few different designs. They have rich feminine elements like a little black dress, a gold mask, and the number 50 with a golden crown on top.
The other thing I like about this set is that it has a lot of pieces, so you get more for your money. If it's a big party with a lot of cupcakes, you may still need to purchase more than one set, but I love that you get so many in a package. it's easy to see how you can work these cupcake toppers into the 50th birthday party decorations.
Related: Classic black and white 50th birthday theme
2. Golden glitter "happy 50th" toppers
This is a set of 12 "Happy 50th" cupcake toppers in a golden glitter paper design. Each topper has a letter-size of about 3.15 inches across. The entire topper including the stick is about 3.9 inches high. You usually serve your cupcakes at room temperature and these toppers are good because they are nice and sturdy and will not slide around or fall off your cupcakes while standing. It's one of the easiest ways to spruce them up without going too elaborate with it.
They are simple, elegant, and easy to use. This design will look great no matter what kind of cupcake you use or what color of your icing. Each package comes with a dozen toppers so if you have many cupcakes, you'll need to order several packages.
3. Gold glitter "hello 50 cupcakes" decorations
This set comes with 24 pieces in three different designs. These single-sided glittery cupcake toppers kit are made of glittery high-ranking cardstock and food-grade wooden stick, will not fall gold powder and is reusable. The shape of numbers and letters in this set is really unique. I can see these beautiful cupcakes and toppers lined up on a buffet table for all of the guests to admire before they enjoy tasting them.
Just wash them well and dry them properly. These are single-sided only, meaning they won't look as good from the back if you wanted a 360-degree view.
4. "50 and fabulous" rose gold foil sticks
These are the perfect toppers for a "50 & Fabulous" themed birthday party. The "50 & Fabulous" is in rose gold foil, set on an elegant white background, and are about 2 inches tall. The bamboo pics are 4 inches long. Each pack comes with 24 sticks inside so you can make two dozen cupcakes with one pack. These would also do well with one single white candle in each cupcake. Or, you can do your own cupcake color, as it suits your party theme the best.
5. Yellow and black 50th birthday cupcake toppers
What I like the most about this set is the color scheme. They are gold and black, with some white on some of them as well. This is actually a kit where you can assemble the toppers yourself.
Each kit comes with 48pcs of pattern card paper, 60pcs of the clean adhesive dot, 50pcs of bamboo sticks. You can use these to design the perfect toppers for your 50th birthday party. This set also reminded me that you can use cupcake liners in colors that go with your theme.
6. Adult 50th birthday cake and cupcake toppers
This set is designed for a 50th birthday celebration and features 24 clear treat picks, 24 shaped paper cutouts with the number 50 on them. They are 4 inches tall, including the height of the numbered decoration. You can decorate two dozen cupcakes with each kit you purchase. This would be a great choice for a gold and black-themed birthday party. Another thing I like about these toppers is that they work with any type of cupcake and also if you have fondant decorations on the cupcakes. When the toppers are too large or elaborate, you can't use them on a cupcake with designs on it.
7. Gold "happy birthday" cupcake decorations
Just because it's a 50th birthday party doesn't mean you have to put the number 50 on everything. If you want a simplified or more subtle look, you might like this gold glittery "happy birthday" topper set. You can use this simple but elegant topper with pull-apart cupcake cakes, too.
I think these are some of the most elegant on our list and while they can be for any gender, the cursive writing and gold glitter design have a feminine feel that I think is perfect for a woman's 50th birthday celebration. They could even make a simple party favor if your guests wanted to take them home with them.
8. Silver glitter 50 toppers
These are simple, clean, elegant and to the point. This pack of number 50 cupcake toppers is silver glitter. They stand tall and bold at the top of the cupcake, are made of card stock cardboard and food safe paper sticks. When you don't want to use plastic numbers, this could be the perfect option instead.
You get 24 per pack so you can decorate two dozen cupcakes with each pack. I love how simple but attractive they are.
9. 50th birthday mixed bag cupcake toppers
Here's another gold glitter set but it has some things that make it unique from other similar ones on this list. For one, it has more than one design in the pack so you can mix and match on your cupcakes. This is also a great way to mark which cupcakes are different if you have different flavors.
Each kit has 14 pieces inside. They are made of glittery paper material and the toppers are already on the sticks, so no assembly is required on these. Just open them up, stick them in your cupcakes, and you're good to go.
10. Gone fishin' cupcake toppers
For the 50th birthday guest of honor who loves fishing, these unique, cute fishing toppers make a great choice. These are also done in gold and glitter but rather than the "50th" design that many others on the list have, these have fun fishing themes.
There are wading boots, a man with a fishing pole, a fish, and other designs. There are 41 pieces in all so you can get a lot of cupcakes with this one kit.
The fun doesn't have to stop there. If you liked these ideas, you could use them to inspire you further.
Choosing The Type Of Cupcake
It's one thing to pick a cupcake topper with a theme you like, but all the pretty decorations only go so far. It's equally important to choose a flavor (or multiple flavors) of cupcakes that you and your guests will enjoy. Whether it's a classic vanilla or chocolate cupcake, or something really unique and different, it's all about planning ahead and putting some thought into the proper cupcake choice just like you would your other 50th birthday party ideas.
Here are some things to consider when choosing the type of cupcake:
What does the guest of honor like the most? What is their favorite cake flavor?
Do any guests have special dietary needs like food allergies or a need for gluten-free cakes?
What color or theme do you want?
How many do you need?
Will other food be served at the event?
Do you want it to match a birthday cake in flavors or design?
Do you want buttercream frosting or a different style frosting?
Do you want to add elements like edible flowers?
Do you want to serve with ice cream?
These are just some of many questions that can help you get your cupcakes just right.
Cupcakes make a great choice for birthday parties because they're quite versatile: they're easier for people to eat, serving sizes are already portioned out, and people just love them. When you pair the perfect cupcakes with the right cupcake topper, your 50th birthday cupcakes will be a huge hit.
Conclusions of 50th birthday cupcake ideas
At the end of the day, it's all about having a great time. That's the whole point of a birthday party. With these tips, your 50th birthday cupcakes will be There's no need to stress too much about the decorations, the party favors, the food, or even the cupcakes. It's far more important to use the day to acknowledge the birthday guest of honor. That said, cupcakes are a fun, versatile dessert that can work for nearly any theme and any type of party. This makes them a sweet deal in my book!