The best birthday messages come from the heart. Tell that special someone exactly how you feel. Sometimes this is easy with your significant other. You've learned to share your feelings with him or her. Let them know how fortunate you are to be sharing this birthday with them.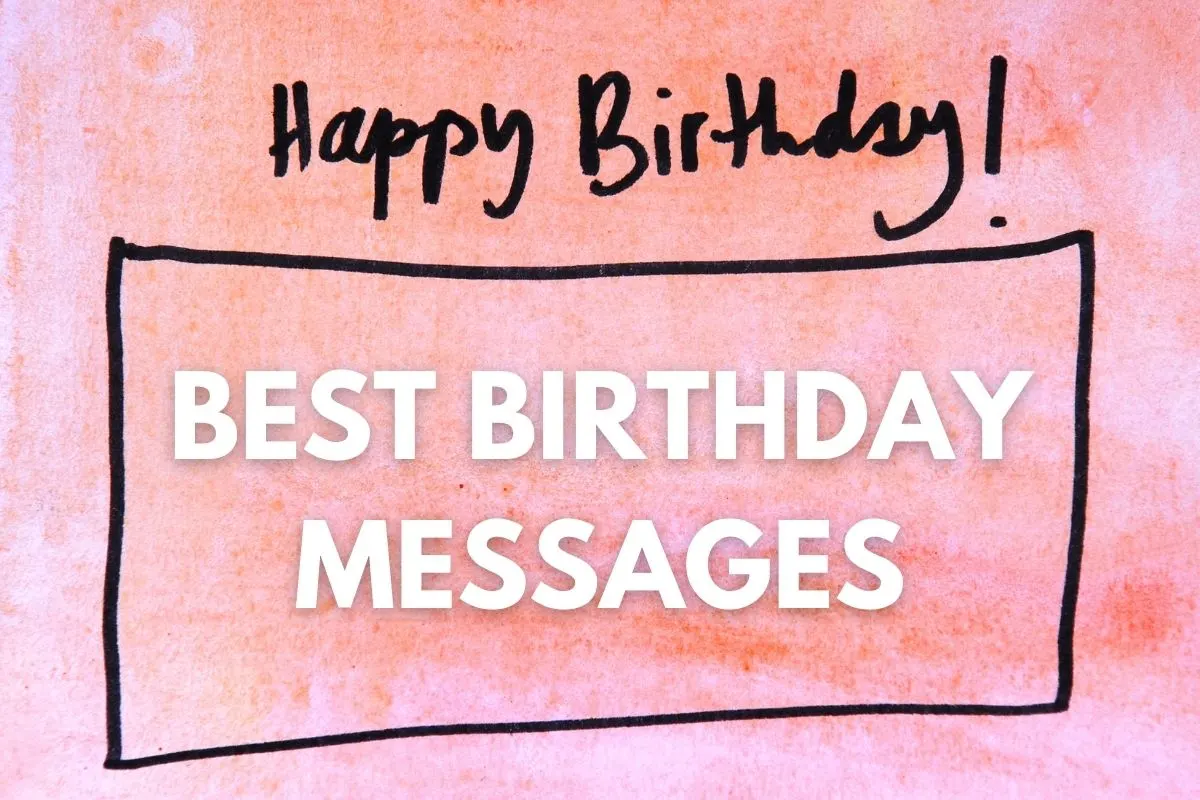 Other times, it's harder to come up with the best birthday messages. Maybe you want to let a coworker know that you're remembering his special day. Perhaps your mailman, hairstylist, or some other service provider has a birthday coming up and you want to let them know you're thinking about them.
Choosing the right words isn't always easy. This is true whether you want to say happy birthday to your dad, sibling, niece, or nephew. Here are a few of the best birthday messages for the people in your life, so you can let them know how important they are to you.
Best Birthday Messages For People In Your Life
Birthday wishes for friends
This should be easy, right? Sometimes yes, sometimes no. You probably have that friend you know like the back of your hand. You finish each other's sentences. You're pretty sure you know exactly how she thinks and choosing a perfect birthday greeting should be easy.
This isn't always the case. One of your best friends is celebrating a big birthday. They're turning 40 or 50 or 60. Those are often ages where the birthday boy or girl is doing a lot of thinking about where he or she is at this point in their life.
You want to nail your message and make it memorable. Don't overthink things. Just say how you feel. You can try a little humor and say something like …
Here's wishing you a happy birthday on this important day. At your age, you're not going to have too many more! So, celebrate and have fun, and know that you're special to me.
Dear friend, I'm so glad to have you in my life. I cherish all the good times we had together and looking forward to more fun times together. Warmest wishes on this special occasion.
I wish you much happiness, love, hope, and joy. Thank you for being such a good friend!
Best birthday wishes to a wonderful person. I always remember the special moments we shared over the years. Good luck this coming year: I hope wonderful things will grace your life this year.
Telling a coworker happy birthday
You probably have coworkers that are friends. Then you have those that you just know a little bit, enough to chat with, in the breakroom and talk to about current events. What's the perfect happy birthday message for someone you work with that you're not as close to as one of your friends?
Keep it plain and simple. Just recognize the upcoming birthday and extend good wishes. Here are two examples:
I just wanted to say happy birthday and let you know it's a joy working with you. Here's wishing you many more.
This job can be tough, and you handle it with grace. Here's wishing you a happy birthday and thanking you for being so easy to work with.
The best birthday messages for a woman turning 50
Do you know a woman turning the Big Five Zero? Women at this stage in their lives have achieved so much. Even though this should be a time for looking back on a life with a smile, some women become melancholic. They start thinking about how many years they have left rather than celebrating what an amazing life they've already had.
Remember that for a woman turning 50, humor might not make for the best birthday message. A slight blurb about turning older might be okay, but don't overdo it. Here are a couple of examples:
Wow! You make 50 look amazing.
You hit 50 like a fine wine. Aged to perfection. Happy birthday.
You're 50 now but you never seem to age. That's so annoying!
If you'd like to give a gift with your message, here's a list of 50th birthday gifts for women.
Wishing your dad a happy birthday
Maybe you're close to your dad, or you have a hard time expressing your emotions. Either way, you want to let him know you're remembering him on this special day. A great birthday message for your father should express gratitude and thanks, but a lot of men don't like being fussed over. Choose the perfect card and add your true feelings. Here are a few examples to help you:
I don't say it enough, but thank you for all the sacrifices you've made for me. You quietly and tirelessly work to make my life better, and I want you to know that I realize this, and I love you. Happy birthday, dad.
We might not get to see each other very often, but you are always on my mind. I want you to know that I love you and wish you the best birthday ever.
You do so much for all of us, dad. Lose that workaholic attitude on your birthday and just kick back and relax. Happy birthday and many happy returns.
How to say happy birthday to mom
How do you tell your mother how much she means to you by scribbling a few lines on a birthday card? She's done so much for you. She's always been there. Every child has a special connection to his or her mom, and you're no different.
Once you find a birthday card that seems like it was written just for you to give your mother, what do you say? Understand that you can't say everything. Choose a few choice words and help her celebrate this special day. Maybe you could say …
No matter how old I get, I will always need you in my life. Here's a happy birthday to the mother that's always there.
This simple card can't convey how much you mean to me. You are a mother and a friend, and always know exactly when to reach out to me. I love you mom and wish you the best birthday ever.
Choosing the best birthday message for a boyfriend or girlfriend
How long have you been dating? Are you guys talking about marriage or is this pretty much a new relationship? Are both of you happy to keep things casual, or is the relationship heating up and getting serious?
These are a few things to think of if you're trying to choose the best birthday message for your boyfriend or girlfriend. If you're not ready for the "L" word yet, here are a few things you could say.
I'm so glad I met you. Happy birthday, and thanks for being in my life.
You always make me smile. I hope you have a wonderful birthday and I get to hang around for many more.
A simple call or just a glance from you makes my day better. Here's to the best birthday ever, and thanks for being a special person in my life.
Say happy birthday with the perfect present
Sometimes the best birthday message is a simple gift. This doesn't mean you have to spend a lot of money. Saying happy birthday and really meaning it means picking a present that is special for the birthday boy or girl.
This might mean simply treating a friend to dinner at his favorite restaurant. It could be watching your best friend's kids so she can have a carefree night on the town.
Think about your relationship with the person having the birthday. Put some thought into what the perfect present would be. It doesn't have to cost you a penny to give a birthday present that will never be forgotten.
Best surprise birthday ideas
The problem with surprise birthday parties is that they're so difficult to arrange. If a lot of people are involved, that means a lot of opportunities for someone to slip up and say the wrong thing at the wrong time. Then the surprise is no surprise, even if the birthday boy tries to pretend like he didn't know it was coming.
If you think you can carry it off, a surprise birthday celebration can be truly amazing. Here are a few unique surprise birthday party ideas to consider.
Schedule the party a day or two after the actual birthday. Now that's a surprise!
Make a special delivery at their place of work.
Get a long-distance family member or friend to show up.
Make a happy birthday announcement at a sporting event.
Best birthday messages for your wife
Your wife is so important to you in so many ways! How can you possibly tell her everything she means to you in a simple birthday greeting? You can't. So don't try to. Just help her celebrate her special day. Here are a few simple ways to say happy birthday to the most important person in your life.
Happy birthday and undying love for my wonderful wife. I love you more with each day that passes and pray for a long and happy life together.
Happy birthday, sweetheart! I am the luckiest man in the world because I met you.
That I get to share this life with you is something I am grateful for every day. May your special day bring you all the happiness, joy, and love you deserve.
How to tell your husband happy birthday
Is your husband a strong, silent type? Maybe he's good at expressing his feelings, or he shows how he feels about you through his actions. Either way, here are a few ideas for saying happy birthday to your husband.
Here's a happy birthday to the most handsome, funniest, and most supportive husband ever. I truly love every day with you.
Life can be hard and busy and crazy, but you always make it worthwhile. I could never express how much I love you, and I hope you have the best birthday ever.
Happy birthday to the most wonderful husband and father. Life should be treasured, and I treasure and appreciate every moment with you.
Conclusion
The best birthday messages can be sappy and emotional. On the other hand, the appropriate wish can be simply saying, "Happy birthday." The key is in speaking from your heart.
Whether celebrating the birthday of a loved one or a casual acquaintance, tell that person how they make your life better. Then wish them a great day and find some way to make that day memorable.