Is someone you love celebrating the 80th birthday soon? This is a great cause for celebration and if you're having a party, you may be looking for some ideas on how to make this party extra special.
These 80th birthday party ideas will get you started. I've compiled some of my favorite ideas for themes, decorations, party favors, and more. I hope that these ideas will inspire you and help you plan your own party.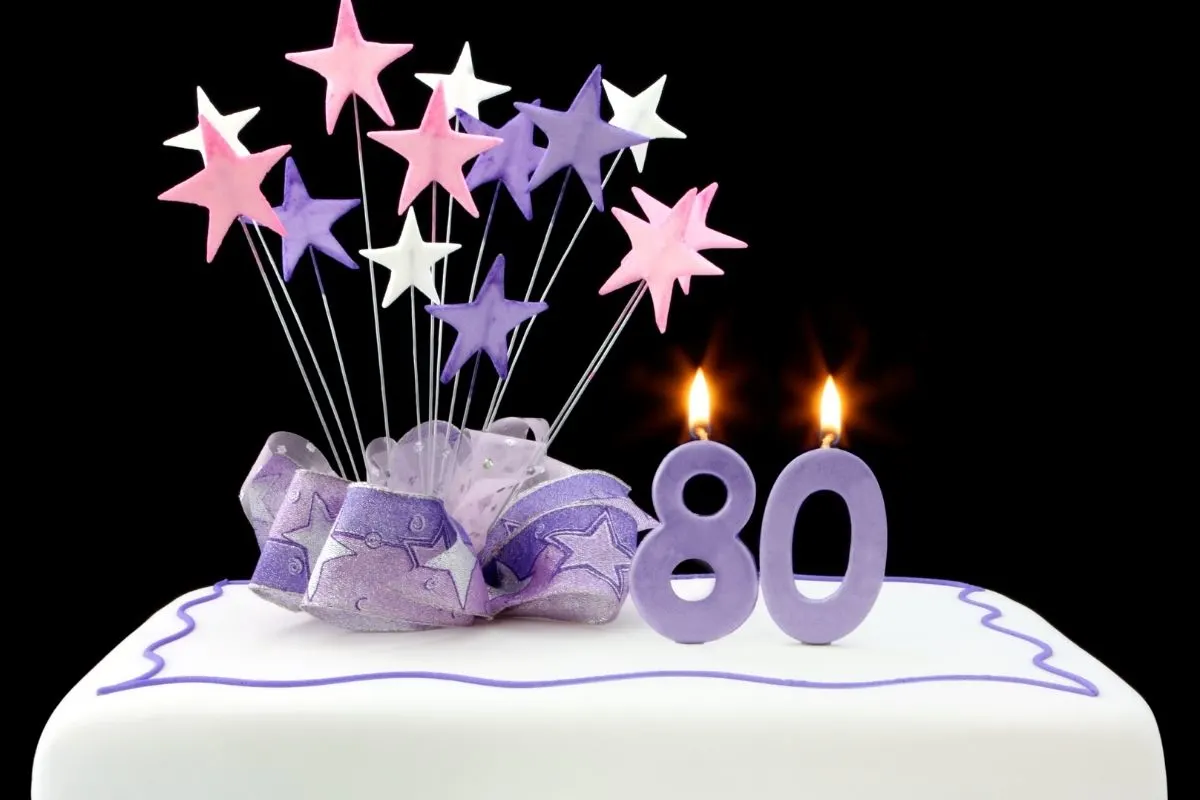 Best 80th Birthday Party Ideas
If you're going to throw an 80th birthday party, there are some things you will need to plan out. For example, you need to know about:
Venue or location
Theme or colors
Time and date
Decorations
Party favors
Music or entertainment
Guestlist
Invitations
Party food/menu
Gifts
These are just the basics. You may find that there are some other things that belong on your list or that you don't need everything that is on the list. For example, if you prefer to tell those who are invited in person rather than send invitations, you can cross those off the list.
Here are my picks for the best 80th birthday party ideas.
1. Share a memory jar
A fun way to appreciate the guest of honor on their 80th is to put a memory jar in the room or at the entrance when guests arrive. Each guest can write a memory they have with the birthday person and then place it inside the jar. The birthday person gets to take it home with them later, but it can also be fun to read some of them out loud at the party.
2. 80th birthday party favor stickers
We're never too young or too old for stickers. Everyone loves them and there are a lot of things you can do with them. I love the versatility of stickers and the fact that you can create your own party favors or decorations with them. Here are some stickers I found that work great for an 80th birthday party.
3. A few of his/her favorite things
Set up a table in the room with foods, drinks, snacks, and other things that the guest of honor loves. You can then do a plaque or sign that reads "These are a few of his/her favorite things" and everyone else at the party can share and enjoy.
4. Black and silver 80th birthday theme
When doing a theme for an 80th birthday party, there is no official color scheme or theme you need to adhere to. Black and silver have a very polished, sophisticated look and I think it's great for a milestone birthday like this one. You can find many great party favors and decorations in these colors to completely personalize your party.
5. Aged to perfection 80th birthday party theme for men
Here's a fun idea for the older gentleman in your life. An "aged to perfection" themed party. There are decorations you can choose with the phrase on it, and you can create party favors and activities that highlight how great the guest of honor is and all of his life experiences. This could also be for a woman if it fits her personality.
6. 80s decade 80th birthday party
If the 80-year-old in your life enjoyed the 1980s, you might do an 80s-themed party for them. Encourage guests to dress up in 80s style clothing, play 80s music and use this theme throughout the décor and even in the food and snack choices.
7. Personalized birthday party supplies
When someone has lived long enough to see 80, you can go the extra mile and get all the birthday party supplies and balloons personalized with their name. It will help them to feel extra special while you're celebrating the big day with them.
8. 80th birthday tea party
An elegant tea party can be a great way to celebrate a special day like an 80th birthday. Gather all the ladies around to dress up in their finest Sunday clothes and enjoy tea and snacks together. If the weather is nice, it can be great to do outdoors or in the garden.
9. Grumpy old men party theme
Another fun idea for the man with a good sense of humor is a "grumpy old men" party theme. You can carry the theme just in the décor or have younger guests and female guests dress up as grumpy old men, too. Really own it and make it yours however you choose.
10. "An amazing lady is turning 80" party theme
Another party theme idea great for the young-at-heart lady in your life. "An amazing lady is turning 80" is a fun theme to show her how much you appreciate her and to make her feel special and pampered on her big day.
11. Birthday BINGO!
You could set up a fun BINGO game and BINGO themed birthday party complete with prizes. In addition to using BINGO as the theme for the party, you can also host a game or several of BINGO with the opportunity for guests to win prizes, too.
12. Vintage birthday party
A vintage birthday party is another great way to celebrate the life of someone turning 80. This could be any vintage or antique theme, or you could hone in on a specific year or decade or style that the guest of honor really likes. This is a fun way to make the party very personalized for them.
13. Through the years birthday party theme
When one year or decade just won't do, consider a "through the years" party. With this theme, you can showcase some from each of the eight decades the guest of honor has lived through. You can bring pictures and mementos of the guest of honor to highlight milestones of their life up to this point. It will be like a walk down memory lane.
Next, let's take a look at some commonly asked questions about celebrating an 80th birthday party. There is a lot of significance to this birthday, and I want to help you find ways to honor it the way that it deserves.
80th Birthday Party FAQ
With all of that said, you're ready to start planning your birthday party. Let's take a look at some commonly asked questions for this momentous occasion.
What is the color for an 80th birthday?
An 80th birthday doesn't actually have a traditional color. Typically, these are reserved for anniversaries so you can actually use any colors you'd like.
What is the traditional gift for an 80th birthday?
The same as there is no traditional color for birthdays, there's also no traditional gift. For an 80th anniversary, the traditional gift is oak, but for a birthday, you can give any kind of gift you want.
What is the significance of the 80th birthday?
When someone turns 80, they become an octogenarian. That's 8 decades of living on this earth. That's a really big deal. Imagine all the things they have seen and experienced? This is something to be celebrated. It's considered a milestone birthday and it should be treated as special as it is.
80th birthday party ideas conclusions
Now you have these great ideas for an 80th birthday party and some suggestions for decorations, you're ready to start planning. When planning your party, keep the guest of honor and their needs in mind. Do they have mobility issues or health concerns you need to be conscientious of while planning the party?
What are their likes and dislikes, their favorite foods, any food they particularly hate, or any themes or ideas that are particularly special to them? Once you've done all of this, you can plan the perfect birthday party they are sure to cherish and everyone who attends will make great memories that last a lifetime.