An 80th birthday is a very big deal. When someone lives to see eight decades, it calls for a great big celebration. And where would any great celebration be without some amazing cake? Choosing a cake for any birthday is a big deal, but when it's a birthday that's so special, it's even more important.
I've chosen some of my favorite birthday cake ideas and also cake topper ideas to help you along the way. I hope that these 80th birthday cake ideas will help you get started on the right foot with planning your own 80th birthday party.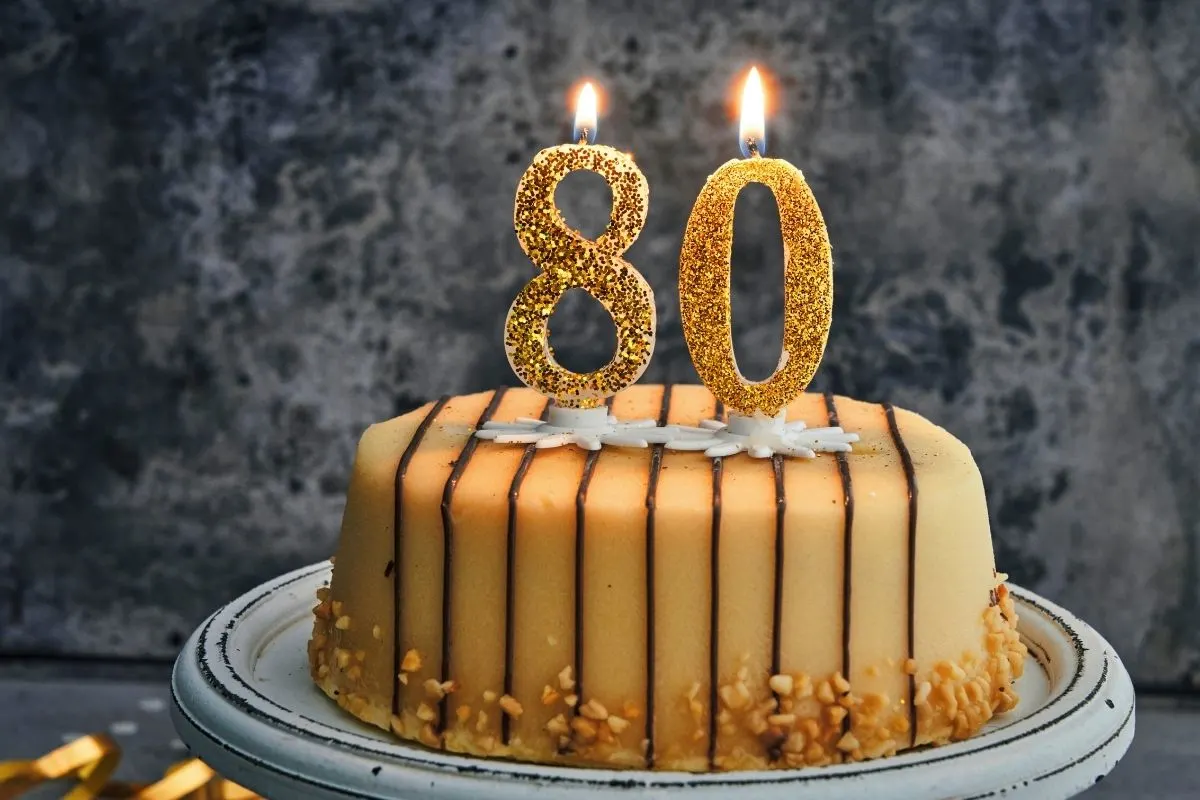 80th Birthday Cake Ideas
When you're making a birthday cake for someone turning 80, how can you be sure you choose the right cake? Here are some ideas.
1. Their favorite type of cake
You can't go wrong by choosing their favorite type of cake. German chocolate, strawberry, Devil's food, pound cake, angel food? Whatever they love, make this cake about them. It's a surefire winner!
2. A tall 3-tiered cake
A special birthday like this deserves a dramatic cake. You can have a large, three-tiered cake with a great 80th topper on the top tier. You could even choose to make each layer a different flavor so it's like three cakes in one and everyone gets what they like.
3. A simple sheet cake
Sometimes simpler is better and the great thing about a sheet cake is you can get them as big as you want and need. You have plenty of room to write a happy birthday message and to decorate it however you want. If the sheet cake is larger, you can also choose to do half and half on the flavor inside.
4. Portrait cake
Imagine getting their portrait painted/printed onto the cake? For a momentous birthday like an 80th, it calls for something big! Be sure you have the camera ready to capture the look on their face when they see the cake with their face on it.
5. Some of your favorite things cake
Cake artists are so talented these days and you can get cakes shaped like objects or even animals. Consider a "some of your favorite things" cake that has some of the birthday guest of honor's favorite things on it.
6. Places you have been cake
Following the idea above, you can also do a cake that tells a story of some of the places in the country or in the world the birthday guest of honor has lived or traveled to. At 80 years old, there's always a story and this cake can be a great way to highlight where some of that story took place.
Now that you have these great ideas for birthday cakes, we need to look at ideas for the cake topper to really finish it all off.
Related: 80th birthday party ideas
Birthday Cake Toppers for an 80th Birthday
The topper really takes the cake (pun intended). Knowing how important a great cake topper is, I've taken the time to research some that would be great for an 80th birthday party.
Happy 80th birthday topper
A class message that comes in a variety of styles and colors. You can't get much simpler than "Happy 80th Birthday!" and yet it seems to fit so well for most occasions. When you want a classical winner, this is the way to go.
80 years blessed & loved topper
Here's another topper with a sweet message. "80 Years Blessed & Loved" could work for anyone, but it's also great for someone who regularly talks about how blessed he or she is in life. Getting to see your 80th birthday is surely a blessing, right?
Cheers to 80 years topper
Here's another generic one that's actually a great choice because of the simplicity. Sometimes it's good to just get right to the point. "Cheers to 80 Years!" now let's have some cake. Another thing I like about this topper is that you can get it with this saying in different colors and designs that work for whatever type of cake and party theme you have.
Vintage since [year of birth] topper
This goes great with a vintage 80th birthday party theme because the cake topper will read, "Vintage Since [year of their birth]. You can usually find this in different colors, and it would also work for a humorous party theme as well.
80 years loved
Here's another simple, but classic cake topper. When you want to show that special person in your life just how loved they are, the "80 Years Loved" message will work great on the top of the 80th birthday cake.
Fabulous since [year of birth] topper
Next, we have another year of birth theme that says, "Fabulous since ___". You can choose the year of their birth and sometimes you can find them in different colors or designs to match your cake better. If the 80-year-old in your life is still feeling fabulous, this would be the perfect cake topper. Or maybe if you just want to remind them of how fabulous they are.
Legend since [year of birth] topper
At 80 years old, I think everyone becomes a legend. With this topper, you can tell everyone that's how you feel about the birthday guest of honor. Again, this is another design where you choose the year of birth to make it completely personalized for them.
About the toppers
Each of these comes in different colors and styles, especially the "Happy 80th birthday" and "Cheers to 80 years" toppers since they are more common. You can choose a color and style that suits the cake and the rest of the party theme.
When choosing your cake topper, there are a couple of things to look at beyond just the color and design. You also want to see how big it is and how that will work in comparison to the size of the cake. And another thing to look for is what it's made out of.
You'll want to look at the material of the stick as well as the decoration itself. Some are metal, some are plastic, and some are paper or cardboard. Some have the decoration on both sides, giving a 360-degree view, and others are only one-sided so it will only look nice from the front side of the cake. It's up to you to decide which type will work best for your needs.
Conclusions 80th Birthday Cake Ideas
At the end of the day, most everyone will be happy to celebrate such a milestone birthday with the one they care about. But when you take extra time and care with the birthday cake, you can make them feel even more special.
What ideas on my list stood out to you the most today? Which ones do you think you will want to try for yourself?