People have mixed emotions when it comes to shopping for teen boys. Some people think it's very easy and others find it challenging. It may have to do with how well you know the teenager, or how in touch you are with teenagers in general.
I have compiled some 14 year old boy birthday gift ideas to get you started. Happy shopping!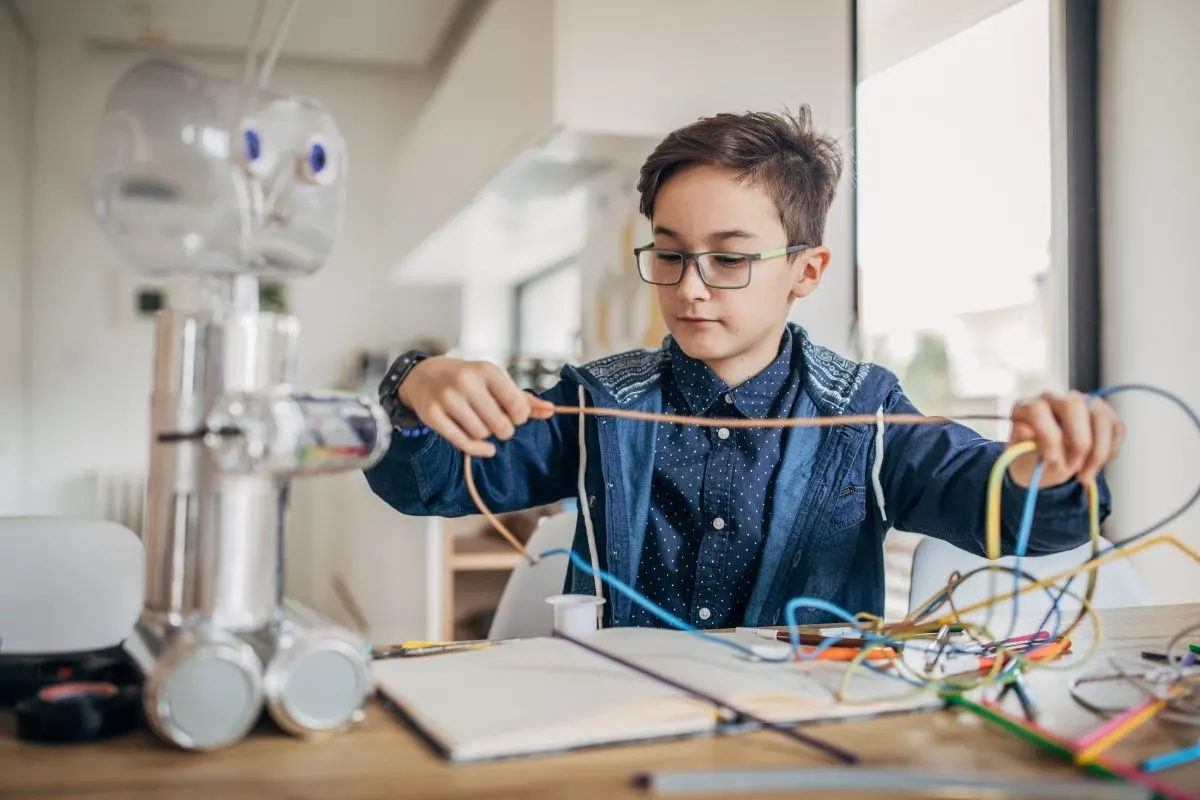 14 Year Old Boy Birthday Gift Ideas
A teen boy can seem difficult to shop for if you don't know what he's into, or if you've not really been in the teen scene for some time. Fads come and go, clothing styles change, and even the type of music or sports they enjoy can change over time.
Young teens enjoy cool gifts that their peers enjoy too. There are many unique gifts you can give, or you can give one of the popular ones. Here are some of the best gifts for 14 year olds:
video games
board games
a Nintendo switch
a cool alarm clock
a gaming headset
teen boys that are music lovers would LOVE an acoustic guitar (or an electric guitar): such a fun gift!
video game console
fun gadgets
Bluetooth speaker
a colorful water bottle (there are many different colors you can choose from to make it more personal; a vibrant color makes for a great birthday present)
gift cards are a great option if you're not sure what to get them or you'd rather give them the opportunity to choose
Related: Sweet 16 birthday party ideas for girls
Here's a gift guide with some unique gifts for young teens.
1. Kids Against Maturity card game for kids, teens, and families
Here's a great game he can enjoy with friends or with the family and it's sure to get a lot of laughs and make a lot of memories. Kids Against Maturity is a fun family-friendly party game where being the worst is the best.
2. Escape Room in a Box the Werewolf Experiment
This is a great way to pass some time with friends or play together as a family. Escape Room in a Box: The Werewolf Experiment is a fun at-home take on the classic escape room.
In this game, you have to solve 19 mental and physical puzzles before a mad scientist turns you into werewolves—and you have only an hour to do it! It includes 19 puzzles and three locks.
3. Bluetooth beanie hat with headphones
Teens love their tech and most 14-year-olds love their phones. This beanie is stylish and practical because they can keep their head warm, look good, and also listen to their favorite music crisp and clear.
It has a long-lasting battery that gives 16-20 hours of play life. The soft double-knit material is also very warm and comfortable to wear. It comes in a variety of colors to suit every style. One size fits most.
4. Camera-compatible drones
Drones are fun for everyone and this one allows your teen to use their cell phone to see everywhere the drone goes with a wide-angle lens. It has easy control that makes it great for beginners as well as those experienced with flying drones. It also has several advanced features that help it stand out from the competition like Headless Mode, 360-degree flip, remote and voice controls, and more.
5. LEGO Marvel Infinity Gauntlet building kit
Everyone loves LEGO but this set is perfect for the teen boy in your life. It's a mature kit, suitable for teens and adults, and's made for display after it's assembled. The stunning, build-and-display LEGO Marvel Infinity Gauntlet (76191) captures forever the captivating style of Marvel Studios' Avengers: Infinity War and Avengers: Endgame movies.
This is something your teen can enjoy building and displaying later for friends to see. It measures over 12.5 in. (31 cm) high, 5 in. (13 cm) wide, and 4 in. (11 cm) deep, making it a substantial size for displaying and showing off.
6. Engino STEM structures- 9 working models
Here's another great building project, this one with a focus on STEM. Engino brings complex concepts into clear focus for budding engineers and scientists with award-winning components and step-by-step illustrated assembly instructions.
With this kit, you can build nine different working models, including a suspension bridge, Truss bridge lower Truss bridge, house, and more.
7. Taco vs Burrito card game
Don't let the fact that it was created by a 7-year-old fool you. This card game will entertain teens and adults alike. This popular card game initially soared on Kickstarter and surpassed its original goal by 2,400%. Now it's available to anyone!
It's easy to learn and quick to play and you'll be surprised at how much strategy is actually involved in this food fight card game. Works with 2-4 players.
8. Squad Hero rechargeable laser tag
Teens love laser tag and with this set, they can play at home with friends. This is the most innovative laser tag set you can buy to use at home. The rechargeable gear allows for lots of great play time again and again. This laser tag set comes with 4 guns, 4 vests (front and back), and one charging station.
Choose between four weapon modes (Pistol, Automatic, Laser, and Rocket), adjustable lives-per-game setting, Stealth Mode, Team or Solo mode, night flashlight, 150-foot reach, child-safe infrared emission, and you can add unlimited guns and vests because all Squad Hero Laser Tag sets are compatible.
9. LEGO Star Wars Imperial Probe droid
Here's a grown-up LEGO set for the Star Wars fan in your life. This challenging LEGO set will bring memories of scenes from Star Wars: The Empire Strikes Back.
The buildable droid LEGO figure has posable legs and comes with a transparent, brick-built pole to lift it above a buildable snowy scene. The set also includes an information plaque for when you display it. It has a total of 683 pieces to assemble.
10. Henoda robot toy with app and remote control
Your teen can build a robot and then program it and move it around. This robot moves in all directions-left, right, forward, backward, and 360-degree rotating stunt. This smart robot is controlled with the phone APP Bluetooth connection.
Remote control mode, path mode, voice control mode, gravity sensor, and stem programming mode, 4 remote control modes are simple and easy to use. It can also be controlled with the 2.4GHz remote control that comes with it.
11. Break open geode rocks from National Geographic
If your teen loves science, rocks, and crystals, or other stones, this will make a great gift. Geodes are naturally occurring volcanic rocks that contain slow-growing crystals. Break open the rock to discover beautiful minerals inside.
This is a fun way to introduce a child to geology or to give some new shiny rocks to a teen who already loves crystals. Smashing these rocks to find the treasure inside can be a lot of fun.
12. Yeshin robot building kit 3-in-1 STEM
This 3-in-1 robot model with remote control is great for kids and teens. It has three different robots you can build, and it comes with a detailed instruction booklet to help.
You can control the robot with an app on your smart phone and it has four remote control modes – Path Mode, Voice Control, Gravity Sensor, and Remote Mode. Each of these modes is easy to use.
13. AESGOGO STEM 12-in-1 robot
Here's another great robot STEM toy but this one can be assembled to make 12 different models or shapes. This set includes cars, walkers, and boats and the solar robots can adapt to land and water.
The energy is supplied from the sun or from a lightbulb that is brighter than 100W. Assembly is fun and educational, and then operating the robots afterward can be just as fun. This 12-in-1 kit brings hours of entertainment.
14. Lightning reaction reloaded shock game
This is a game that looks like it was invented by teenagers for teenagers. How does this game work? Each player grabs a handle from the base. Press the button in the center, watch the red light blink and listen to the suspenseful music play. When the red light turns green… GO.
Press the trigger button as quickly as possible. Be the last to react and get the electric shock. The electric shock is not harmful, but this game is not intended for children under 14.
This list should help you get started when shopping for a 14-year-old boy. Keep in mind that every person is different and that includes teenage boys. So, what works great for one might not work for another. It's always going to help if you know a bit more about the boy and his personality, his likes and dislikes, and his hobbies.
If you don't know anything about the person you're shopping for, it might be best to play it safe with a purchase of a gift card or Amazon card that allows them to buy what they want.
Conclusions of 14 year old boy birthday gift ideas
I've compiled fourteen of my favorite gift ideas for a 14-year-old boy in the hopes that some of these might jump out to you as a good gift idea. If not, I hope that they at least inspire you to find the perfect gift for the teen boy in your life.
If you've purchased or used any of the items on this list, I'd love to hear what your teen thought about it in the comments. Is there something else you would add to the list?